If you book a trip to Morocco with a local English-speaking tour guide in Marrakech, Casablanca, or Agadir, then be prepared for kilometers-long beaches, teeming markets, and good restaurants characterized by African, Arab, and French cultural touches.
In Morocco, old and new go hand in hand. Here you can find modern seaside towns with luxury hotels, trendy shops with fashion and decor, atmospheric lounge bars, and fantastic restaurants. But you can also find exotic fairytale towns with narrow streets, belly dancers, snake charmers, and labyrinthine bazaars. On your trip to Morocco, the holiday budget also goes further. Here you can eat and shop at lower prices than at many other destinations.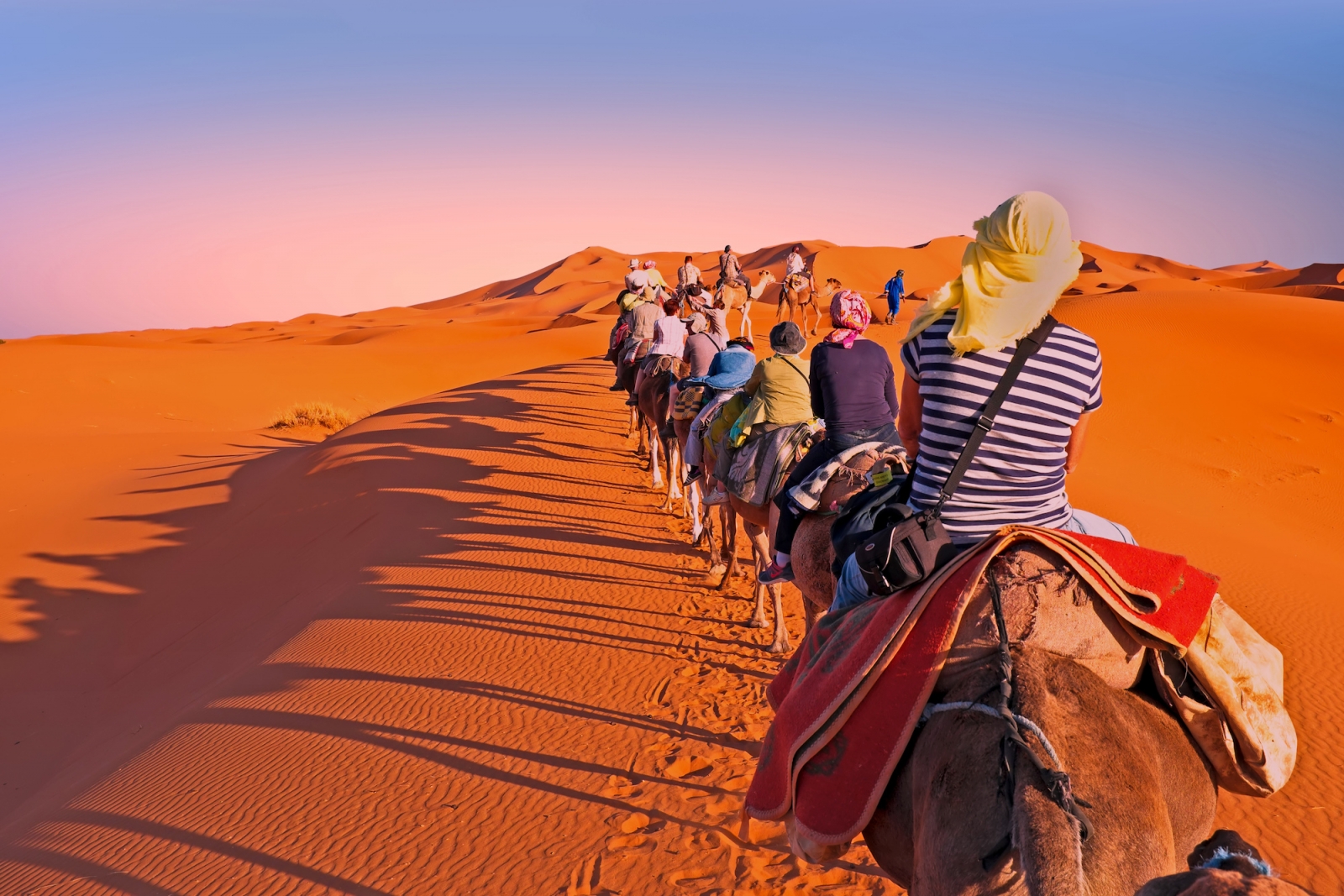 Many are surprised by how much Morocco has to offer. The seaside resort of Agadir is, for example, incredibly popular among golfers thanks to its pleasant climate and fine, well-maintained golf courses. If you travel to Morocco to surf, Agadir is also a good choice, but it cannot compare to Taghazout, which is visited by surfers from all over the world. Taghazout is mostly about water sports activities, and there are also good conditions for windsurfers and the opportunity to try water skiing and jet skiing. If you would rather experience classic and authentic Morocco, you must travel to fabled Marrakech, where you can walk around and take in the atmosphere in the souks, meet storytellers and snake charmers, or visit fortune tellers in the Jemaa el Fna square.
Combination trips to Morocco
On your combination trips, you can experience two or three destinations on the same holiday in Morocco. You can decide for yourself when you want to travel and how long you want to be away. For example, you can start with a few days in Marrakech and end with a holiday at the coast with sun and beach. But as always we recommend that you delegate your trip plan, timing, and itinerary to our experienced local private tour guides who speak many European languages, have a lot of knowledge about the history of Morocco and can show you around in the safest way.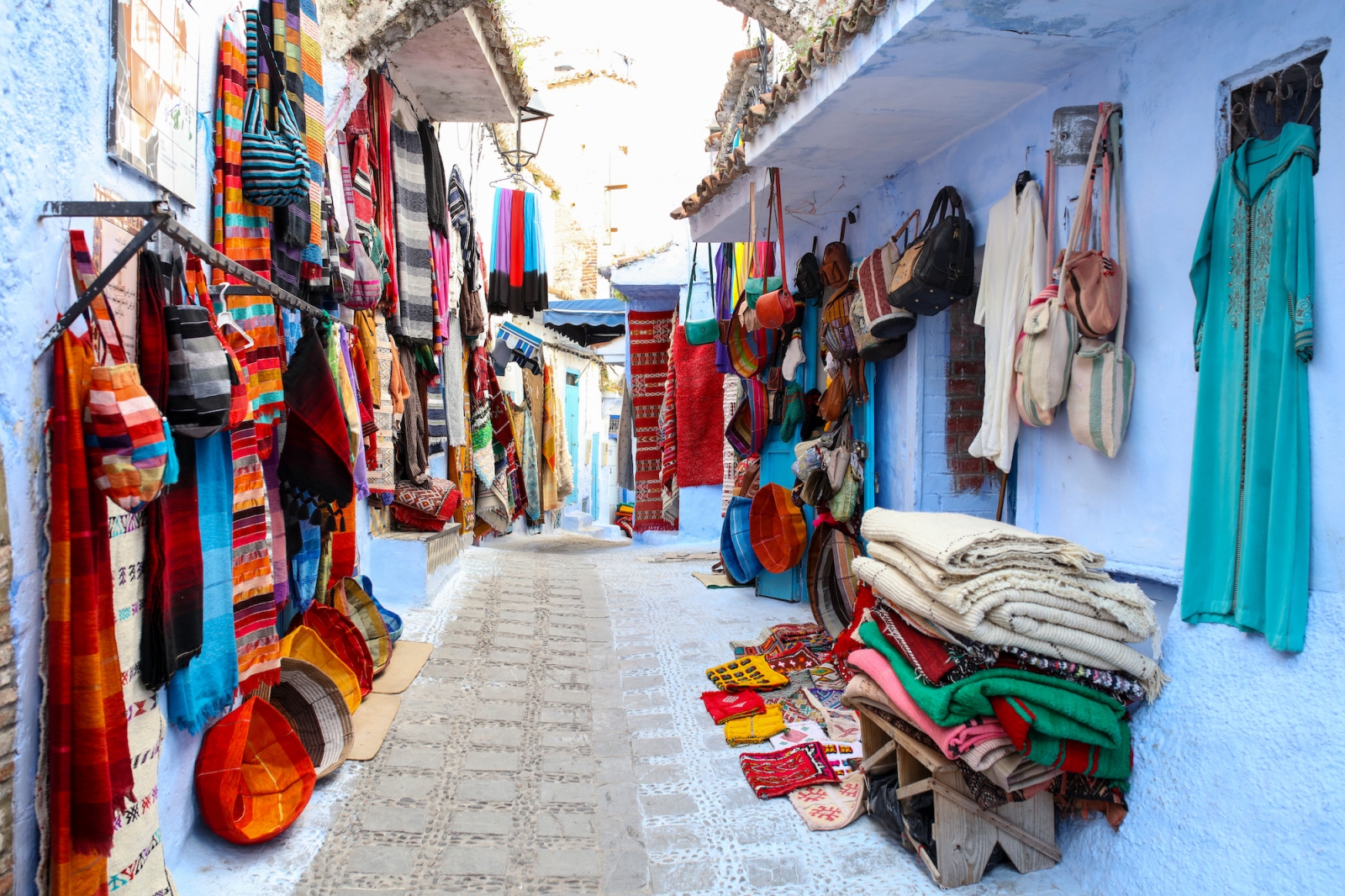 There are great opportunities to pick up a bargain on a trip to Morocco - especially if you like oriental decor items! In Agadir and Marrakech, you will find both shops and warehouses with fixed prices and markets where you can haggle over the price. Local goods such as henna-painted lamps, spices, hand-woven carpets, ceramic dishes, shawls, bags, puffs, kaftans, and wood carvings are very popular to buy a home from the trip in Morocco.
A trip to Agadir is to experience a city with good hotels, a lively harbor life, a cozy seafront promenade, traditional Moroccan buildings, and a lovely beach.
Agadir is a modern seaside resort with a lovely sandy beach, fine golf courses, and good hotel standards in the holiday area around Boulevard du 20 Août. The La Corniche beach promenade is the natural meeting point both during the day and in the evening. Here the cozy bars, restaurants, and cafés are lined up and offer food and drinks at extremely reasonable prices. In the souk, the local market, you can also make good finds at reasonable prices.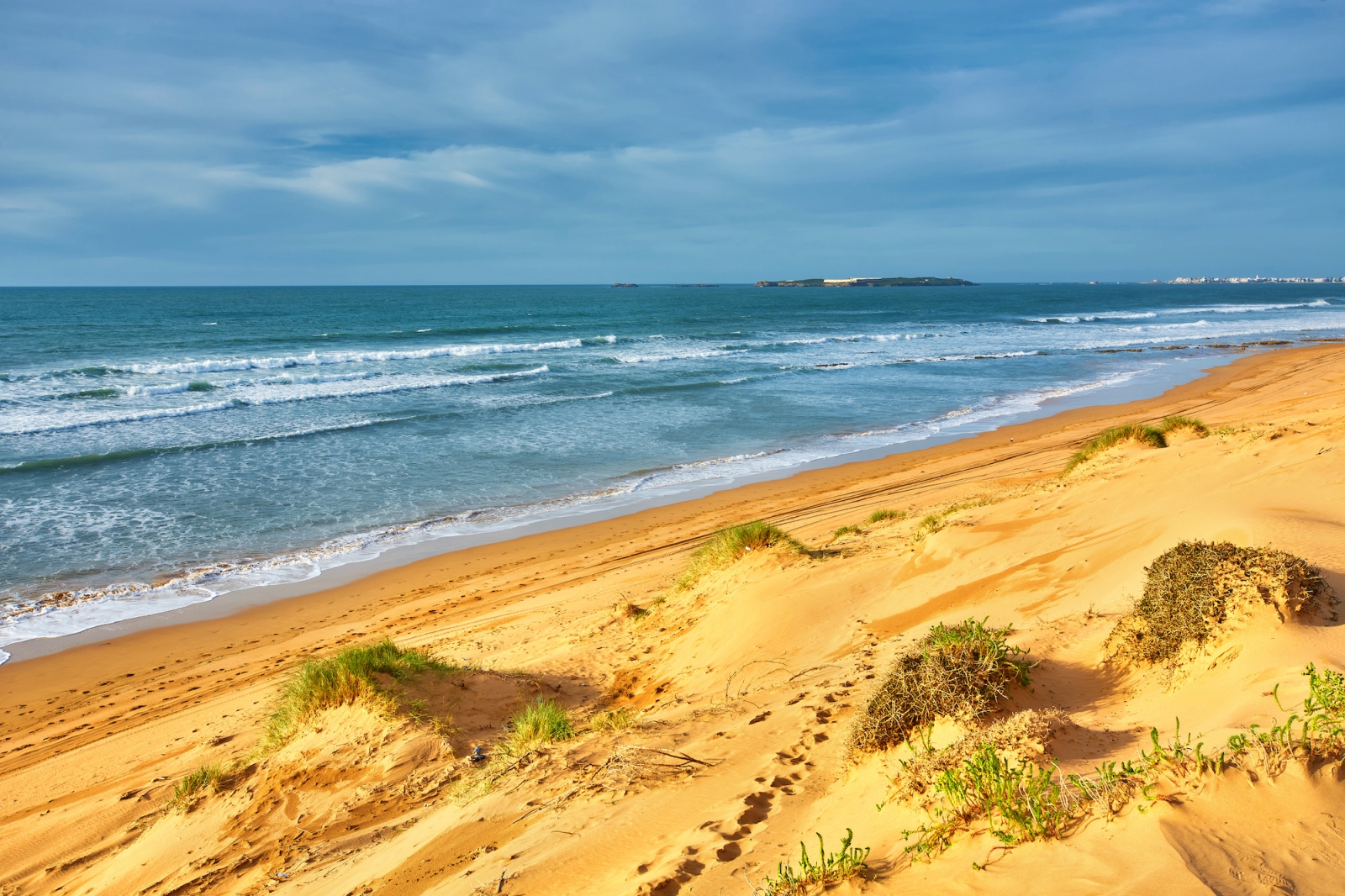 Beaches and sights
Agadir offers a mix of old Arab culture and French colonial style, which gives the destination a distinctive character. The beach is long and shallow, and in the hotel area, there are shops, forecourt cafes, and international restaurants. In the souk, the local market, you can haggle over the price of spices, clothes, silver jewelry, and beautiful carpets. From Agadir, you can easily get to the ancient cities by the Atlas Mountains or to the red fairytale city of Marrakech with its teeming folk life and enchanting atmosphere. The 900-year-old market town of Taroudant, located 80 km from Agadir, is also worth a visit.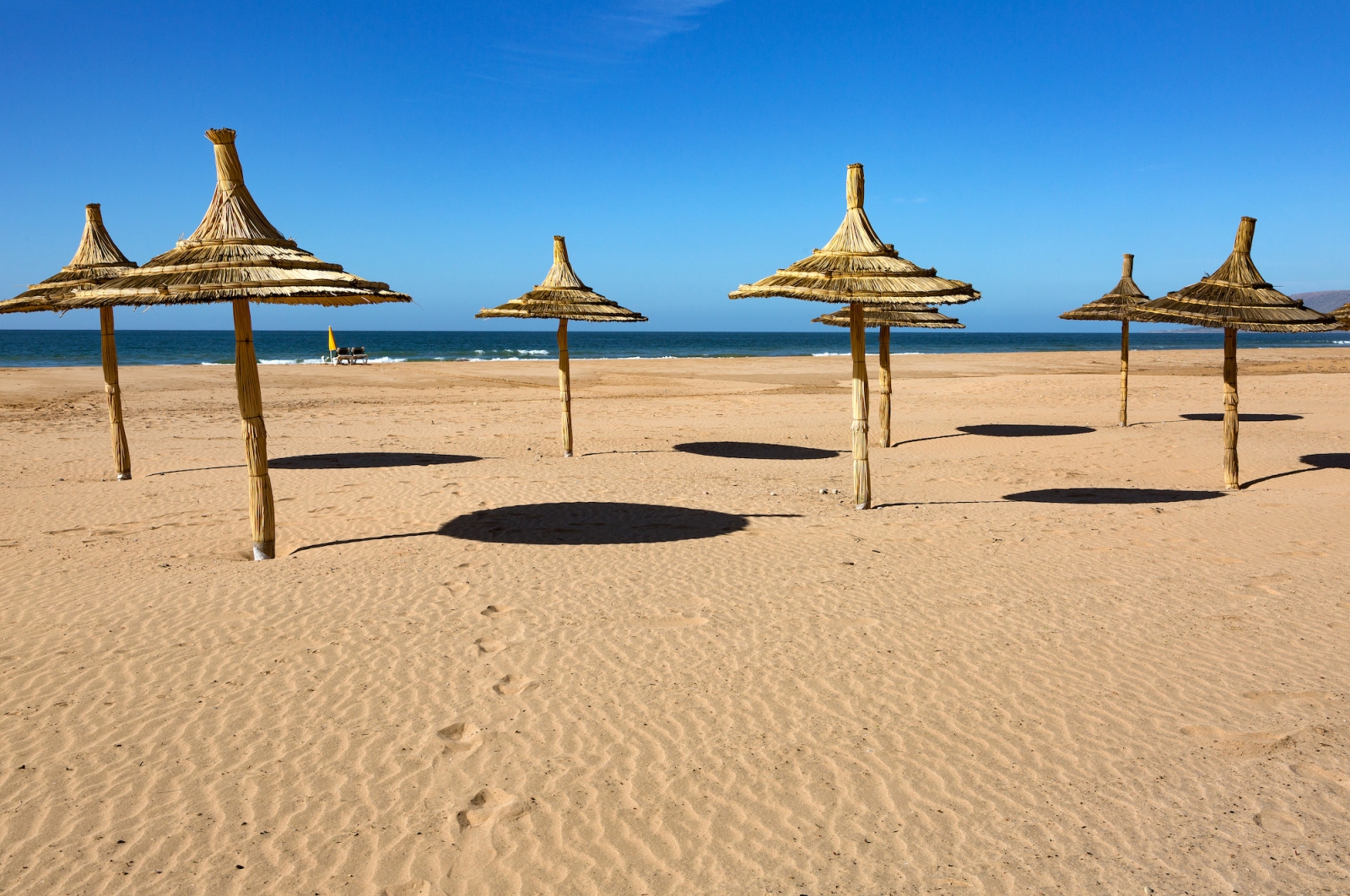 Beach
Agadir's beach is seven kilometers long, with shallow water, and consists of fine-grained sand. Sunbeds can be rented. The promenade La Corniche is five kilometers long and stretches along the entire beach from the last hotel to the small marina, La Marina d'Agadir. The beach promenade is lined with restaurants, cafes, and shops.
Beach activities
The beach is suitable for walking and jogging due to the hard compacted sand and its width. From early in the morning you see many people out exercising, and the beach is also filled with groups of young people playing football both in the morning and in the late afternoon. It is also possible to rent surfboards, bodyboards, and water skis if you fancy an active day in the water.
There is a good range of restaurants in Agadir - everything from simple eateries to exclusive gourmet restaurants. One of Morocco's largest fishing ports is in Agadir, so if you like seafood, there is plenty to choose from. The spicy Moroccan food is particularly characterized by French and Arabic cuisine.
Food and drink in Morocco
Moroccan cuisine consists of a multitude of lightly spiced dishes. The food is well prepared, and fresh vegetables, meat or fish, and freshly baked bread are always used. The food is not eaten with a knife and fork, but rather with bread, which you collect the food with (always with the right hand). Fresh, cut fruit is often enjoyed for dessert, and then you drink mint tea several times a day.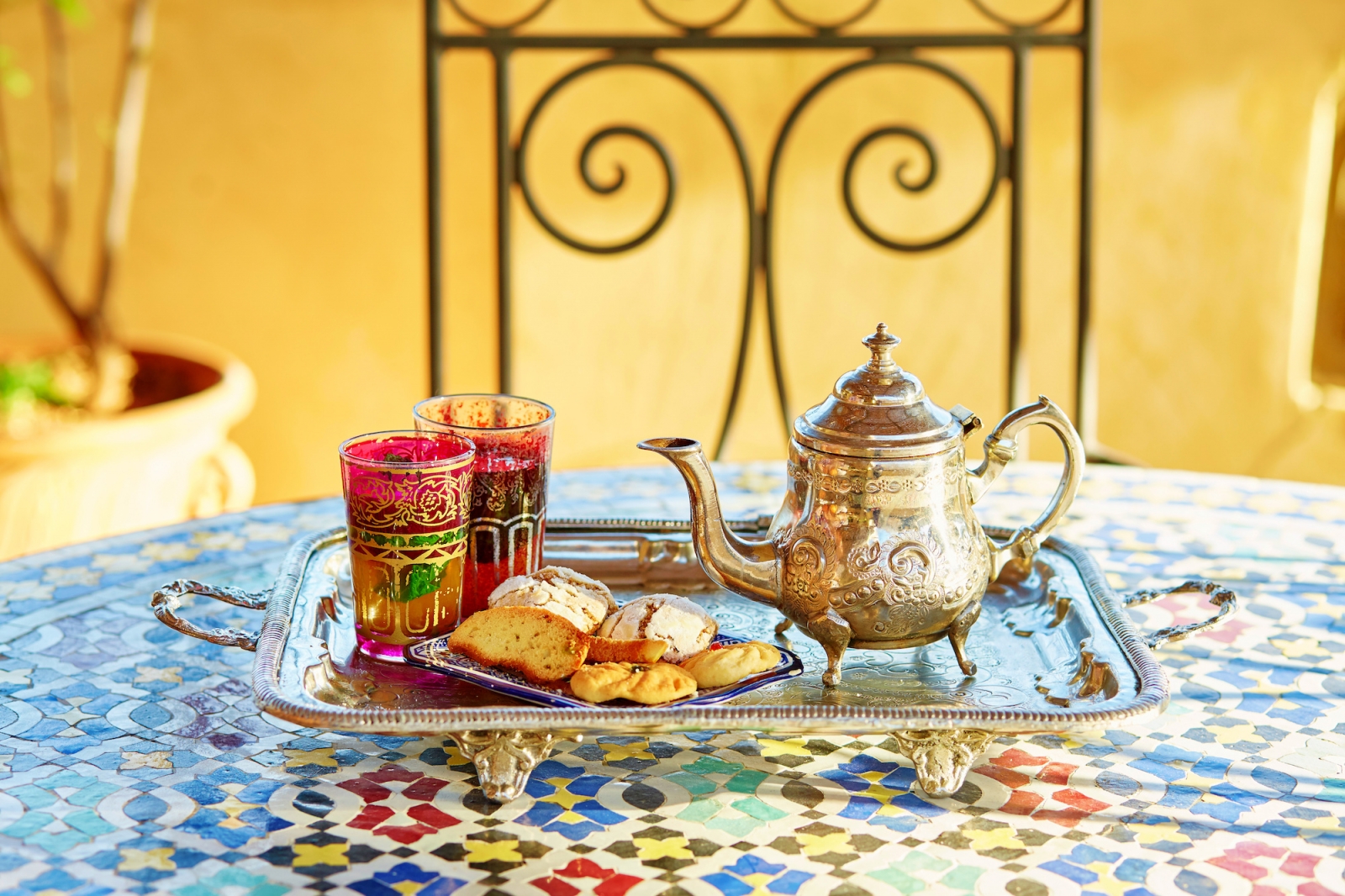 The famous mint tea in Morocco is also known as "Moroccan Mint Tea" or "Moroccan Green Tea with Mint". It is a staple beverage in the country and is considered an essential part of Moroccan hospitality.

Here is how you can prepare a traditional Moroccan Mint Tea:

Ingredients:

Green tea leaves (gunpowder tea is a common choice)
Fresh mint leaves
Sugar
Water

Instructions:

Boil water in a tea kettle or a saucepan.
In a traditional Moroccan tea glass, place one to two teaspoons of green tea leaves and a handful of fresh mint leaves.
Pour the boiling water into the glass and let it steep for 2-3 minutes.
Add sugar to taste (traditionally, Moroccan Mint Tea is very sweet).
Stir the tea until the sugar has dissolved.
Serve the tea in small glasses.

Note: In Morocco, the tea is traditionally served with the teapot held high above the glasses to create a froth on top of the tea, which is considered a sign of good quality. Enjoy!
Moroccan dishes
There are many exciting restaurants in Morocco that offer something for every taste.
Here are a few suggestions for good dishes: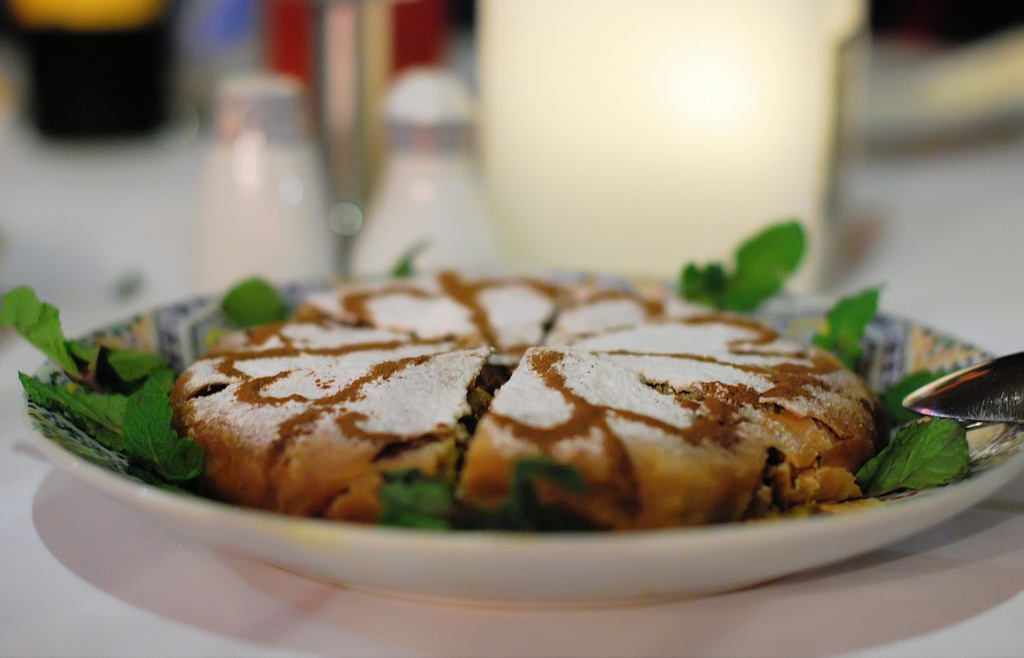 Pastilla
A thin, crispy dough in several layers that comes with meat from pigeon or chicken, chopped almonds, and honey with sugar and cinnamon. Pastilla with seafood is also popular. The dessert pastilla au lait is also made from the same crispy dough.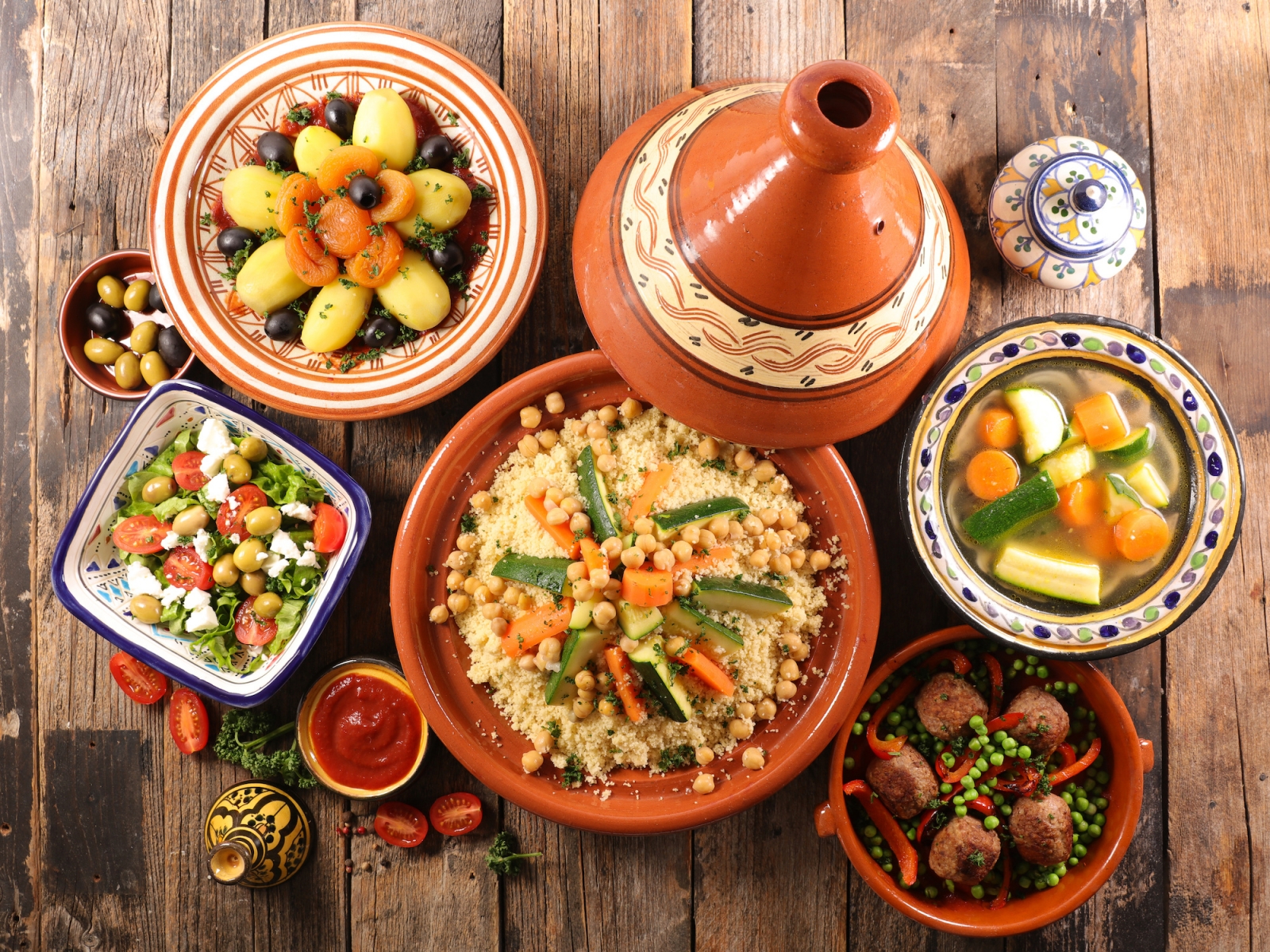 Tagine
A stew consisting of beef, chicken or fish with various vegetables, spices, and herbs. The tagine is cooked over coals or on a gas stove and served hot. The name comes from the ceramic pot of the same name in which the dish is made.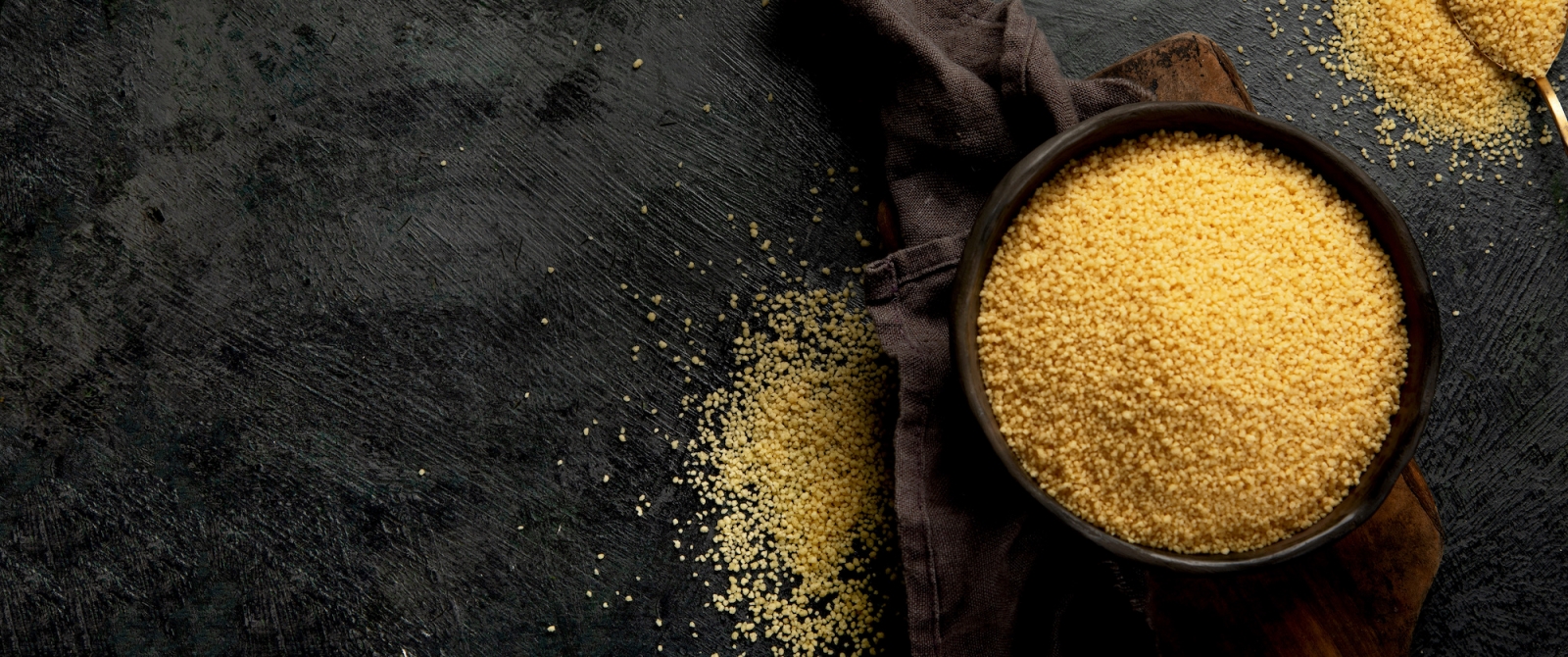 Couscous
The country's national dish consists of steamed wheat groats. The grits are served with cooked meat or chicken and cooked vegetables. Couscous is eaten with the right hand, but as a tourist and visitor to the country, you will be offered a fork or spoon. For this, they drink a thick kind of milk called Iben. Couscous is traditionally eaten mostly on Fridays after the evening prayer.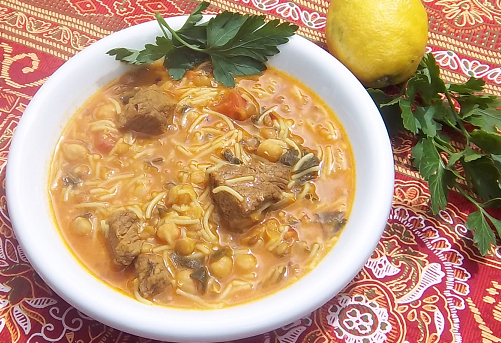 Harira soup
A hearty soup cooked on tomato with added meat, chickpeas, lentils, parsley, and coriander. This soup is the first thing Moroccans eat after sunset during Ramadan.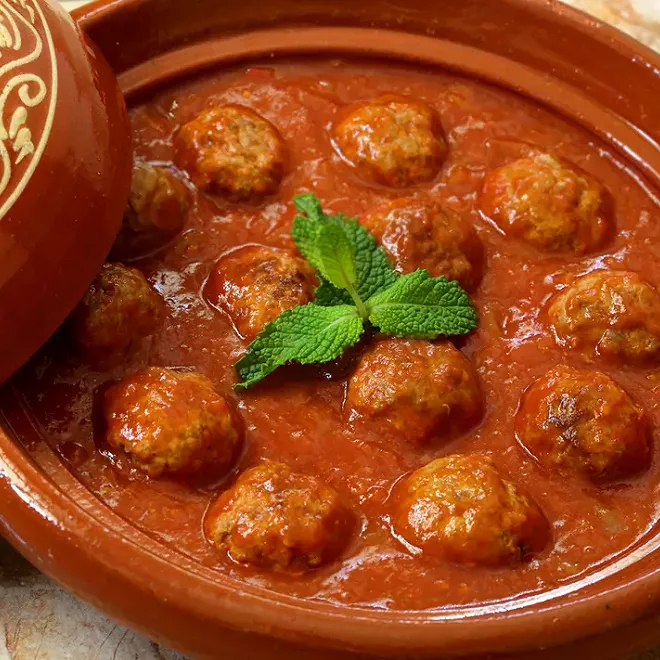 Kefta
Small meatballs in a sauce cooked on tomato. Served with fried eggs.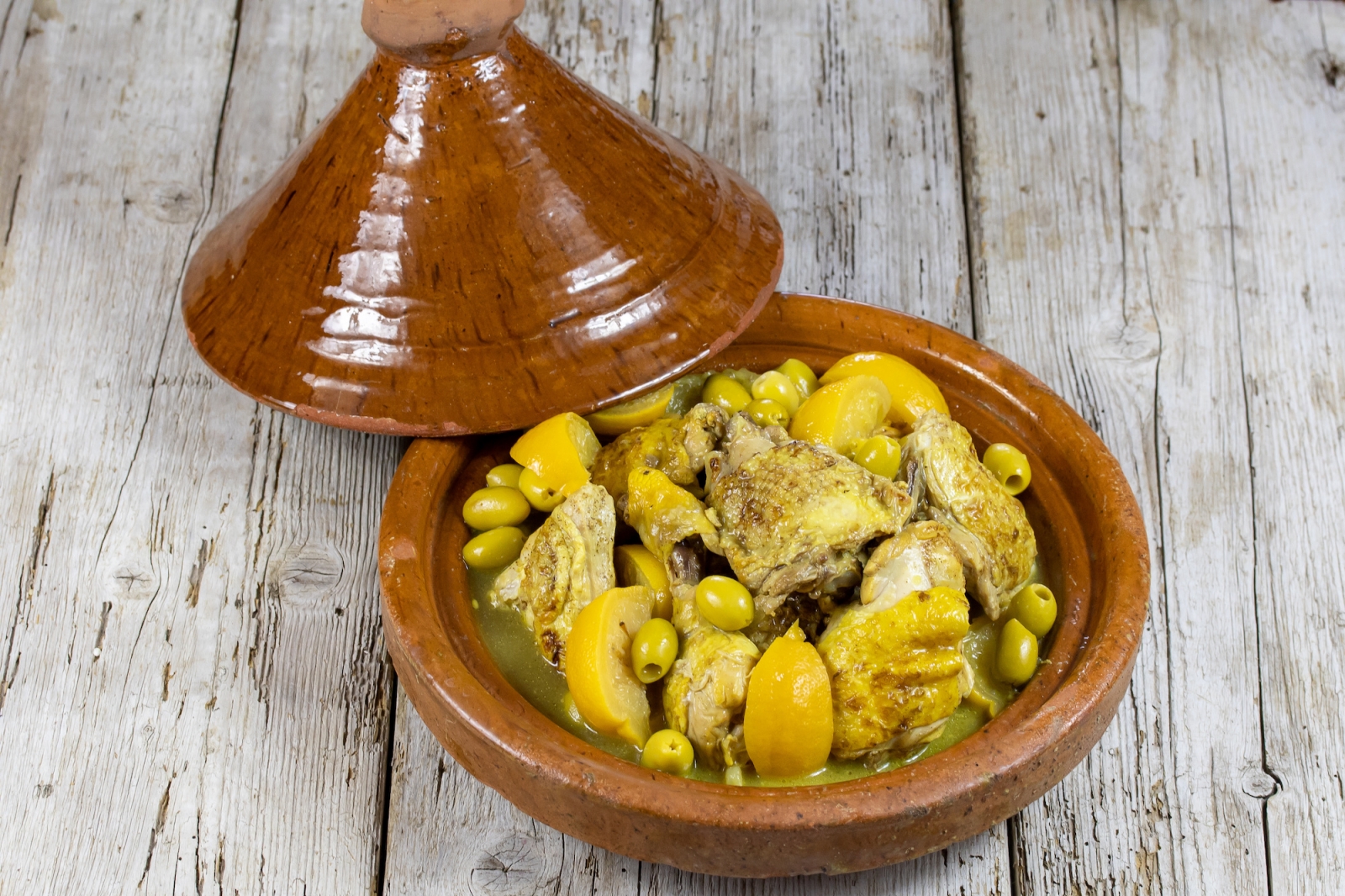 Poulet
A dish with chicken that is often cooked in a tagine and seasoned with saffron and pickled lemons.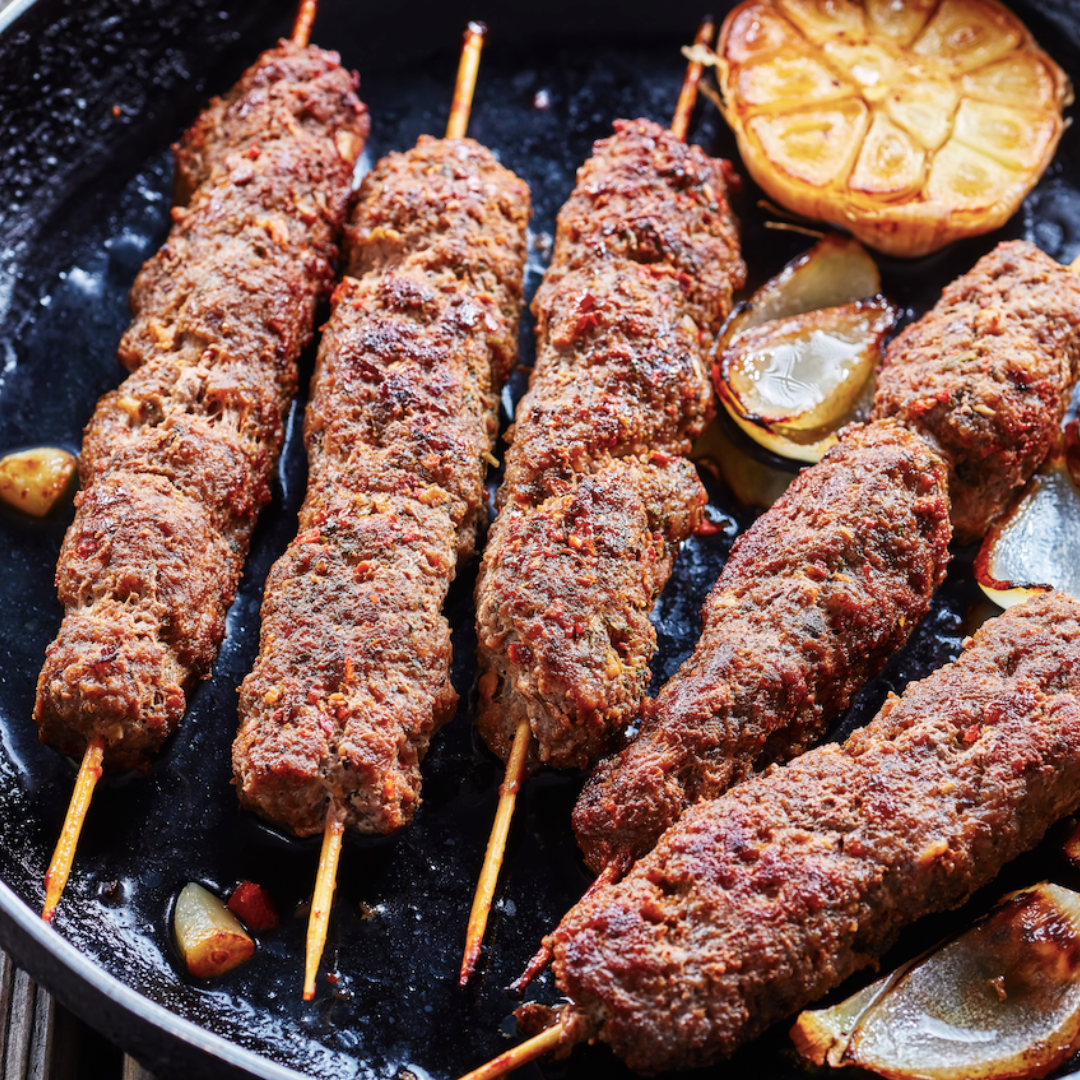 Brochettes
Skewers with meat, fish, or chicken marinated with onions, spices, and oil, and grilled over charcoal. This is served with quite strong sauces.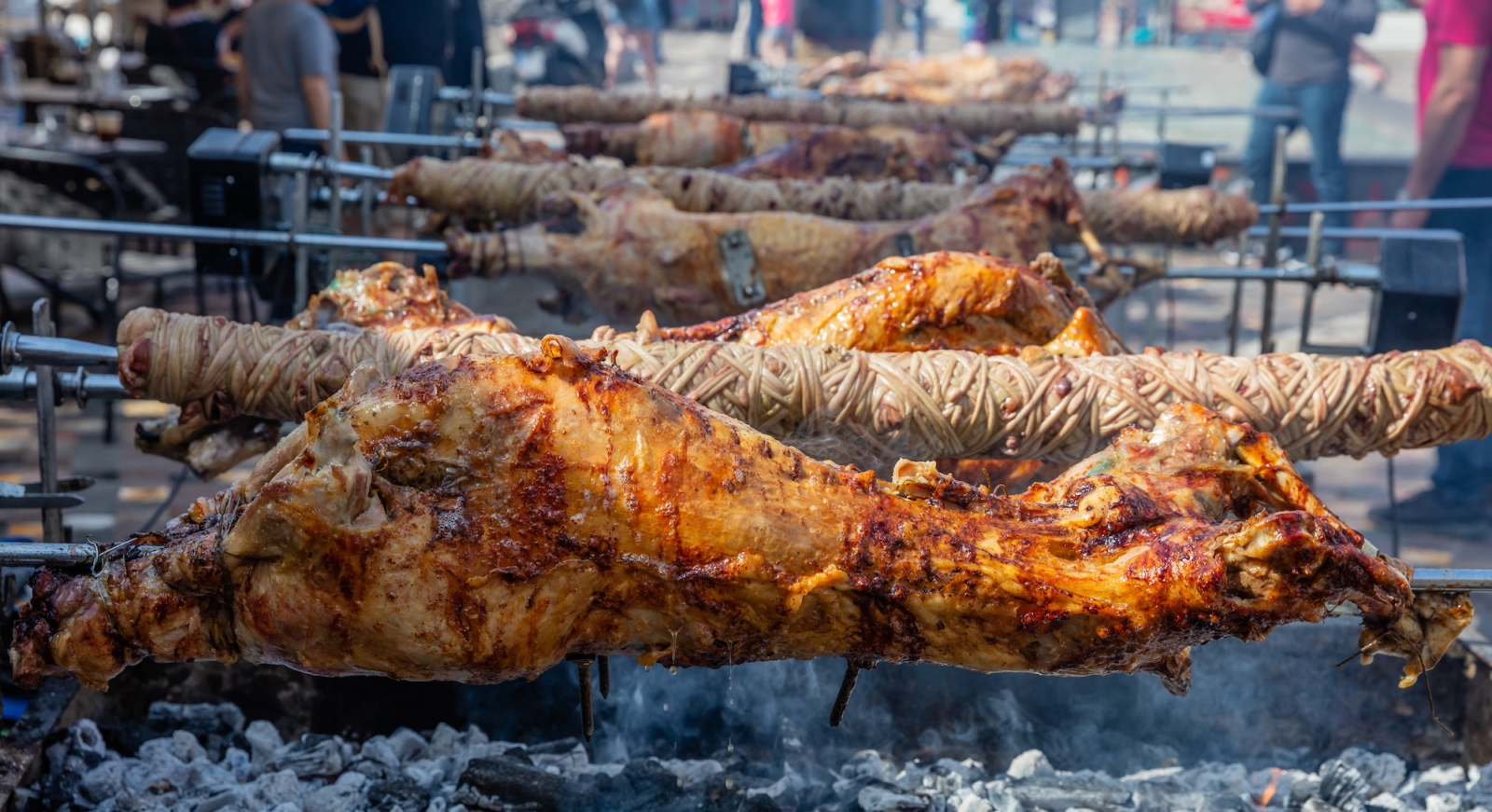 Mechoui
Whole roasted lamb is especially eaten at holidays and parties. The lamb is cooked hanging in a specially built earthen oven and seasoned with salt, pepper, and cumin.
Beverages
Wine.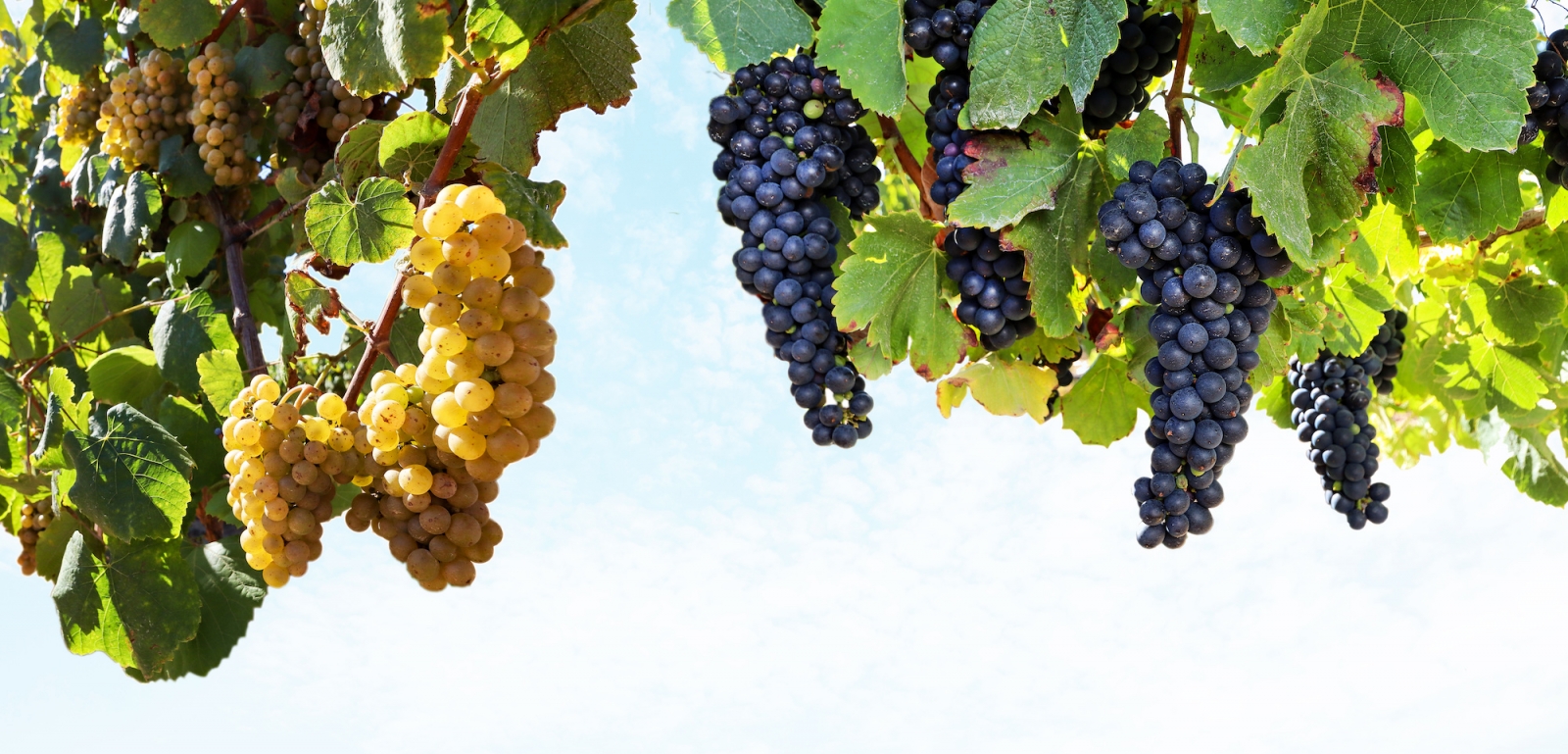 Morocco has many good wines that are worth trying: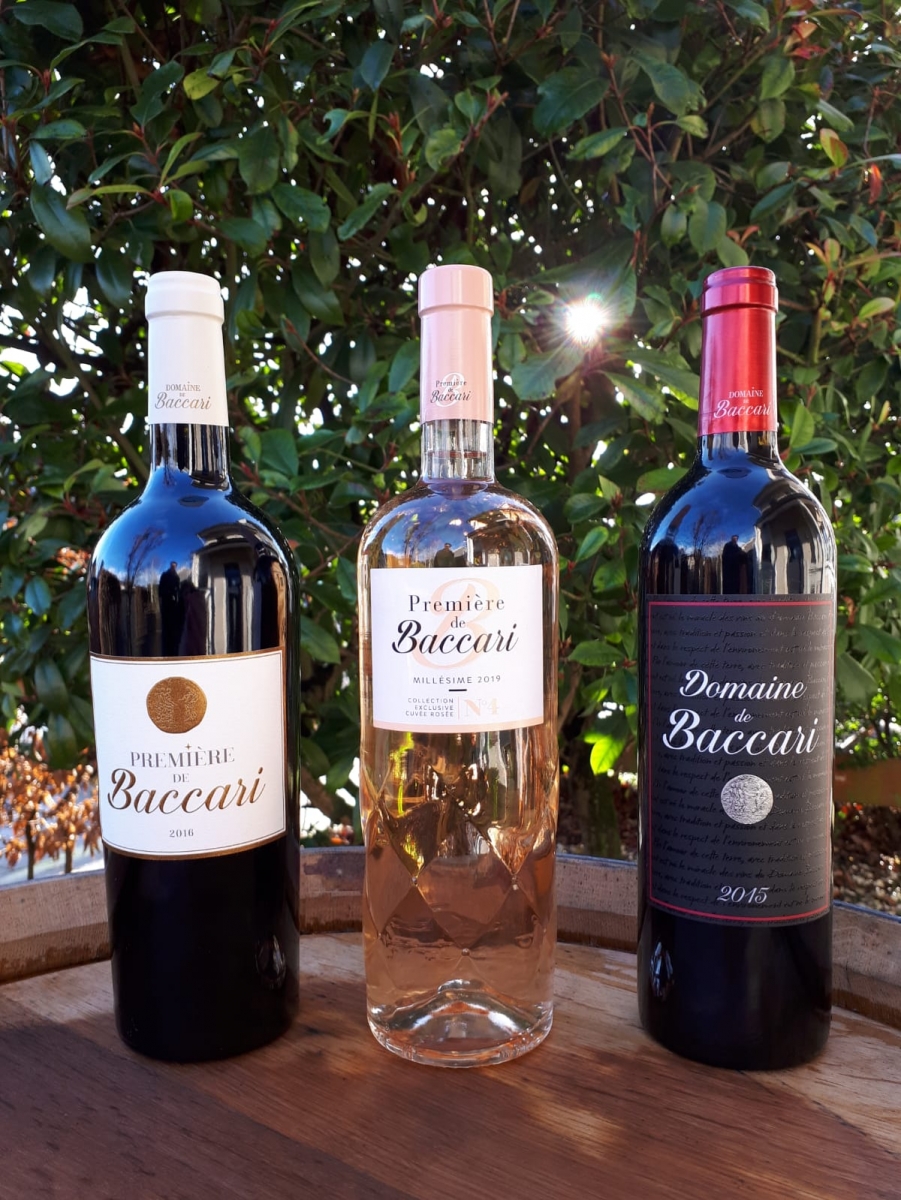 Red: The best red wine is called Les Côteaux de l´Atlas. Other good and cheaper alternatives could be Le Medaillon, Beauvallon, Guerrouan, and Cabernet President.
Rosé: Medallion rosé, Cabernet and Ksar rosé are all good wines.
White: Medallion blanc and Semillant are tasty and should also be tried.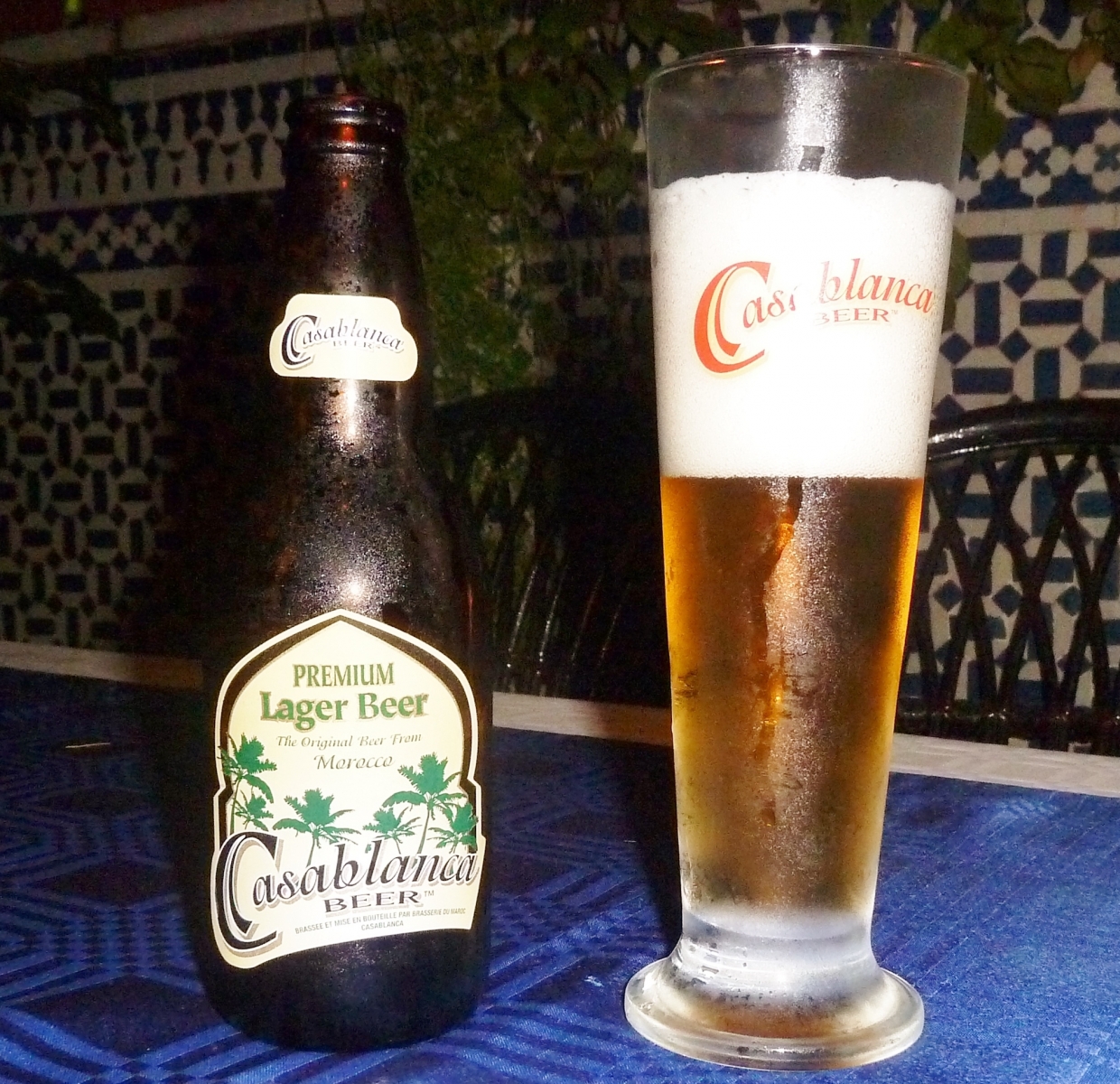 Beer: Flag, Flag Special, and Casablanca are all three local beers that you should try if you like a good beer.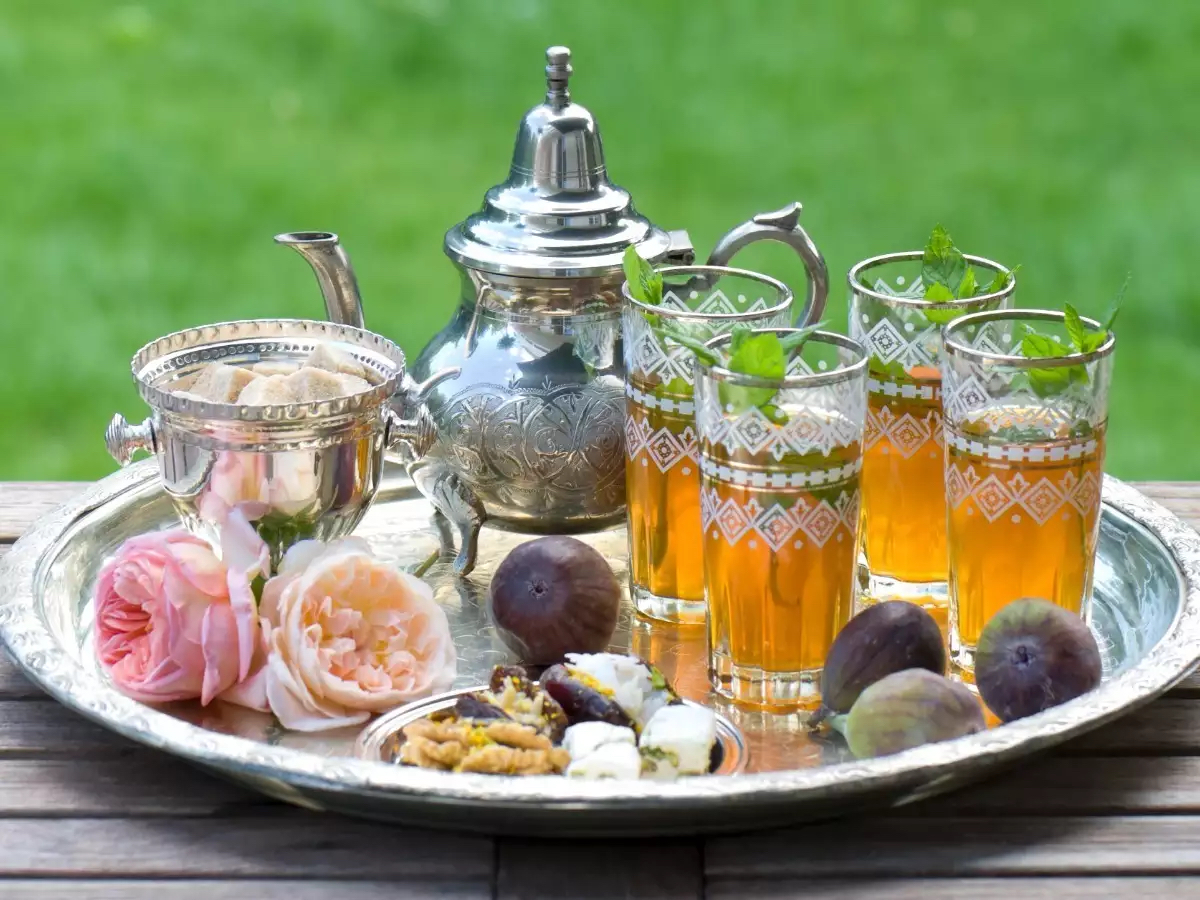 Tea: In Morocco, you drink mint tea several times a day. It consists of green Chinese tea, mint leaves, and a lot of sugar. A good refreshment both when it is hot and cold.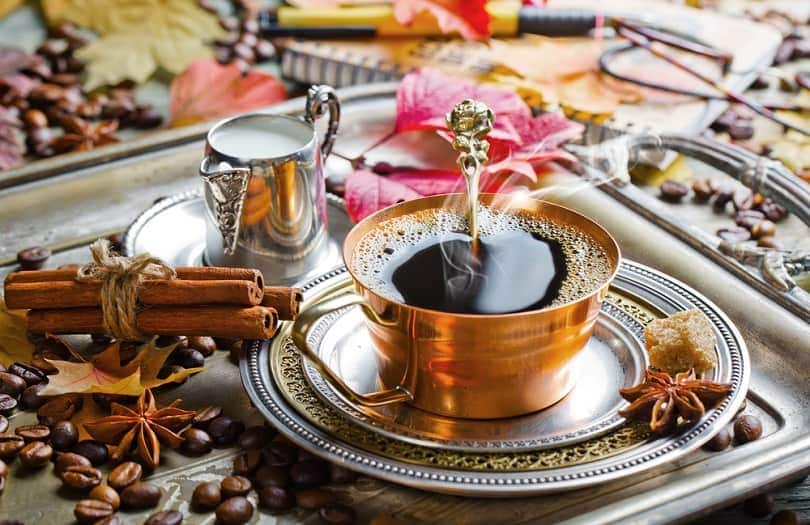 Coffee: The coffee in Morocco is really good, and here you often drink espresso, café crème (coffee with milk), or "noss noss" (half coffee and half milk).
Sports and training
Agadir is a good choice if you want to train and play sports during your holiday. You can play golf and tennis, and the beach offers water sports such as surfing, water skiing, and jet skiing. It is also popular to run along the beach, especially early in the morning.
Golf
Agadir has a good range of fine golf courses.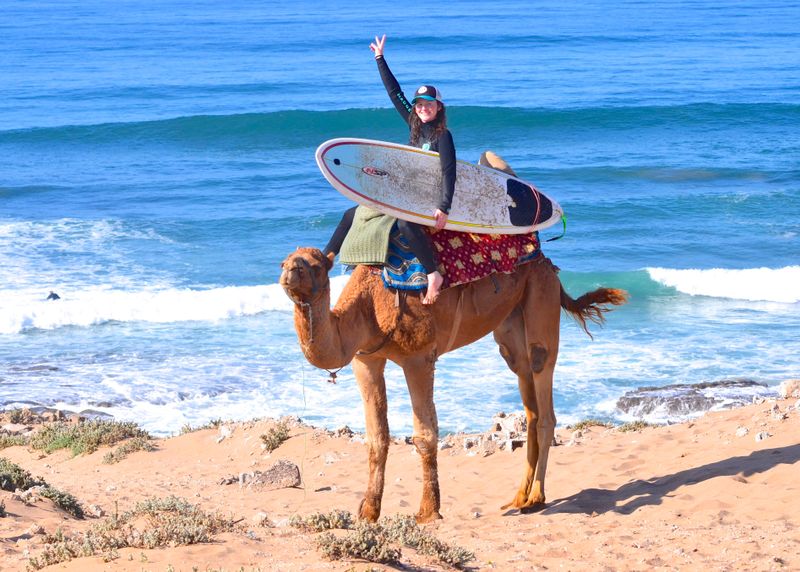 Surfing
The beaches at Agadir are often called the 'California of Europe' among surfers because of the favorable opportunities for point breaks. The best surfing season runs from November to March, but it is possible to surf all year round both north and south of Agadir, and especially in summer the waves are suitable for young surfers and beginners.
Tennis
All major hotels have tennis courts. You can also play tennis with or without an instructor at the Royal Club de Tennis d'Agadir on Avenue Hassan II.
Entertainment life in Agadir takes place primarily at and near the hotels in the beach area, where the city's nightlife in the form of nightclubs and lounges takes place. Many bars and restaurants also offer live music.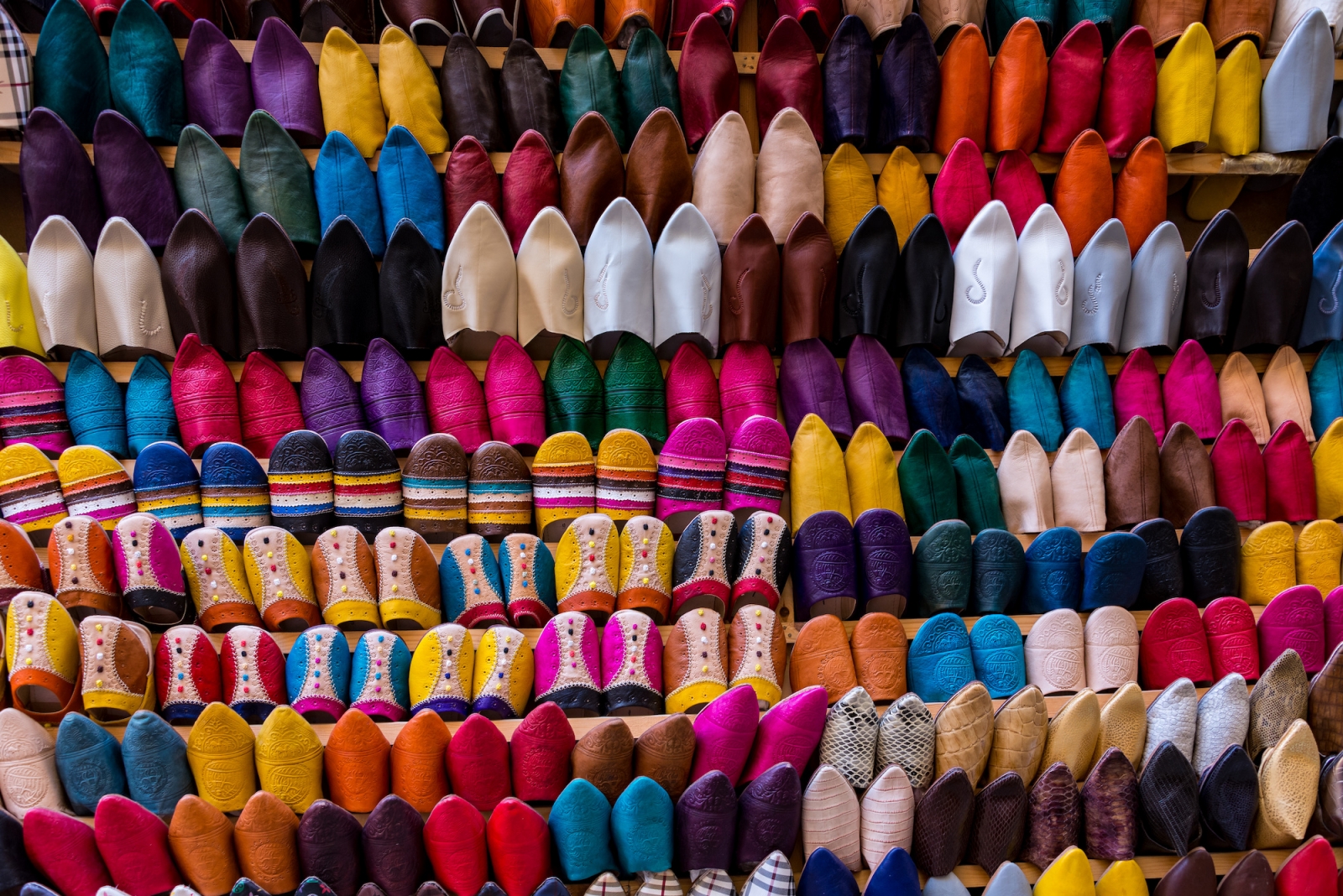 Shopping
In Agadir, there are good opportunities for shopping. Here you can shop in regular shops with fixed prices, in bazaars, and at the Souk Al Had market, where you can buy everything from fruit, vegetables, and clothes to carpets and furniture. In Agadir there are also large, modern department stores such as Aswak, Asalam, Carrefour, and Marjane, just as at the marina La Marina d'Agadir there are shops, cafes, and well-known chain stores with fashion clothes. Also feel free to take a stroll along the street Rue Allal ben Abdallah in the district of Talborjt, where there are many shops with reasonable prices.
There are many exciting things you can buy in Morocco. You can choose to shop in two different ways: in the shops, which have fixed prices, or in bazaars and markets (the souk), where you haggle over the price of everything except fruit, bread, vegetables, meat, and fish. In other words, food products have fixed prices.
How to secure the best price
Never start haggling over the price unless you want to buy.
Always start by offering a lower price than what you want to pay.
Think about the maximum amount you want to pay before you start negotiating.
Give yourself plenty of time. You don't stress through a good negotiation. Take the time to talk about something other than the item you are interested in.
Drink a cup of mint tea with the seller if he offers it. Feel free to show some pictures of your family and your life at home. It creates family contact.
After a shorter or longer conversation, you will arrive at a price that you are both satisfied with.
Never start comparing prices in other stores afterward. If you have got the product you want and at the price you wanted, then you have made a good purchase.
What can you buy in Morocco?
Leather goods, bags, slippers, jackets, handicrafts, ceramics, carpets, silver and brass, spices, flowers, and endless other things.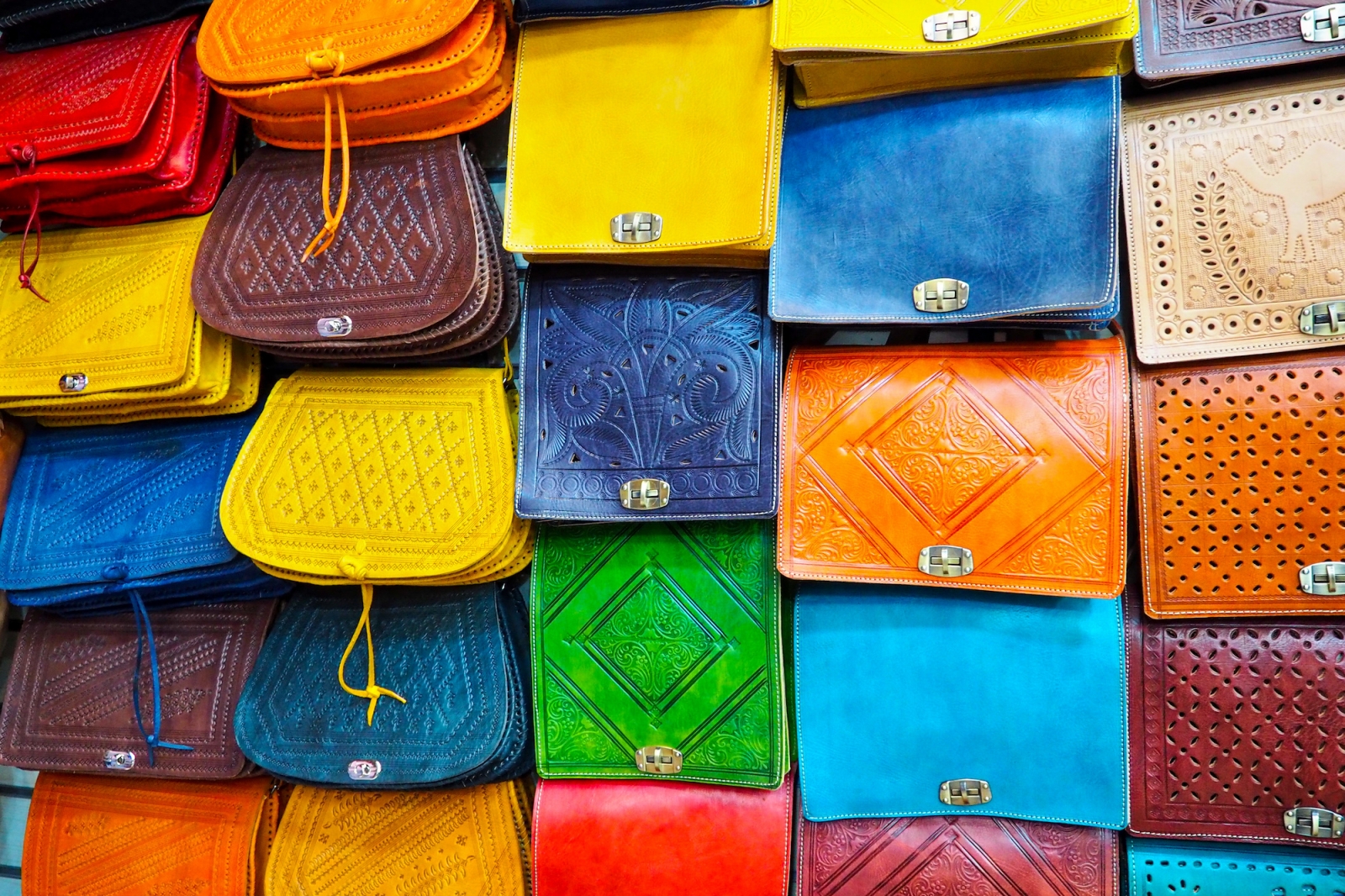 If you're thinking about buying some of the colorful and flavorful spices to take home, be aware of the price. The sellers are skilled at filling a whole box with spices, and suddenly it costs 250 dirhams, and not 25 dirhams as you might have agreed. Condiments should not cost more than they do at home.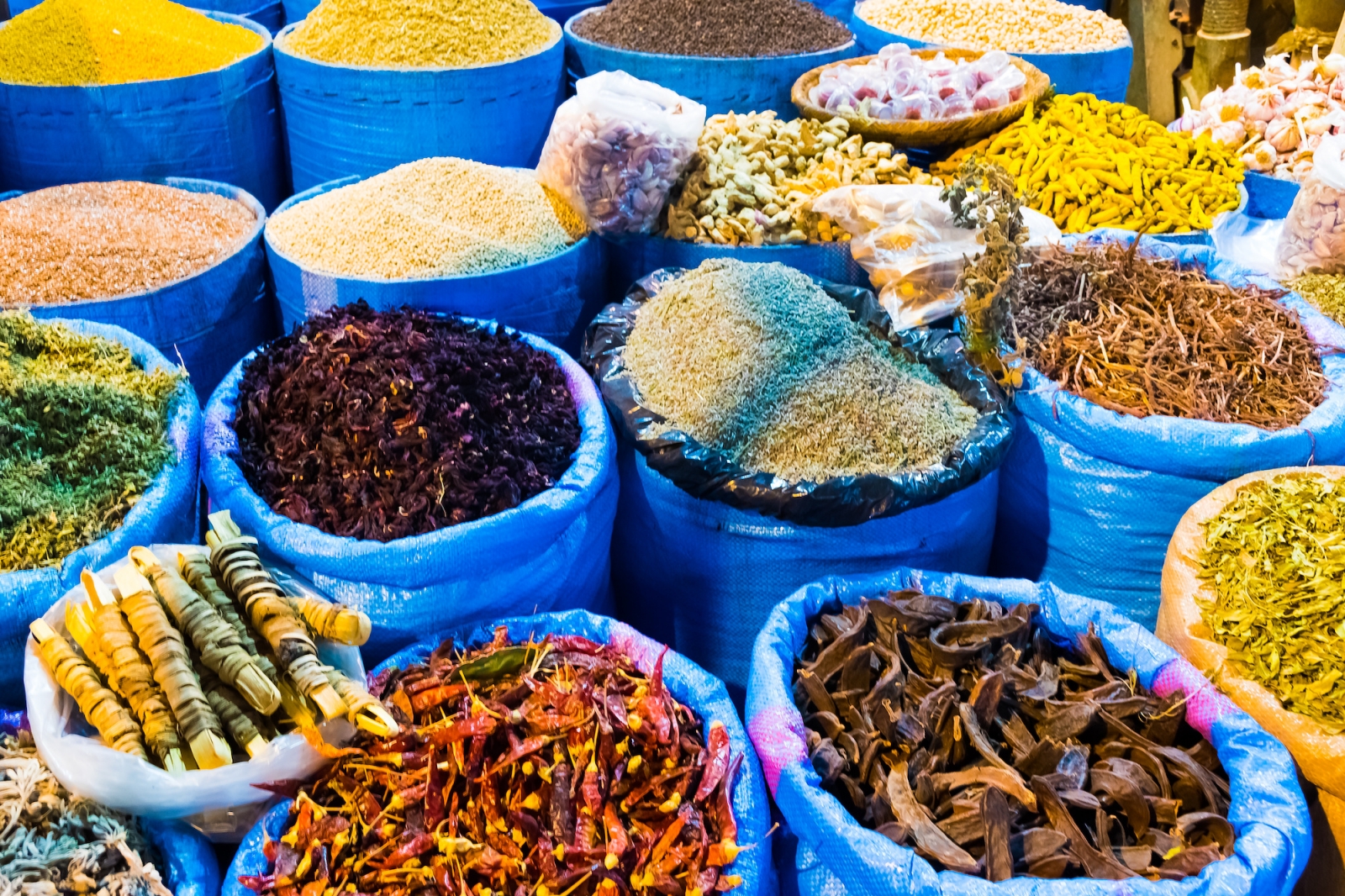 Real saffron always consists of small, orange-red threads, which are 1-2 cm long, and cost approx. 20-30 dirhams per gram. It is never an orange-colored powder. If it is in powder form, you are buying turmeric, and it only adds color. There is a spice mix called Ras el Hanut. It means "spice seller's head" and is a mixture of 30 different spices. A really good seasoning for all meat dishes.
Agadir is a really good starting point if you want to get out and experience the country. The local bus network in Agadir works very well, and taxis are both easy and cheap. The traffic in Morocco is very hectic, and we, therefore, do not recommend that you go out on your own but be accompanied by a familiar local tour guide who speaks your language.
Local buses
You can take local buses to most cities in the area from the bus station in Agadir. Book and pay for your place at least one day in advance. The bus station is called Gare Routière de Voyageurs and is located right next to Souk Namoudaji Al Massira. It is also from here that all long-distance buses depart, and you can also buy a ticket for them at the bus station.
Little taxi
Petit taxis are small, orange taxis. They have room for a maximum of three passengers and run on a taxi meter. Petit taxis may only drive within the city limits.
Grand taxi
Big, white taxis. They take a maximum of five passengers, and with these, you can cross the city limits and drive further into the countryside. They do not run on a taximeter, so the price must be agreed upon before driving.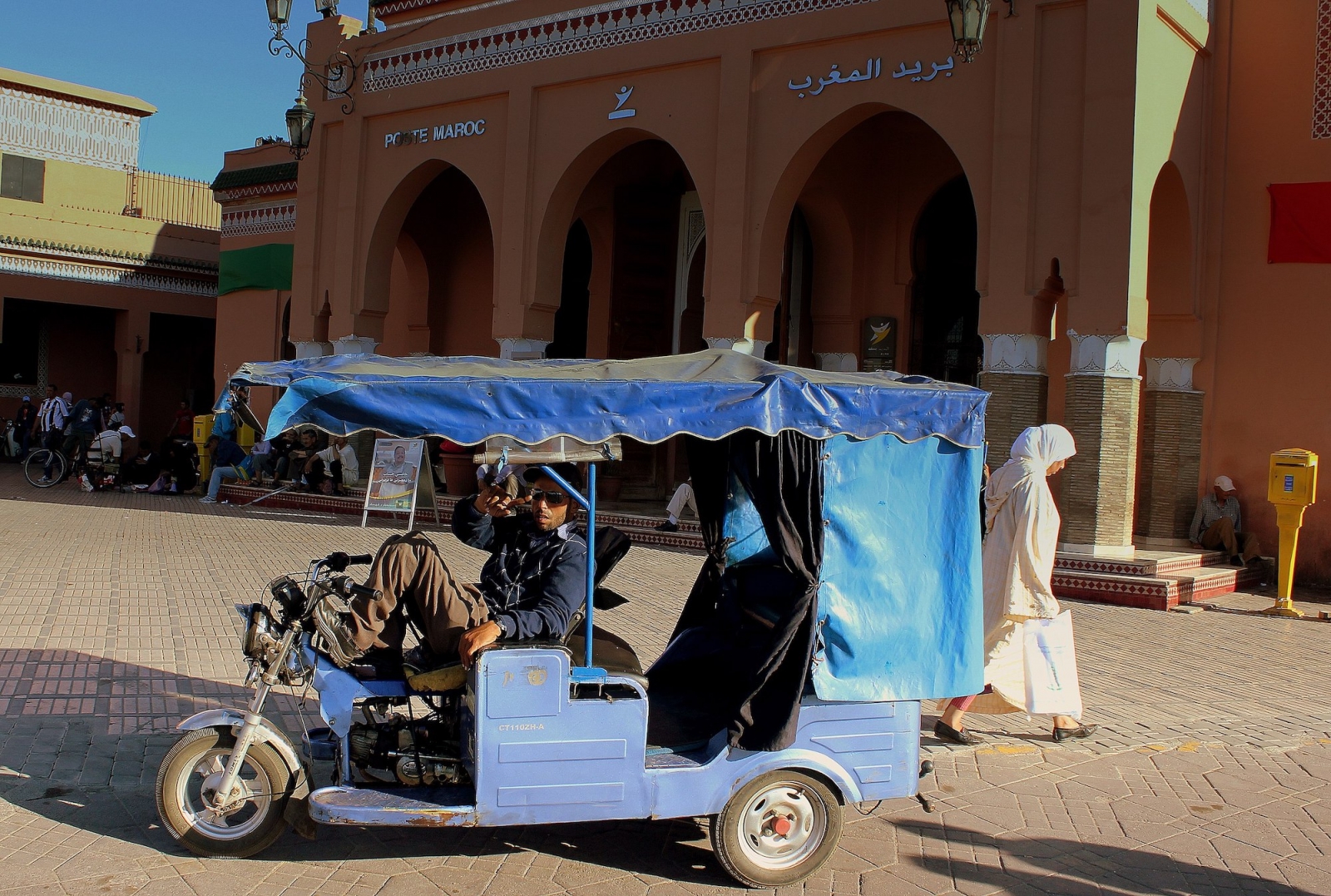 Touk
There are no trains from Agadir. Instead, you can take the train company's local bus, Supratour, which runs several times a day to Marrakech, from where different trains run to all cities in northern Morocco. This is both a cheap and easy way to get around.
Airplane
Morocco's airline is called Royal Air Maroc and has several different domestic flights daily to most major cities in the country. For example, the company flies to and from Casablanca four times a day. International direct flights are possible from New York, Paris, Madrid, Berlin, etc.
Scooter and motorcycle
Due to the very hectic traffic, we do not recommend renting a moped or motorbike. Often there are no helmets available either. However, it is possible to rent bicycles at hotels close to the beach.
In Agadir, both fast-paced and quieter activities are offered.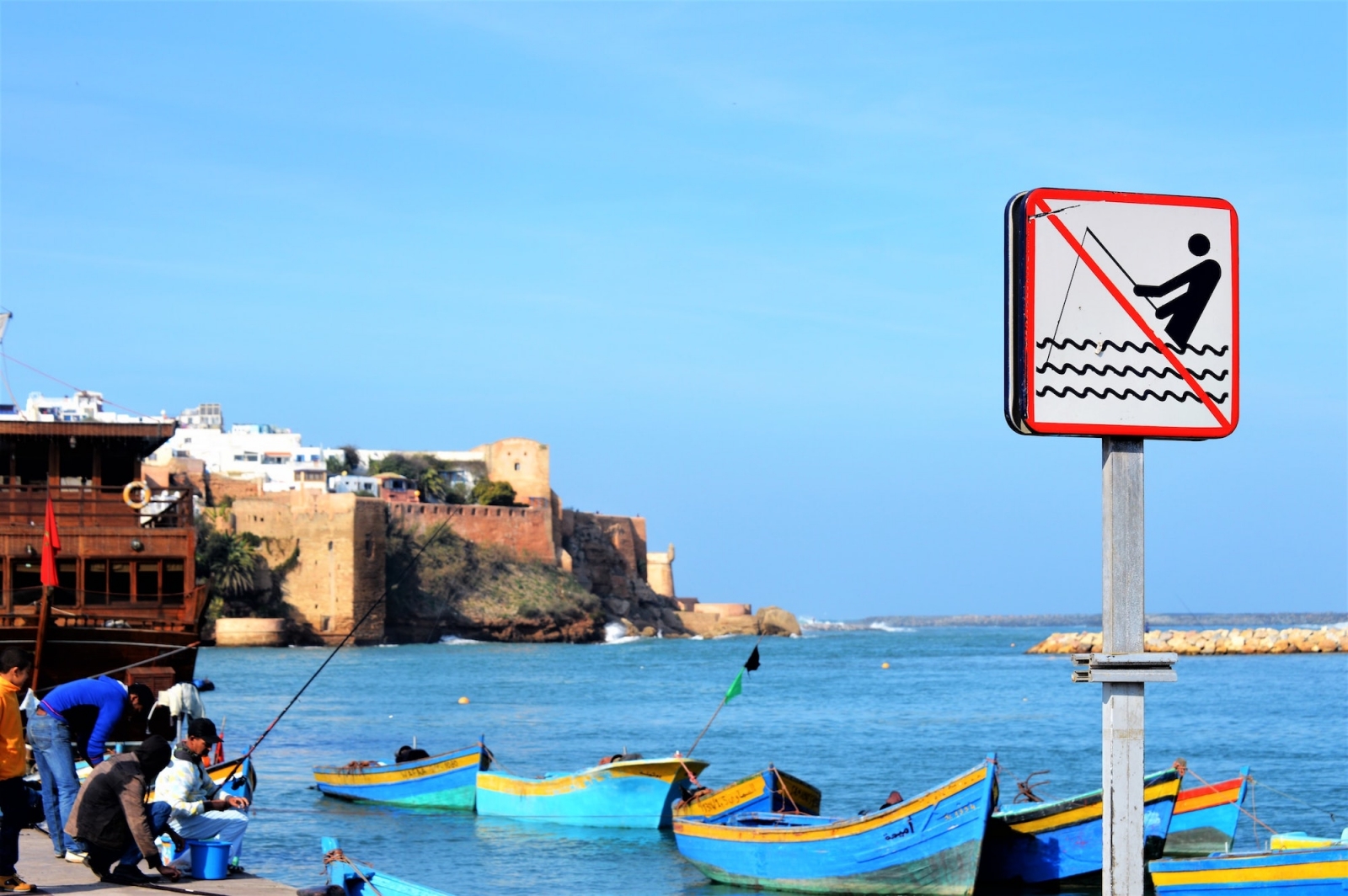 Excursions at sea
Take a fishing trip and try your luck! Any fish caught on the trip will be prepared on board.
Ski
About 320 km north of Agadir is Oukaimeden. Here you will find three different slalom slopes and a ski lift that takes you up to an altitude of 3,000 meters. It is possible to rent skis, poles, and boots. There are several fine hotels in the area. The trip up to Oukaimeden goes through the Ourika valley, which is fantastically beautiful and part of the experience in itself. The ski season is from the end of November to March.
ATV
You can also get out and ride an ATV, which is a four-wheeled vehicle that can drive in otherwise difficult terrain. A typical trip lasts approximately four hours.
Almost all of Agadir was destroyed during an earthquake in 1960, and the city is therefore relatively modern. But despite that, the city still has quite a few different sights and attractions to offer. And in the area around the city, there are also several squares and places which are worth a visit.
The fishing port
At the foot of the mountain near Agadir lies Morocco's third-largest port. Here you can see how ships are built and experience the busy and lively port, where there is always someone working. Remember to bring your passport. At the entrance to the port, there are manned passport control, as the port is considered to be international land.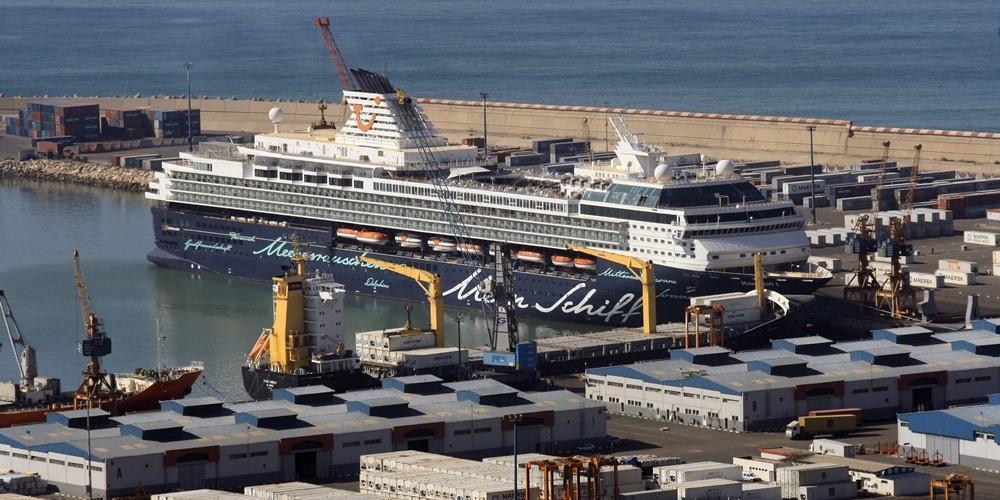 Souk El Had
The Souk Al Had market is a must when visiting Agadir. Here you can buy everything from replica goods to fresh fruit and vegetables. The souk is open from Tuesday to Sunday, but Saturday and Sunday are the big market days. Souk Al Had simply means Sunday Market. If you take a taxi to the market, you don't need to say anything other than "souk" - the driver knows exactly what you mean.
Museums
Agadirs museum is on the pedestrian street stretching between Avenue Mohamed V and Avenue Hassan II. The permanent exhibition gives an insight into Moroccan craftsmanship, and then there is a lot of exciting silver jewelry in the Berber style.
Jardim Olhao
The Portuguese park Jardim Olhão, located on Avenue Kennedy in Talborjt, offers an exciting photo exhibition showing Agadir before and after the earthquake in 1960. Here you can hear several moving accounts in French of locals affected by the disaster.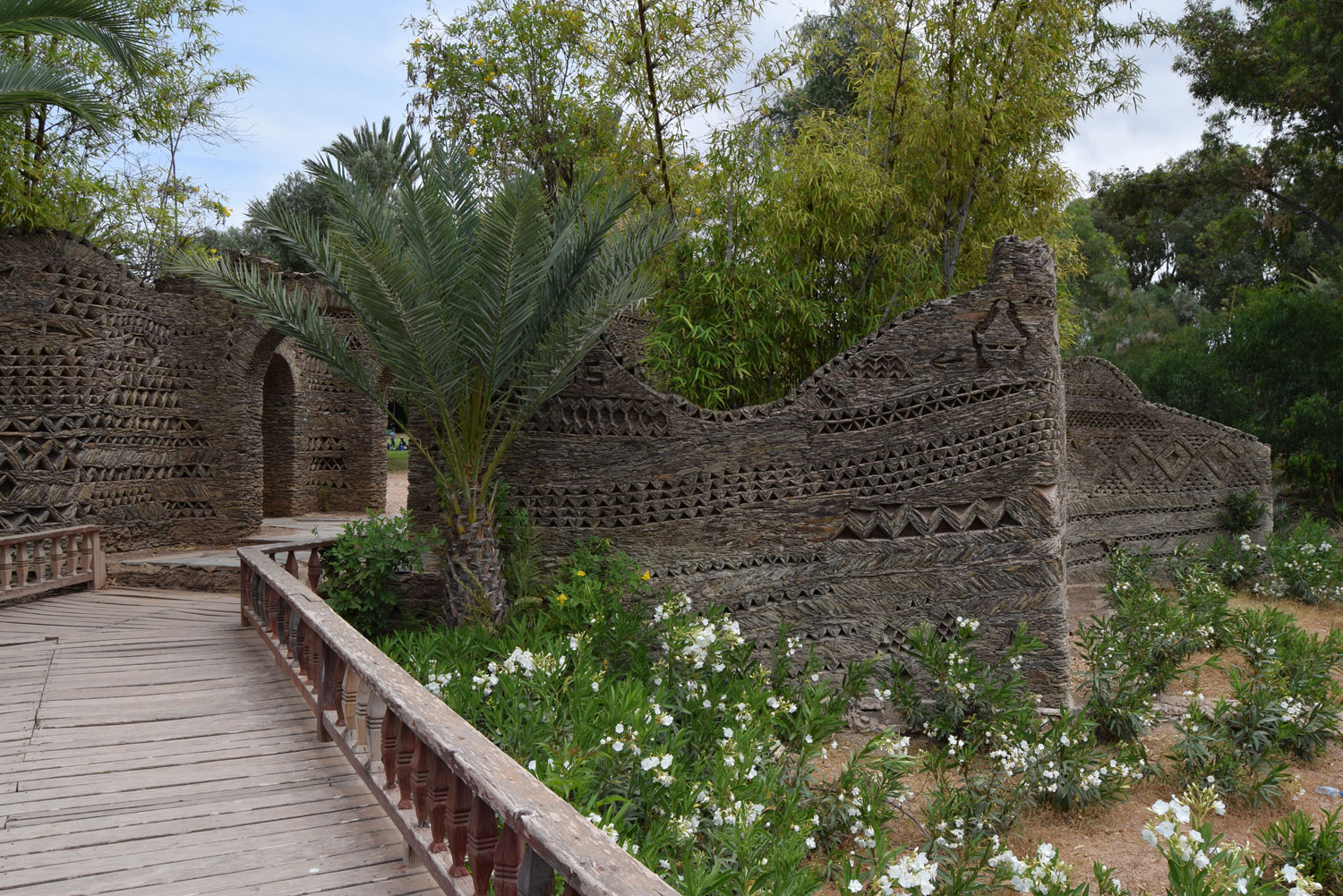 Talborjt
Talborjt is the neighborhood in central Agadir that has best preserved its original Moroccan atmosphere, as many locals still live there. Here you can go and look in shops in peace and quiet, and you will probably find something at a good price. There are shoe, sports, and clothing stores here with significantly lower prices than in the hotel area. In the square by the hotel Sindibad, there are many local restaurants with low prices. However, be aware that alcohol is not served at these restaurants.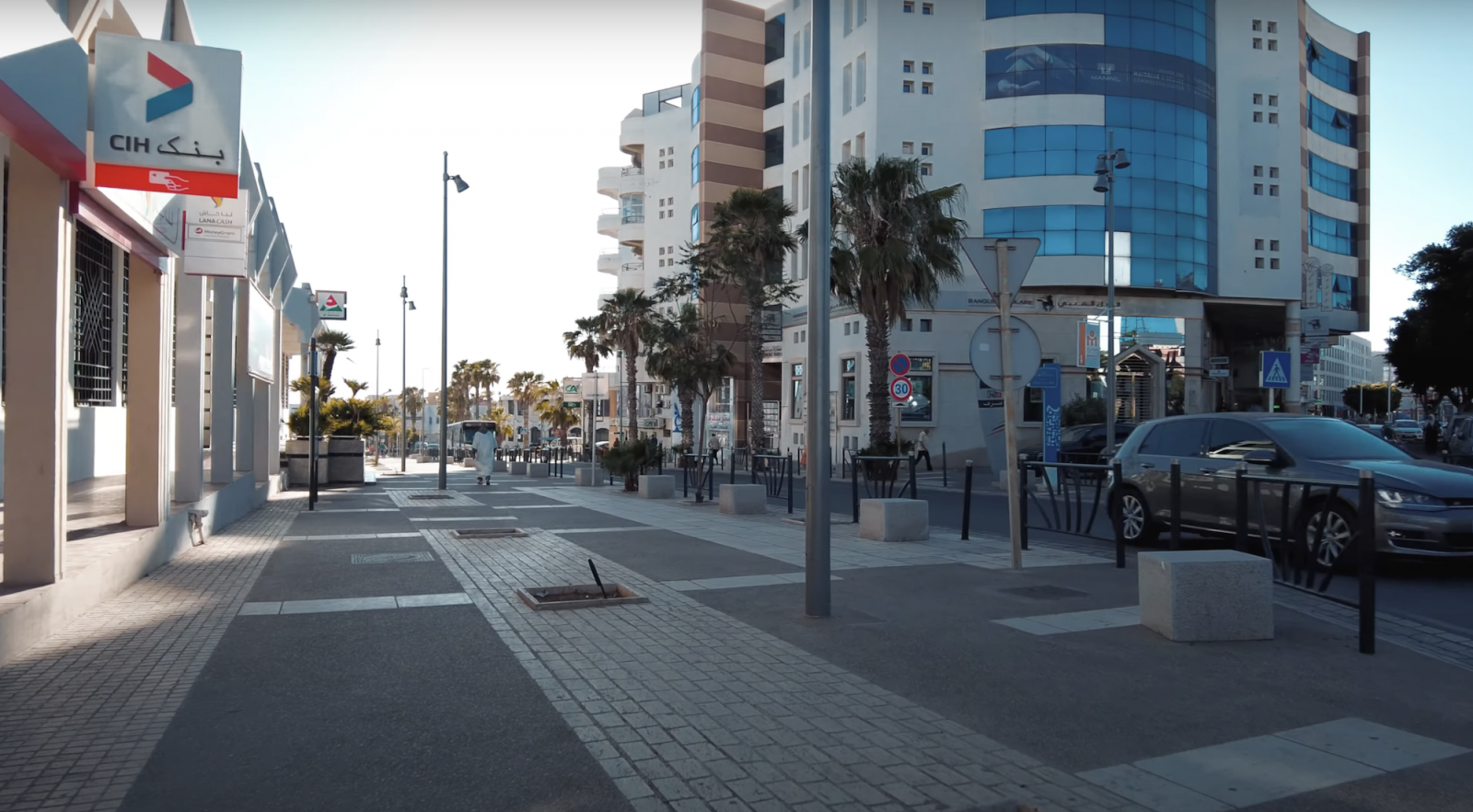 Kasbah
On top of the mountain close to the town are the ruins of the old Kasbah, which was built in the 16th century. The word kasbah is Arabic and means fort or fortress. After the strong earthquake that hit Agadir in 1960, large parts of the kasbah were destroyed, and the wall that can be seen today remains a reminder of a bygone era. From up here, the view of the city and the harbor is wonderful.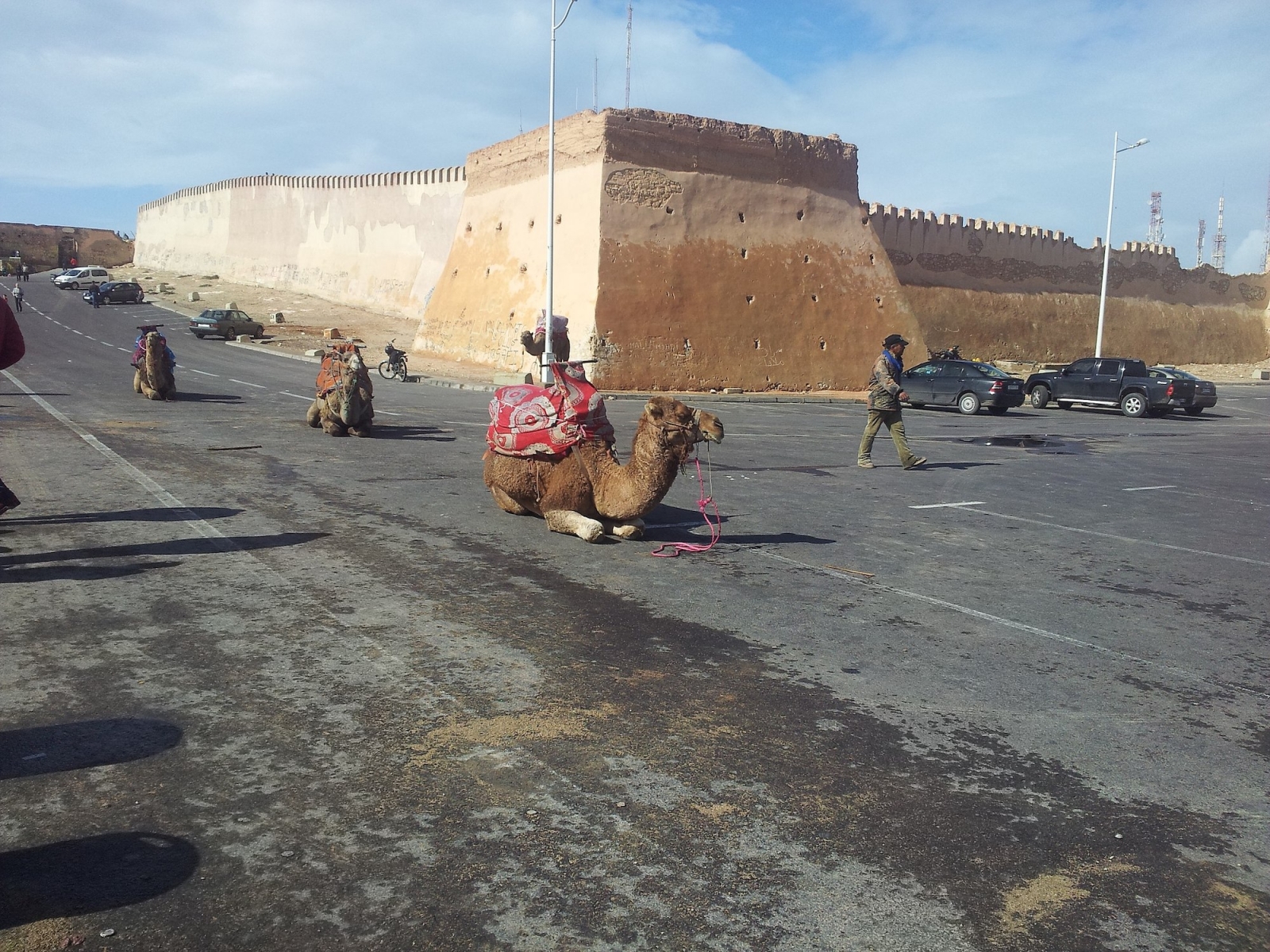 At the end of the seafront, in the direction of the fishing port, is Agadir's marina. Here you will find tapas bars, restaurants, and cafes. Over time, more fashion stores have also opened. There are also good opportunities to do as the locals do; to take a stroll on the seafront and enjoy the beautiful sunset.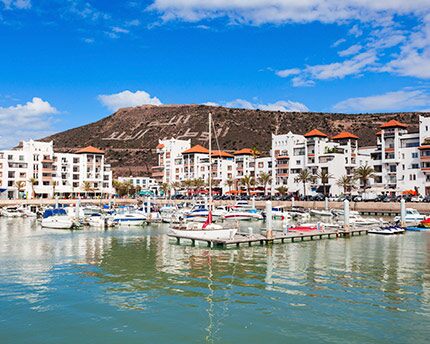 La Corniche
La Corniche is Agadir's long seafront, five kilometers long, stretching from the last hotel on the beach to La Marina d'Agadir. Here you can go for a walk or run in the early morning hours, before the heat sets in.
A beautiful medina located just outside Agadir. It is built to look like a Moroccan city with a ring wall and a medina. A wonderful and peaceful atmosphere reigns here, and the city is definitely worth a visit. You can look in some of the small shops here or have a mint tea in the Maori café. The whole area covers about four hectares and all the material comes from the Sousse region.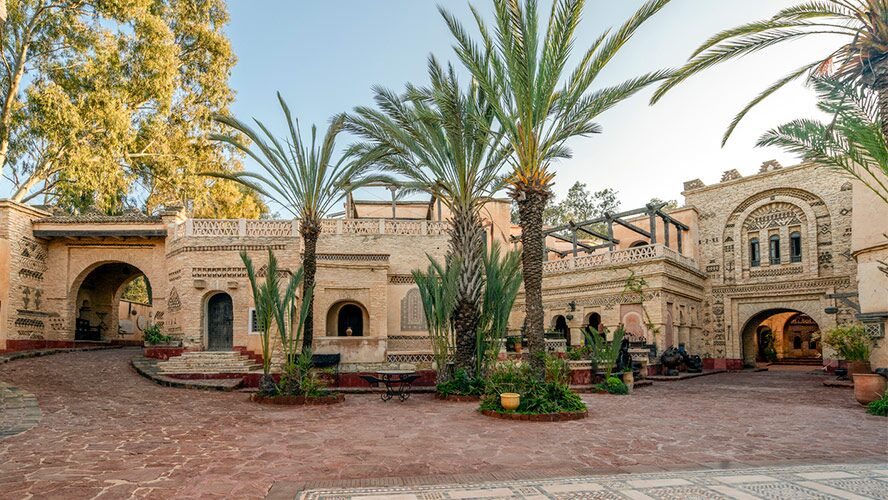 Taghazout Beach
Approximately 20 km north of Agadir, on the way to Essaouira, lies the fishing town of Taghazout. Here the locals go out and enjoy the sun and warmth on Sundays. The beach is also incredibly popular with surfers, and there is both a surf school and a surf shop.
Tamraght-Aourir
Tamraght and Aourir are two towns located approximately 10 km north of Agadir. They are known as the "banana towns", which comes from the fact that bananas are grown in the area. Everywhere you can see the locals standing along the road selling bananas. Many of those who live in Agadir like to make the trip out here on the weekends to enjoy a good tagine at one of the many restaurants.
Imouzzer
If you have rented a car, Imouzzer is an obvious excursion destination. Located just 60 km north of Agadir, it is an affordable drive. It is not possible to get to Imouzzer by bus, and if it has rained, the roads can be difficult to drive on. Take the main road in a northerly direction towards Tamraght, follow the signs, turn right, and continue along the small roads. The road is really beautiful with high mountains and deep valleys. Imouzzer is very famous for its waterfall, despite the fact that there is not very much water in it. Brave souls sometimes take a headlong plunge into the water for a small fortune.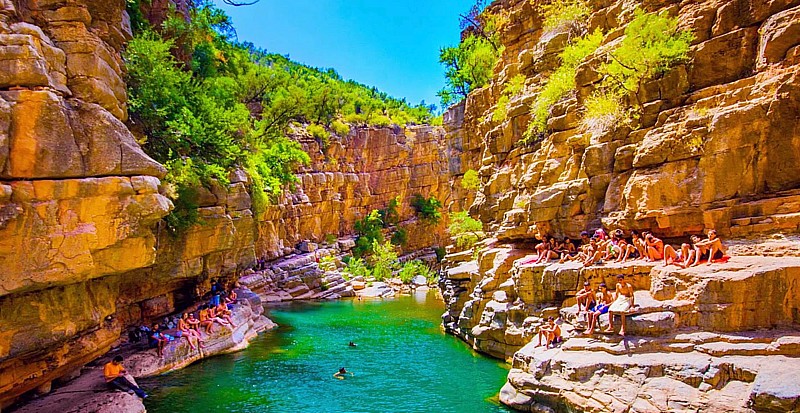 Inezgane
Approx. 13 kilometers south of Agadir lies Inezgane. Here, the largest market on the entire Sousse plain takes place every Tuesday, and here you can buy everything between heaven and earth. The market is actually open every day, but Tuesday is the big market day. Unlike Agadir, Inezgane is built in true Moroccan style with narrow streets and winding alleys, so here you really get the feeling of being in Morocco. If you want to pass by Inezgane, the easiest way to get here is by rental car or taxi. The city is also the starting point for many buses if you want to go out and look around the area.
Nature reserve Massa
For animal lovers and ornithologists, the Massa nature reserve is the obvious bird-watching excursion destination. Approx. 45 km south of Agadir is Masse, which is believed by many bird experts to be the most important breeding ground in Morocco. Here you can e.g. get to see hawk eagles, stilt runners, common sailors, desert ravens, flamingos, herons, and cranes. If you're really lucky, you might even see the bald ibis, which is an endangered bird species. Take a taxi to Oued Massa or rent a car and drive yourself - the choice is yours.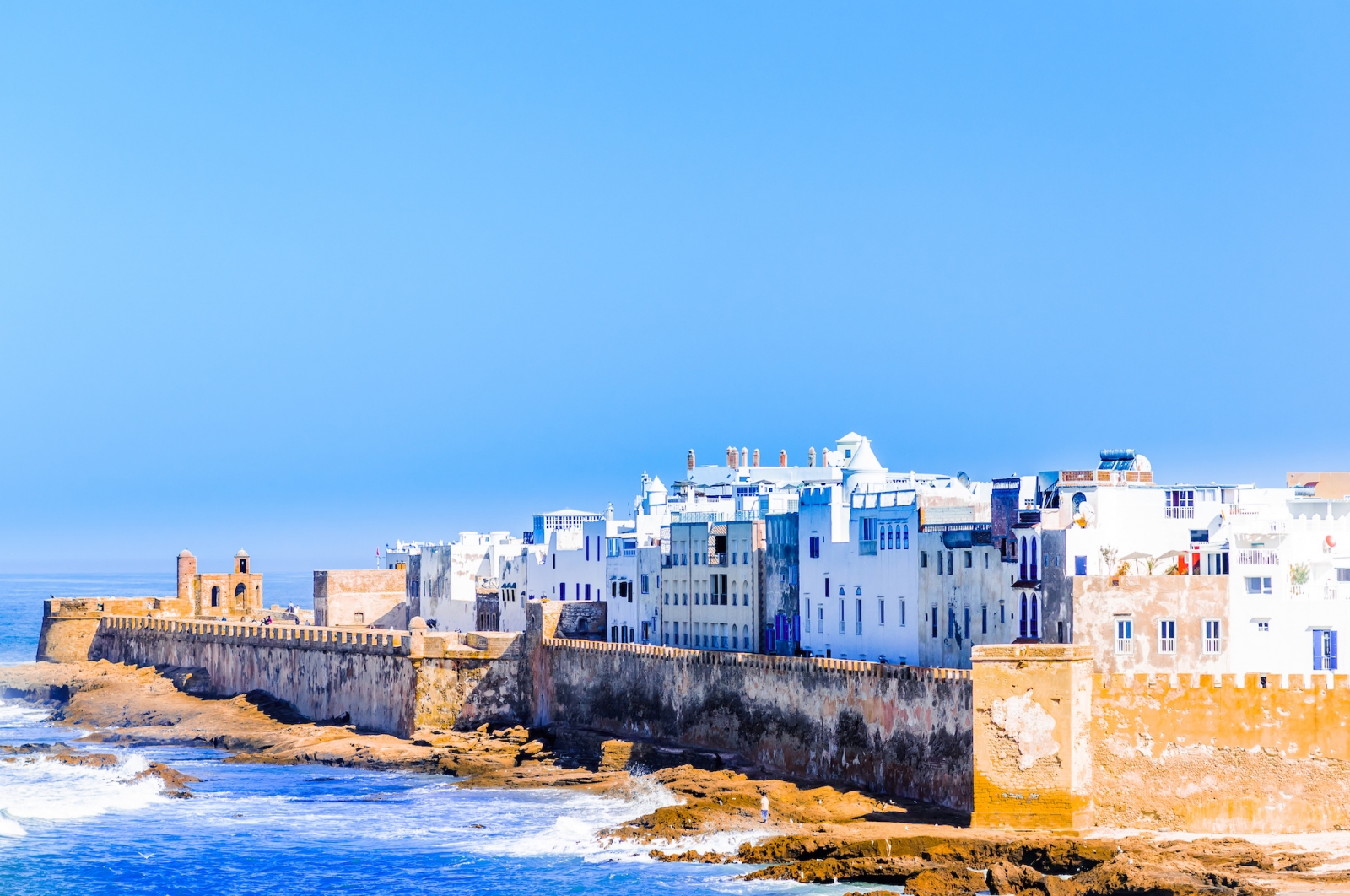 180 km to the north lies the port city of Essaouira, which was an important port city for the Portuguese in the 16th century, when they had to get ready to go out and explore the world. The city was already known in Roman times when it was necessary to extract purple. The town is known for its peaceful atmosphere and not least the white houses with blue shutters on the windows. In the 60s and 70s, Essaouira was a hangout for hippies from all over the world, and many celebrities had accommodations there. Today, the city is very popular among surfers who travel here from all over the world. There are also many artists who travel here because of the city's special light, which inspires beautiful paintings.
The road to this fairytale city, located 250 km from Agadir, goes up through the beautiful Atlas Mountains. In the famous Djemaa el-Fna square, you will experience diversity like never before with snake charmers, fortune tellers, poets, and many other quirky characters - as if taken out of a book. A stroll through the medina's throngs of alluring bazaars and skilled craftsmen is an experience in itself. You can take a walk on a blacksmith's street, a wool workers' street, a rail workers' street, etc.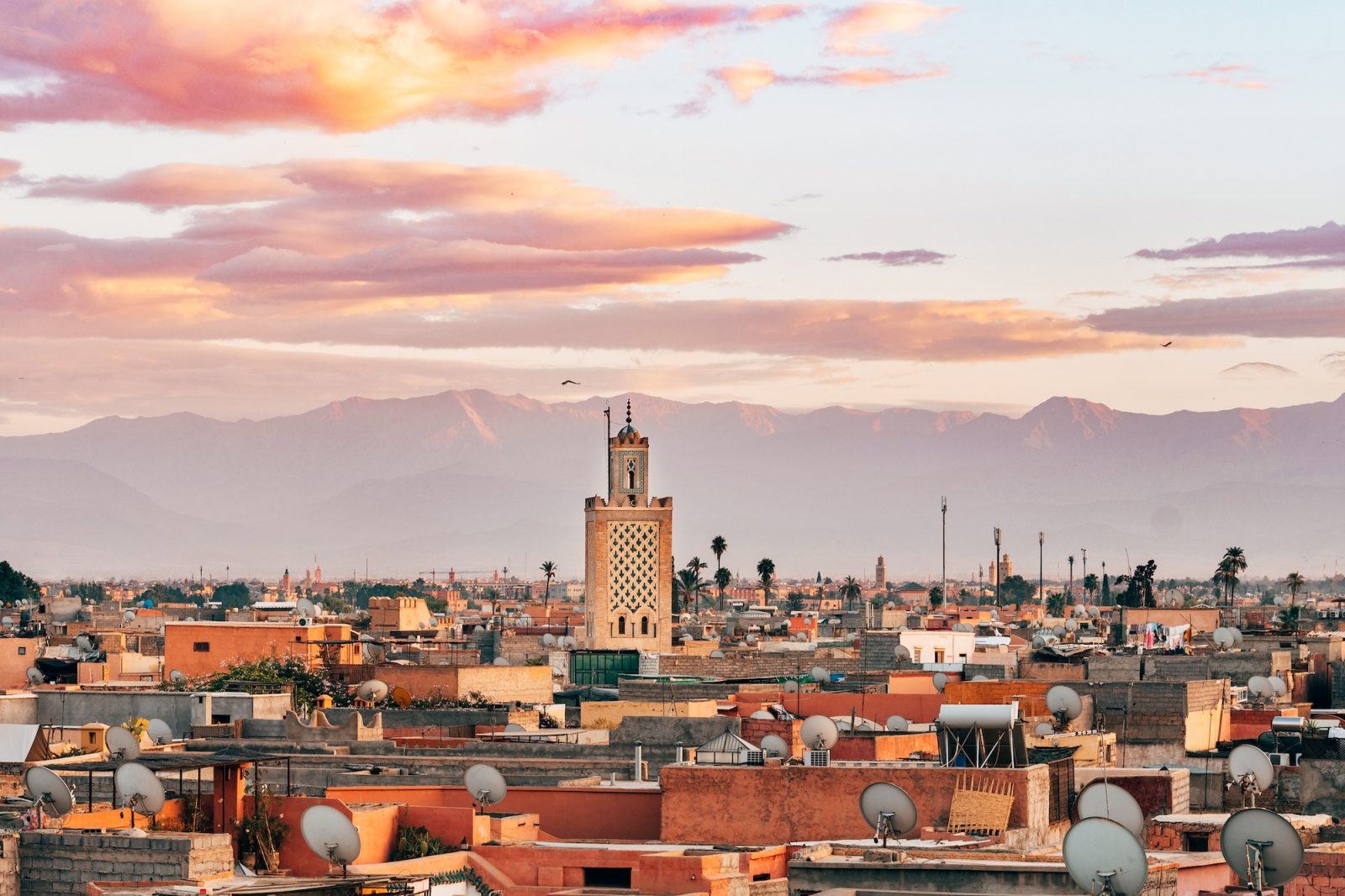 The medina is on the UNESCO World Heritage List.
Over time, it has become popular among Europeans to buy apartments and riads in Marrakech, and property prices have therefore increased greatly in recent years. Even among the jet set, owning your own house (riad) is up to date. The first international celebrity to buy a house here was Yves St. Laurent. Today, Marrakech houses approximately 1 million inhabitants, and since there is a well-functioning motorway between Marrakech and Agadir, it is easy to get to and from the city. It takes around 2 hours and 30 minutes to drive by car.
Casablanca is Morocco's largest market city with just over four million inhabitants. The city can probably best be described as a mix of eastern and western cultures. Here, for one second, you take a stroll in the medina, and then it might be shopping in the modern shopping center, Casablanca Twin Center. Out along the seafront d'Ain Diab are the fine neighborhoods. Here you can find pools with seawater, restaurants, luxury hotels, and fine nightclubs. It is also here that Hassan II mosque catches one's attention with its 200-meter-high tower. At the top, there is a laser beam that can be seen from a distance of 35 km to help everyone find the way to Mecca. In the morning, tourists can also visit this amazing masterpiece on a guided tour with a local private English-speaking tour guide in Casablanca who you can easily find on our website www.pg.world.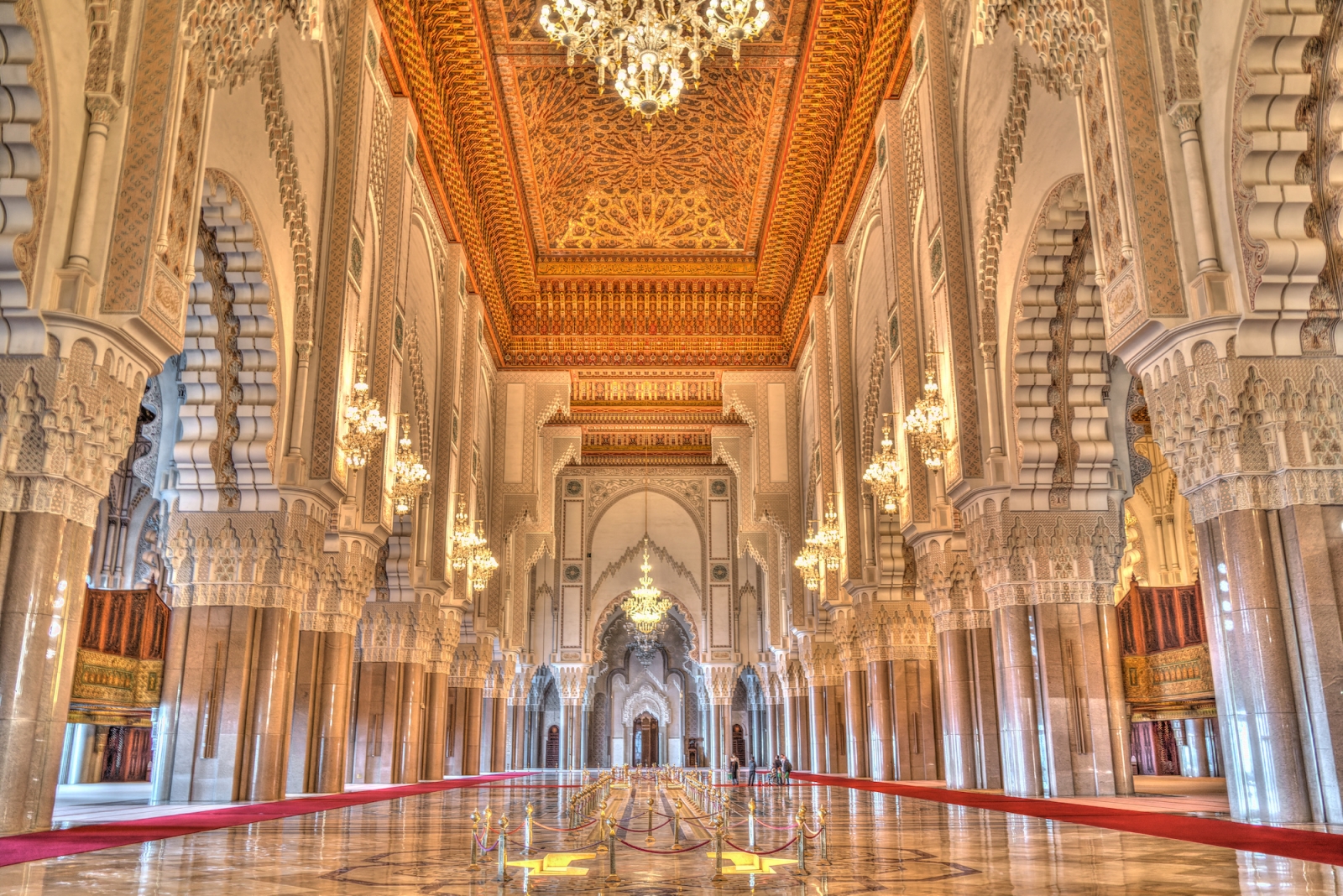 Morocco's capital Rabat has 1.6 million inhabitants. Several of the country's administrative and political institutions are in the city. Rabat is also the most important university city in the country. The city has wide streets and green areas, but also offers an exciting medina and a beautiful city wall. An attraction worth a visit is the Mausoleum of Mohammed V. On the other side of the river, Bou Regreg lies the town of Salé.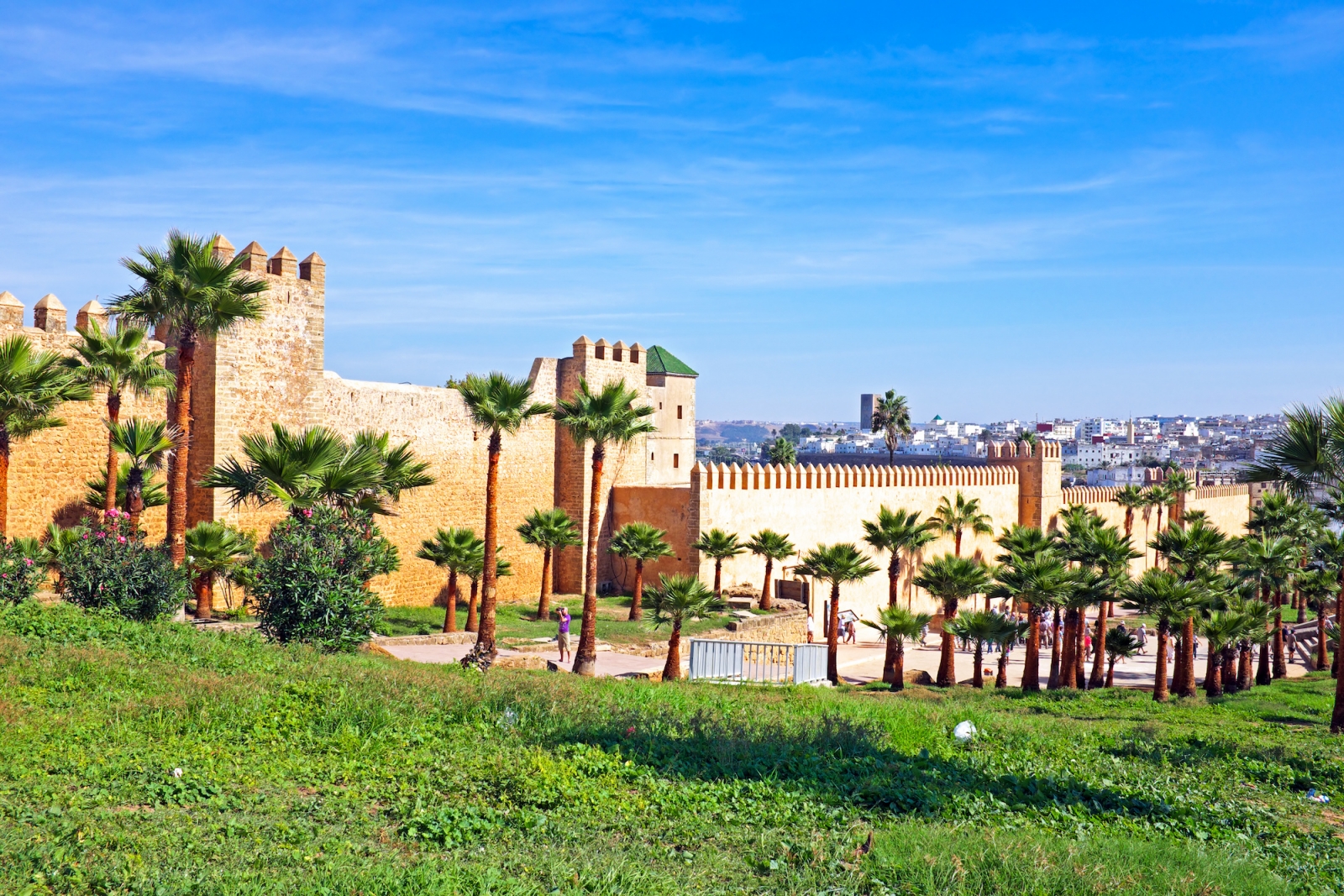 Tafraout
The Berber town of Tafraout is located at an altitude of 1,200 meters in the Anti-Atlas Mountains about a three-hour drive from Agadir. Here you immediately get the feeling that time has stood still. The landscape consists of strange rock formations in red granite. The road to Tafraout goes through the almond valley Vallée des Ameln with fine oases and cozy Berber towns. Here it is obvious to make a stop to get a coffee or something refreshing to drink and enjoy the beautiful landscape. The almond trees bloom from mid-January until February - an incredibly beautiful sight!
Tiznit is a genuine Berber town located approx. 60 km south of Agadir, known for its fine silver jewelry. Why not make your way because you are a silversmith, and see how silver jewelry is made?
Tifnite
The small fishing village of Tifnit is located after the town of Sidi Bibi, approximately 30 km south of Agadir. Here there are kilometer-long sand dunes and rock ledges from which you can fish. You can get here by land rover and at the same time experience long and deserted sandy beaches.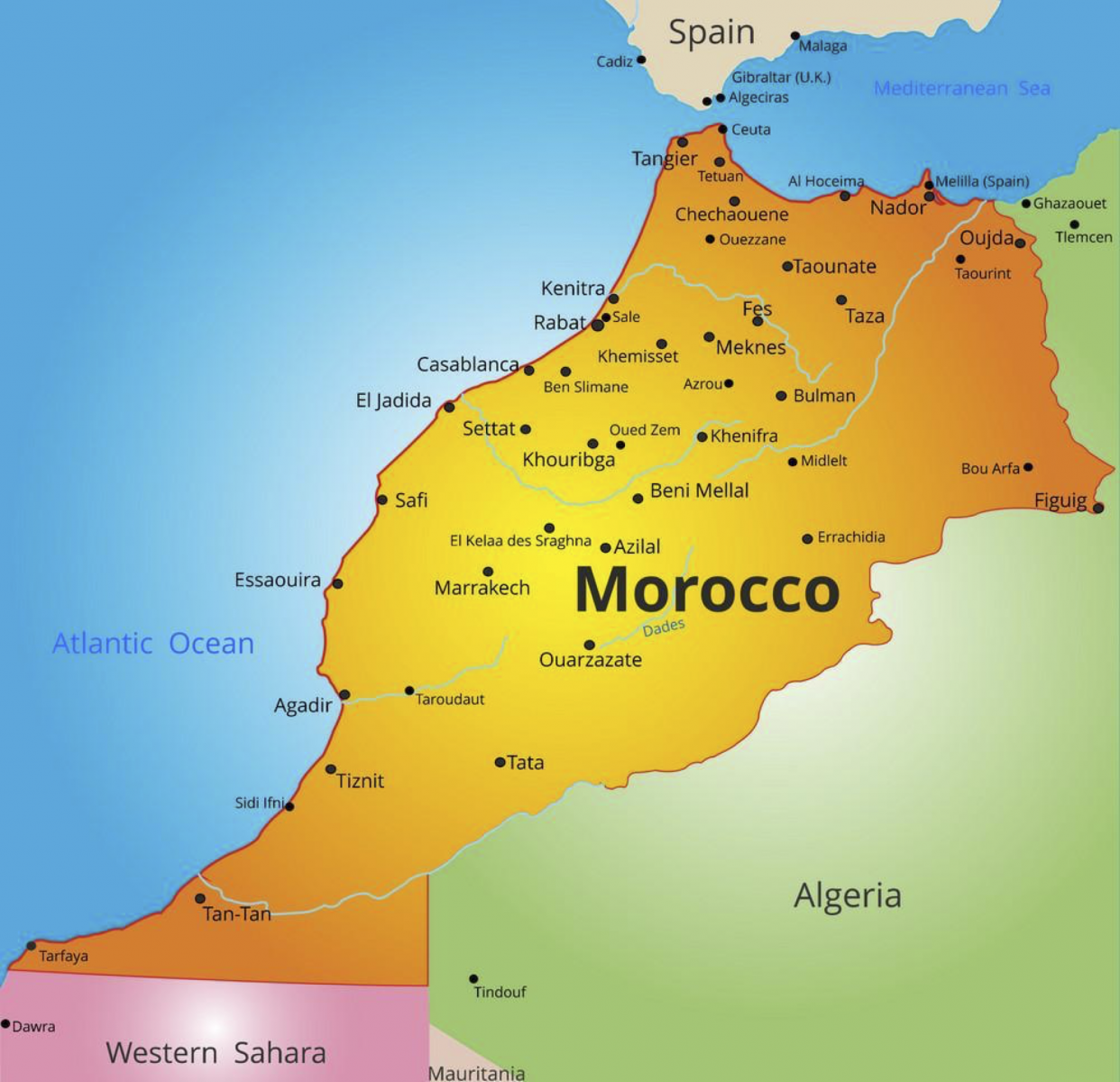 Sidi R'bat
On 45 km south of Agadir, on the road to Tiznit, lies Sidi R'bat. Turn down towards the town of Massa and you will come to this fishing village. Finally, be sure to visit the small hotel, Ksar Massa. Here you have the option of staying the night or just having lunch.
Mirleft
The small fishing village of Mirleft, which is 140 km south of Agadir on the road toward Sidi Ifni, is very well known among surfers. From the rocks, you can enjoy a wonderful view of the Atlantic. There is also a small, luxurious hotel called Les 3 Chameaux, where it is possible to stay the night. The entire stretch of coast, from Agadir down towards Mirleft and Sidi Ifni, is known for its fine and often completely deserted beaches.
L'Eg-Zira
L'Eg-Zira is the name of a fishing village 160 km south of Agadir on the way to Sidi Ifni. Here you will find a really nice sandy beach with several small hotels right by the water. Here you can really talk about a sea view. If you take a stroll along the beach, you will come to the finest mountain formations, which the sea has hollowed out over time.
Sidi Ifni
Sidi Ifni is located 170 km south of Agadir and was once built by the Spanish. Here there are several small fine beaches and a handful of hotels in classic, Spanish style.
Aghroud
25 north of Agadir, in the direction of Essaouira, lies the fishing town of Aghroud. This is where many of the wealthy locals have their summer residences. The city is also home to the popular campsite Atlantica Parc, where, among other things, many Scandinavians hibernate.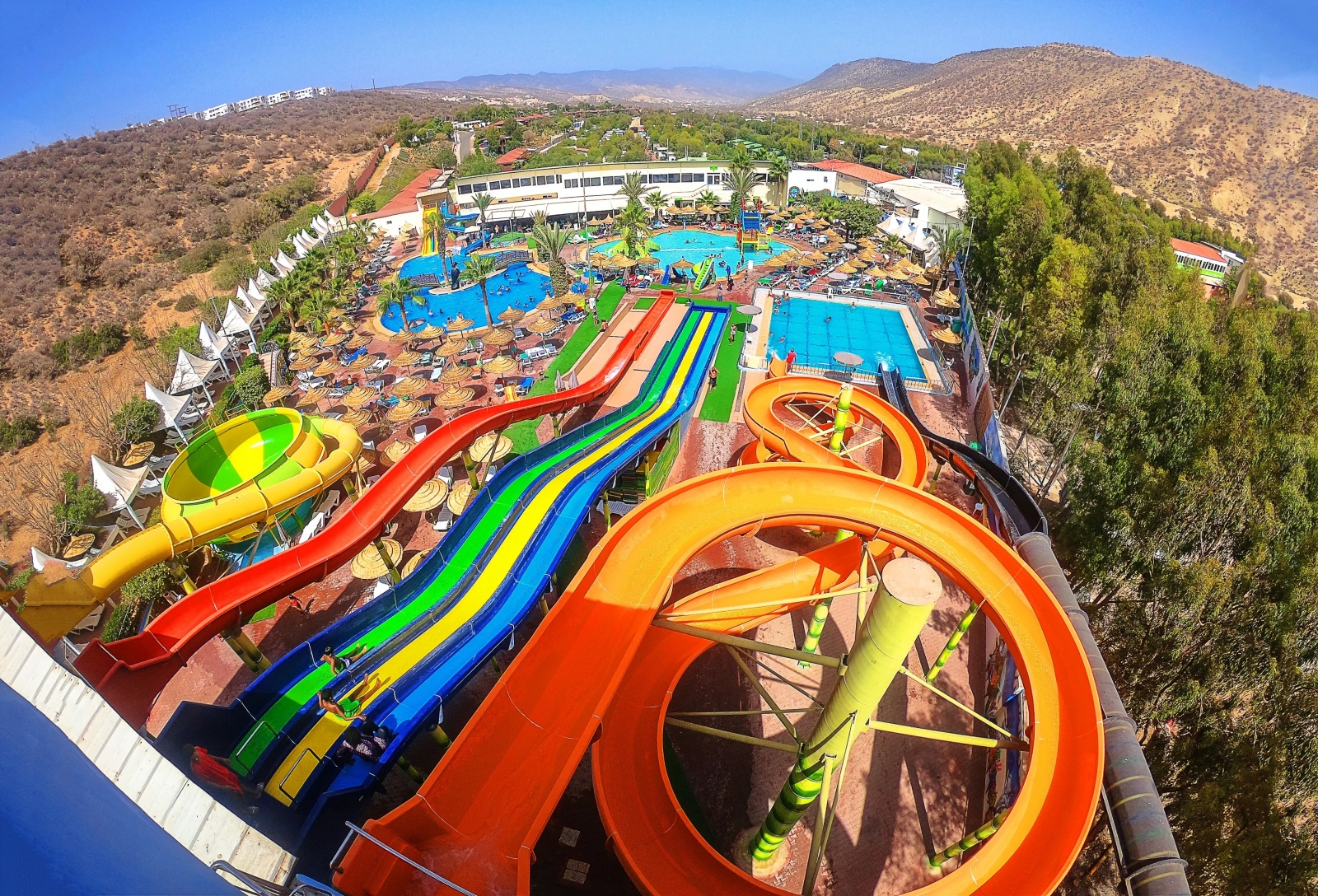 Sidi Kaouki
27 km south of Essaouira is Sidi Kaouki. The town is popular with surfers because the beach has fantastic waves. Here you can also spend the night at one of the city's hotels.
Taroudant
Taroudant is an old, historic town located approx. 70 km east of Agadir. The trip to Taroudant goes over a plateau with, among other things, orange and tangerine trees. All the citrus fruits you can buy in Danish supermarkets in the winter months come from this area. During the Saadier dynasty in the 17th century, Taroudant served as the capital. Here all the caravans made a pilgrimage to repack the camels when they came from Mali. It is also in Taroudant that you will find the luxury hotel Gazelle d'Or. Former French President Jacques Chirac often celebrates New Year here. The hotel takes great care in their service and takes pride in taking good care of the jet set and their privacy. Here at the hotel, you live without children, and you are absolutely not allowed to photograph anyone. A little outside the city, the Argentinian artist Claude Bravo has a manor house.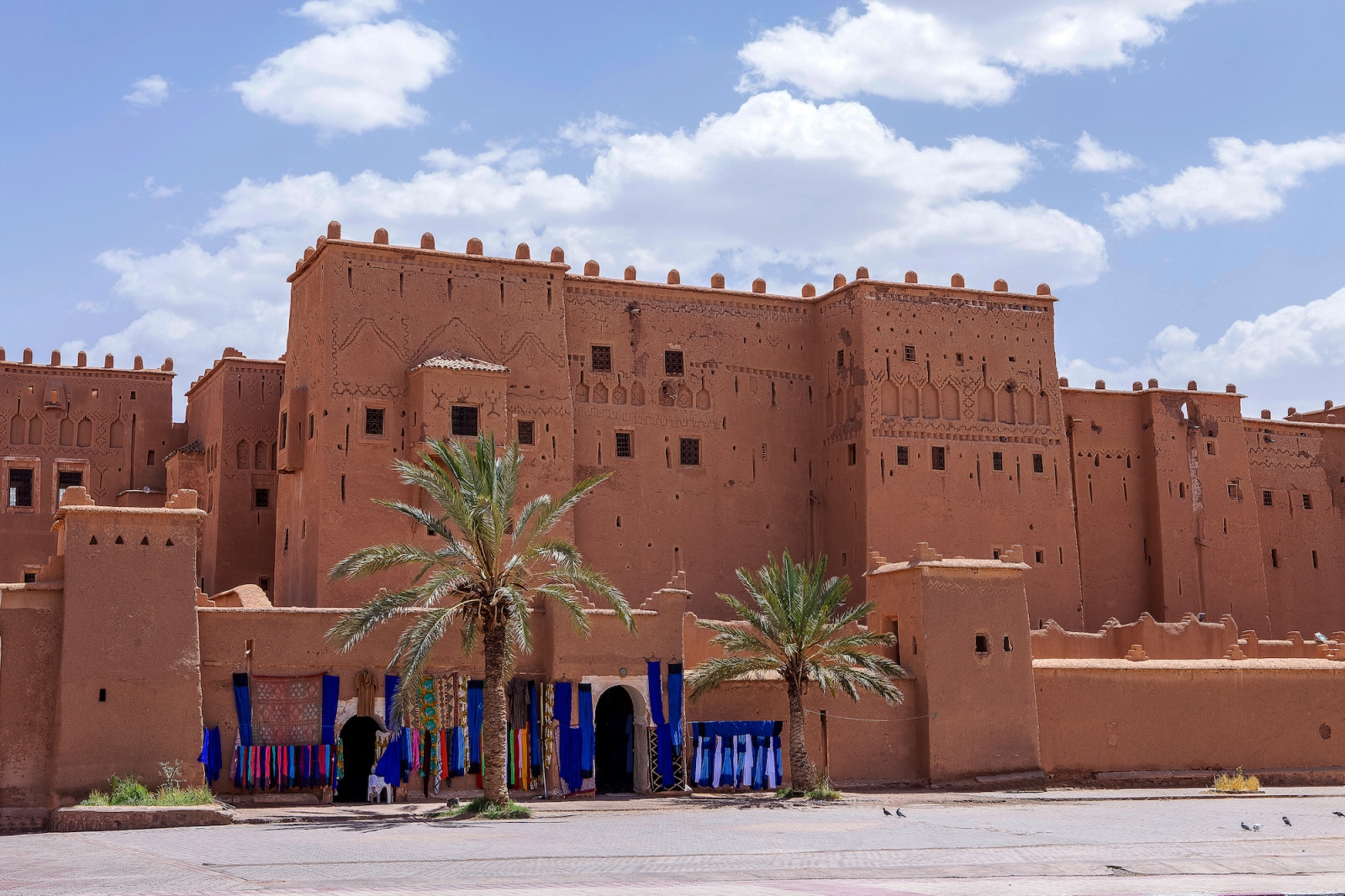 Ouarzazate is a town located in the Souss-Massa region of central Morocco. It is a popular tourist destination, known for its stunning natural beauty and rich cultural heritage. The town is located at the foot of the Atlas Mountains and is known as the "Gateway to the Desert". It is surrounded by arid landscapes, rugged mountains, and rolling hills, making it a photographer's paradise.

One of the most notable attractions in Ouarzazate is the Kasbah of Taourirt, a former palace that now serves as a museum showcasing traditional Moroccan architecture and design. Another popular destination is the Ait Ben Haddou Kasbah, a well-preserved fortified village that is listed as a UNESCO World Heritage Site. This historic site is a popular filming location for movies and TV shows, including "Gladiator" and "Game of Thrones".

Ouarzazate is also home to several natural attractions, including the Dades Gorge, Todgha Gorge, and the Skoura palm grove, which is known for its lush green landscapes and tranquil streams. Additionally, the town is a hub for outdoor adventure activities such as hiking, rock climbing, and hot air ballooning, providing visitors with opportunities to explore the surrounding landscape and enjoy breathtaking views of the surrounding mountains.

Ouarzazate is a fascinating blend of natural beauty, rich cultural heritage, and modern amenities, making it an ideal destination for those seeking to experience the best of Morocco's deserts, mountains, and traditional architecture.
Ouarzazate, which was the administrative center of the French during the colonial period, is located approximately 500 km east of Agadir. The powerful Berber Glaoui tribe comes from here, and in Ouarzazate, you can visit their kasbah. Today, Ouarzazate is called Morocco's Hollywood, as many films have been shot over the years. For example, Kingdom of Heaven, Gladiator, and Arn have been recorded here.
If you continue 150 km in a southerly direction, through the Drâa valley, you come to Zagora, which is the last town before you reach the Sahara. Here there are still signs showing that it took the caravans 52 days to walk through the desert before reaching Timbuktu.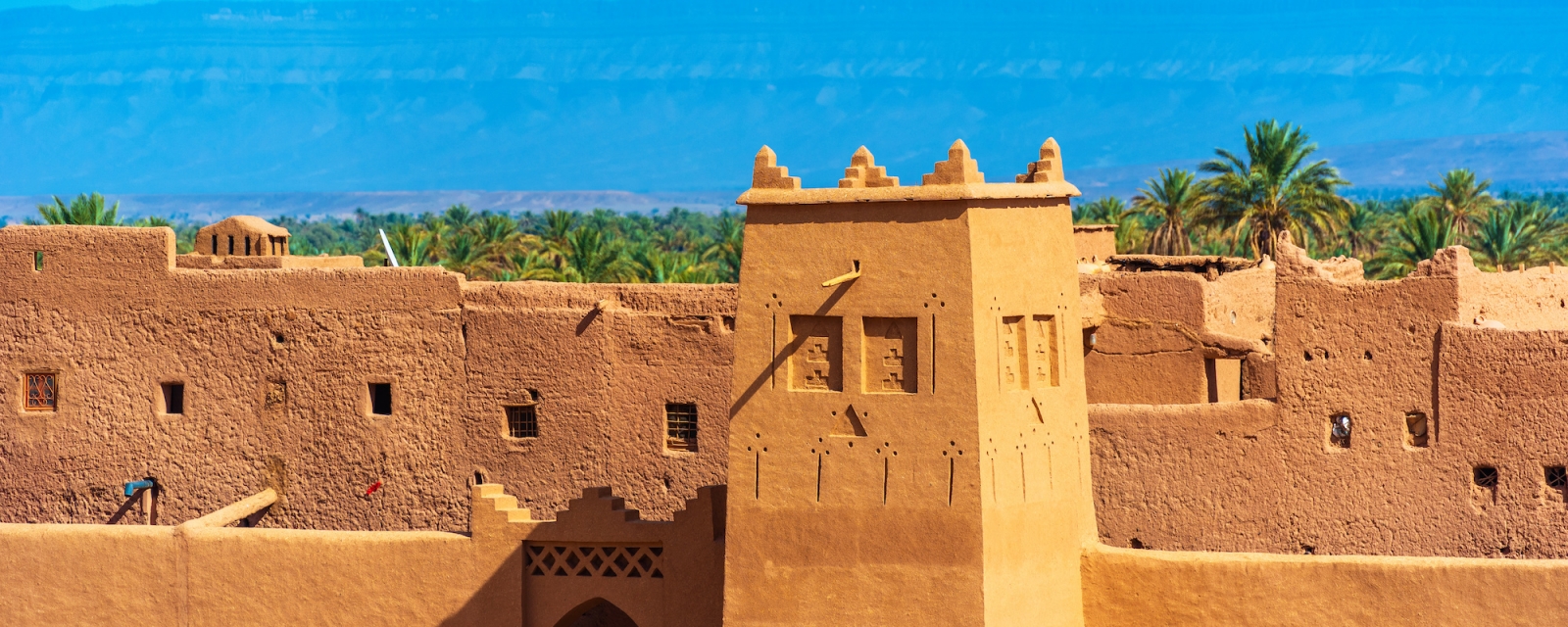 Zagora is a town located in the Drâa-Tafilalet region of southeastern Morocco. It is known as the "Gateway to the Desert", and is one of the country's most popular starting points for Sahara Desert tours and excursions. The town is surrounded by arid landscapes, sand dunes, and rolling hills, making it an ideal location for those seeking to experience the beauty of the desert.

One of the most notable landmarks in Zagora is the kasbah, a traditional mud-brick fortress that provides a fascinating glimpse into Morocco's rich cultural heritage. The town is also home to a number of small museums and cultural centers, showcasing the local art, history, and traditions of the area.

For outdoor enthusiasts, Zagora offers a wealth of adventure activities, including camel treks into the desert, hot air balloon rides, and sandboarding. Visitors can also explore the nearby Tamnougalt kasbah, a well-preserved fortress that provides a unique glimpse into the history and architecture of the region.

In addition to its natural beauty and cultural heritage, Zagora is known for its bustling markets, traditional bazaars, and local restaurants, offering visitors a taste of authentic Moroccan cuisine and culture. Zagora is a vibrant and exciting destination, offering a truly unforgettable experience for those seeking to explore the beauty and diversity of Morocco's desert landscape.
Weather and climate
When is the best weather in Morocco?
Agadir and Taghazout
For holiday travel destinations such as Agadir and Taghazout, the peak season runs through the summer from July to September, with daytime temperatures averaging 26-27 degrees. At night, the temperature is around 17-18 degrees, and the sea temperature measures 18-20 degrees. Spring and autumn are also pleasantly warm, although the nights and the sea are considerably cooler than in summer. From March to May you can count on an air temperature of 23-24 degrees and in November around 24 degrees. Precipitation is sparse year-round and virtually non-existent during the summer months. In winter, that is from December to February, the temperature is still above 20 degrees during the day, while the nights and the sea are cool.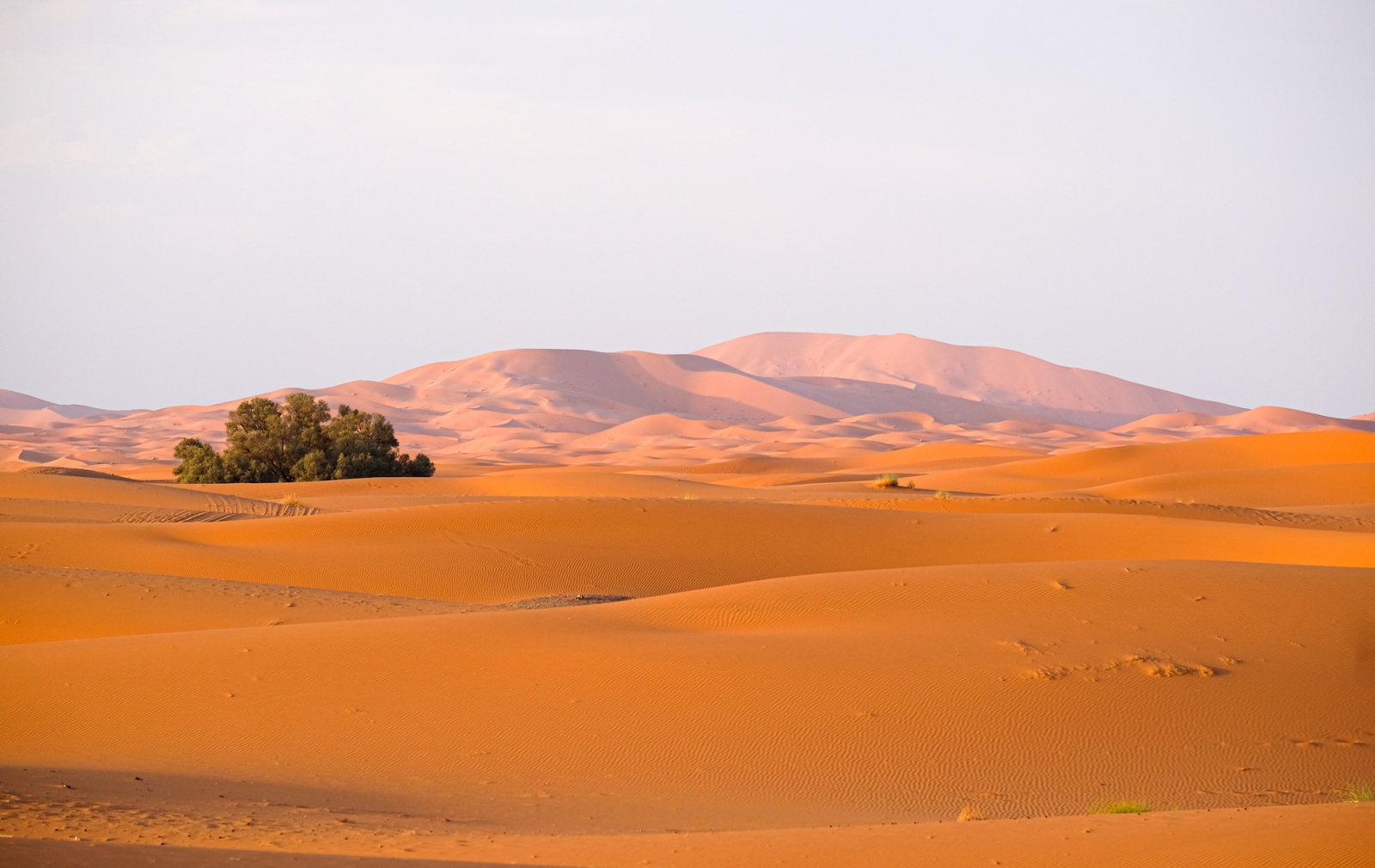 Read our previous article Search for mighty mountain gorillas in the forests of Uganda
Read our next article Marrakech - a vibrant trading city!