In Barcelona, there are many places of interest for football fans. The tour for this category of tourists should include Camp Nou, which is the Barcelona team home field, the Olympic Park, and Olympic Village. The city subway will help you to navigate between the facilities because next to each of them there is a subway station.
Camp Nou Stadium and football club Barcelona museum
For any football fan, the number one attraction in the capital of Catalonia is the stadium of FC Barcelona (the nearest subway station is Collblanc). Built-in 1957, since then it has been modified many times. From its first days, the locals began to call it Camp Nou, which in Catalan stands for "new field". Since 2001, it is the official name of this sports facility.
The stadium is famous not only for football matches but also for celebrity performances. Once there were Frank Sinatra, Michael Jackson, and Julio Iglesias.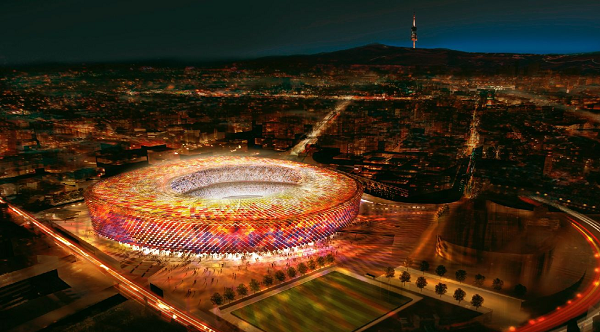 Camp Nou Stadium at night is a truly magical spectacle
In 1984, a museum of FC Barcelona was built. It has cups, balls, players' uniforms, and various club memorabilia. An interactive display allows visitors to purchase their desired information, read about players, see videos of famous goals, etc. You can enter the museum through stadium entrance numbers 7 and 9. There, anyone can take a picture with famous players of Barça, including Lionel Messi (of course, football players are virtual).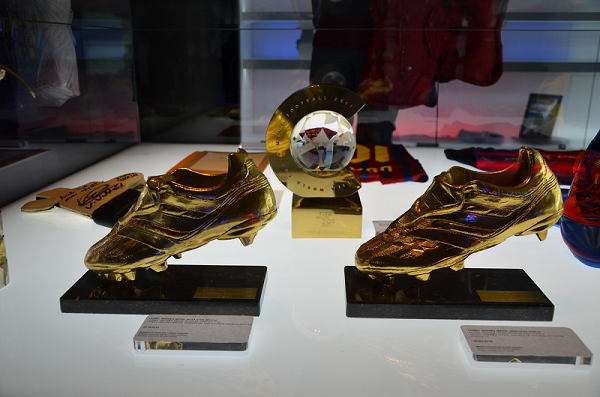 Golden boots are one of the memorable exhibits
Olympic Park
The Olympic Park (Anella Olimpica) will interest visitors that come in search of sporting attractions and is located on the mountain of Montjuïc. You should show them:
Luis Companys Stadium, which is adapted for a variety of sporting activities, from football matches to the run with obstacles;
Olympic Museum with exhibits that promotes sport and active lifestyles;
indoor and outdoor pools, where exercise professionals and amateurs frequent;
telecommunications tower, made in the form of a stylized figure of an athlete with a torch;
huge movie screen in the open air, a good place for a romantic date;
gorgeous panoramic view of the city and the sea.
To get here it is better to use Espanya subway station, or the funicular stops Parc de Montjuïc.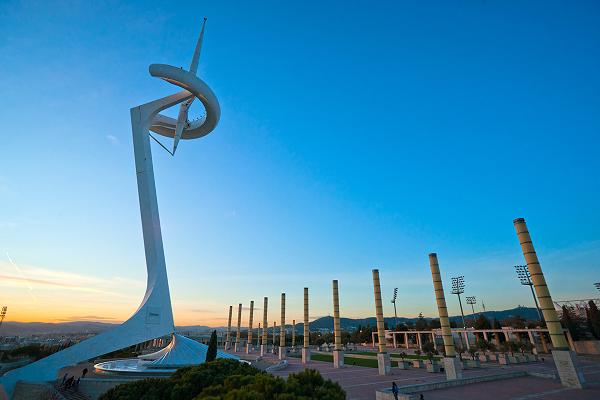 The futuristic landscape of the Olympic Park
Olympic Village
Another point of interest in the "Sports" topic is The Olympic Village (Vila Olimpica). This landscaped area was built at the beginning of the 1992 Olympic Games and was intended to house the arrived athletes.
Olympic Village: view from the gulf
The port located nearby is equipped for sailing regattas. 50 meters from the pier, underwater, there are breakwaters to attract a variety of species of fish: here recreational fishing is allowed right from the pier.
Today it is a residential area, where you can admire the unusual structures. These include "The Golden Fish" (Peix d'Or), a 35-meter high sculpture of copper rods, and twin towers: Hotel Arts Barcelona and the Mapfre office tower. Here is located Ciutadella Vila Olimpica subway station.
Do not forget to recommend tourists to a couple of sports bars with large TV screens. For example, the elegant Snooker with a diverse cocktail menu (address: Roger de Llùria, 42) or the Sports Bar, which offers you not only the option to watch matches but to also play table football, billiards, and darts (address: Rambla dels Caputxins, 31). Visiting such places would be the best end of the football tour!
Read our previous article How Does the Private tour guide World Built-In Messenger Work?
Read our next article Trekking and Mountain Climbing Nepal Tours