From Palaces to Panoramas of Genoa - Italy's Largest Seaport
Nestled along the enchanting shores of the Ligurian Sea, the city of Genoa stands as a timeless treasure on the Italian Riviera. With its rich maritime heritage, labyrinthine alleyways, and breathtaking historical landmarks, this vibrant city has earned its place as a must-visit destination for travelers exploring Europe's coastal wonders. As cruise ships gracefully dock at the bustling Port of Genoa, an enticing world of exploration awaits the fortunate tourists with just a few hours to savor the city's allure. With a history spanning over two millennia, Genoa has evolved into a fascinating blend of the old and the new. From its storied past as a maritime powerhouse to its vibrant present as a cultural hub, the city beckons travelers to traverse its cobbled streets and uncover its secrets.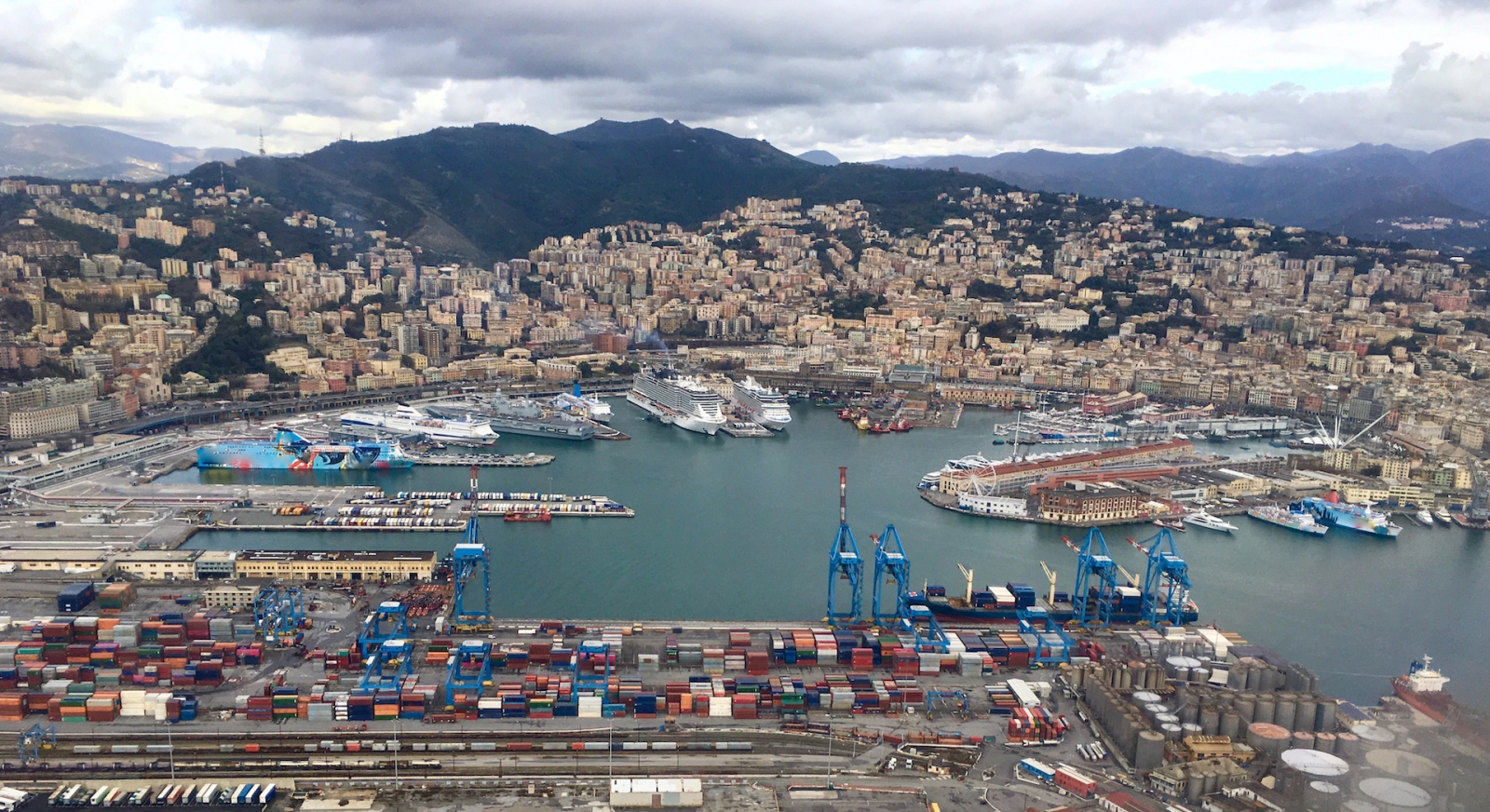 Drone view Aerial view panoramic view of Genoa in Italy with port, cruise ships, container and cargo ships, and skyline
In this travel article, we embark on a whirlwind tour of Genoa, discovering its most captivating attractions and unmissable sights. For cruise tourists making a fleeting visit of 8 hours, we curate an itinerary that promises to showcase the essence of Genoa, leaving indelible memories of this captivating port city. Join us as we navigate through Genoa's historic city center, explore its world-class museums, indulge in local culinary delights, and bask in the Mediterranean charm that emanates from every corner of this enchanting city. Let the adventure begin, and may the splendor of Genoa capture your heart as it has for countless wanderers before you. And our local private tour guide from the PRIVATE GUIDE WORLD platform will help us to explore the city and its beautiful surroundings.
Genoa, located in Italy, is a beautiful city with a rich history and plenty of attractions for cruise tourists to explore within their limited time frame. Here's some practical and factual information, along with top attractions, for cruise tourists visiting Genoa for an 8-hour stopover:
Port of Genoa: The Port of Genoa is one of the busiest and most important ports in Europe. It is a major gateway for cruise ships and cargo vessels alike. The port is conveniently located close to the city center, making it easy for cruise tourists to access the city's attractions.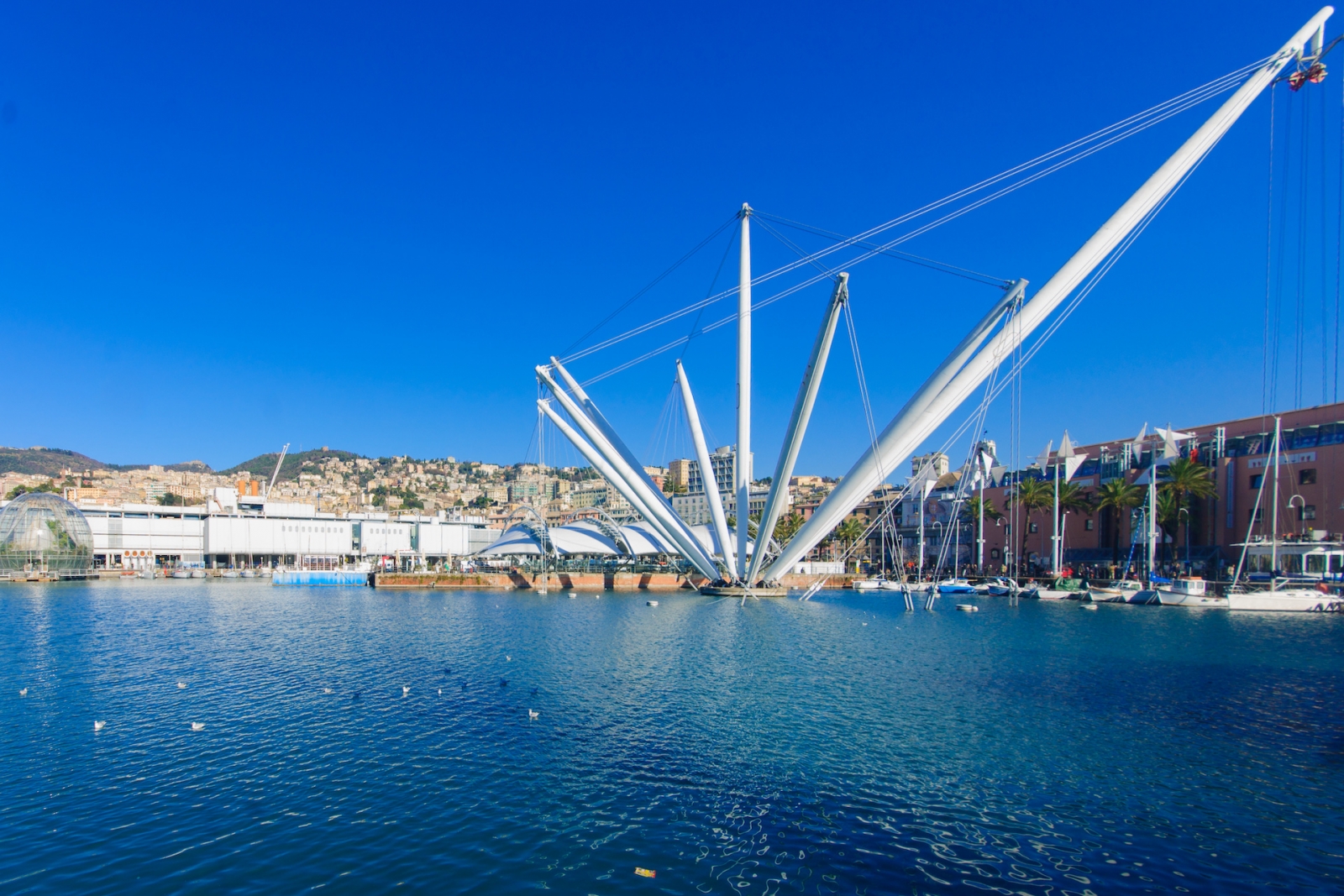 Old Port, Genoa
Genoa City Center: Genoa's historic city center is a UNESCO World Heritage Site and is best explored on foot. Cruise tourists can start their adventure by wandering through its narrow alleys, known as "caruggi," and discover its medieval charm. Don't miss the beautiful Piazza de Ferrari, the heart of the city, where you can see the impressive fountain and the Teatro Carlo Felice.
Christopher Columbus' House: Genoa is the birthplace of the famous explorer Christopher Columbus. The house where he was born has been turned into a museum called Casa di Colombo. It showcases the life and voyages of Columbus and is a must-visit for history enthusiasts.
Genoa Aquarium: Genoa boasts one of the largest and most renowned aquariums in Europe - the Genoa Aquarium (Acquario di Genova). It's a great spot for families and anyone interested in marine life. The aquarium features a vast range of aquatic species, including dolphins, sharks, penguins, and more.
Genoa Cathedral (Cattedrale di San Lorenzo): This magnificent cathedral, located in the heart of the city, is a stunning example of Gothic and Romanesque architecture. Inside, you can find precious works of art and religious relics.
The Old Port (Porto Antico): The Porto Antico is a revitalized area of the port that offers a mix of historical and modern attractions. Cruise tourists can enjoy a leisurely stroll along the waterfront, visit the Bigo panoramic lift for stunning views, and explore the maritime museum (Galata Museo del Mare).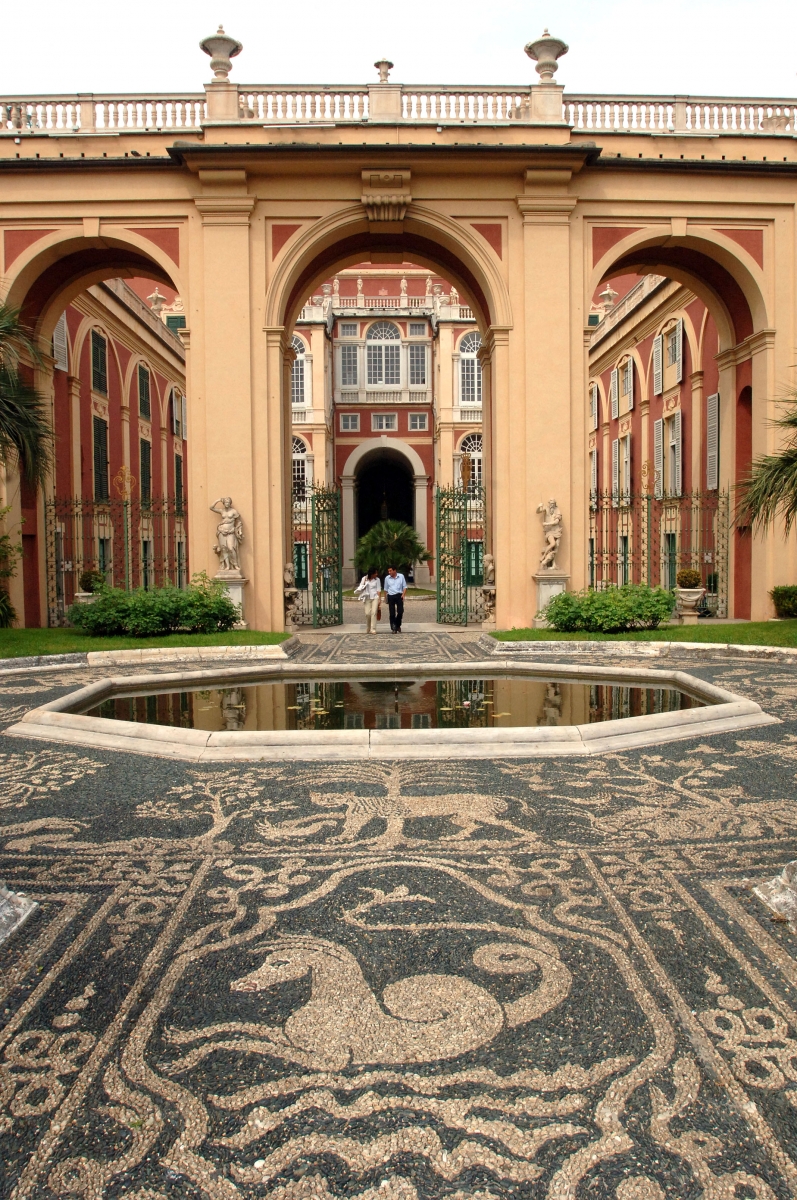 Palazzi dei Rolli
Via Garibaldi and Palazzi dei Rolli: Via Garibaldi is a famous street lined with beautiful Renaissance palaces. Some of these palaces are open to the public and are collectively known as Palazzi dei Rolli, another UNESCO World Heritage Site. Visiting one or two of these palaces can give cruise tourists a glimpse into the lavish lifestyle of Genoa's aristocracy.
Local Cuisine: Make sure to savor some delicious Ligurian cuisine while in Genoa. Try traditional dishes like pesto pasta, focaccia bread, and fresh seafood. There are plenty of eateries around the city center where you can indulge in these delights.
Remember, with only 8 hours in Genoa, it's essential to plan your itinerary wisely to make the most of your time. Exploring the city center, visiting the Genoa Aquarium, and enjoying the local cuisine are some of the highlights that can provide a memorable experience for cruise tourists.
The Maritime History of Genoa
Genoa has an ancient and illustrious history that dates back to ancient times. Its exact founding date is not well-documented, but historical evidence suggests that the settlement existed as far back as the 6th century BC, and it was originally inhabited by the Ligurians, an ancient Italic tribe. The city's strategic location on the Italian Riviera played a pivotal role in its early development and its strong link to the sea industries. There are several reasons why Genoa became closely connected to maritime activities from the beginning:
Natural Harbor: Genoa's natural harbor, sheltered by a semicircle of hills, provided a safe anchorage and a strategic location for ships traveling along the Mediterranean coast. This allowed the city to become a vital trading hub and facilitated the establishment of maritime commerce.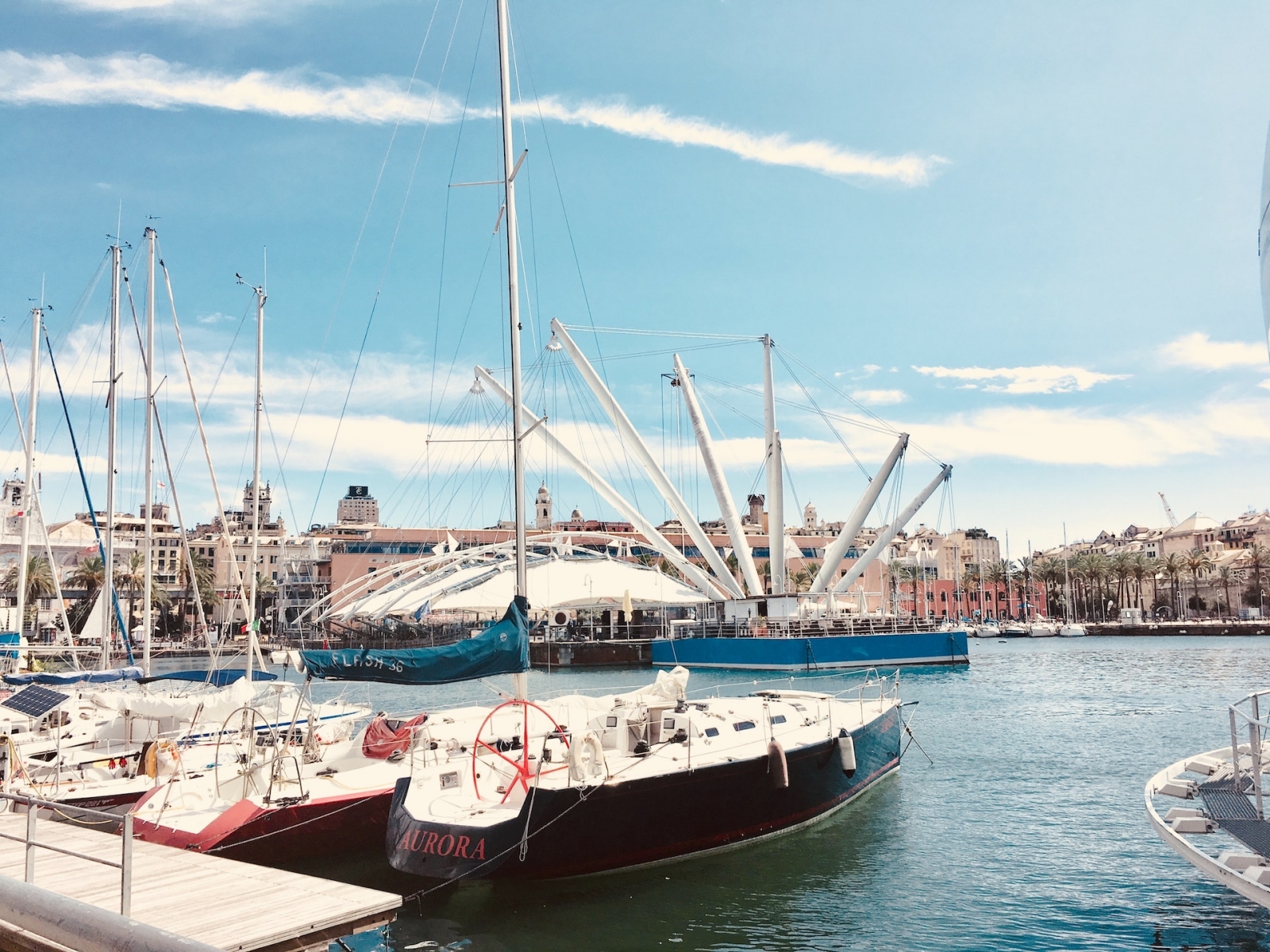 Metropolitan City of Genoa, Italy
Trade and Commerce: The region surrounding Genoa was rich in resources, including timber and minerals, which attracted merchants and traders. The city's proximity to other prosperous Mediterranean regions, such as Provence and Catalonia, made it an ideal location for trade with these areas.
Maritime Expertise: The early inhabitants of Genoa were skilled seafarers, adept at fishing, sailing, and navigating the seas. This maritime expertise allowed them to venture into the Mediterranean and establish trade routes with other coastal settlements and far-reaching regions.
Republic of Genoa: In the Middle Ages, Genoa evolved into a powerful maritime republic, alongside other Italian city-states like Venice and Pisa. The city's strong maritime fleet and extensive trade networks led to its prominence in the Mediterranean, making it a dominant force in commerce, diplomacy, and naval affairs.
Crusades and Maritime Expansion: During the Crusades, Genoa played a crucial role in transporting crusaders, supplies, and goods to the Holy Land. This further enhanced the city's reputation as a maritime power and increased its influence in Mediterranean affairs.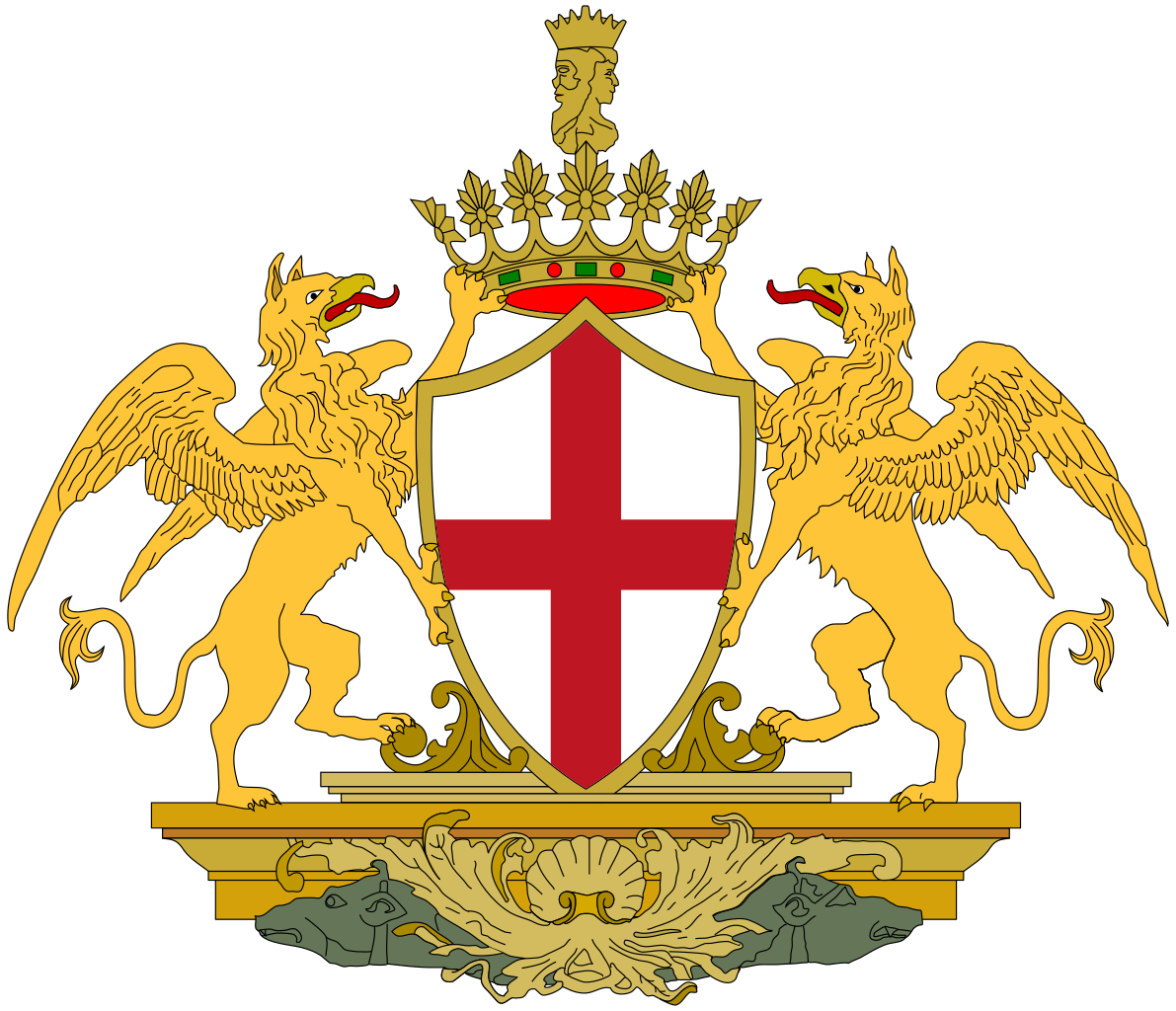 Shipbuilding and Navigation Technology: Genoa was at the forefront of shipbuilding and navigation technology, producing advanced vessels that could withstand the challenges of long sea voyages. This gave the city a competitive edge in maritime activities and contributed to its sustained success in the maritime industry.
Over the centuries, Genoa's maritime prowess and economic prosperity continued to flourish. Its role as a maritime hub enabled the city to establish colonies and trading posts across the Mediterranean, the Black Sea, and beyond. The city's heritage as a maritime powerhouse is still evident today, with its historic port, maritime museums, and ongoing importance as a major port in Europe.
Climate in Genoa
Genoa enjoys a pleasant Mediterranean climate, characterized by mild winters and warm summers. The city's coastal location on the Italian Riviera influences its weather patterns, making it a desirable destination throughout the year. Here's a breakdown of the climate in Genoa:
Spring (March to May): Spring is a delightful time to visit Genoa as the weather gradually warms up. Temperatures in March may still be a bit cool, but by May, the days become pleasantly mild. Average temperatures range from 12°C to 19°C (54°F to 66°F) in March, and from 14°C to 22°C (57°F to 72°F) in May. Spring is generally less crowded with tourists, offering a more relaxed atmosphere to explore the city's attractions.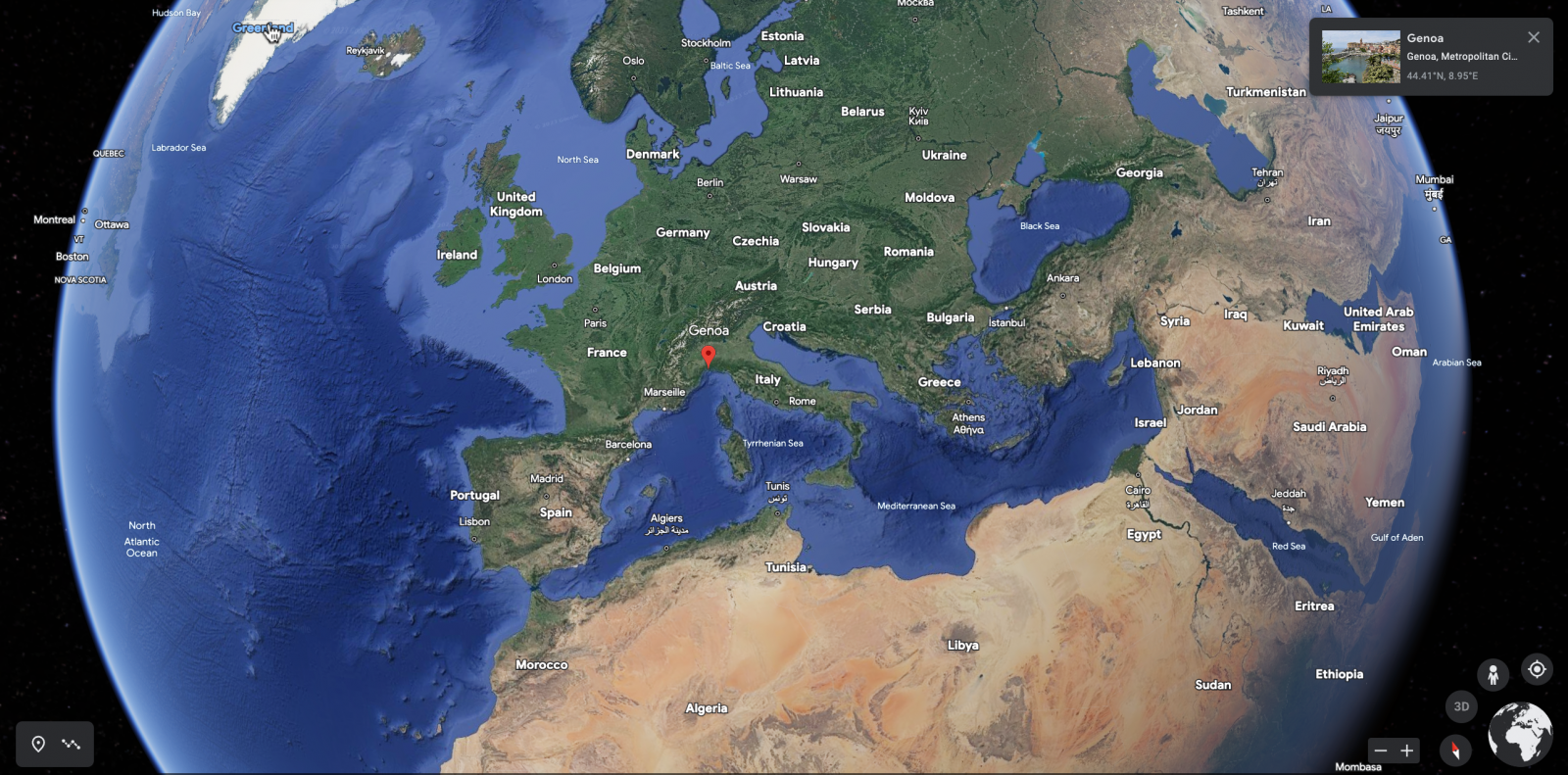 Genoa on the Globus
Summer (June to August): Summer is the peak tourist season in Genoa, as travelers flock to enjoy the warm and sunny weather. The average temperatures during these months range from 18°C to 27°C (64°F to 81°F). July and August are the hottest months, with temperatures occasionally reaching above 30°C (86°F). The sea breeze helps to keep the coastal areas cooler, making it comfortable to explore the city's outdoor attractions and beaches.
Autumn (September to November): Autumn in Genoa is another pleasant time to visit, with temperatures remaining mild and enjoyable. September and early October still offer warm days, with average temperatures ranging from 17°C to 24°C (63°F to 75°F). November brings cooler temperatures, ranging from 10°C to 17°C (50°F to 63°F). The autumn foliage adds a touch of beauty to the city's landscape, making it an excellent season for sightseeing and outdoor activities.
Winter (December to February): Winter in Genoa is generally mild compared to many other European cities. However, it can still get chilly, especially in the evenings. Average temperatures in December range from 6°C to 12°C (43°F to 54°F). January and February are the coldest months, with temperatures averaging from 5°C to 11°C (41°F to 52°F). Snowfall is rare, but you may encounter occasional rainy days during the winter season.
Genoa's Mediterranean climate makes it a year-round destination. Each season has its unique charm, offering visitors a variety of experiences to enjoy, whether it's strolling through the city's historic streets, basking in the sun on the beaches, or savoring the local cuisine in the outdoor cafes.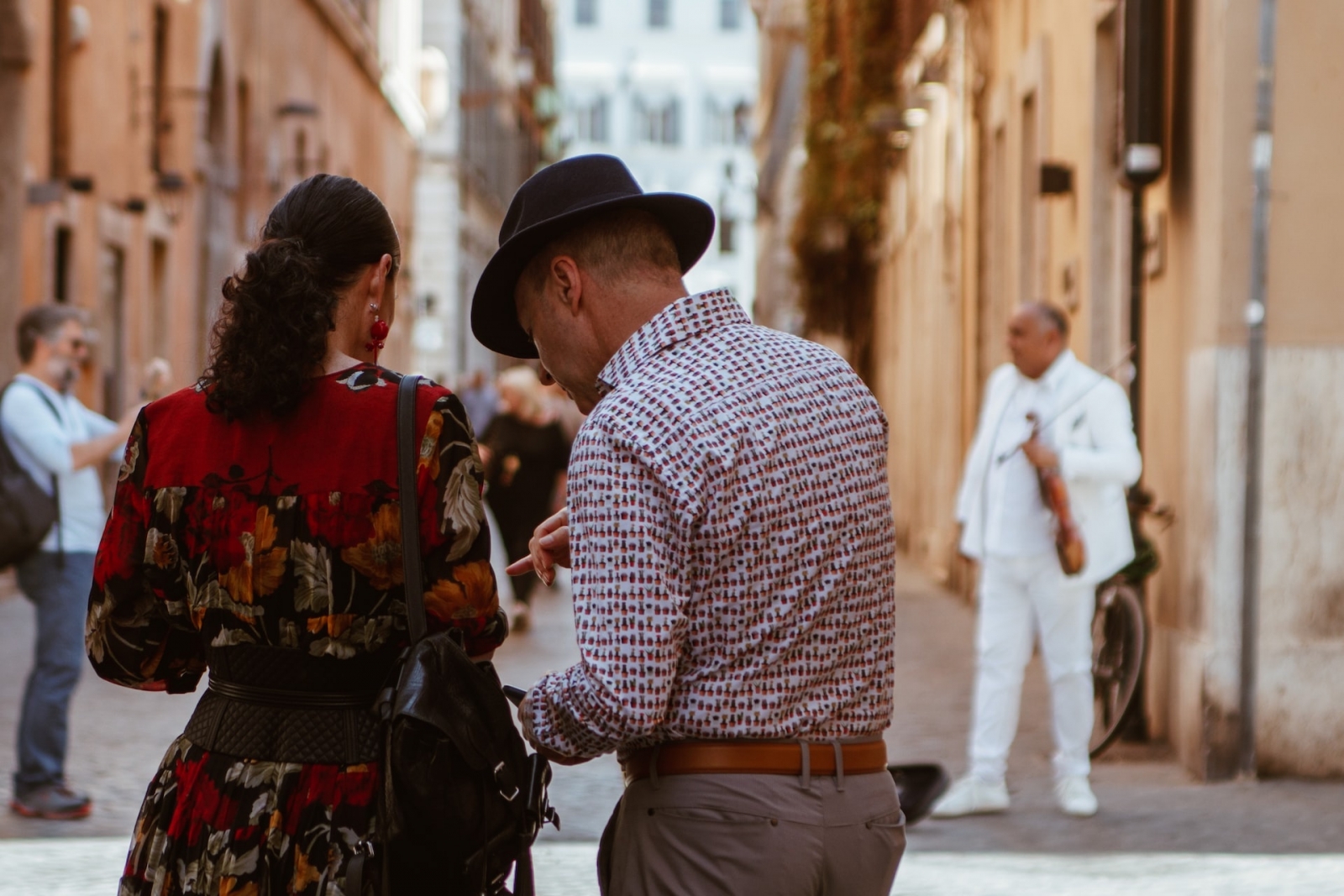 A Private Tour Guide in Genoa
Hiring a local private tour guide when visiting and exploring Genoa and its ports can significantly enhance your travel experience and provide numerous benefits. Here are some reasons why it's important and often necessary to consider hiring a local tour guide:
Video about Private Guide App (in English) - FIND YOUR LOCAL TOUR GUIDE without middlemen and any commission!
Hiring a local private tour guide offers a more immersive, efficient, and enriching experience when visiting and exploring Genoa and its ports. They can unlock the city's hidden treasures, share their passion for their hometown, and ensure your time in Genoa becomes a memorable and unforgettable journey.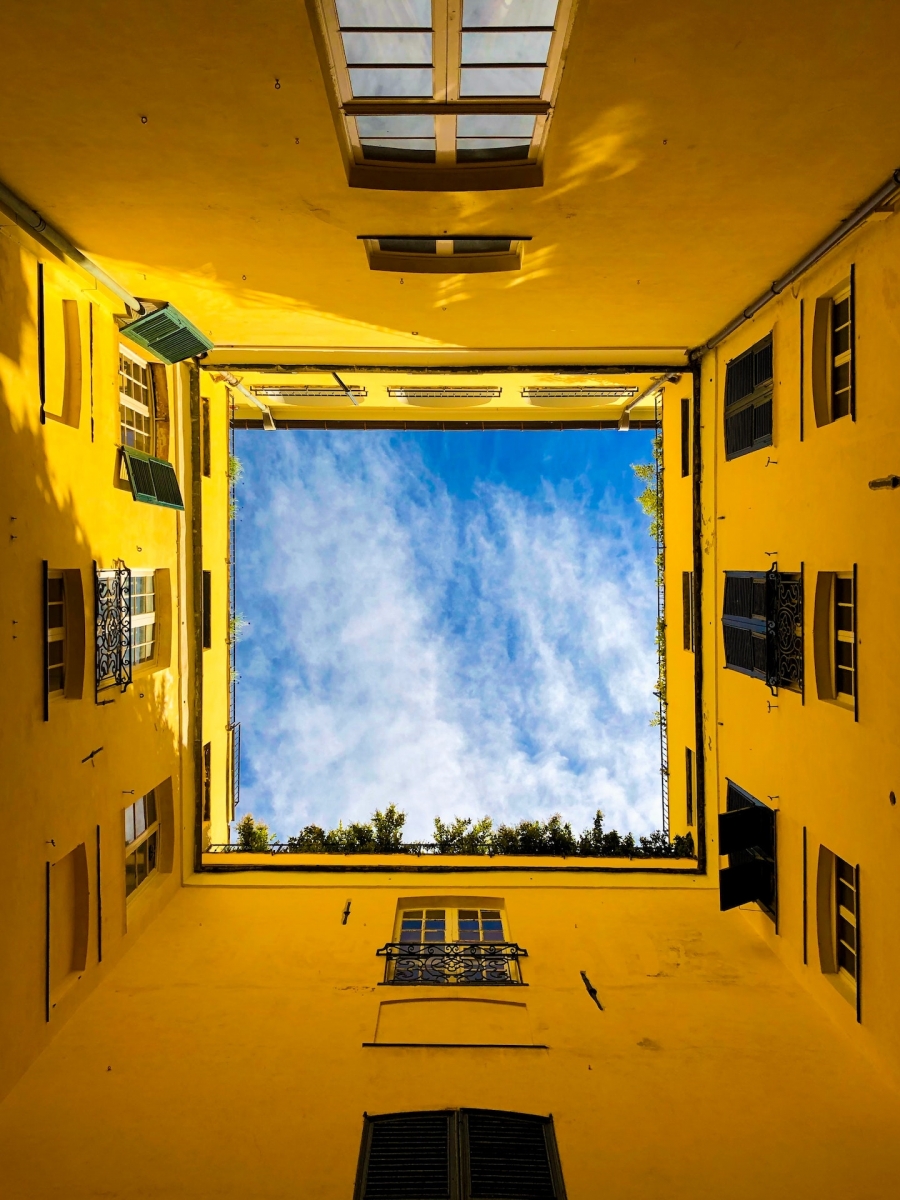 Admiring the sky from the patio perspective Genoa courtyard
The cost of hiring a private tour guide in Genoa can vary depending on several factors, including the duration of the tour, the level of expertise of the guide, the specific services included, and the number of people in the group. Here are some general guidelines for the cost of private tour guide services in Genoa:
Half-Day Tour (approximately 4 hours): For a half-day private tour, you can expect to pay around €150 to €250. This cost usually includes the guide's services, personalized itinerary planning, and transportation within the city. Entrance fees to attractions, meals, and gratuities are typically not included.
Full-Day Tour (approximately 8 hours): For a full-day private tour, the cost may range from €250 to €400 or more, depending on the complexity and extent of the tour. Full-day tours often include a lunch break, and the guide will accompany you throughout the day to various attractions and points of interest.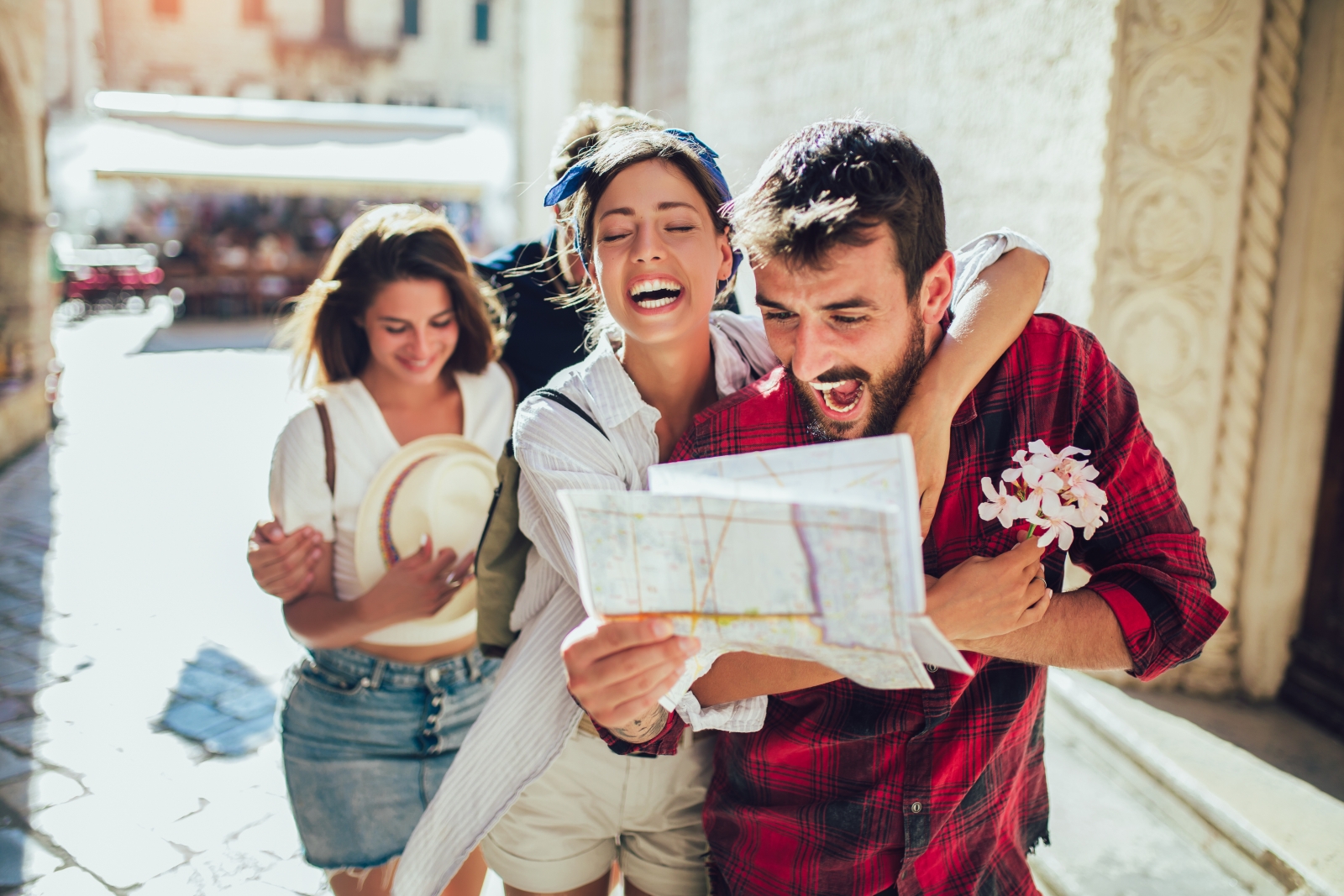 Curious tourists in Genoa
Additional Fees: Keep in mind that if you wish to visit specific attractions or museums that require entrance fees, those costs will be separate from the guide's fee. Some tours may include skip-the-line access to popular sites, which may come at an additional cost.
It's essential to clarify the specific services and inclusions with the tour guide before booking to ensure there are no surprises with additional charges. To find a private tour guide in Genoa, you can easily check our online platform PRIVATE GUIDE WORLD at www.pg.world which connects travelers with local tour guides in every corner of the world. Always read reviews and verify the guide's credentials to ensure a reliable and enjoyable experience. Please note that prices may have changed since my last update, so it's advisable to check with local tour operators or guides directly for the most up-to-date pricing information.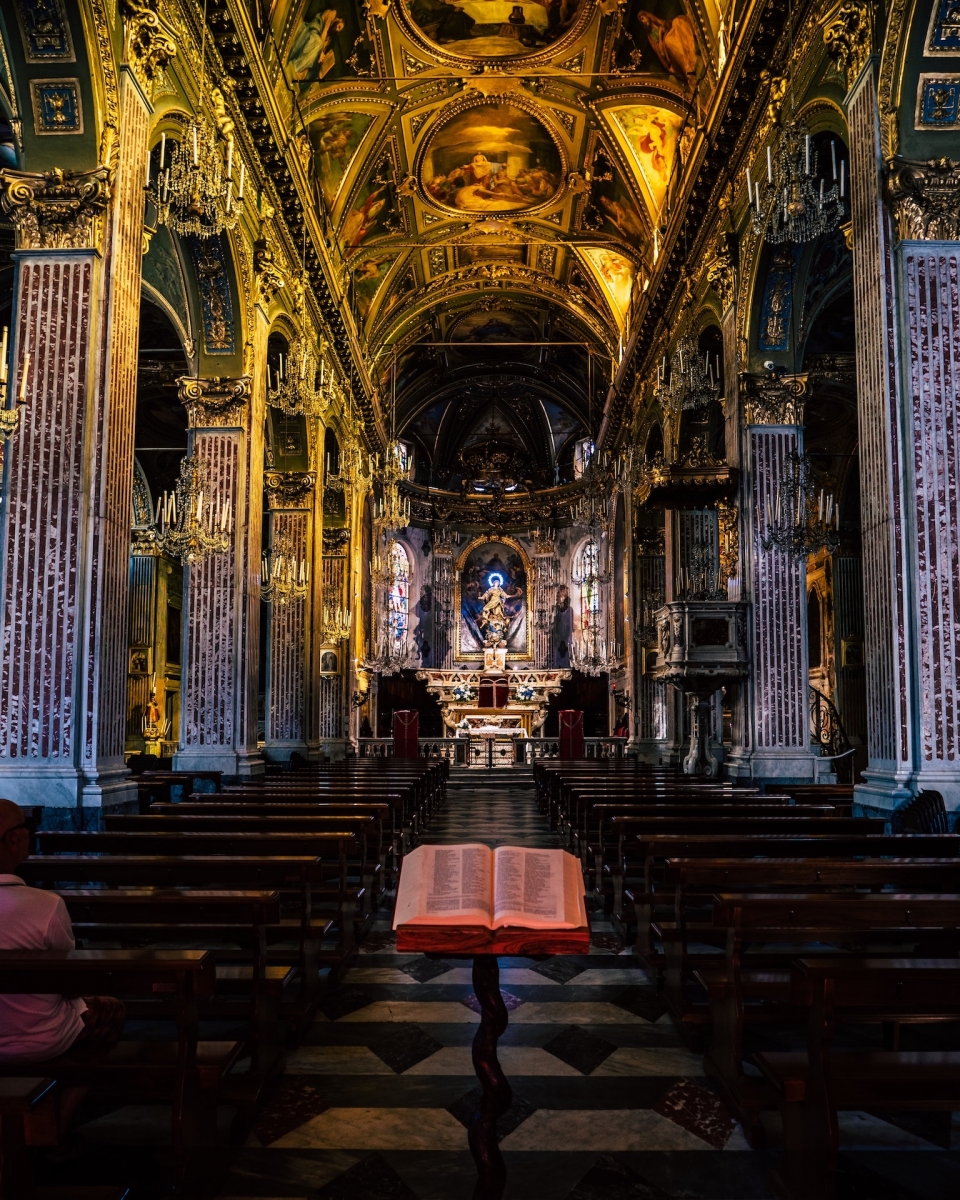 Chiavari, Metropolitan City of Genoa, Italy
Local private tour guides in Genoa can offer a wide range of tours to cater to various interests and preferences. Here are some popular tours that they may suggest:
Historic City Center Walking Tour: This tour takes you through the charming streets of Genoa's historic city center, known for its medieval architecture and hidden treasures. You'll visit iconic landmarks like Piazza de Ferrari, the Genoa Cathedral, and the Palazzi dei Rolli, a UNESCO World Heritage Site. The guide will share fascinating stories about the city's history, culture, and notable figures.
Genoa's Maritime Heritage Tour: Given Genoa's strong maritime history, this tour focuses on the city's relationship with the sea. You'll explore the Porto Antico (Old Port) area, visit the Galata Museo del Mare (Maritime Museum), and learn about Genoa's seafaring past, including its connections to Christopher Columbus and the Crusades.
Genoa's Culinary Delights Tour: For food enthusiasts, a culinary tour is a must. The guide will lead you to local markets, authentic trattorias, and pasticcerias, where you can sample traditional dishes like pesto pasta, focaccia, and fresh seafood. This tour is a feast for the senses, as you savor the flavors of Genoese cuisine.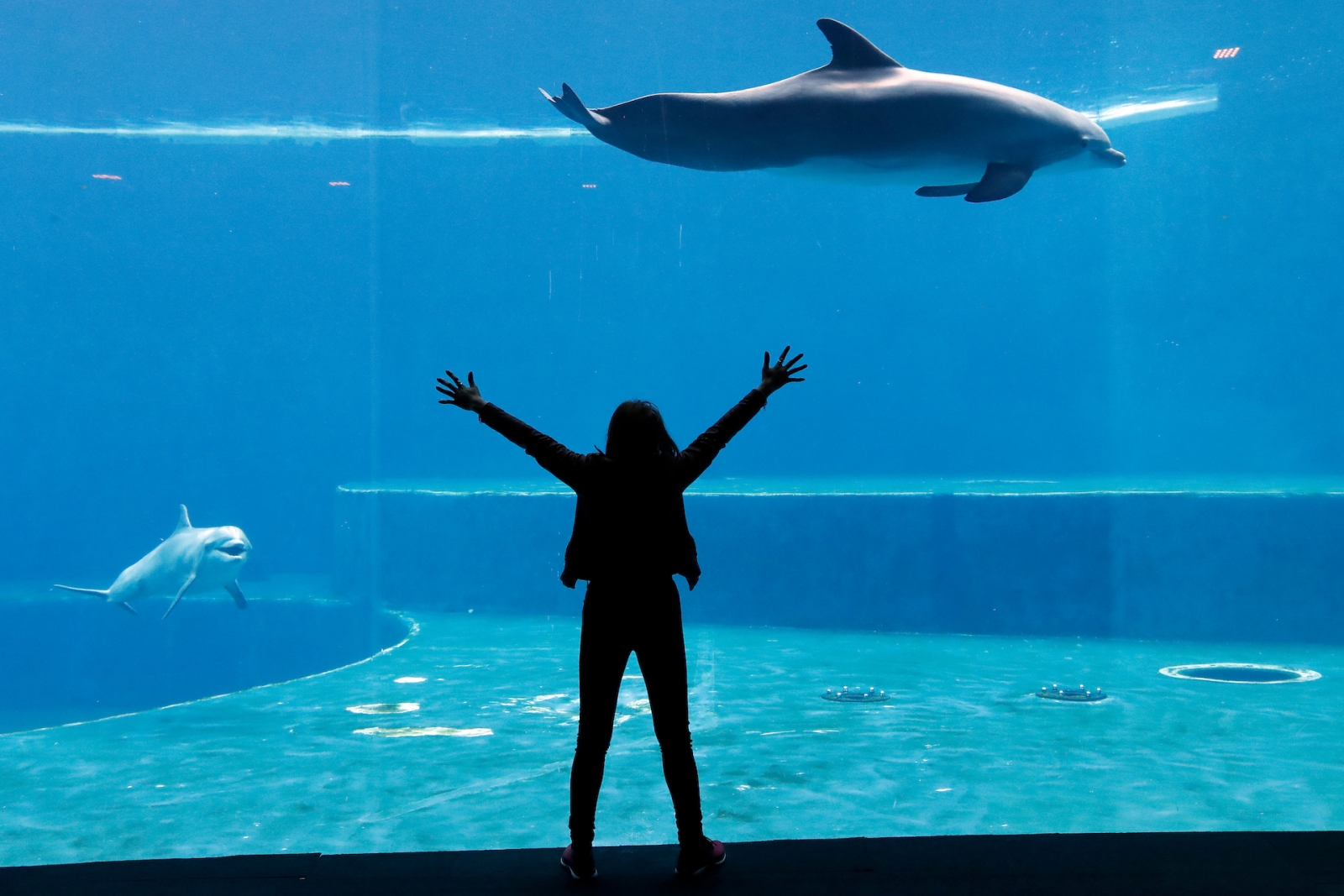 Aquarium in Genoa
Remember, private tour guides can customize these tours based on your preferences and interests, ensuring a personalized and memorable experience of Genoa and its surrounding areas. Be sure to discuss your preferences with the guide to create the perfect itinerary for your visit.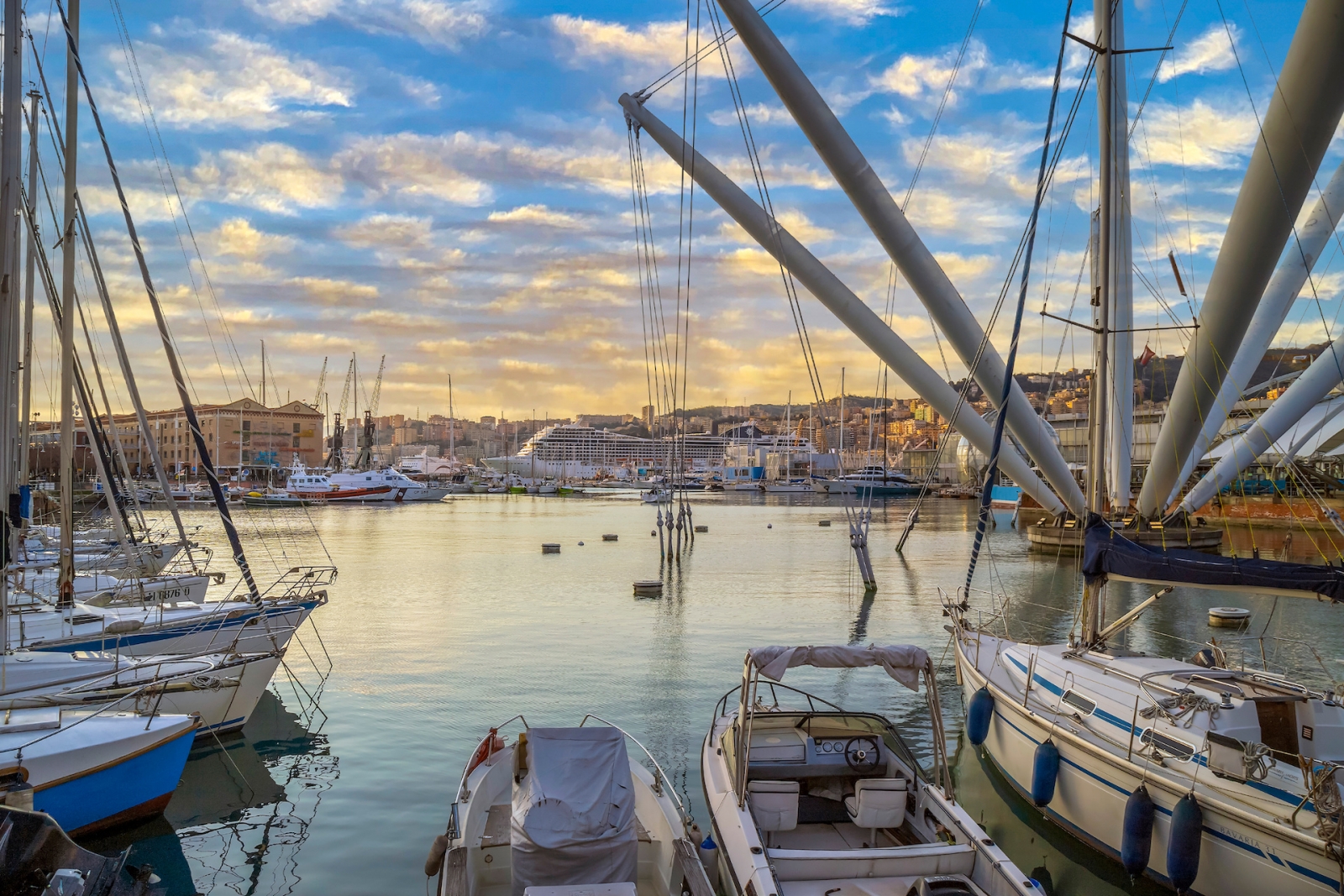 Porto Antico, Genoa, Liguria, Italy
Porto Antico with Bigo and Lighthouse
Porto Antico, also known as the Old Port, is a vibrant waterfront area in Genoa that has undergone significant redevelopment in recent years. It has transformed from a historical port into a modern, bustling district, offering a variety of attractions, entertainment, and cultural experiences. Two notable landmarks within Porto Antico are the Bigo Panoramic Lift and the Lighthouse.
Bigo Panoramic Lift: The Bigo is a futuristic, crane-like structure that offers a unique and panoramic view of Genoa and its surroundings. It was designed by the renowned architect Renzo Piano and was completed in 1992 to mark the 500th anniversary of Christopher Columbus' first voyage to the Americas. The lift was constructed to resemble a ship's crane, paying homage to Genoa's maritime heritage.
The Bigo consists of a circular platform with ten cabins, each accommodating up to eight people. It ascends 40 meters (131 feet) above the ground, gently rotating to provide breathtaking 360-degree views of the city, the harbor, and the Ligurian Sea. On clear days, you can even catch a glimpse of the picturesque coastal towns in the distance.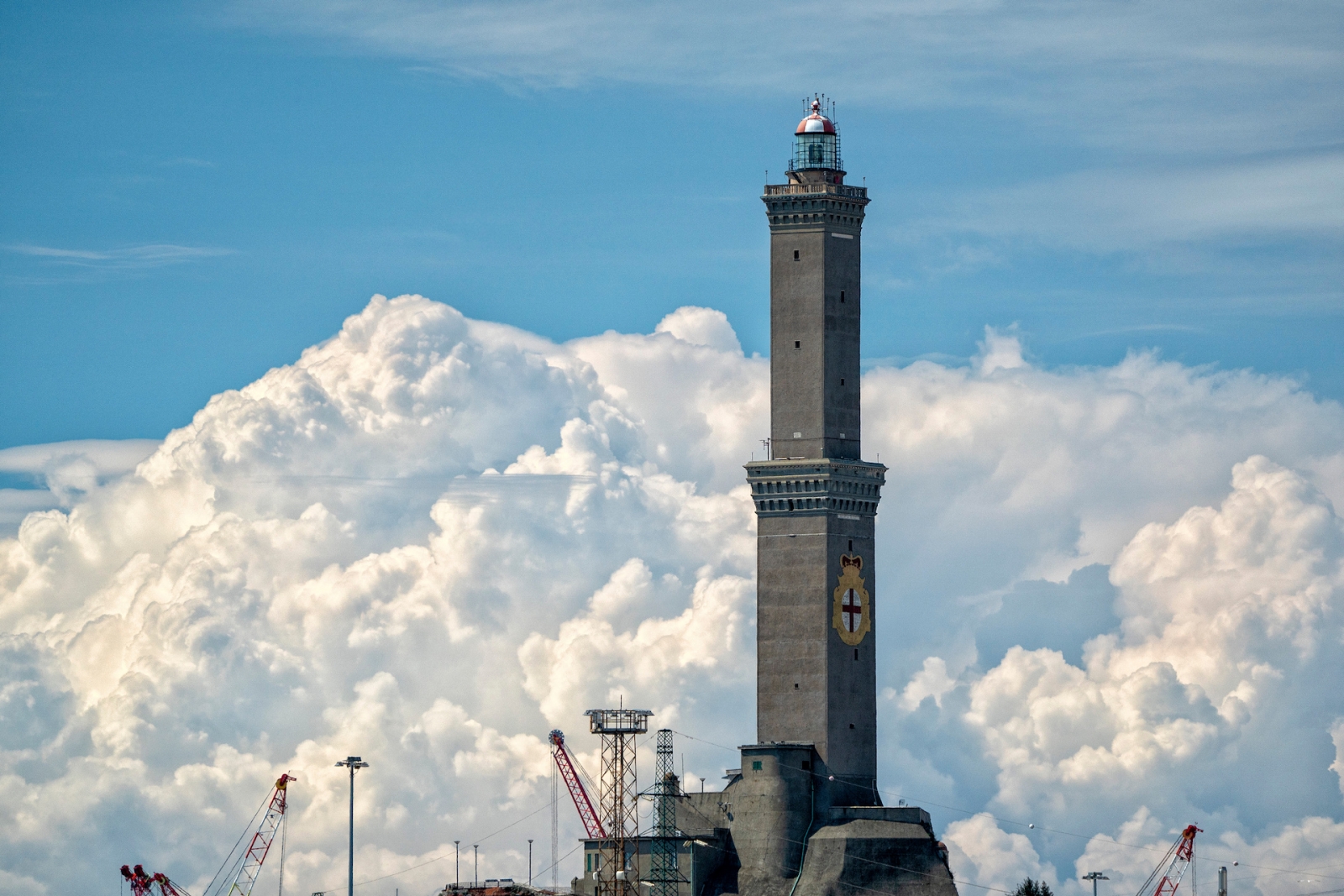 Genoa Lantern lighthouse - a city symbol
Lighthouse of Genoa: The Lighthouse of Genoa, known as La Lanterna in Italian, is an iconic symbol of the city. It holds the title of being the oldest working lighthouse in the world and has guided countless sailors and ships safely into the port for centuries. Its origins date back to Roman times, and the current tower stands at an impressive height of 77 meters (253 feet).
Originally, the lighthouse was constructed in the 12th century and has undergone numerous renovations and expansions over the years. The current structure is a distinctive black-and-white striped tower with a lantern room at the top. It stands proudly at the edge of Porto Antico, overlooking the sea and the bustling port. Visitors can explore the base of the lighthouse, where there is a museum showcasing the fascinating history of the structure and its significance to Genoa's maritime heritage. Climbing to the top of the tower rewards you with panoramic views of the city and the Mediterranean coastline. Together, the Bigo Panoramic Lift and the Lighthouse of Genoa offer visitors a chance to experience the city from different perspectives. Whether you're looking to admire the modern architecture and sweeping views from the Bigo or delve into the historical significance of the lighthouse, both landmarks provide captivating experiences that reflect Genoa's deep-rooted connection to the sea since the Middle Ages.
Acquario di Genova and Museo del Mare
Acquario di Genova (Genoa Aquarium) and Museo del Mare (Galata Museo del Mare) are two prominent attractions located in the Porto Antico area of Genoa. Together, they offer a fascinating journey into the world of marine life and the maritime history of the city.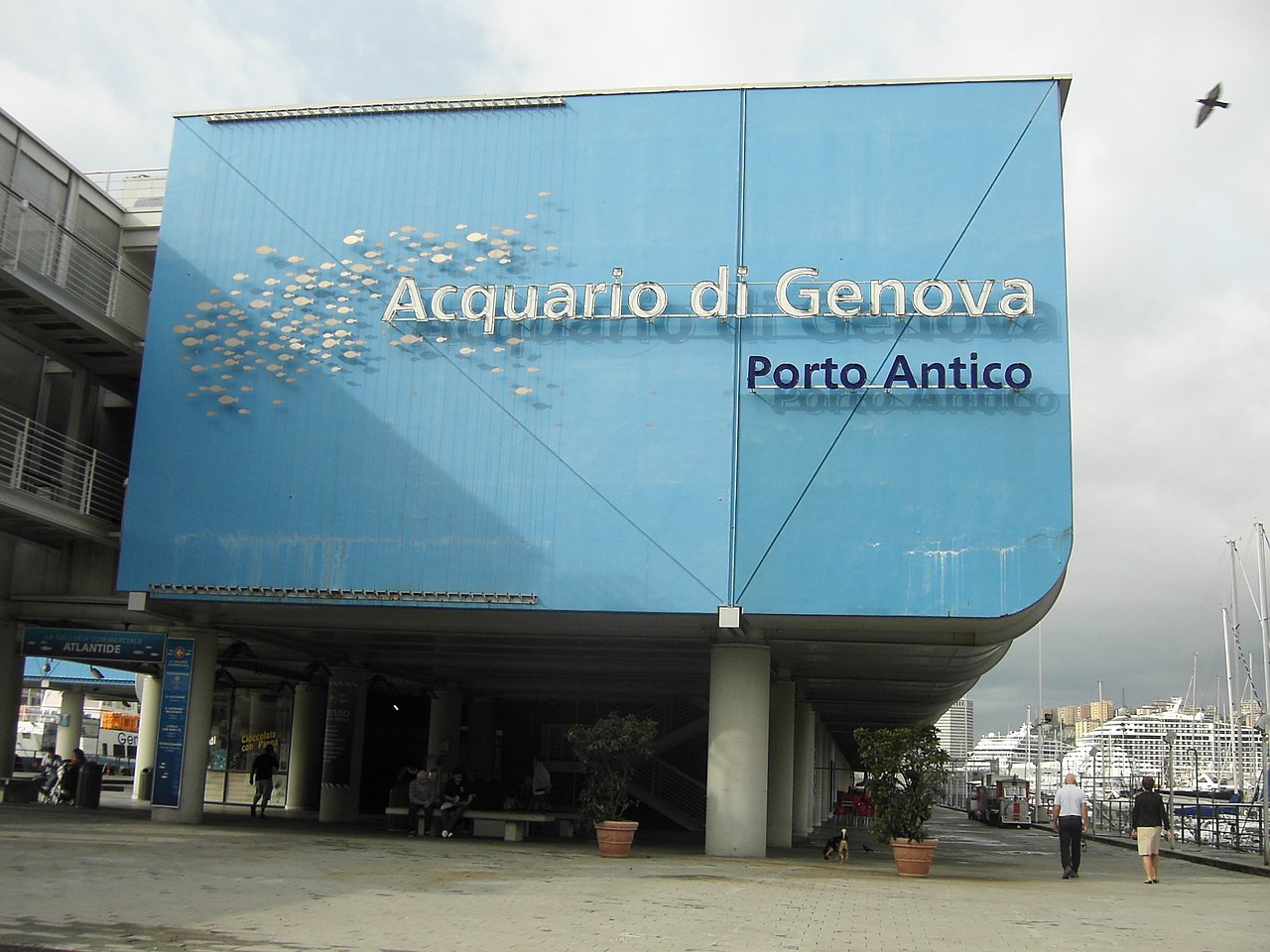 Acquario di Genova (Genoa Aquarium)
Acquario di Genova (Genoa Aquarium): Acquario di Genova is one of the largest and most renowned aquariums in Europe, attracting visitors of all ages with its diverse collection of marine species and engaging exhibits. The aquarium was opened in 1992 as part of the redevelopment of the Old Port for the Columbus celebration.
Spread over multiple levels, the aquarium houses a vast array of marine life, including fish, dolphins, sharks, penguins, sea turtles, and more. One of the main highlights is the Cetacean Pavilion, which is a large tank where dolphins and seals put on captivating shows, providing educational entertainment for visitors. Acquario di Genova's design is impressive, with underwater tunnels, glass walkways, and immersive displays that allow visitors to experience marine habitats up close. The aquarium also places a strong emphasis on conservation and education, promoting awareness about marine ecosystems and the importance of preserving aquatic biodiversity.
Museo del Mare (Galata Museo del Mare): The Museo del Mare, also known as the Galata Museo del Mare, is a maritime museum that showcases Genoa's rich seafaring history and its contributions to maritime exploration and trade. The museum is housed in the Palazzo San Giorgio, a historic building that once served as the headquarters of the powerful Genoese financial institution.
Key Highlights of the Galata Museo del Mare:
Full-scale Galley Ship: The museum features an impressive full-scale reconstruction of a 17th-century galley ship. This galley, named "Galata," serves as a centerpiece of the museum and provides visitors with a realistic experience of life aboard a historic sailing vessel. You can explore the different decks and compartments to get a glimpse into the challenging conditions faced by sailors during their voyages.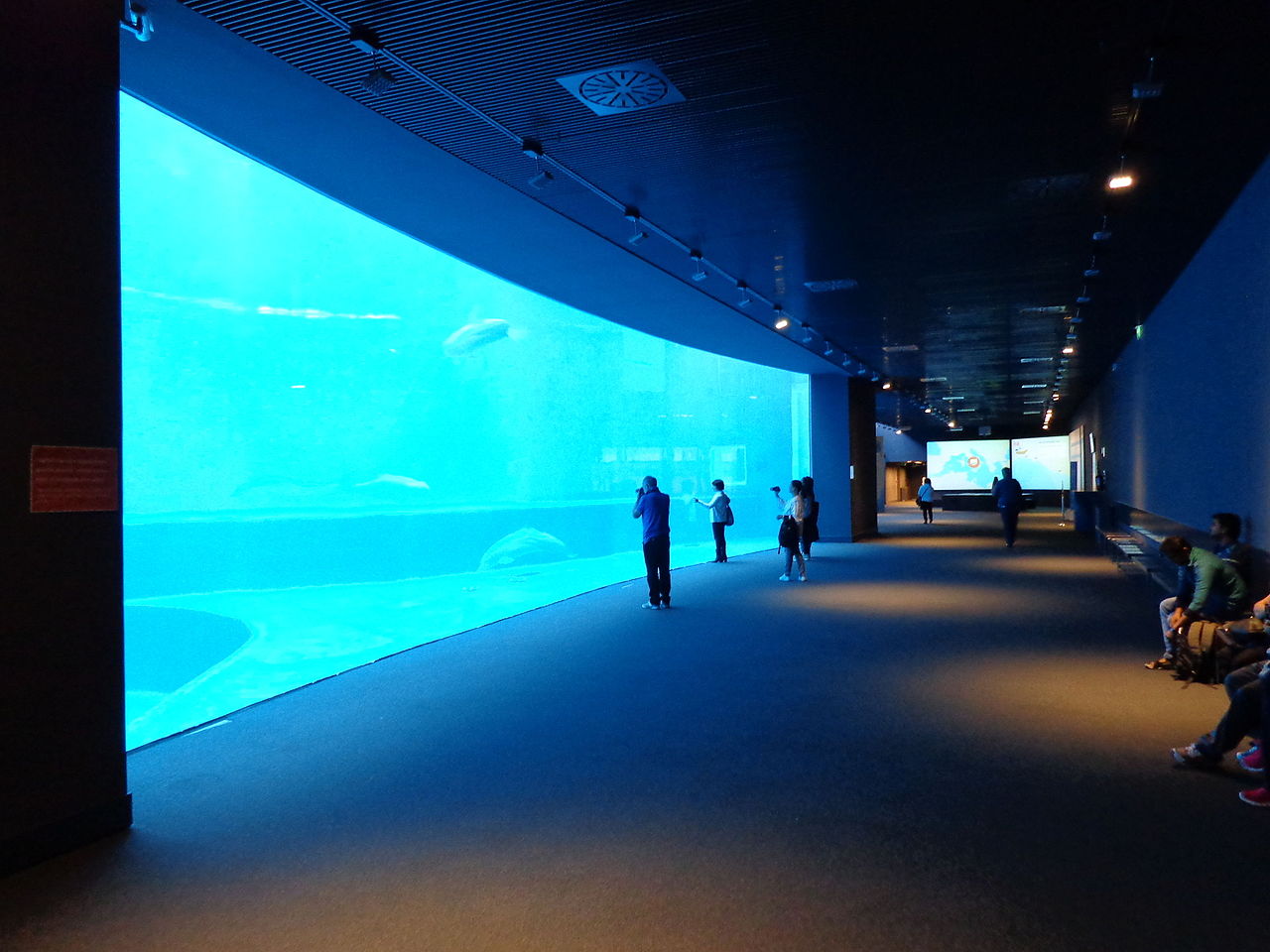 Cetaceans Pavilion, Aquarium of Genoa
Navigational Instruments and Ship Models: The Galata Museo del Mare boasts an extensive collection of navigational instruments, ship models, and historical artifacts related to navigation and maritime trade. These exhibits showcase the advancements in navigation technology and the tools used by sailors throughout history.
Multimedia Presentations: The museum uses interactive multimedia displays to engage visitors and bring maritime history to life. These exhibits offer immersive experiences, such as simulating ship navigation, storms at sea, and other challenges faced by sailors during their journeys.
Temporary Exhibitions: In addition to its permanent collection, the museum hosts temporary exhibitions that focus on various maritime themes and topics, providing a fresh perspective on the city's rich maritime heritage.
Educational Programs: The Galata Museo del Mare offers educational programs and activities for school groups and families, making it an ideal destination for both students and curious travelers interested in learning more about maritime history.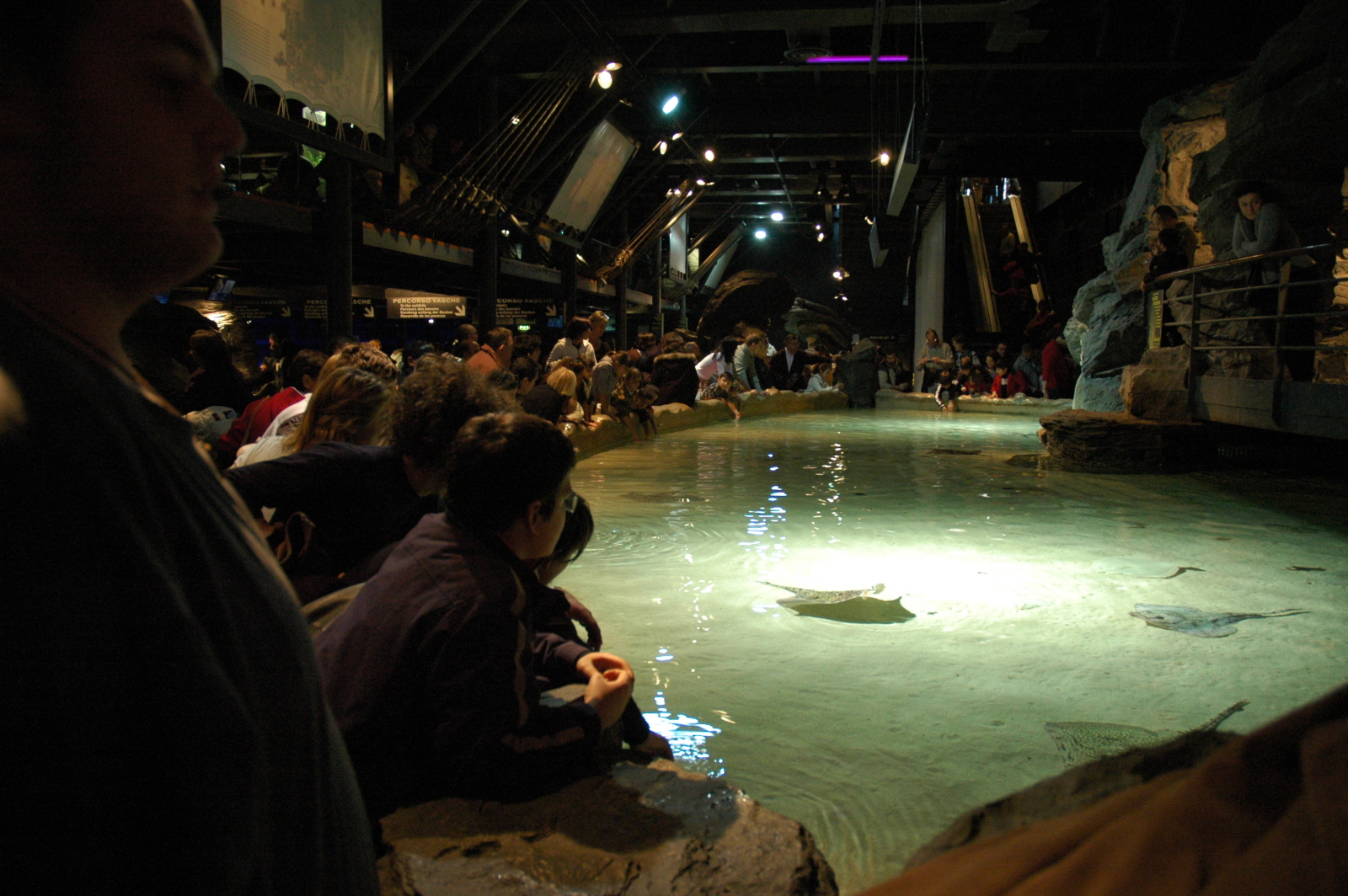 Genoa Aquarium - tank of rays
Inside the Museo del Mare, you can explore a wide range of exhibits, artifacts, and interactive displays that narrate the story of Genoa's maritime past. It delves into the city's role as a major port during the Middle Ages, its participation in the Crusades, and its influence in global trade and exploration during the Age of Discovery. One of the museum's highlights is the full-scale reconstruction of a 17th-century galley ship, which gives visitors a sense of what life was like for sailors during that era. The museum also houses an extensive collection of navigational instruments, ship models, and historical documents that provide insights into Genoa's maritime heritage. The combination of Acquario di Genova and Museo del Mare makes Porto Antico a compelling destination for both maritime enthusiasts and families looking for an enriching and enjoyable experience. Whether you're marveling at the wonders of the sea at the aquarium or delving into Genoa's seafaring history at the museum, these attractions offer a unique and immersive journey into the maritime world.
Palace of Saint George
The Palace of Saint George (Palazzo di San Giorgio) is a historic building located in Genoa, Italy. It is one of the city's most significant landmarks and has played a crucial role in the maritime history of Genoa. History: The Palace of Saint George was built in the early 13th century and served as the headquarters of the powerful financial institution known as the Banco di San Giorgio (Bank of Saint George). Established in 1407, the bank was one of the earliest and most influential banks in Europe during the Middle Ages. The bank was responsible for managing the city's finances and played a vital role in Genoa's maritime and economic expansion. It facilitated trade, provided loans to the Republic of Genoa, and managed the financial affairs of the city's powerful merchant families. The bank's success and influence contributed significantly to Genoa's rise as a maritime republic and its prominence as a major Mediterranean trading power.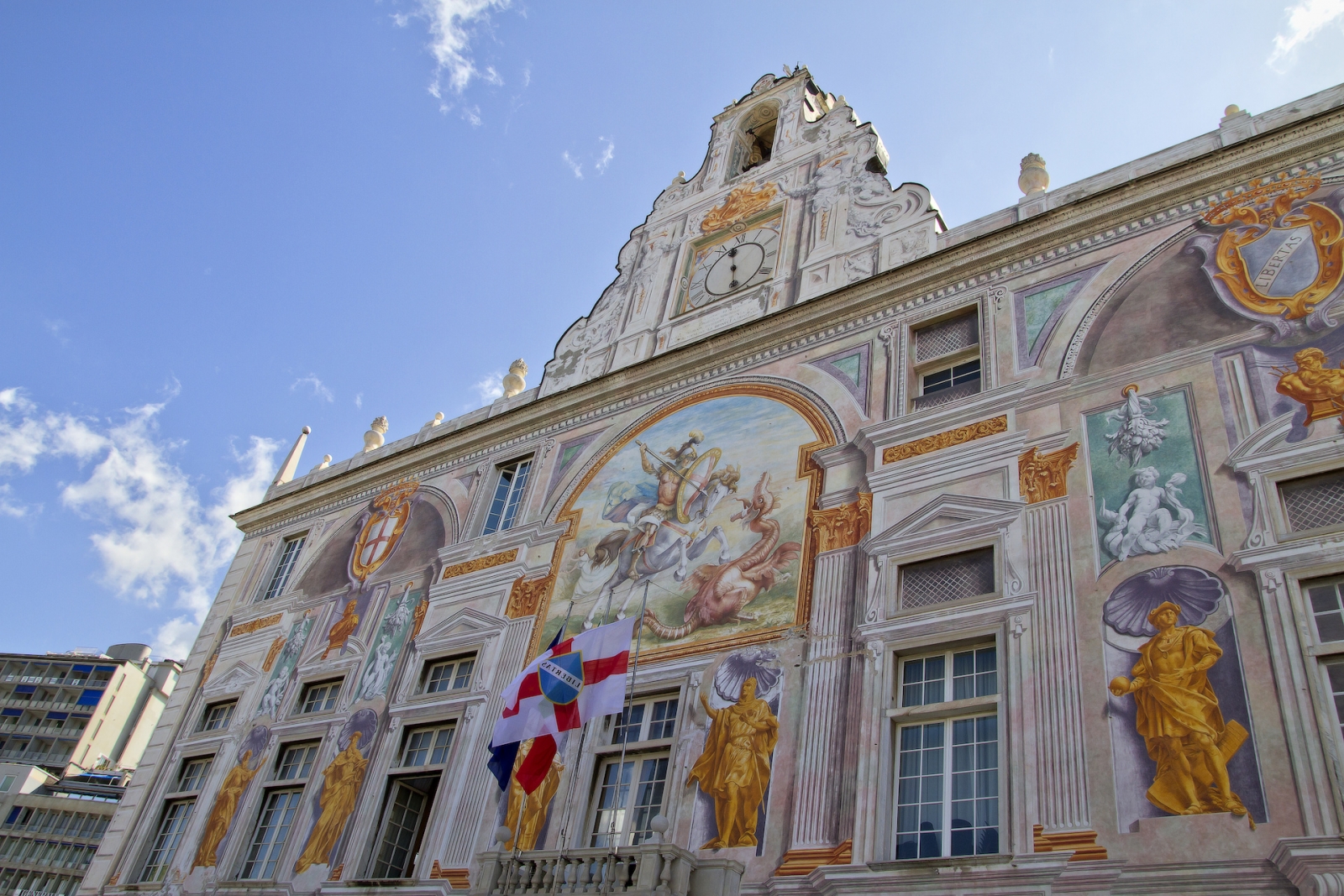 Palace of Saint George
Architecture: The Palace of Saint George is an excellent example of medieval architecture. It features a mixture of Romanesque and Gothic styles, with beautiful arches, intricate stonework, and decorative elements. The building's facade showcases the coat of arms of the Republic of Genoa, a testament to its historical significance. Museo del Mare: In modern times, the Palace of Saint George has been repurposed as a museum known as the Museo del Mare (Maritime Museum). The museum opened its doors in 2004, and it houses a vast collection of artifacts, documents, and exhibits related to Genoa's maritime history. Inside the Museo del Mare, visitors can explore the history of Genoa as a maritime powerhouse, its naval achievements, trade routes, and interactions with other civilizations. The museum also features models of historic ships, navigational instruments, and multimedia displays that provide a captivating insight into the city's seafaring heritage.
Visiting the Palace of Saint George and the Museo del Mare is a wonderful opportunity to immerse yourself in the rich maritime history of Genoa. The building's historical significance, architectural charm, and the intriguing exhibits within the museum make it a must-visit attraction for anyone interested in exploring Genoa's maritime past.
Genoa Old Town and beautiful palaces in Strada Nuova and the system of the Palazzi dei Rolli
Genoa Old Town, also known as the Historic Center of Genoa, is a UNESCO World Heritage Site and a treasure trove of historical and architectural wonders. One of the most captivating parts of the Old Town is Strada Nuova, a street that showcases a remarkable collection of beautiful palaces. The system of the Palazzi dei Rolli, an innovative urban planning concept, is closely linked to these palaces.
Strada Nuova and the Palaces: Strada Nuova, meaning "New Street," was constructed during the 16th century as a major urban development project. It was designed to connect the city's ancient port with the new district of Saint Andrew. Today, Strada Nuova is officially known as Via Garibaldi, named after the Italian revolutionary Giuseppe Garibaldi.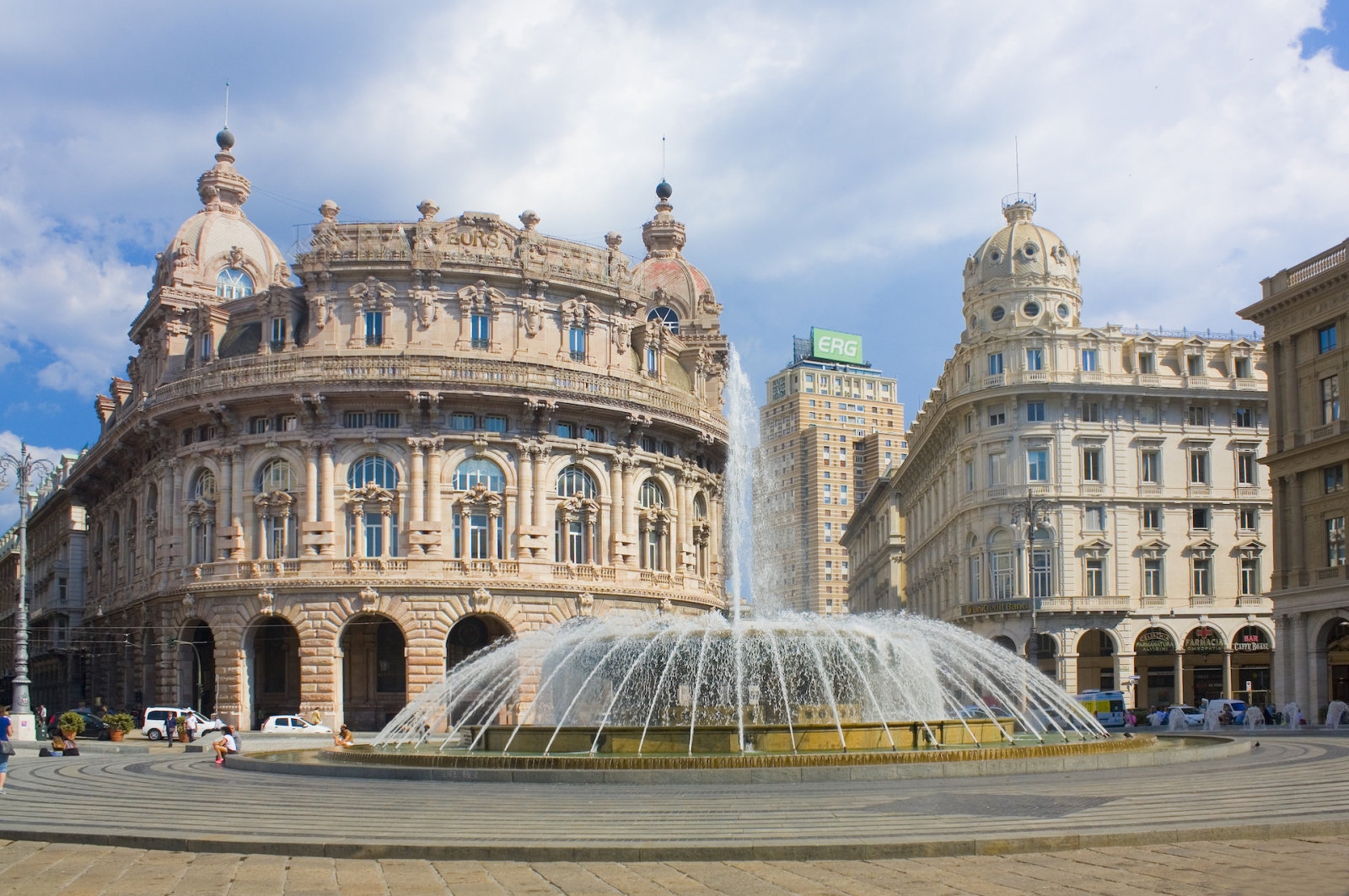 Palazzo della Borsa, built-in 1912 by the architect Alfredo Coppede, on Ferrari square in Genoa, Italy
Along Via Garibaldi, you will find a stunning ensemble of grand palaces, which are renowned for their architectural beauty and historical significance. Three of the most notable palaces on Strada Nuova are:
Palazzo Bianco: This palace houses an outstanding art collection, featuring works by Italian and European masters, including Van Dyck, Veronese, and Caravaggio.
Palazzo Rosso: Another majestic palace, the Palazzo Rosso boasts an impressive art collection, with works by notable artists such as Titian, Rubens, and Strozzi.
Palazzo Doria Tursi: This palace is home to the city's town hall and features an exceptional collection of artwork, including the violin played by Niccolò Paganini.
Palazzi dei Rolli: The Palazzi dei Rolli is an extraordinary architectural system that was implemented during the 16th and 17th centuries. The system was developed as a way to host important guests and dignitaries who visited Genoa, ensuring they were accommodated in prestigious palaces throughout the city.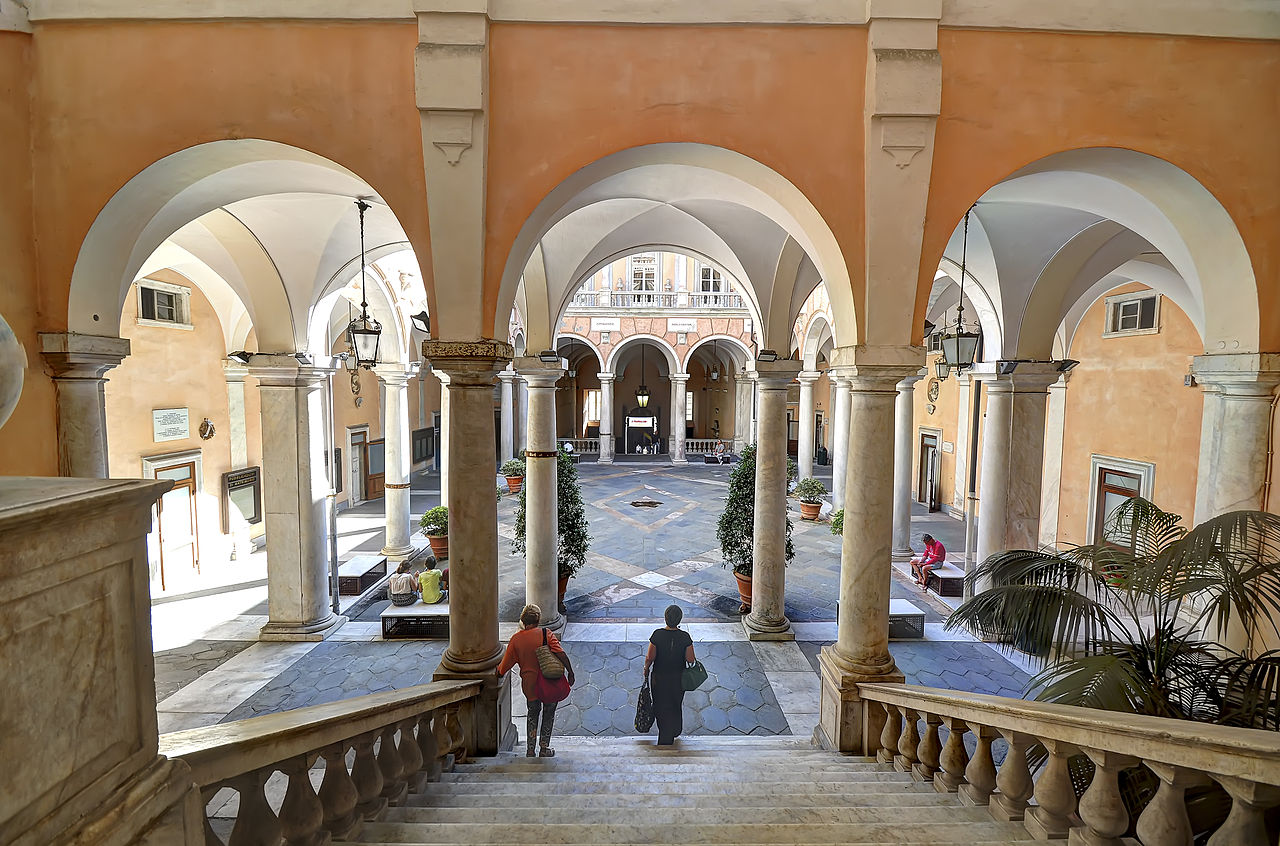 Palazzo Doria-Tursi - Musei di Strada Nuova
Genoa's aristocratic families participated in this system by offering their palaces for lodging when requested by the authorities. The palaces included in the Rollei system were selected based on their architectural and artistic significance, with only the most splendid residences included. The Palazzi dei Rolli represents a remarkable example of urban planning and cultural heritage preservation. It was inscribed as a UNESCO World Heritage Site in 2006, acknowledging its unique role in showcasing Genoa's historical importance and the grandeur of its architecture. Visiting Genoa Old Town, exploring Strada Nuova with its magnificent palaces, and understanding the Palazzi dei Rolli system offers an immersive experience into the city's illustrious past. As you stroll through these elegant streets and admire the opulent palaces, you'll be transported back in time, gaining a deep appreciation for the rich history and cultural heritage of this fascinating Italian city.
The best Panoramic viewpoints in Genoa
Genoa offers several breathtaking panoramic viewpoints that provide stunning vistas of the city, the Ligurian Sea, and the surrounding landscape. Here are some of the best panoramic viewpoints to visit:
Spianata Castelletto (Castelletto Terrace): Located near the city center, Spianata Castelletto is one of the most iconic viewpoints in Genoa. It offers a panoramic view of the city's historic center, the harbor, and the surrounding hills. The terrace is accessible by a historic lift known as the "Ascensore Castelletto," which adds to the charm of the experience. The view from here is particularly enchanting during sunset when the city's rooftops are bathed in warm hues.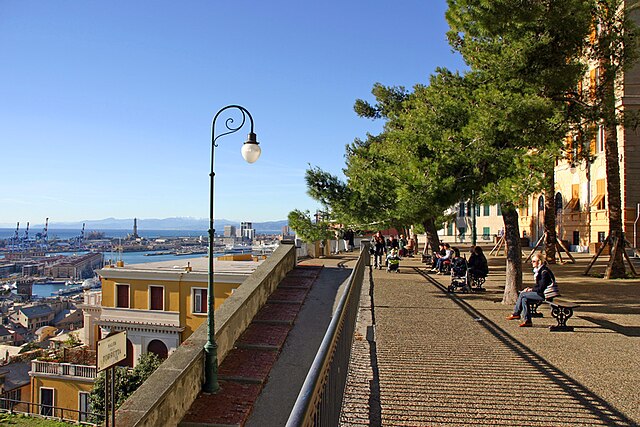 Spianata Castelletto
Boccadasse: Boccadasse is a charming fishing village located a short distance from Genoa's city center. The picturesque bay, colorful houses, and the Ligurian Sea create a postcard-worthy view. You can climb up to the nearby Corso Italia promenade to get a higher vantage point, allowing you to capture the beauty of Boccadasse and the coastline.
Righi Hill: Righi Hill is one of the highest points in Genoa and offers panoramic views of the city and the sea. You can reach the top of Righi Hill by taking the historic Genoa Rack Railway (Ferrovia Genova-Righi) from Piazza Principe station. Once at the top, there are various viewpoints and walking trails that allow you to admire Genoa's skyline and the surrounding nature.
Spianata dell'Acquasola: Spianata dell'Acquasola is a panoramic terrace located near Piazza della Nunziata. From this viewpoint, you can enjoy a picturesque view of the city's rooftops and the hills in the distance. It's a lesser-known spot, making it a quieter and more intimate place to savor the views.
Forte Sperone: Forte Sperone is an ancient fortress located on the opposite side of the harbor from the city center. From the fort's ramparts, you can enjoy a panoramic view of the Old Town, Porto Antico, and the sea. The fortress itself is an interesting historical site, and the panorama adds to the appeal of this location.
Nervi Promenade (Anita Garibaldi Promenade): Located in the eastern part of Genoa, the Nervi Promenade is a scenic coastal path that offers breathtaking views of the Ligurian Sea and rocky cliffs. Walking along the promenade, you can enjoy a sense of tranquility and appreciate the natural beauty of the coastline.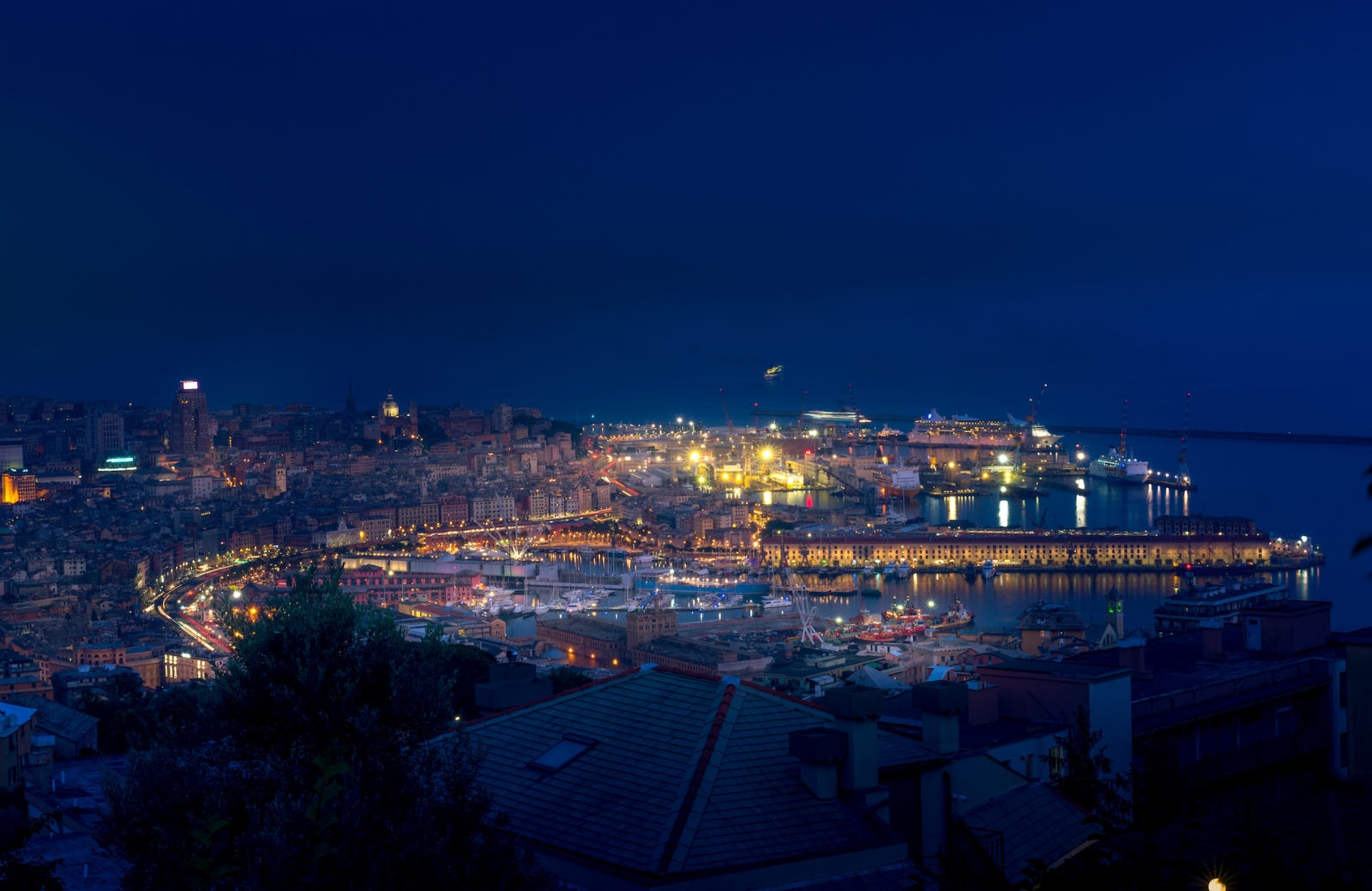 Night cityscape of Genova with the old port, cruise ships, and sea, and port cranes in the background
Each of these panoramic viewpoints offers a unique perspective on Genoa's beauty, and they are perfect spots to capture memorable photos and experience the city's charms from a different angle. Whether you choose to visit one or explore them all, these viewpoints promise to leave you with lasting impressions of Genoa's picturesque landscape.
Piazza De Ferrari - the main square of Genoa
Piazza De Ferrari is located in the heart of Genoa and serves as a central meeting point and a focal point for various important buildings and landmarks. The square was named after Raffaele De Ferrari, Duke of Galliera, a prominent figure in Genoa's history.
Key Features and Landmarks:
Fountain of Neptune: At the center of Piazza De Ferrari stands the iconic Fountain of Neptune (Fontana di Nettuno). The fountain features a statue of Neptune, the Roman god of the sea, surrounded by various sculptures and water features. It is a popular spot for locals and visitors to gather and take photos.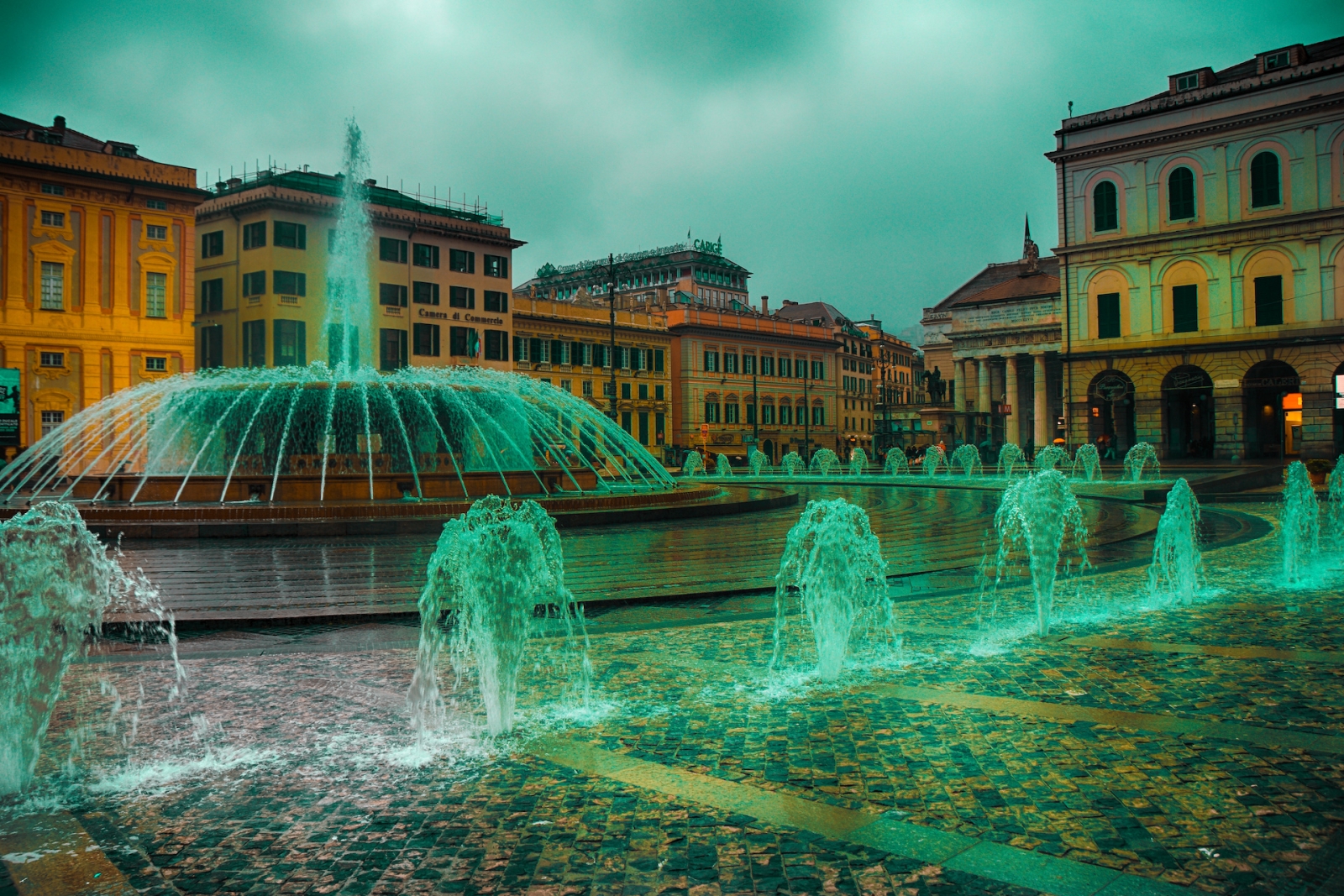 Genova - Piazza De Ferrari
Palazzo Ducale: Facing the square is the Palazzo Ducale (Ducal Palace), a historic building that once served as the residence of the Doge of Genoa, the city's highest authority. Today, the Palazzo Ducale hosts cultural events, exhibitions, and art shows.
Teatro Carlo Felice: On one side of the square stands the Teatro Carlo Felice, Genoa's principal opera house. The theater is renowned for its architectural beauty and hosts a wide range of opera, ballet, and musical performances throughout the year.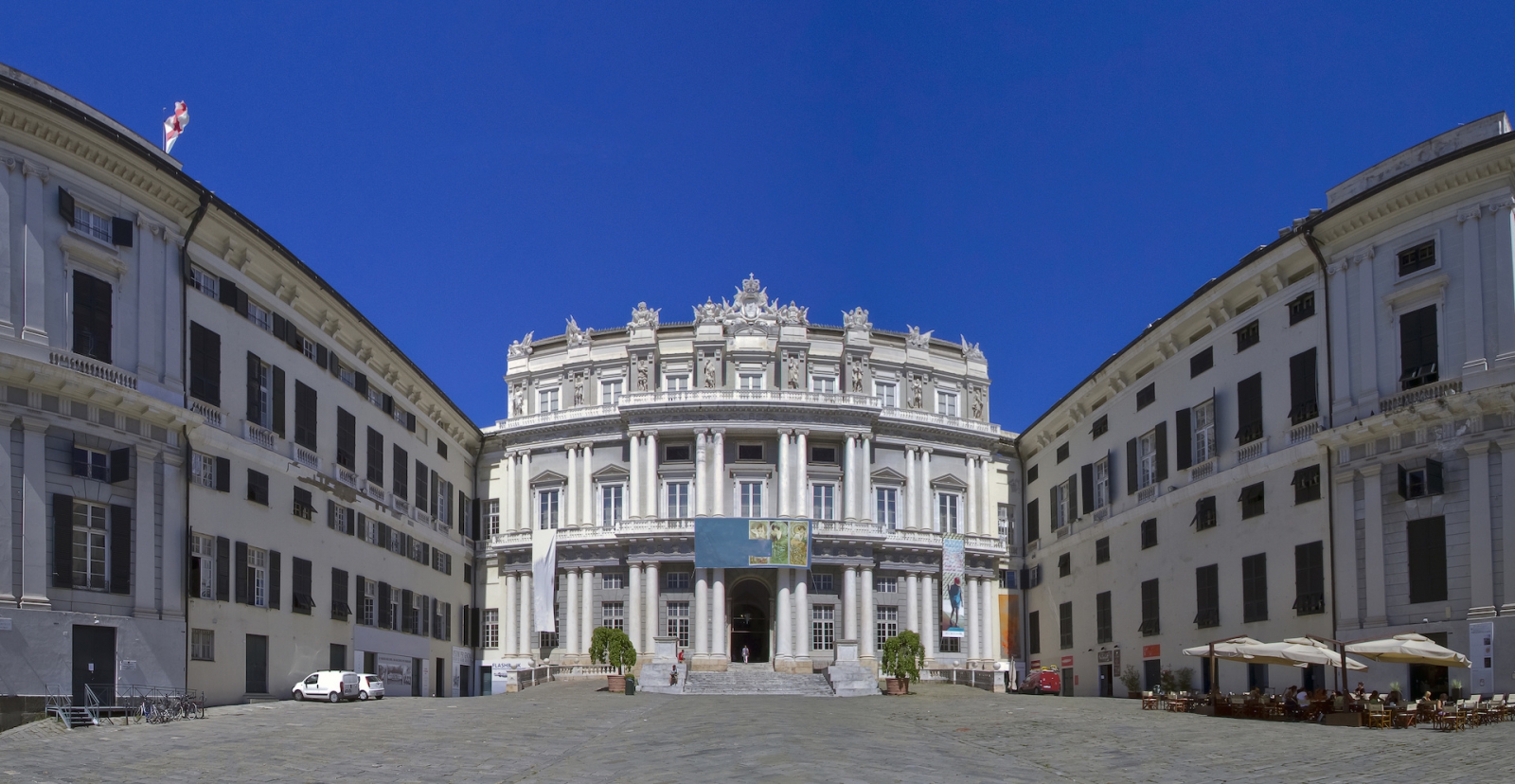 PALAZZO DUCALE
Modern Skyscrapers: Piazza De Ferrari is surrounded by modern high-rise buildings, adding a contemporary touch to the historic square. These buildings house various commercial and financial institutions.
Events and Activities: Piazza De Ferrari serves as a hub of activity in Genoa and hosts numerous events and festivals throughout the year. Concerts, cultural performances, and seasonal celebrations often take place in the square, attracting locals and tourists alike. The square's central location also makes it an excellent starting point for exploring other parts of Genoa's historic city center, including the Old Town and the nearby Porto Antico area. Piazza De Ferrari is a vibrant and dynamic space that encapsulates the essence of Genoa's rich history and modern charm. Whether you're interested in architecture, cultural events, or simply taking in the lively atmosphere, a visit to Piazza De Ferrari is a must during your time in Genoa.
Cathedral of San Lorenzo in Genoa
The Cathedral of San Lorenzo, commonly known as the Genoa Cathedral, is one of the most significant religious and architectural landmarks in the city of Genoa, Italy. It holds a rich history and is a prime example of medieval and Renaissance architecture. Here's more about this iconic cathedral: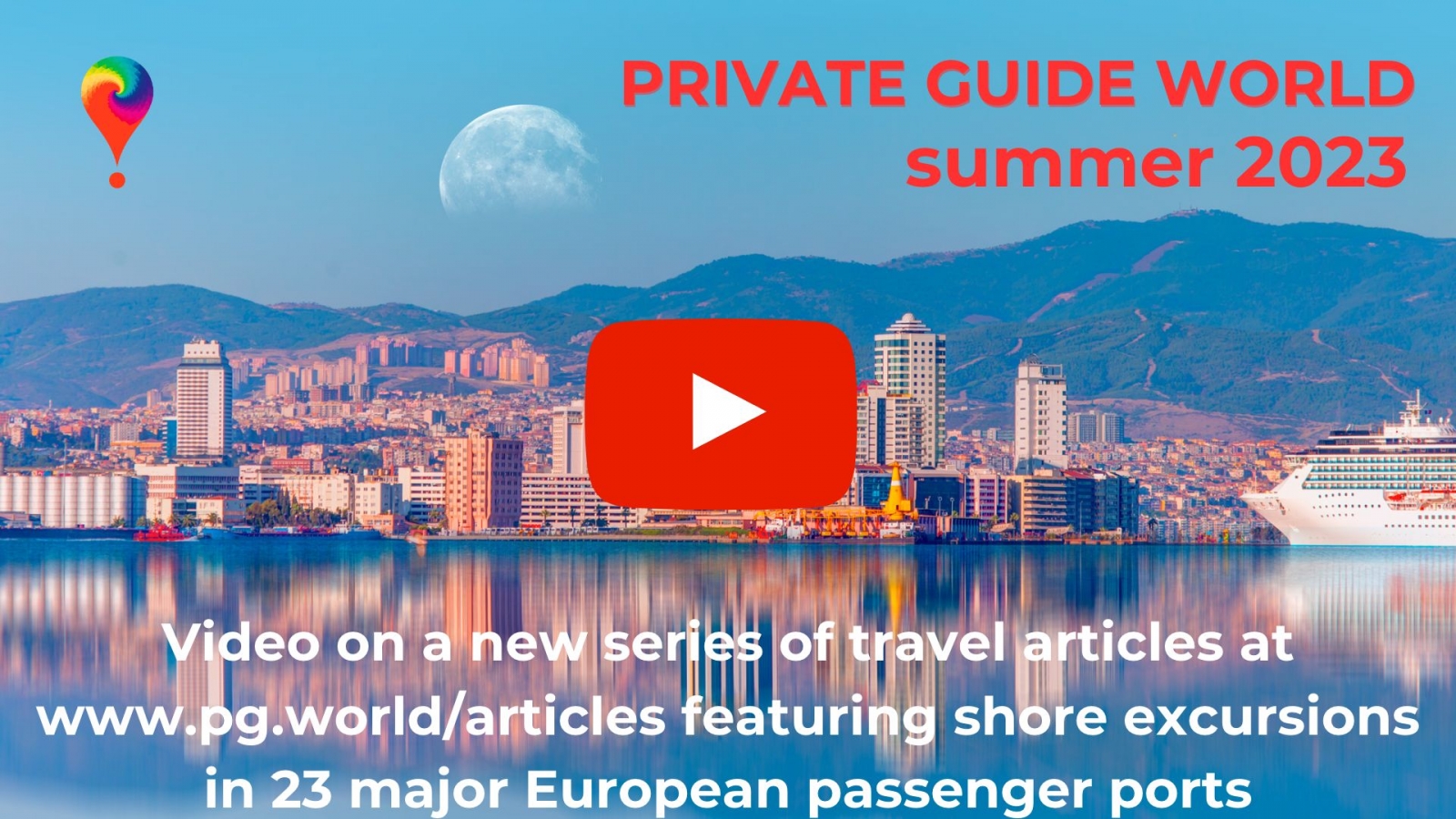 Video on our YouTube Channel @PrivateGuideWorld Announcing the Articles about the Shore excursions in 23 passenger ports of Europe in the Article Category SHORE EXCURSIONS on our Platform
History: The construction of the Genoa Cathedral began in the 12th century, and it was built over the ruins of previous churches and religious structures that dated back to early Christian times. Over the centuries, the cathedral underwent several renovations and additions, incorporating different architectural styles.
Architecture: The Genoa Cathedral is a magnificent blend of architectural styles, reflecting the various periods of construction. The facade, for instance, displays a mix of Gothic, Romanesque, and Renaissance elements.
Key Features and Highlights:
Facade: The cathedral's facade is a remarkable work of art, featuring intricate sculptures and reliefs. The central rose window and the imposing main portal are particularly noteworthy.
Candelabrum: One of the cathedral's most significant artifacts is the Candelabrum, an elaborate brass chandelier suspended from the ceiling. It was crafted by the artist and goldsmith Matteo Cattaneo in the 16th century.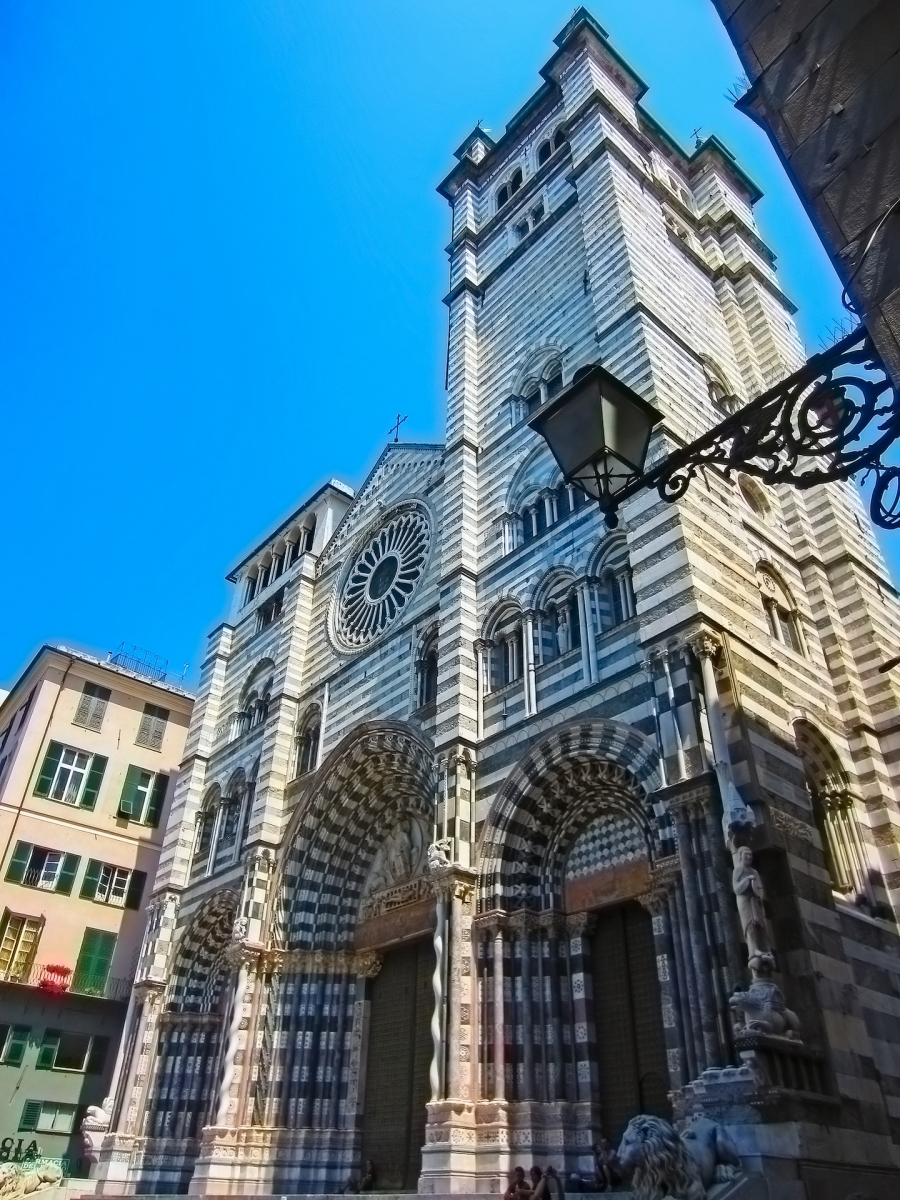 Cathedral of San Lorenzo, Genoa
Sacred Art Museum: Within the cathedral complex, visitors can explore the Museo del Tesoro del Duomo (Museum of the Treasure of the Cathedral). This museum houses an exceptional collection of religious artworks, including paintings, sculptures, liturgical objects, and historical vestments.
Chapel of St. John the Baptist: This chapel is a highlight of the cathedral and is renowned for its exquisite marble altar and beautiful frescoes.
Relics: The Genoa Cathedral is home to various relics, including those of St. John the Baptist, St. Andrew the Apostle, and St. Lawrence, to whom the cathedral is dedicated.
Bell Tower: The cathedral's bell tower, known as the Torre della Lanterna, offers stunning views of Genoa and its surroundings. It is possible to climb to the top for a panoramic experience.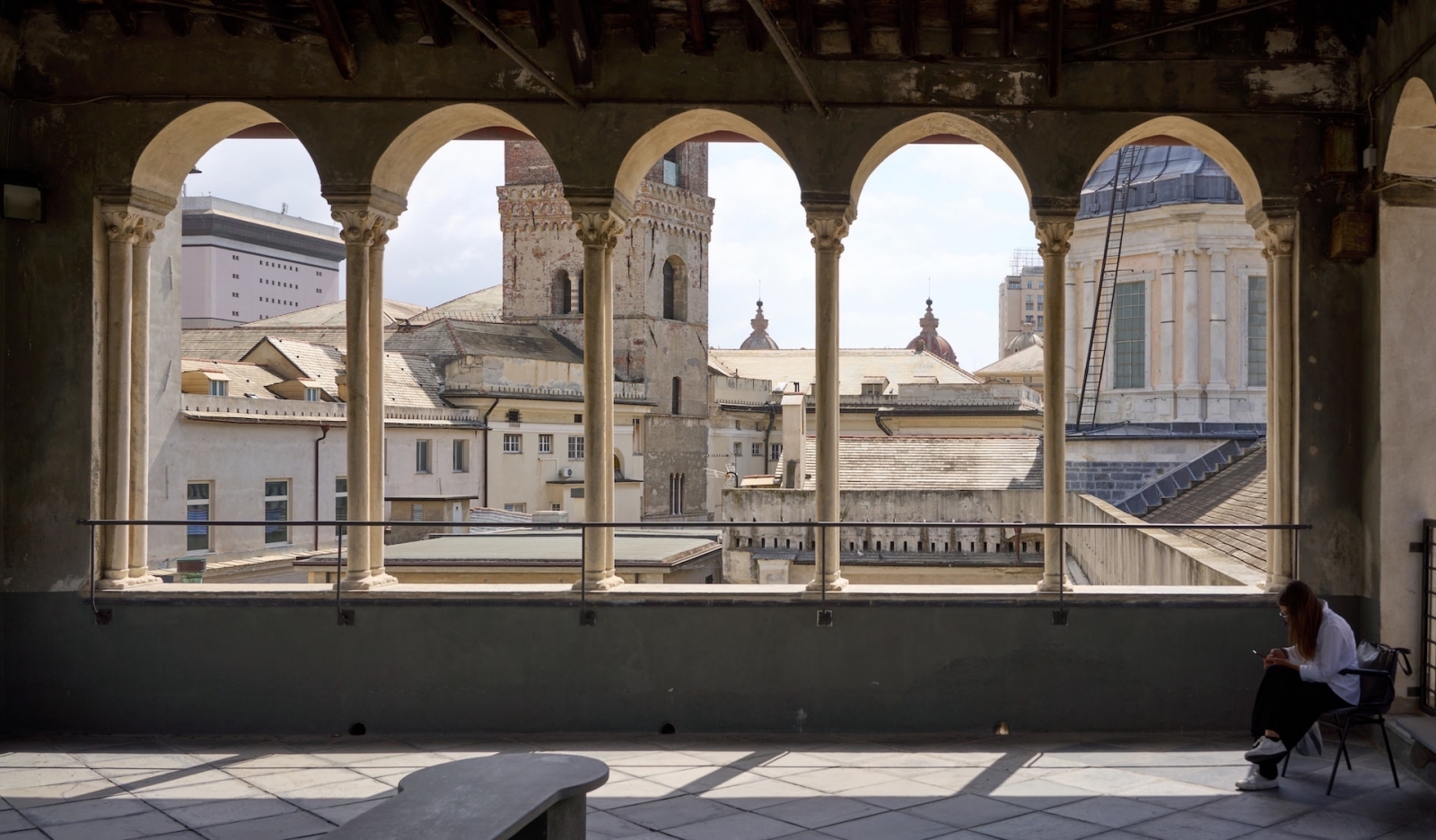 Gallery in the Cathedral of San Lorenzo, Genoa
The Genoa Cathedral continues to be an active place of worship and is an essential cultural and historical site in the city. Whether you are interested in religious history, architectural marvels, or exploring sacred art, a visit to the Genoa Cathedral is a must for a deeper appreciation of Genoa's rich heritage and spiritual significance.
Palazzo Ducale and jazz-related activities in Genoa
Palazzo Ducale (Ducal Palace): The Palazzo Ducale, also known as the Ducal Palace, is a historic building located in Piazza De Ferrari, the main square of Genoa. It served as the residence of the Doge of Genoa during the Republic of Genoa's era. Today, Palazzo Ducale is a cultural center that hosts various exhibitions, events, and performances. It regularly showcases art exhibitions, concerts, theater shows, and other cultural activities. Please note that while the Palazzo Ducale might host jazz-related events or concerts occasionally, it is not specifically known as a dedicated "Museo del Jazz" (Jazz Museum). However, cultural programs in Palazzo Ducale often cover a wide range of artistic expressions, including music genres like jazz. Genoa has a vibrant cultural scene, and jazz enthusiasts can find jazz performances, concerts, and events throughout the city. Various music venues, theaters, and cultural spaces host jazz musicians from both Italy and abroad. One of the popular jazz events in Genoa is the "Genova Jazz Festival," which takes place annually and features renowned jazz artists and emerging talents. The festival attracts music enthusiasts from all over Italy and beyond and contributes to the city's rich cultural tapestry. To stay updated on jazz-related events and activities in Genoa, you can check local event listings, websites, and the official websites of cultural venues like Palazzo Ducale for their event calendars. Keep in mind that information may have changed since the last update, so we recommend checking with official sources and local tourism authorities for the most up-to-date information on jazz-related activities and cultural events in Genoa.
Monumental Cemetery of Staglieno in Genoa - what is it famous for?
The Monumental Cemetery of Staglieno, located in Genoa, Italy, is famous for its impressive collection of elaborate and artistic funerary monuments, sculptures, and mausoleums. It is one of the most significant cemeteries in Europe and is renowned for its stunning and emotive sculptures that represent a wide range of artistic styles.
Key Features and Significance:
Artistic Funerary Monuments: The cemetery is home to a vast collection of artistic funerary monuments, ranging from intricately carved marble statues to grand mausoleums. Many of these sculptures were created by renowned Italian and international artists, making Staglieno a veritable open-air art museum.
Staglieno Colonnade
Symbolism and Emotion: The sculptures at Staglieno are not only remarkable for their artistic beauty but also for the emotions and symbolism they convey. Many of the statues depict mourning figures, angels, and other poignant representations of grief and spirituality.
Notable Artists: The cemetery houses works by prominent sculptors, including Lorenzo Orengo, Augusto Rivalta, and Giulio Monteverde, among others. Their contributions to Staglieno have made it an extraordinary place of art and commemoration.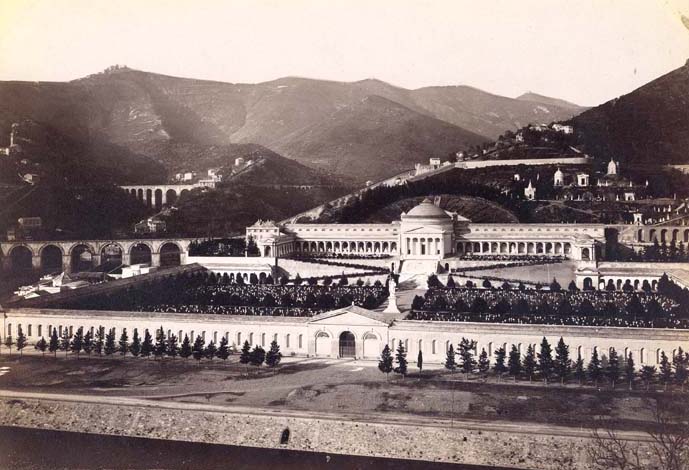 Cemetery di Staglieno in Genoa
Historical Significance: The Monumental Cemetery of Staglieno dates back to the mid-19th century and reflects the cultural and social values of that period. It became a final resting place for many influential figures from Genoa's history and played a crucial role in preserving the memory of important personalities and families.
Architectural Variety: Staglieno's layout includes various sections, each featuring unique architectural styles, from Neoclassical and Romantic to Art Nouveau and Symbolist. This variety enhances the cemetery's charm and offers a diverse experience for visitors.
Visiting the Monumental Cemetery of Staglieno is a poignant and moving experience. The combination of stunning sculptures, symbolic representations, and the serene atmosphere creates a place of contemplation and remembrance. Many visitors come to Staglieno not only to pay respects to the departed but also to appreciate the profound beauty of the sculptures and the artistry they embody.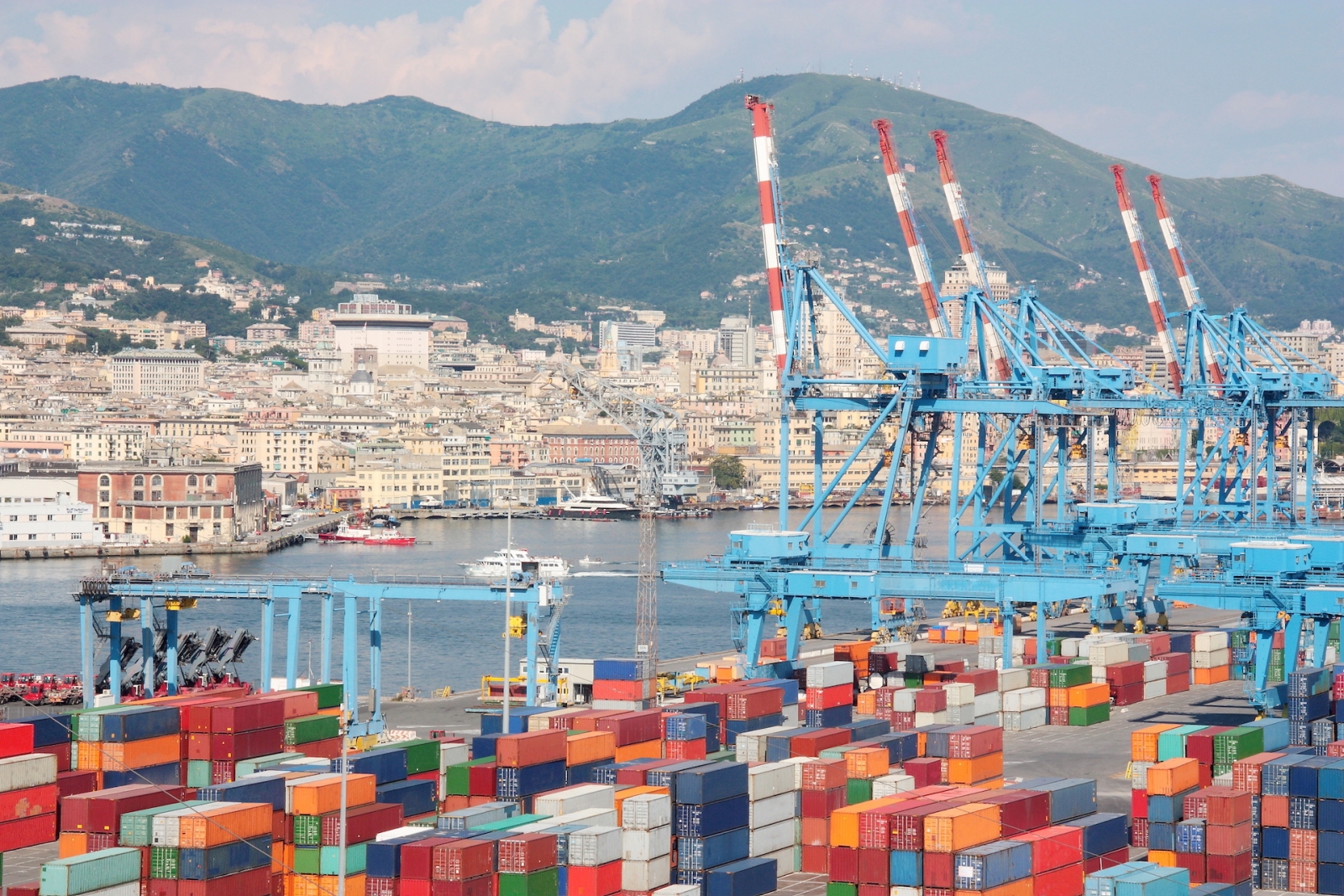 Container Terminal in the port of Genoa, Italy
The Old Harbour and Marina in Genoa
The Old Harbour, also known as the Porto Antico, is a historic and significant harbor in Genoa, Italy. It is renowned for its size, historical importance, and its modern development as a major tourism and cultural hub.
History and Development: The Old Harbour has a long history dating back to ancient times when it served as a strategic port for trade and maritime activities. Over the centuries, it played a crucial role in Genoa's rise as a powerful maritime republic and a leading center of trade and commerce in the Mediterranean. In the 1990s, the Porto Antico underwent extensive redevelopment to revitalize the area and transform it into a modern and vibrant space for both locals and visitors. The project was spearheaded by the architect Renzo Piano, a native of Genoa, and resulted in the creation of various attractions, including the Genoa Aquarium, the Bigo Panoramic Lift, museums, shops, restaurants, and recreational areas.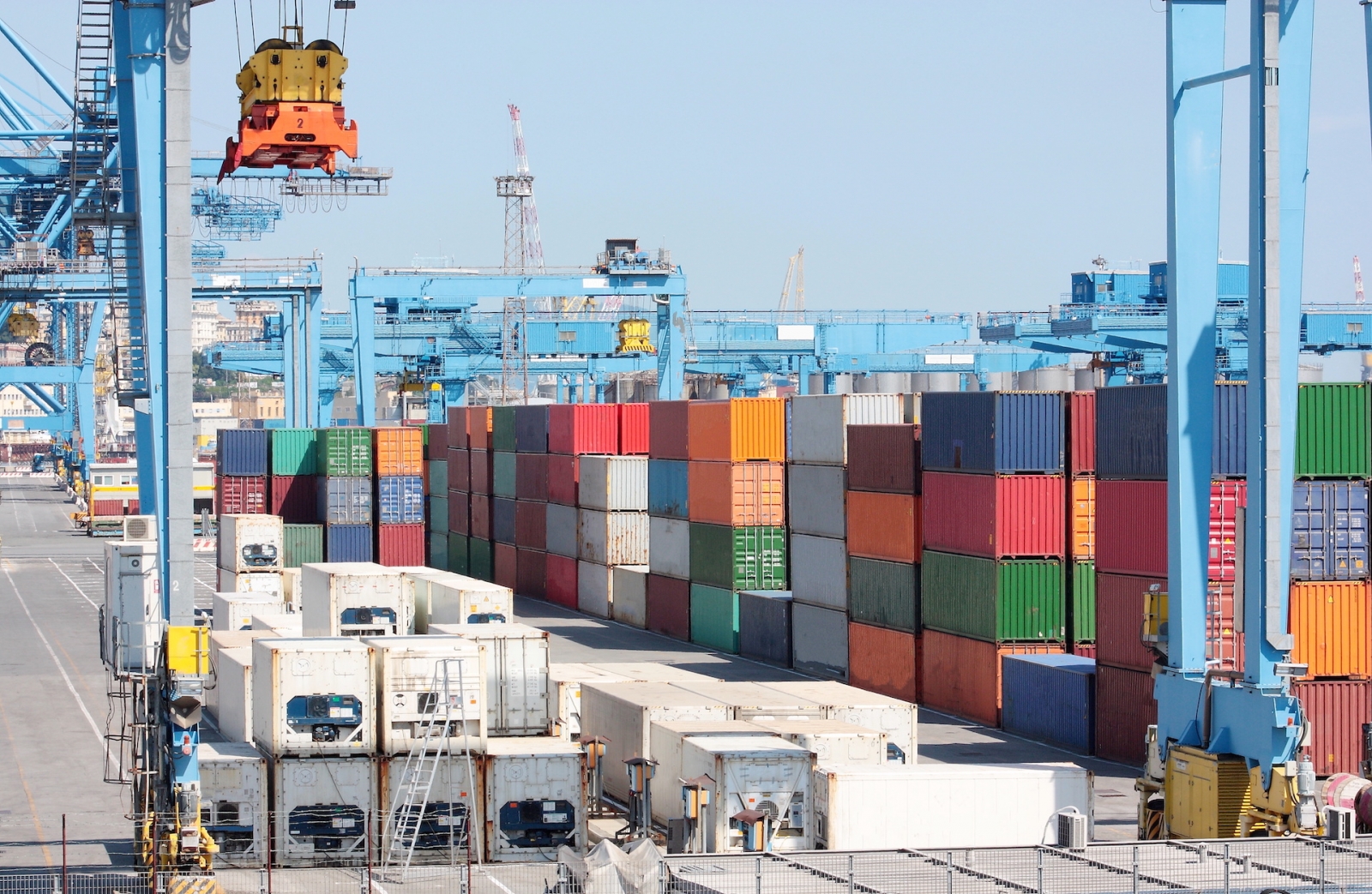 Container Terminal in the port of Genoa Italy
Marina and Capacity for Cruise Ships: The Porto Antico includes a marina that offers berthing facilities for both leisure and commercial vessels. The marina can accommodate various types of boats, yachts, and cruise ships. It is equipped with modern amenities and services to cater to the needs of the maritime community. The Old Harbour is a popular destination for cruise ships, and it has a dedicated cruise terminal capable of handling large passenger vessels. The terminal offers essential facilities for passengers, such as customs, check-in counters, baggage handling, and transportation options to explore the city.
Location and Accessibility: The cruise terminal at Porto Antico is conveniently situated near the city center of Genoa. Passengers disembarking from cruise ships can easily access the main attractions and landmarks of Genoa, including the Old Town, historical sites, museums, and shopping areas.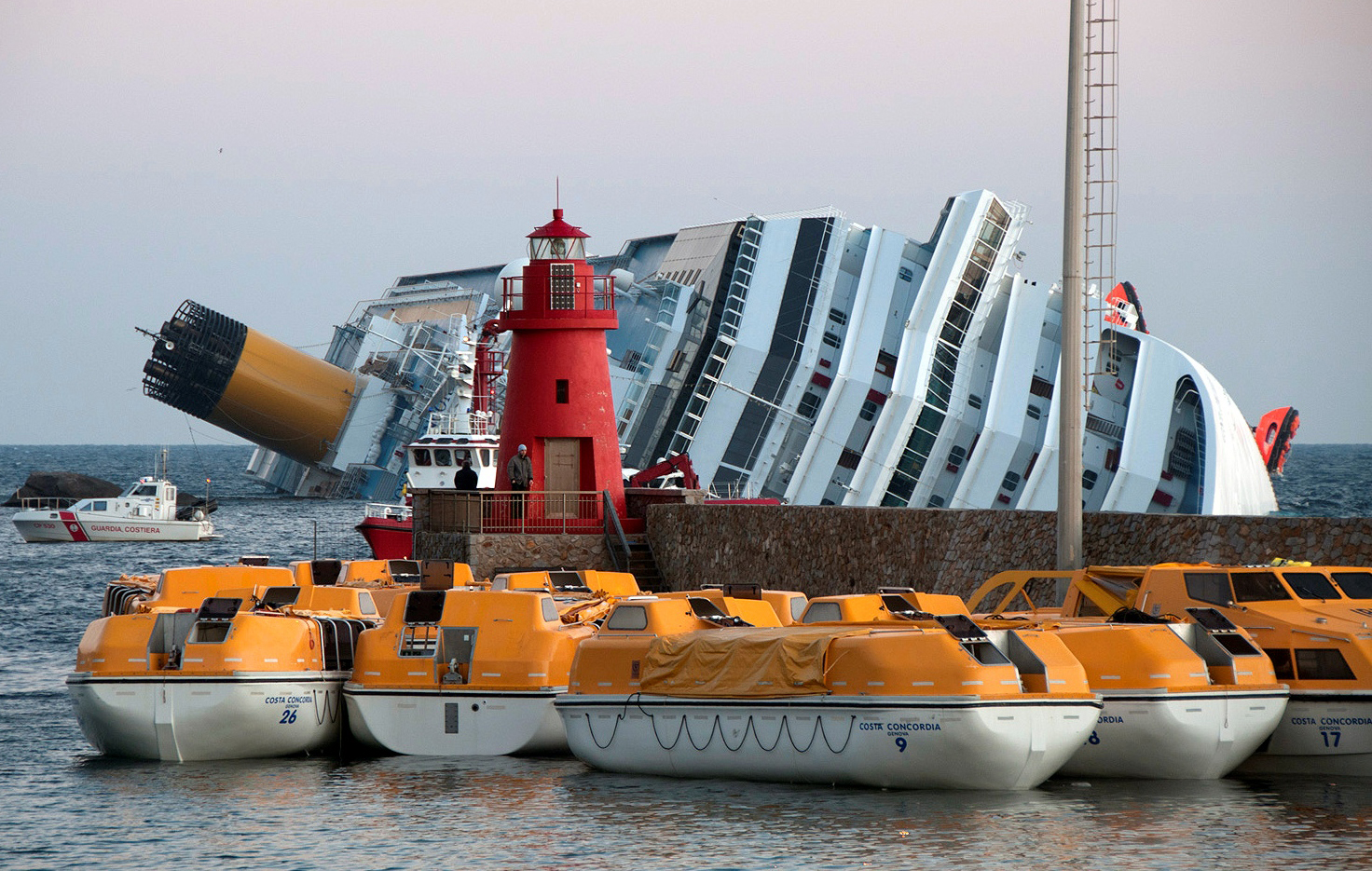 Collision of Costa Concordia
The Costa Concordia Disaster: The Costa Concordia disaster occurred on January 13, 2012, when the cruise ship Costa Concordia, operated by Costa Cruises, struck a rock off the coast of the Italian island of Giglio. The collision caused significant damage to the ship's hull, leading to a partial capsize and the evacuation of passengers and crew. The incident resulted in the loss of 32 lives and became one of the largest maritime disasters in recent history. The Costa Concordia was later refloated and towed to the port of Genoa for dismantling and scrapping. Since the incident, there have been increased safety measures and regulations in the cruise industry to prevent similar tragedies, and cruise lines have continued to prioritize passenger safety and well-being.
Culture and Cuisine in Genoa
Genoa, as a city with a rich history and unique location on the Italian Riviera, boasts a distinct culture and cuisine that sets it apart from other regions in Italy. Here are some elements that make Genoa's culture and cuisine special:
Seafaring Heritage: Genoa's seafaring heritage has deeply influenced its culture. The city was a powerful maritime republic during the Middle Ages and Renaissance, and this history is still evident in its architecture, museums, and traditions.
Ligurian Cuisine: Genoa is part of the Liguria region, which has its own unique cuisine. Ligurian dishes often feature fresh and simple ingredients, reflecting the abundance of seafood, herbs, and vegetables from the coastal and mountainous areas.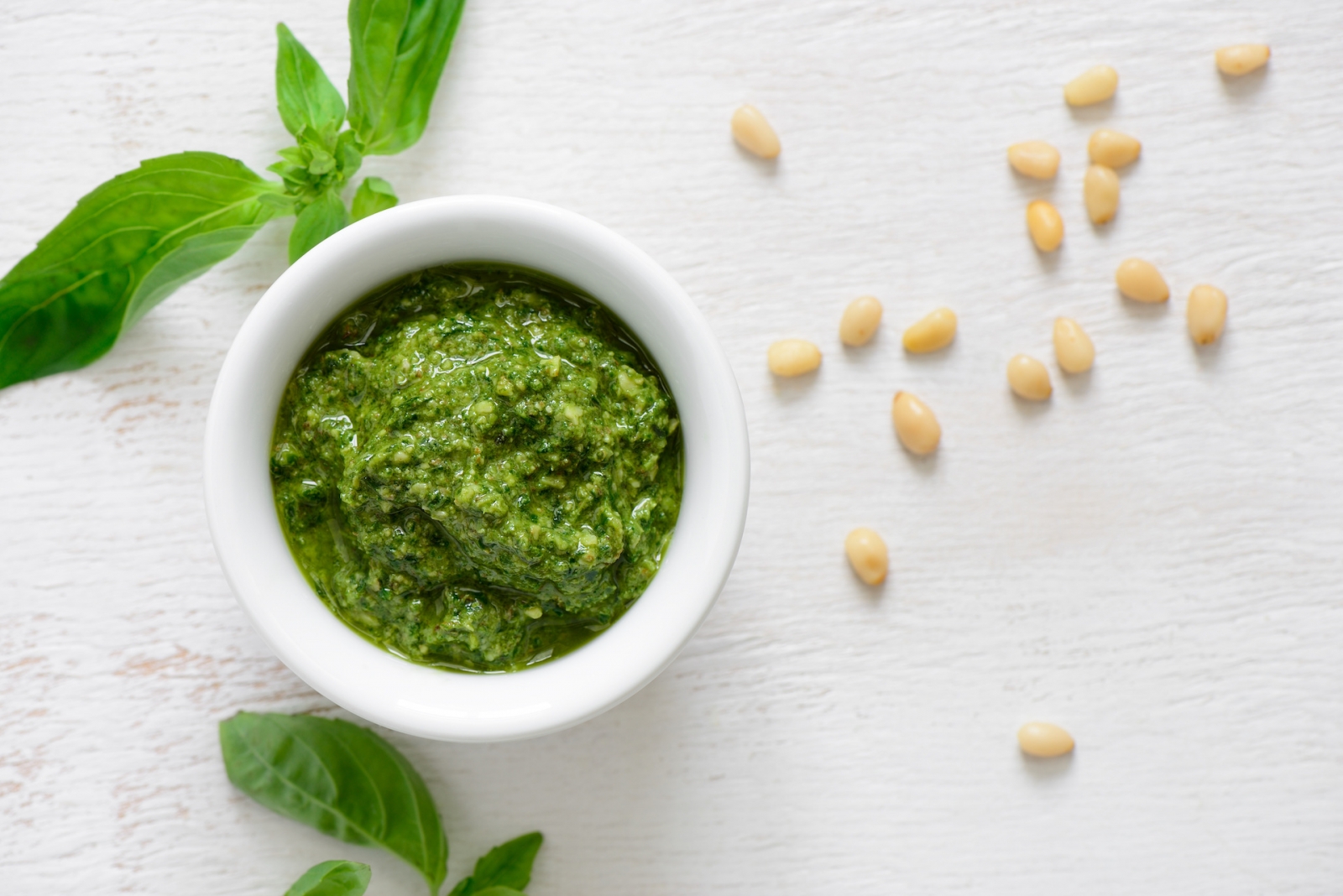 Pesto sause
Pesto Sauce: Genoa is famous for being the birthplace of the beloved pesto sauce. Made from basil, pine nuts, garlic, Parmesan cheese, and extra virgin olive oil, this vibrant green sauce is typically served with trofie pasta or on focaccia bread.
Focaccia Genovese: Genoa is also renowned for its delicious focaccia bread. Focaccia Genovese is a flat, oven-baked bread topped with olive oil, sea salt, and sometimes rosemary. It's a beloved snack or accompaniment to meals in the region.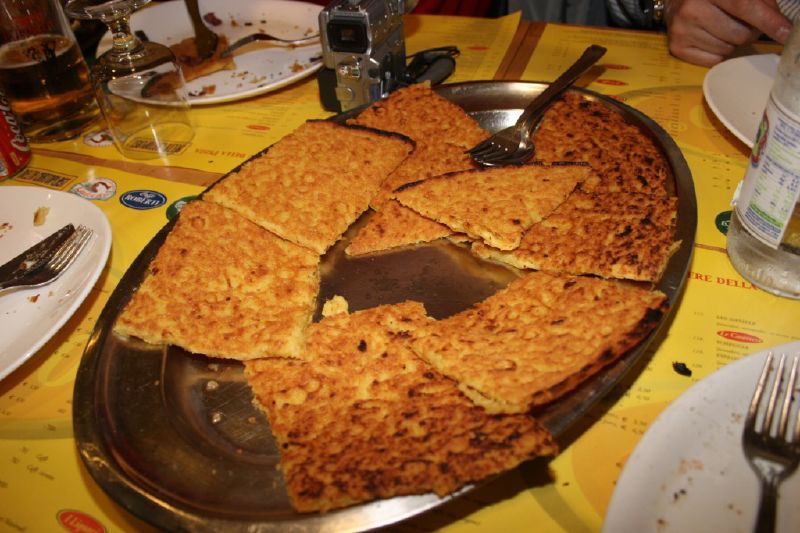 La Farinata di ceci - Chickpea flour cake
Socca: Socca is a traditional street food in Genoa, and it is made from chickpea flour and cooked in a wood-fired oven. It is crispy on the outside and soft on the inside, and it's a popular and inexpensive snack.
Romantic and Folkloric Music: Genoa has a rich musical heritage, including traditional romantic and folkloric music, often played with instruments like the mandolin. The city has produced renowned musicians and composers over the centuries.
Palazzi dei Rolli: Genoa's cultural heritage is also evident in its historic architecture. The Palazzi dei Rolli, a system of aristocratic residences used to host important guests during the Renaissance, is a UNESCO World Heritage Site and a unique feature of Genoa's cultural landscape.
Caruggi: The narrow, winding alleys of Genoa, known as "caruggi," are an essential part of the city's charm and cultural identity. Exploring these labyrinthine streets allows visitors to experience the authentic local atmosphere.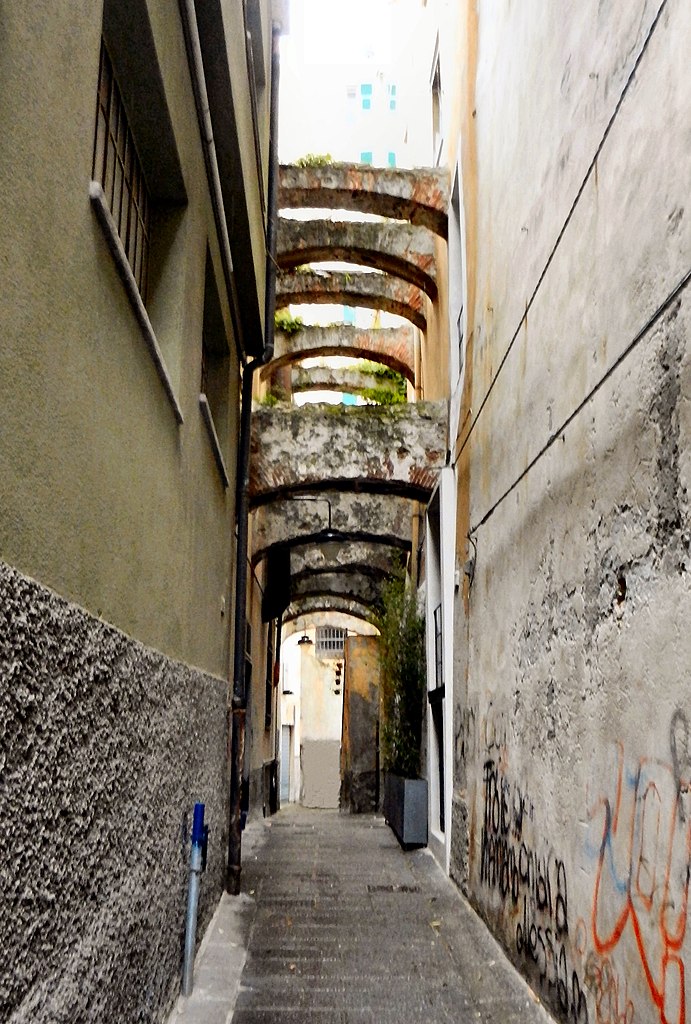 Molo vico Bottai in Genoa
Genovese Piazza: The traditional "Genovese Piazza" is a lively social gathering that takes place in the city's squares during summer evenings. It involves setting up tables and chairs, offering food, wine, and music, and bringing the community together for a festive gathering.
These elements make Genoa a truly special destination, where visitors can immerse themselves in a unique cultural experience and savor the distinct flavors of Ligurian cuisine.
Recommended Souvenirs from Genoa
Genoa offers a variety of delightful souvenirs that allow visitors to take a piece of the city's charm and cultural heritage back home. Here are some recommended souvenirs from Genoa:
Pesto Sauce: Genoa is the birthplace of pesto sauce, so bringing home a jar of authentic Genovese pesto is a must. Look for locally produced pesto made from fresh basil, pine nuts, Parmesan cheese, and extra virgin olive oil.
Focaccia Bread: Genoa's famous focaccia is a delicious and portable souvenir. You can find different varieties, including plain, with olives, or with other toppings. Buy it fresh and enjoy it during your journey back home.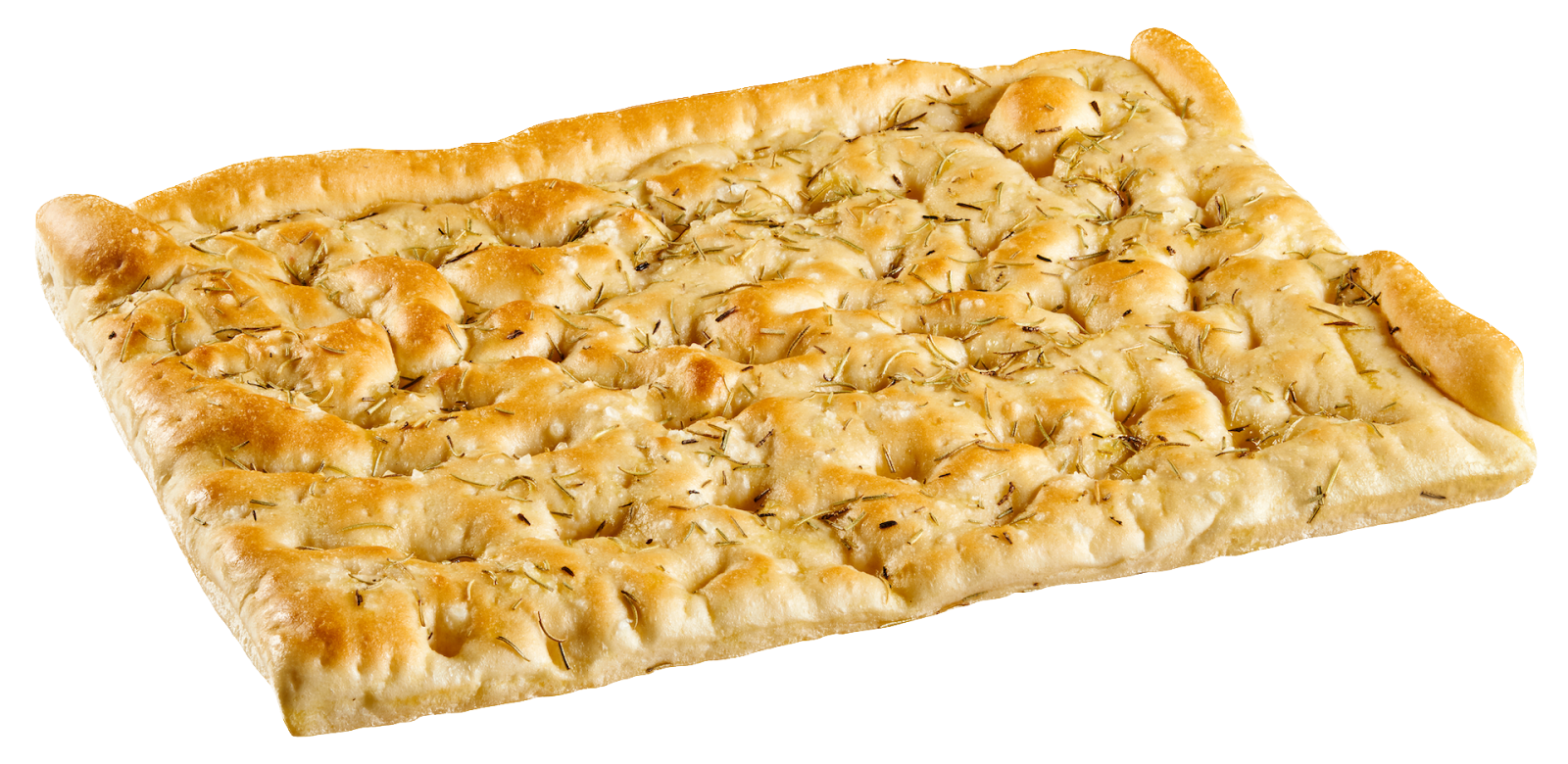 Italian focaccia bread seasoned with rosemary
Ligurian Olive Oil: Liguria is known for its high-quality olive oil. Consider purchasing a bottle of extra virgin olive oil produced in the region, which makes a wonderful gift for food enthusiasts.
Artisanal Pasta: Liguria has a variety of pasta shapes unique to the region. Trofie, a short, twisted pasta traditionally served with pesto, is a popular choice for a souvenir.
Farinata Mix: Farinata is a chickpea pancake and traditional street food in Genoa. Look for packaged farinata mix that you can prepare and enjoy at home.
Ceramic Art: Genoa is home to talented ceramic artists. Look for hand-painted ceramic plates, bowls, or tiles with traditional or modern designs as unique decorative souvenirs.
Ligurian Wine: Liguria produces some excellent wines. Bring home a bottle or two of local wines like Vermentino or Rossese to savor the flavors of the region.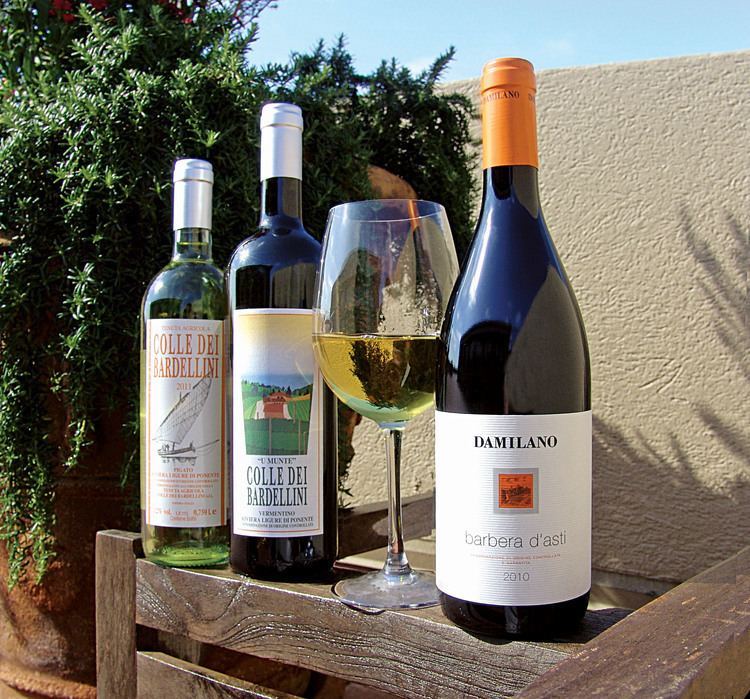 Ligurian wine
Traditional Handcrafted Items: Look for handcrafted items like leather goods, wooden toys, or artisanal jewelry made by local artists and craftsmen.
Genoa's Flag: The flag of Genoa, known as the "St. George's Cross," features a red cross on a white field. A small flag or a decorative item with this symbol can be a meaningful souvenir.
Nautical-themed Gifts: Genoa's maritime history is reflected in various nautical-themed souvenirs, such as sailor knots, model ships, or maritime-themed decorations.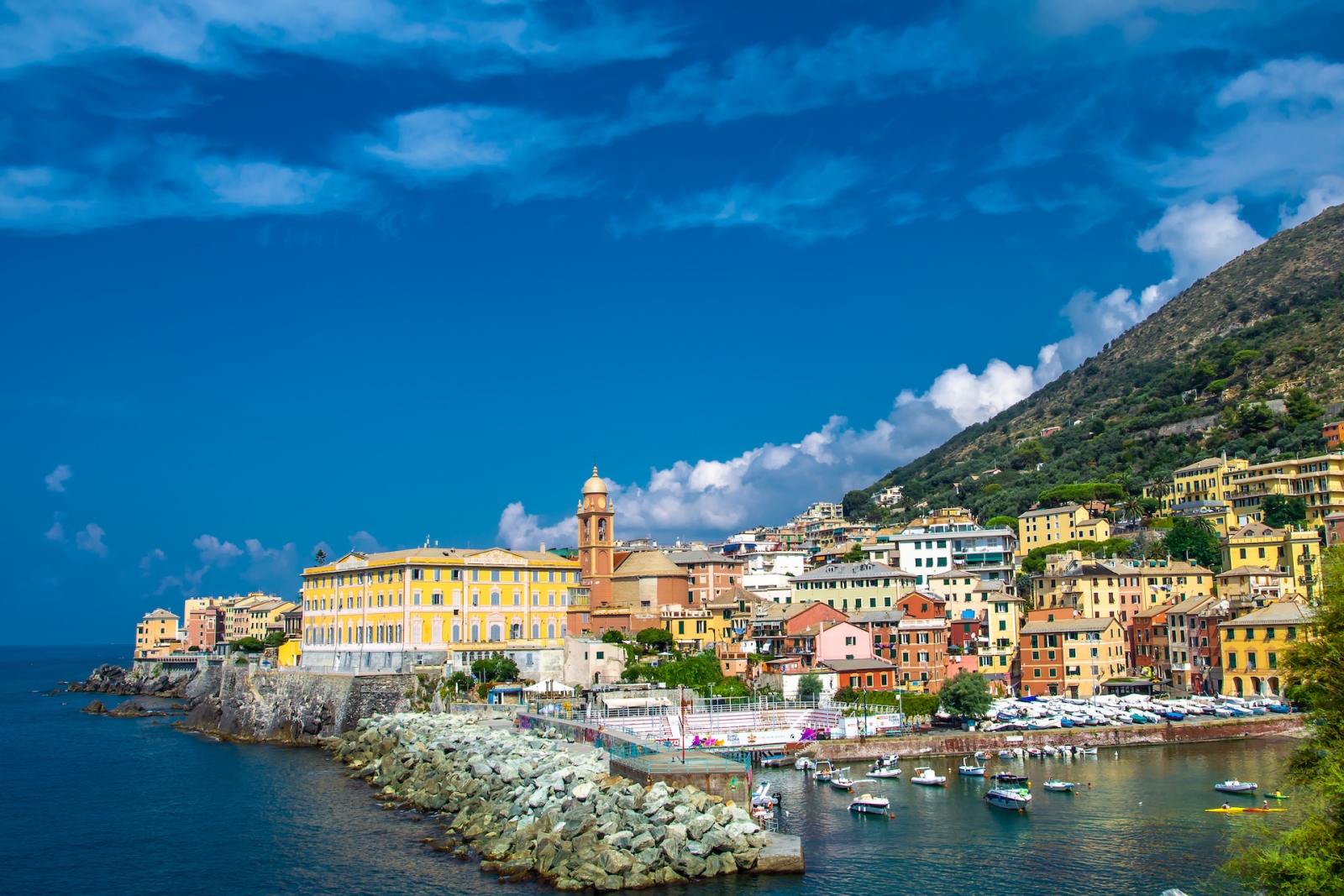 Nervi in Genoa
Remember to look for authentic and locally made souvenirs to support the local economy and take home a genuine piece of Genoa's culture and traditions.
Genoa, a historic port city in Italy, captivates visitors with its unique culture, cuisine, and maritime heritage. Its rich history as a powerful maritime republic is evident in its architecture and seafaring traditions. The Old Harbour, or Porto Antico, stands as a testament to this legacy, having been redeveloped into a vibrant cultural and tourism hub. Genoa's cuisine is characterized by Ligurian delicacies like pesto sauce, focaccia bread, and socca. The city's charming caruggi, or narrow alleys, invite exploration, and its musical heritage includes traditional romantic and folkloric music.
Stazione Marittima Genova - Port of Genoa, Italia
The city boasts significant landmarks such as the Genoa Cathedral, with its blend of architectural styles, and the Palazzi dei Rolli, a UNESCO World Heritage Site. Additionally, the Monumental Cemetery of Staglieno fascinates visitors with its emotive funerary sculptures. Genoa's lively squares, known as "Genovese Piazzas," bring the community together during summer evenings. The city's beautiful palaces in Strada Nuova exemplify the grandeur of Renaissance architecture. For travelers seeking panoramic views, Genoa offers various vantage points like Spianata Castelletto and Boccadasse, a picturesque fishing village. The city's thriving cultural scene includes the renowned Genova Jazz Festival and artistic events at the Palazzo Ducale. With an array of enchanting souvenirs, from pesto sauce and focaccia bread to artisanal ceramics and Ligurian olive oil, visitors can take home a piece of Genoa's charm and savor the memories of this captivating city on the Italian Riviera.

Genoa and its wonders
Read our previous article Calling All Tour Guides: Master Your Profile on PRIVATE GUIDE WORLD!
Read our next article Top shore excursions in the busiest cruise ports of Europe in summer 2023 - GDANSK, POLAND