How to significantly improve the profile of a tour guide on the Private Guide World platform
At PRIVATE GUIDE WORLD, we value our user experience and want you to get the most out of your profile on the PRIVATE GUIDE WORLD at www.pg.world platform. We understand that your time is precious, but we believe that a little extra effort can go a long way in attracting more customers and growing your business. Our team is always ready to help you if you need help or have any questions.

When editing a profile, please follow simple rules to quickly and successfully pass moderation.
Upload Image Policy
The image should be of good quality and your face should be clear and in focus. You must be alone in this picture, using other people's images is a criminal offense! Our service is designed to search for private tour guides, so our tourists need to see precisely what their tour guide looks like, they will not be happy to see your company logo or any other abstract image in place of the avatar. They don't care about the company, but they CARE about your appearance!

And very often a good picture on the avatar becomes the main reason why tourists choose one tour guide, not another! If the profile did not pass moderation but was rejected, it means it is not visible to our platform visitors until the avatar change.
We understand that uploading and editing photos can sometimes be a daunting task. To make your experience on our platform even smoother, we've released a new ten-minute tutorial video. This video walks you through the process step-by-step, addressing common challenges faced by tour guides during this process. We've used three different examples to ensure comprehensive coverage of the topic. This video is currently available in English on our YouTube channel @PrivateGuideWorld + with 31 different languages subtitles. Just turn them on when you start watching the video by tapping the CC button on the video screen. We will soon release versions in all other languages which our platform uses daily ensuring clarity and accessibility for our diverse community. Press the picture below to watch this video on our YouTube channel or follow the direct link https://youtu.be/8CEtQMo-FF8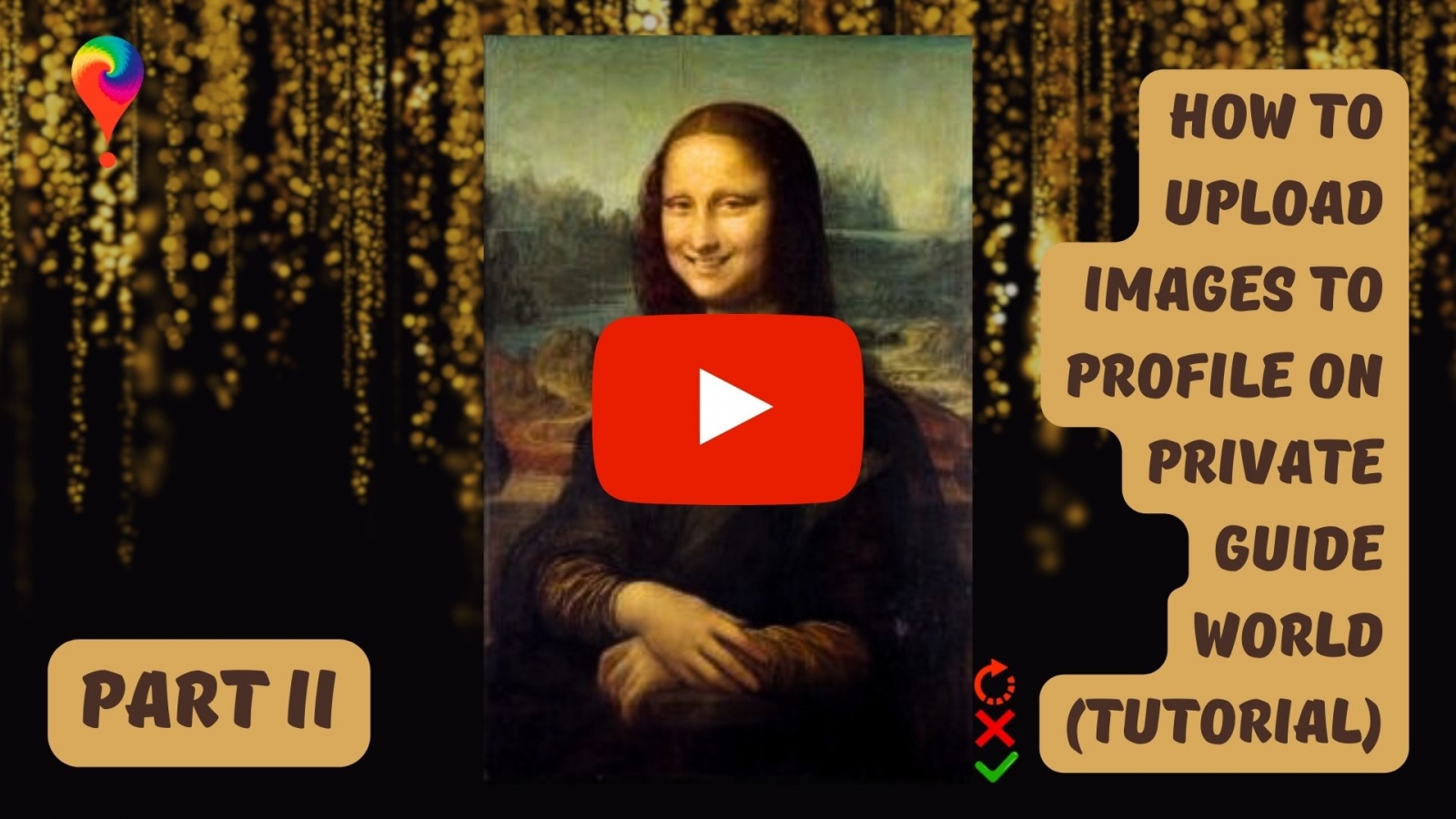 When you will be satisfied with rotating and scaling the photo, don't forget to press the green button ✅ as confirmation of your final choice and then SAVE at the bottom of the page to save any new information or images you added during editing!
Regarding professional documents such as licenses, certificates, and diplomas
This feature is optional, but of course, tourists trust more profiles that have official proof of skills, education, etc. Please do not upload any other photos or business cards, they will still be rejected.
First and last name fields
This field can only contain the names and surnames of private guides. No company name, no other words. Our service is designed to search for private local tour guides, so our tourists need to know the real name of the tour guide, they will not be happy to see your company name or any other text. They don't care about your company, but they DO care about you as a person!
Contact information in the public part of the tour guide profile
Please note that no contact details (phone numbers, website links, messages, email addresses, social media profiles) are allowed in the public part of the tour guide profile or tour description, including images or other attached files. You can always share your contacts in private messages with your tourists.
General information about our platform can be found here:
https://pg.world/about_us
Some explanations of our general terms of use can be found here:
https://pg.world/for_guides
On our website PRIVATE GUIDE WORLD at www.pg.world, we have published many articles with recommendations for creating a tour guide profile and tours/excursions. You can find them here:
Game of Local Tour Guides: How to Create an Account, part 1
Game of Local Tour Guides: How to Create an Account, part 2
How a tour guide can create an account and add tours?
We have an extensive section of articles "Advice for tour guides", where we regularly publish useful information for professionals in the field of excursions, you can find them here.
For the first time in the history of finding local personal tour guides, we provide a cross-platform service, adapted for desktop computers and mobile devices based on Android and Apple, so it is convenient to use the platform on smartphones and tablets. On our YouTube channel @PrivateGuideWorld in the section TUTORIAL VIDEOS (tutorial) you can watch a video about the available functions of our service in Russian, English, French, Italian, Spanish, German, Turkish, and Portuguese (plus you can choose subtitles for 9 other most popular languages ​​such as Greek, Arabic, Chinese, Swahili, Hebrew, Bengali, Korean, Hindi and Japanese). This video will introduce you to the PRIVATE GUIDE mobile application and tell you how to use it:
Our services include searching for guides by language and geolocation! We offer tourists and tour guides to communicate directly through the built-in instant messenger, which is very similar to the familiar and popular WhatsApp and Telegram. We invite you to watch a video in English about how it works:
The PRIVATE GUIDE WORLD platform is available in the following languages: English, Russian, German, French, Italian, and Spanish.
Download our Private Guide mobile app for free by clicking on the appropriate icon below:
We invite you to join us on social networks, where we regularly publish posts about our registered tour guides, their profiles, descriptions, and tours with photos, as well as announcements of travel articles published on the PRIVATE GUIDE WORLD platform. You can find us on Facebook, Instagram, LinkedIn, Twitter, Pinterest, and YouTube.
More than 12,000 guides are registered on the PRIVATE GUIDE WORLD platform! Each country is represented so that no tourist will be left without attention!
If you have any questions then please don't hesitate to ask! We are at your service 24/7/365.
And now you can go directly to your profile by clicking this button and start making it a masterpiece that even Mona Lisa will envy!
Read our previous article Top shore excursions in the busiest cruise ports of Europe in summer 2023 - BREMERHAVEN, GERMANY
Read our next article Top shore excursions in the busiest cruise ports of Europe in summer 2023 - GENOA, ITALY