Tulum is an emblematic city ubicated along of known Riviera Maya. It is a place whoever has the privilege to know, can be named paradise.
Located at a distance of 130 km (80 miles) from Cancun, Tulum has worm weather where all over the world tourist can enjoy the sun, white sand, and crystalline sea feature of the Caribbean Sea to around 30°C to 35°C (86°F to 95°F). There you can get a great sun tanning or only rest in the chaises under a palapa. For that people who live in cold places like the United States or several places in Europe prefer it. For the people who live near there, it's very easy to arrive because there are buses with departures each hour to the most important cities like Mexico City, Monterrey or Guadalajara where you can easily find local private tour guides, but the way is very very long, spending a time around 10 hours, 15 hours, 20 hours and it is the same in the car.
Diving in the Cenote Nicte Ha in Yucatan, Mexico
Obviously, for other countries people this is not recommended, the ideal transport is by plane because at any airport there are flights to Cancun and when you are here, to will get ready at this wonderful destination. Cancun is a very popular destination you won't have problems getting to since virtually all the airlines have flights to this place, and there are buses from Cancun or Playa del Carmen also to Tulum and only you will spend in time a couple of hours. The most known are American Airlines, Air France, Delta, Aeromexico, and Volaris just to name a few and therefore their fares are different but range from USD $300 to USD $1500 on a round trip. We must remember the fares may vary then it's different in the holiday season and the fares may be highest.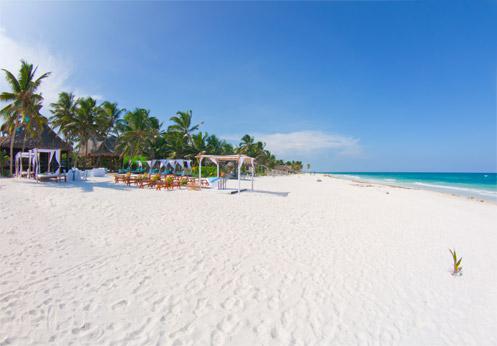 One of its main attractions are underground rivers named cenotes and here, getting the equipment and qualified personal you can to enjoy aquatic activities like swimming, snorkel or diving for adventure lovers; or just to see the wonderful sea fauna with a lot of kinds goldfish and turtles swimming with them. The fare per person is around MXN $2000 (USD $120). The most recommended cenotes are "Cenote Dos Ojos" (Two eyes Cenote) located near other interesting park named Xel-Ha, "Cenote Escondido" (Hidden Cenote) or well the "Cenote Calavera" (Skull Cenote) for who has the first experience in this moment. You can to get there using the same highway that goes to the Mayan Ruins (number 109-15 Coba).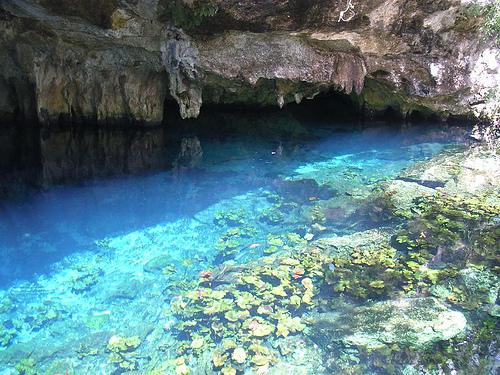 Further this kind of activities and to enjoy its unmatched view; it's very recommended to visit the Mayan Ruins; because we must remember that place is an archaeological zone also. As Tulum in Mayan speech means "rampart". You can go to the ruins by car or public transport by Coba Street and to get to National Park Tulum. Their address is Yalku Street S/N and their schedule is all days 8 am to 4:30 pm. The entry fee is MXN $65 (USD $4), but for Mexican citizens, entry is free only on Saturday and Sunday showing an official ID. They have a fare for taking photos only if you have a professional camera. It takes about 2 hours to see the whole Park so kids are not getting bored too easily.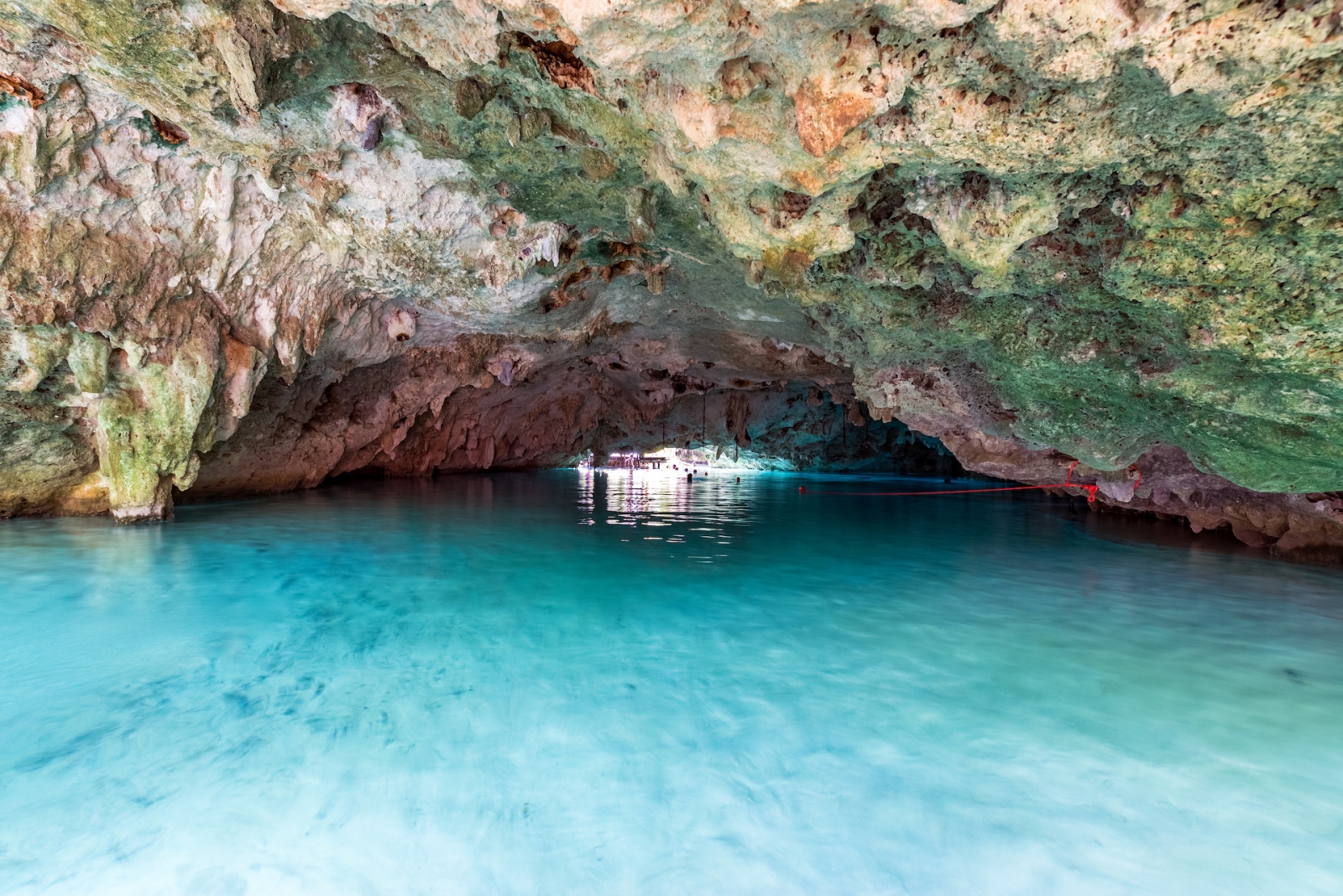 View of a Cenote near Tulum, Mexico
Here there are tour guides and you will be impressed by their knowledge of the history and the architecture place. They will give a detailed introduction to the park under the scorching sun because the ruins are spread out over a large area with little shade available, so it's very recommended to wear sunscreen and bring a hat. It's not a big park so you will complete the tour before noon. Preferably get here early, so you avoid the heat and the people who start to come in around 9 am, and the line to get in grows long by the middle of the afternoon. Tulum is located directly at a cliff where you can oversee the Caribbean Sea and you may appreciate it from here. The beach stays lively but be sure to bring your own food and drink. "El Castillo" was one most important structures for worship and the usefulness it had to ship's guide in IV Century.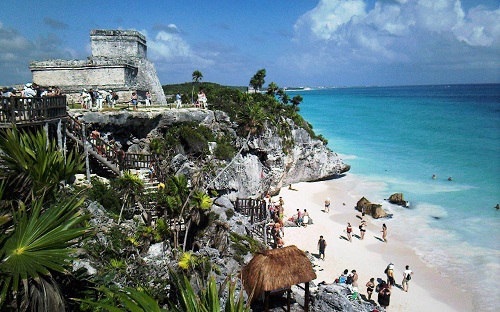 Tulum is not a very visited place. Only a few tourists know it and go. For that reason, Tulum has several lodging but they have an excellent quality. The most recognized and recommended hotels are for example Hip Hotel Tulum, their fare per night is MXN$3700 (USD $220) and their address is Carretera Tulum-Boca Paila Km 8 Zona Hotelera. Palms Tulum Luxury Hotel has a fare per night of MXN $2,600 (USD $150) and it's in the city with address Escorpion Street near the corner of Andromeda Street to one square to Coba Street in the downtown, or the Pavo Real Beach Resort with a fare in the same conditions of MXN$ 3,200 (USD $190) and their address is Carretera Federal Cancun-Tulum Km 237. All of they have their own beach, pool, restaurant, and room service as well as a car rental office too. But no problem if you don't have a lot of money because there are hotels with several fares, cheap or expensive and finding them it's very easy really.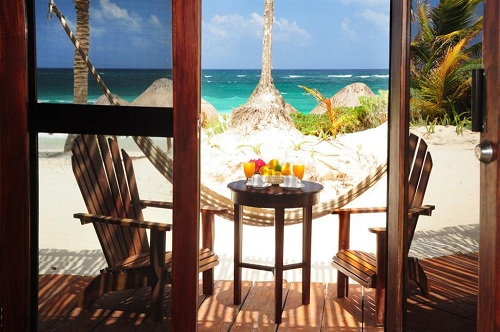 Following the previous, exactly where Palms Tulum Luxury Hotel is ubicated, starts Tulum town, where you can find all you need, like gas startions, pharmacies, restaurants, banks, the bus station, churches, the post office, car rental office, flea markets (you know it already, for souvenirs), The Cultural Center of Tulum, stores like Seven Eleven and several shopping areas, places to eat and hotels very cheap really, but you will sacrifice the luxury. All this you will find on Tulum Avenue (it's the same that the Cancun-Chetumal freeway).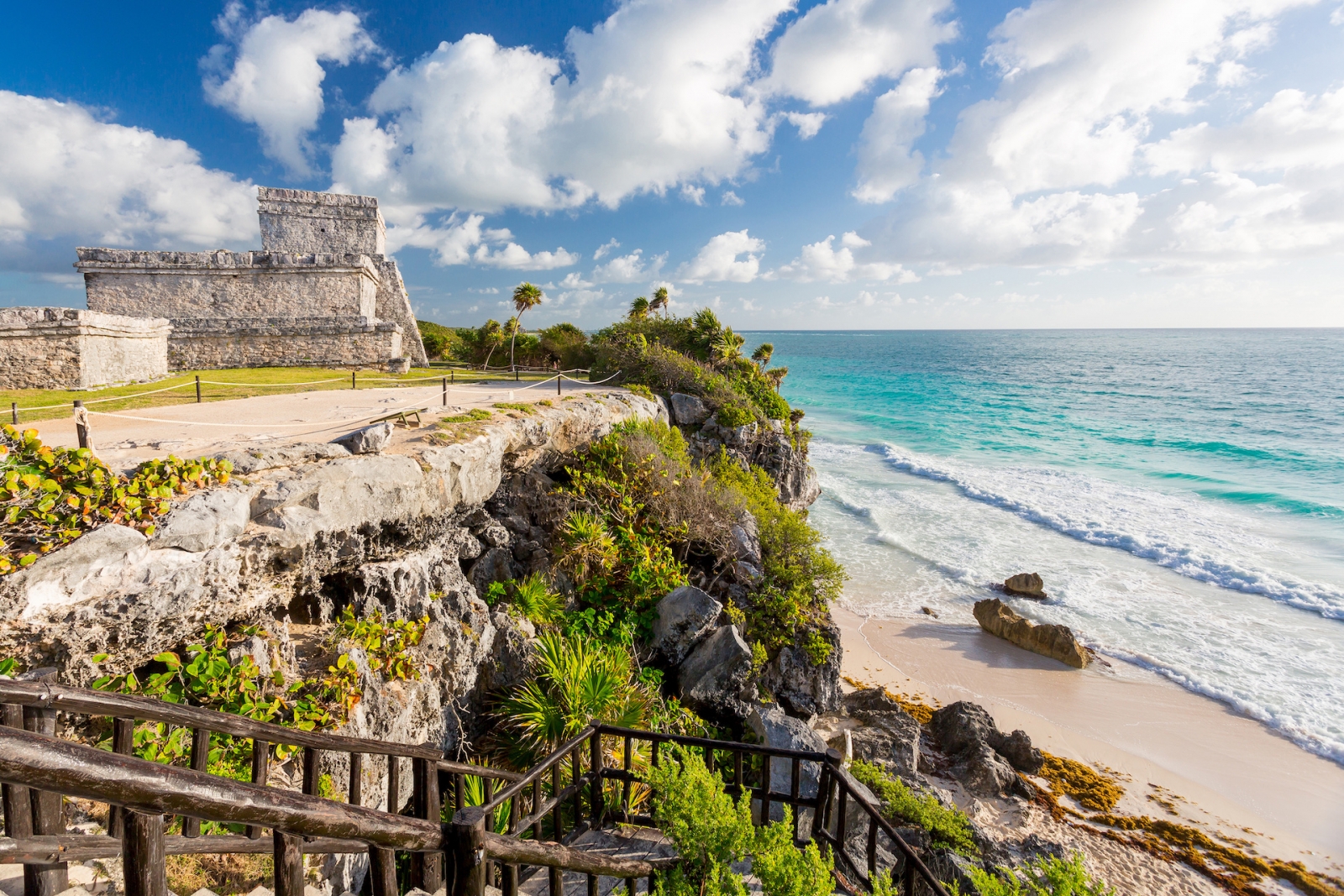 Tulum, Mexico. Wind God temple
Please don't dude come to Tulum! We assure you you will be fascinated with their beaches, their people, their cuisine and when you are there, you will have one of the most wonderful experiences in all your life and you will want to come back!
Read our previous article Cox's Bazar: A Small Piece of Heaven on Earth
Read our next article Explore the Architectural Splendor of Agra