Madagascar represents the fourth biggest isolated territory in the world with endemic nature. The journey to this island is a great experience due to the unfamiliar, untouched, and exceptional wildlife. Madagascar is the second biggest island nation in the world and a fascinating part of the African continent. However, unlike the inhabitants of other mainland nations of Africa, the majority of Malagasy, the original inhabitants of Madagascar, arrived from Southeast Asia, particularly from the Indonesian islands, a few thousand years ago. Thus, we conclude that it is an African country. Africa is a pretty diverse continent! On our web service you can find many local tour guides on the island who know the best itineraries and flora and fauna of this unique land, the local tour guides are very well educated and talk many European languages. A local private guided tour is the best option to explore the island!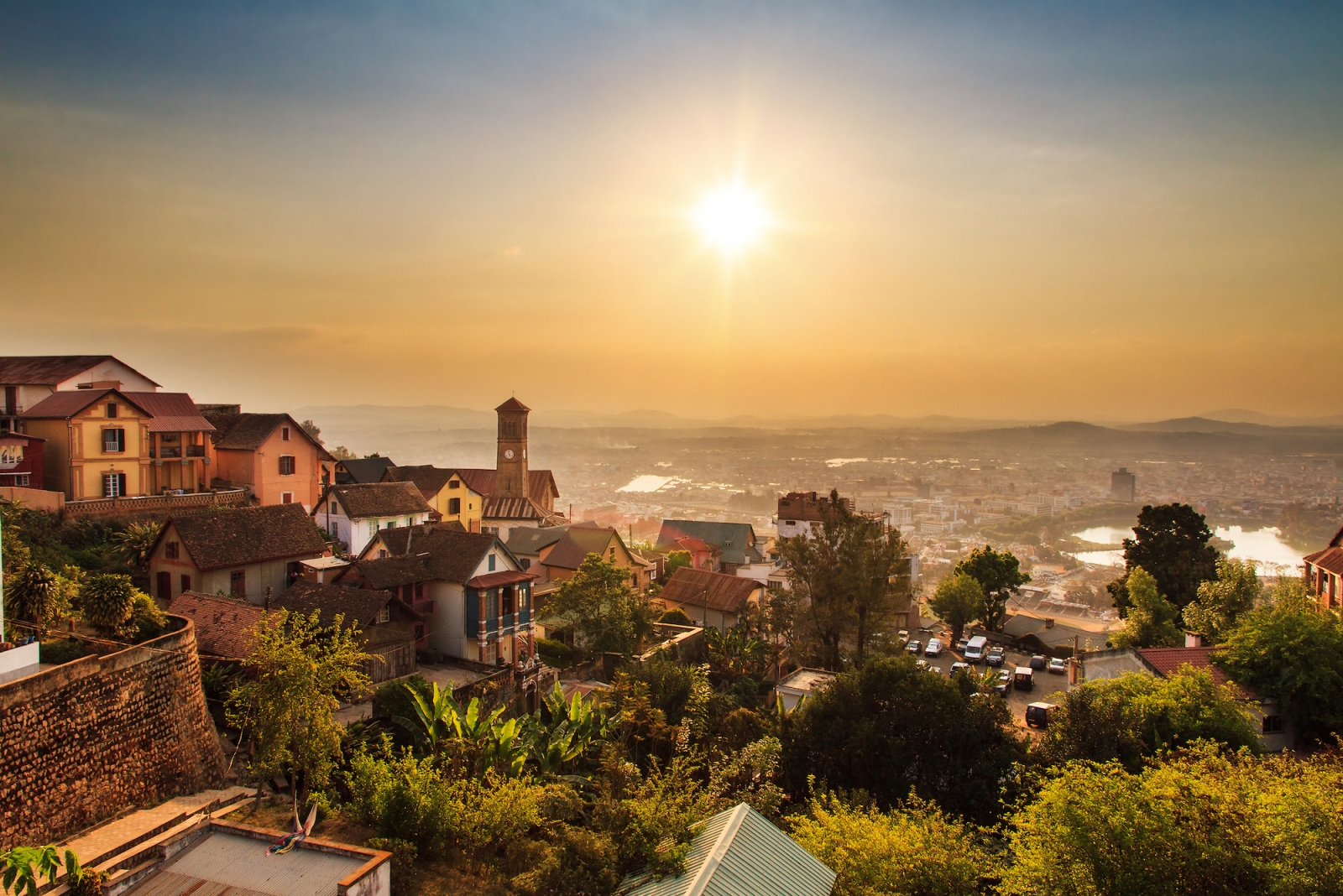 Madagascar is a very interesting hotspot of biological diversity and over 80% of its plant and animal species are found only on this huge island. Despite its size as the fourth largest island in the world, the biodiversity is very large and the landscape completely unique. Anything that only grows in one area is called endemic. The critical risk lemurs are one of these species, in fact, they can only live in a certain forest area with bamboo that is poisonous to us humans. It cannot change habitat by itself, although they would probably like to when the loggers surround them, and despite that, they can jump many meters in the air from giant bamboo to new bamboo all day long.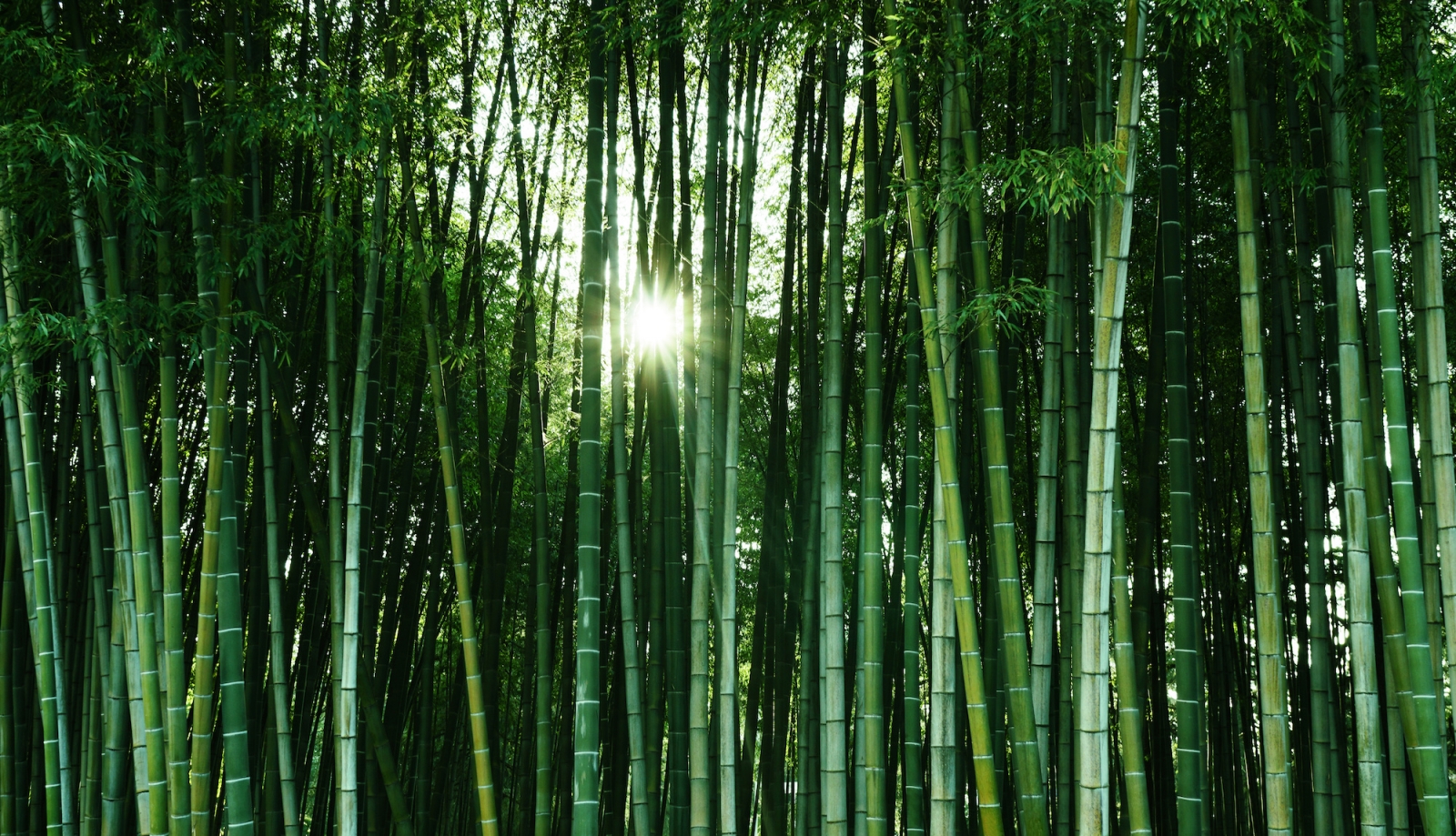 It is not just a little more agile than the panda that also eats bamboo, who barely gets enough energy from the green diet to move "from the sofa to the bed and back the next morning" and with a desire to procreate at most once a year, I believe more in the lemur, who is at full speed. Both animal species must then be preserved. With an effective help program, the population of the incredibly active and capable lemur has increased to a few hundred, the latest figure was over 400, so there is hope! The catta lemur, Lemur catta, is a semi-ape in the family of true lemurs. The species is the only one in the genus Lemur. It is 39-46 cm long with a tail of 56-62 cm and weighs 2.5-3.5 kg. It lives on average 16 -19 years. The ring-tailed lemur lives exclusively in Madagascar. It is gray with black stripes on the tail.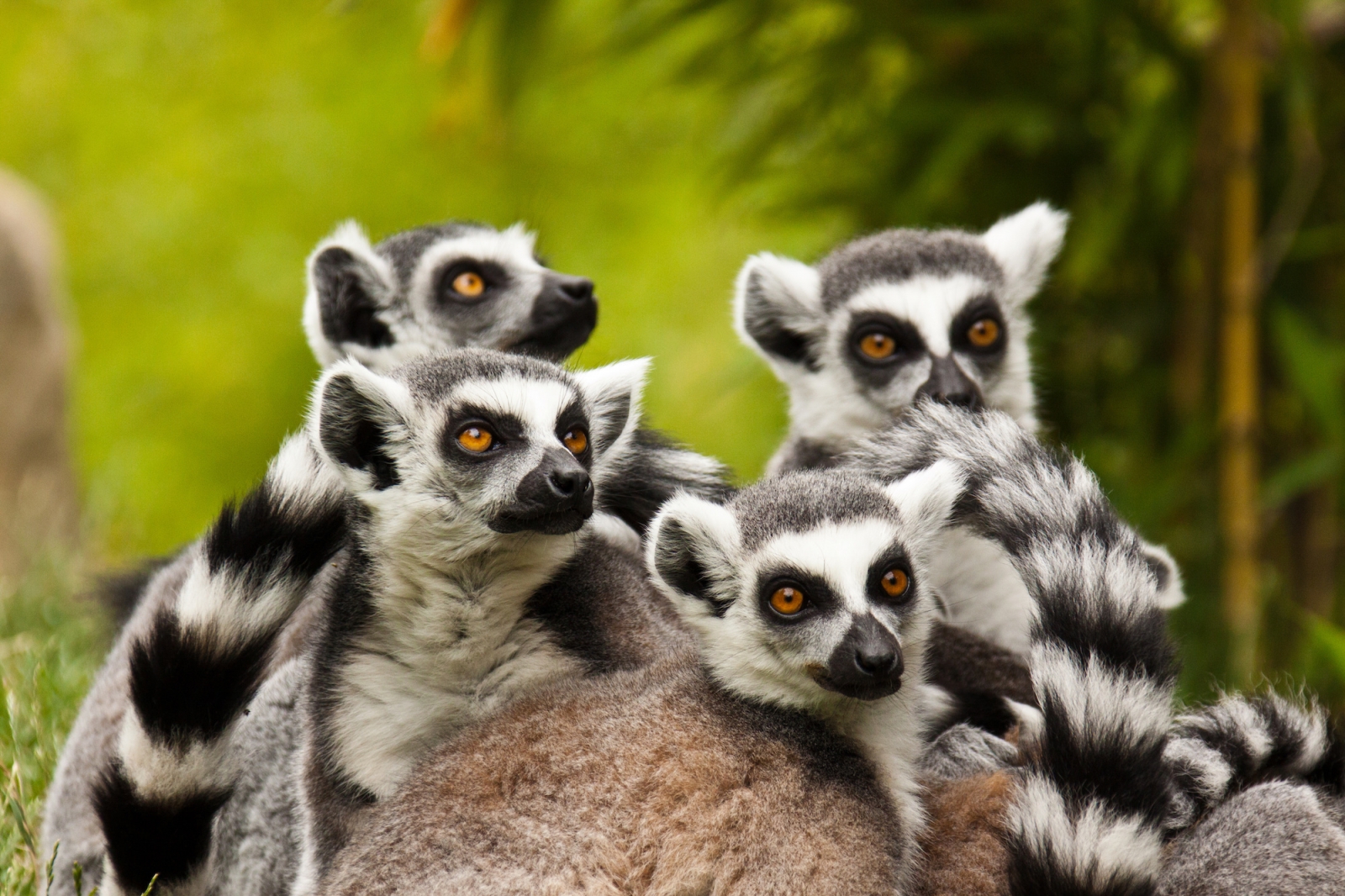 You can expect temperatures above 20 degrees all year round in Madagascar. The climate in Madagascar is generally equatorial, pleasantly sunny, and warm all year round. Summer is September-April, winter is May and August and the waterless season is May to September. Typhoons occur from January to mid-February.
What should be experienced on the trip to

Madagascar

?
There are many incredible places to explore on your journey through Madagascar. We have selected a few that are must-sees if you otherwise have the time.
Analamazoatra, the special reserve
The journey to Madagascar offers a number of very different nature reserves. Located about 90 miles east of the capital Antananarivo, we find the Analamazoatra Special Reserve (which is part of the Adasibe-Mantadia National Park), an attraction that all nature lovers must not miss. The reserve is home to the beautiful and exceptionally rare lemur, the largest surviving lemur in the world, along with a host of other lemurs, reptiles, birds, and small mammals. The compact size of the reserve makes it easy to explore on foot along a series of trails that take between 2 and 6 hours to complete.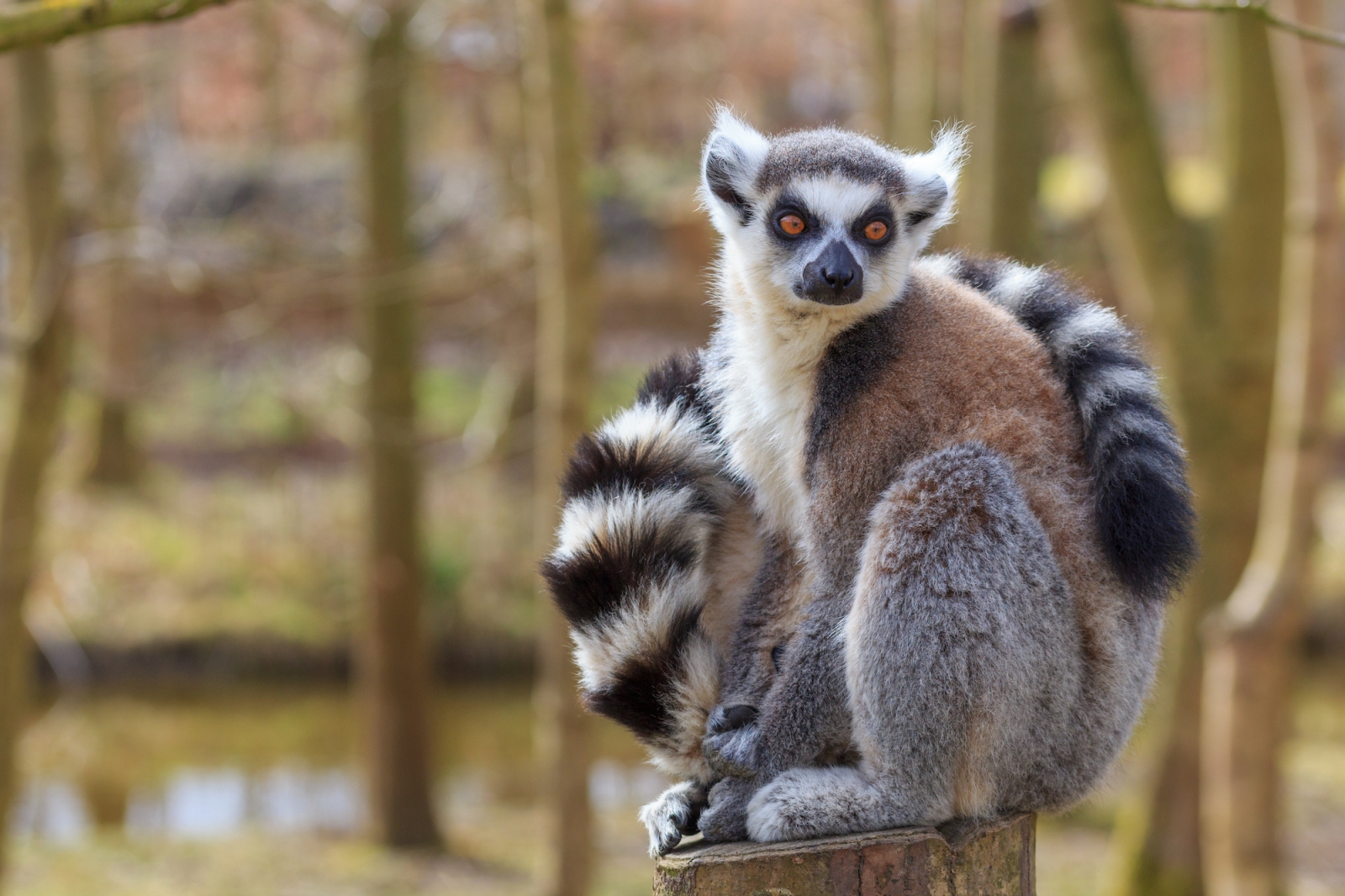 Ambohimanga Hill is a World Heritage Site of UNESCO discovered in the area of Antananarivo in northern Madagascar. It is probably a must on the journey to Madagascar The ridge in Ambohimanga was a monarchical city and grave place and later a summer palace for the Malagasy majesty. The city was protected by a huge rock barricade and 14 exterior doors, the most extensive of which contained a massive stone disk that was over 60 feet in radius and needed at minor 20 powerful men to push it into place. You can explore the place at your own pace or with the help of a local tour guide who will be able to explain many details that you are unlikely to find if you visit Ambohimanga Hil alone. Highlights consist of two palaces, the sacrificial bull pit, four monarchial crypts, 2 holy pools, and the huge main gate.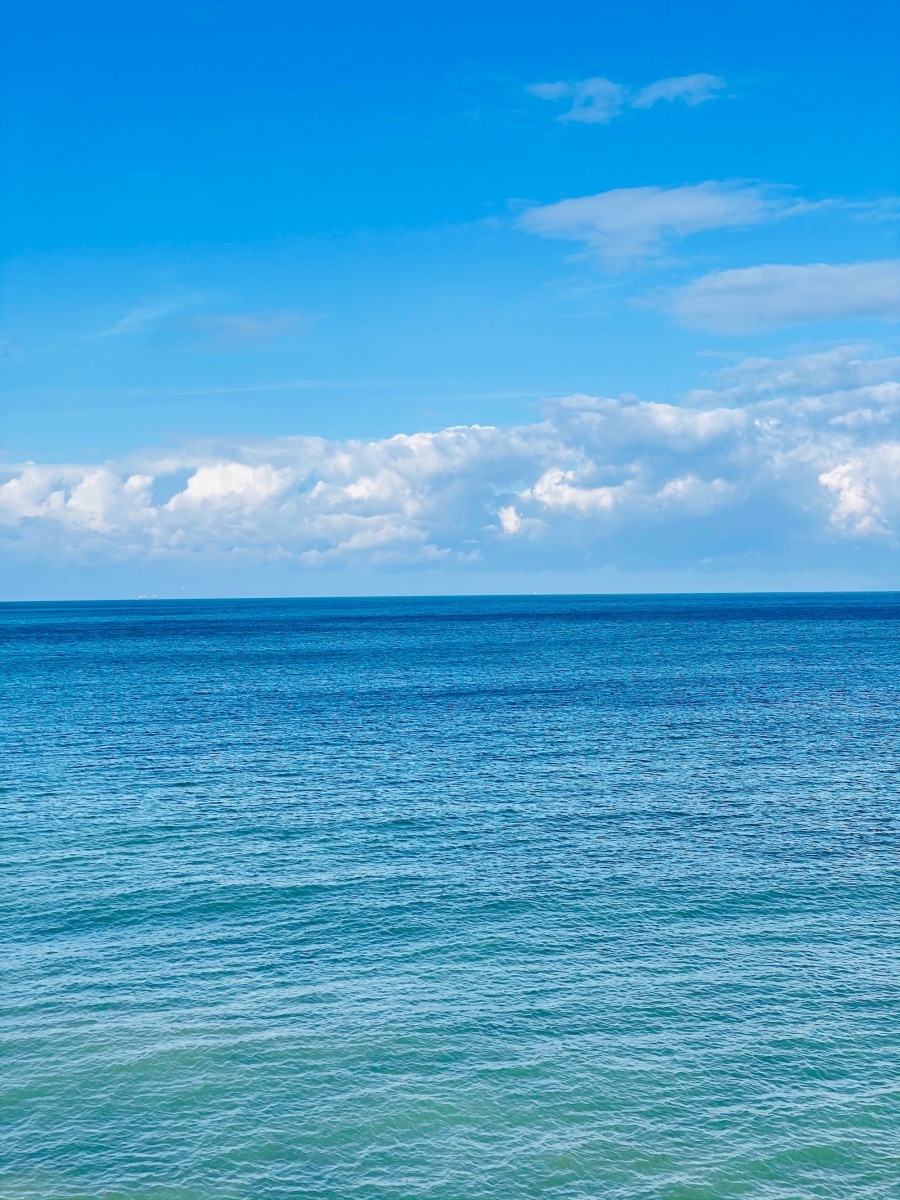 The trip to

Madagascar

also includes delicious beaches such as La Corniche
Mahajanga in Madagascar is all about the picturesque La Corniche. The beautiful promenade along the beach is filled with palm trees and inviting street food. Taking a walk in the shade of palm trees in the evening is considered among the best things to do in Madagascar. Enjoy the warmth of the sun and feel the freshness of the sea breeze touching your skin while you taste local delicacies from the many food trucks. This is one of the most amazing things to do in Madagascar.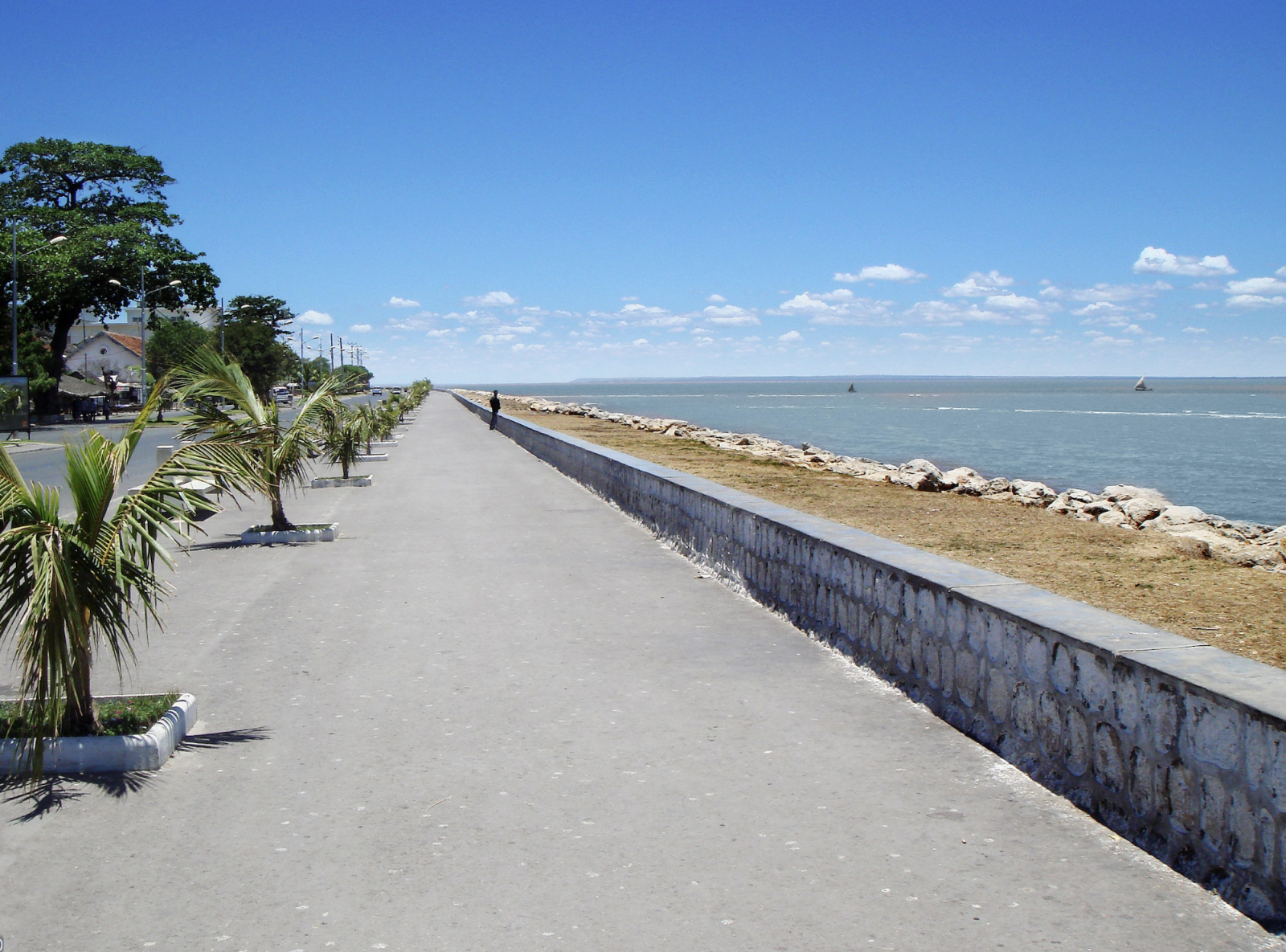 Amber Mountain National Park
Amber Mountain National Park is found on the northernmost end of the island of Madagascar, about 20 miles south of the city of Diego Suarez. The park covers a vast area of ​​over 18,500 acres, parts of which reaches an elevation of nearly 5,000 feet, including montane forests, rainforests, waterfalls, crater lakes, and an abundance of unique wildlife. You can explore the park at your leisure with a local guided private tour or with the help of a local tour guide who will lead you to see the highlights which include three beautiful waterfalls. The park is known for its extraordinary biodiversity and one can expect to see various species of lemurs, chameleons, and geckos as well as a wide variety of birds and small mammals.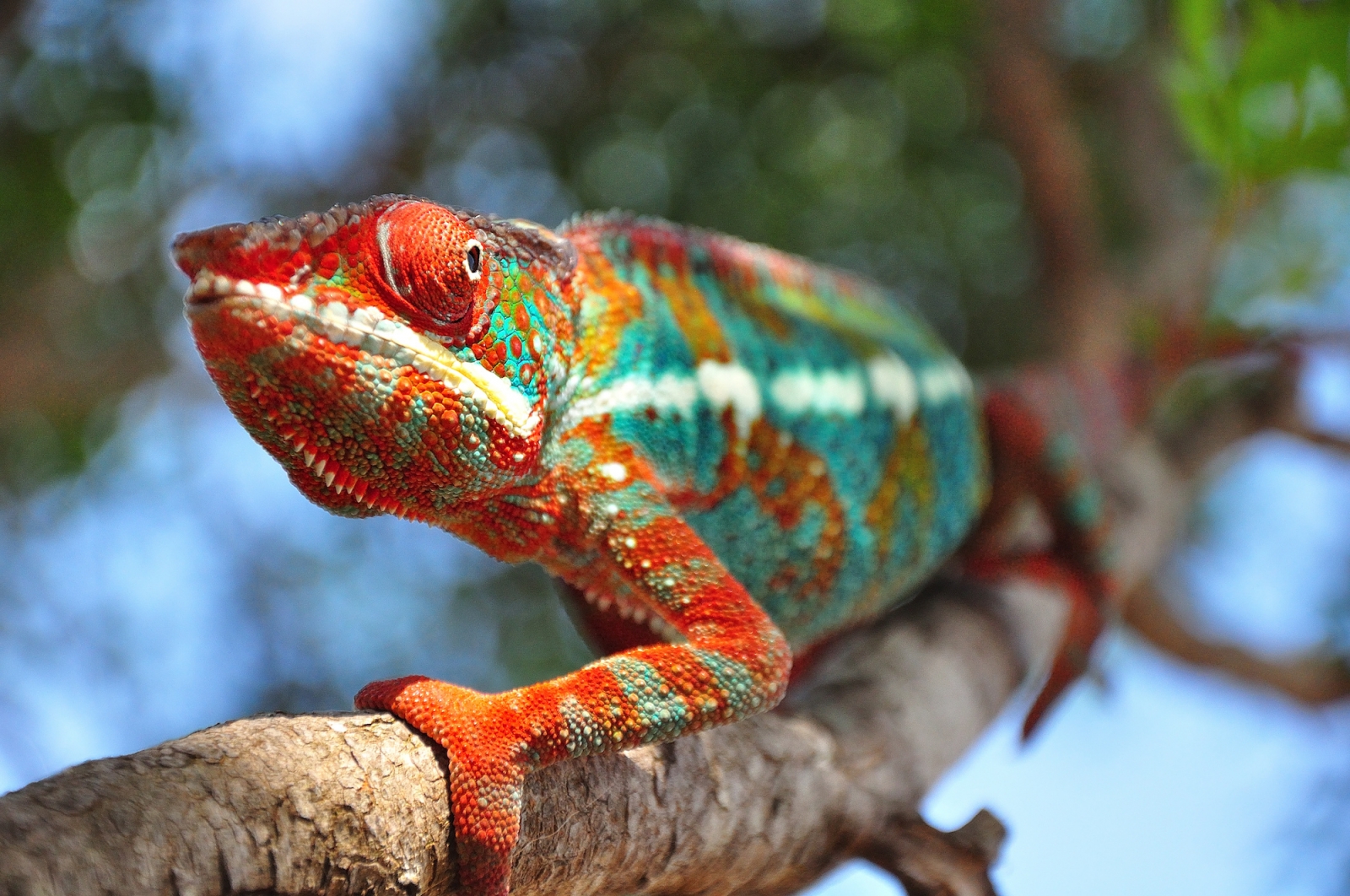 Baobab Avenue
Near the fishing town of Morondava, on the west coast of Madagascar, you can step on a signature fascinating avenue of ancient baobabs all that remains of what must once have been a majestic forest of these original giants. Baobab trees are a wonder of nature and can be utilized for water during droughts. They provide young edible leaves both for salads and edible fruits that contain a nutritious acid pulp that is used in various beverages and foods throughout Africa. Some of the majestic and completely different trees that make up the famous Avenue of Baobab are believed to be up to 700 years old, and many are up to 20 feet in diameter. Try to plan your visit for sunset, when the otherworldly scenery is at its best.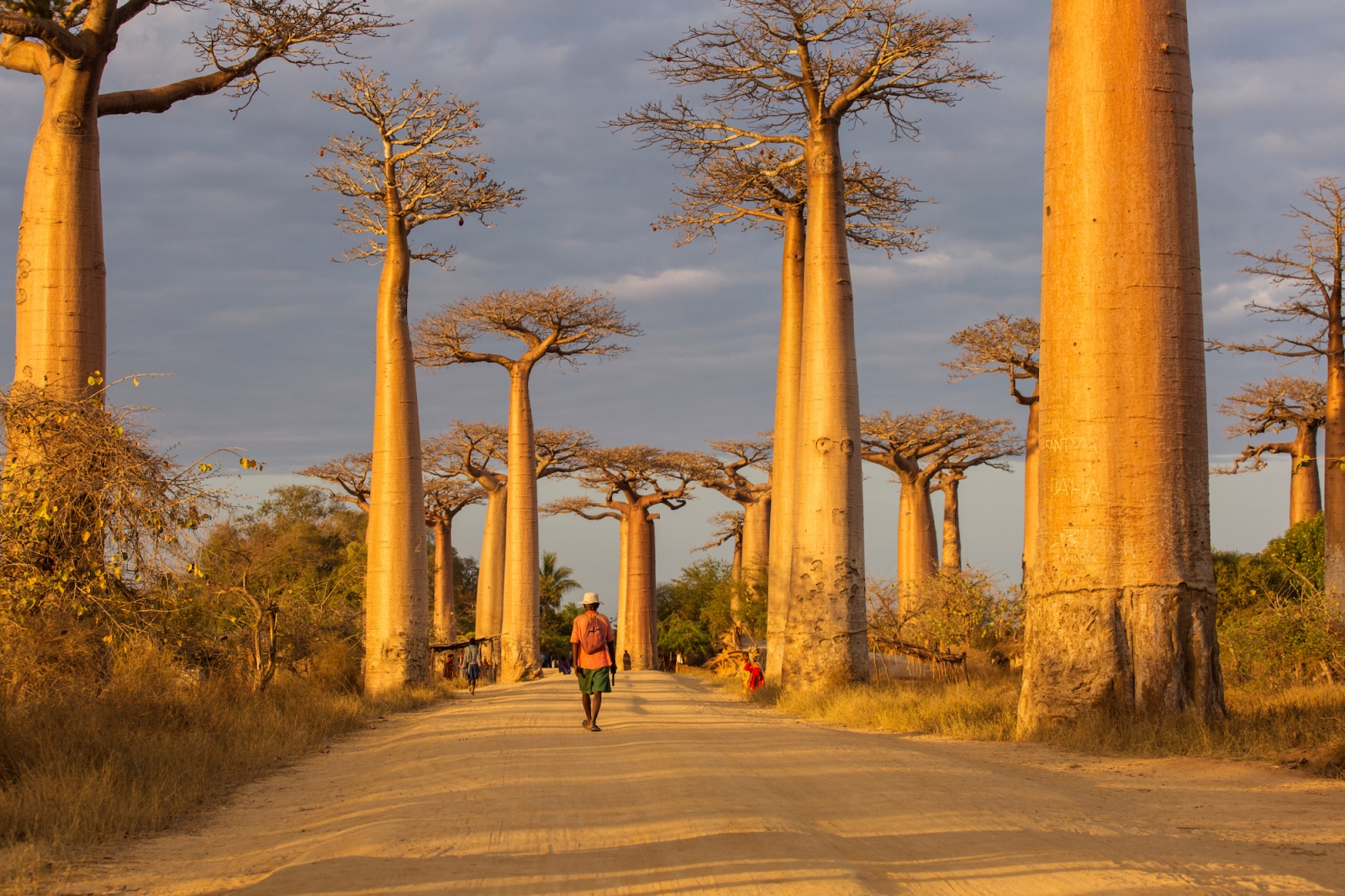 Tsingy
This park near the west coast (known for its jagged limestone cliffs) is not an easy place to visit. It takes a full day with a 4WD over very rough terrain to get there. It is very remote from civilization, with few tourists. The positive side? It is one of the most amazing places in the countryside. Water and wind have spent centuries shaping limestone into jagged peaks that look like a series of endless knives; to move, use rope bridges, ladders, and fixed cables. The area also has plenty of hollows, and people often combine a trip here with a slow boat ride on the Tsiribihina River.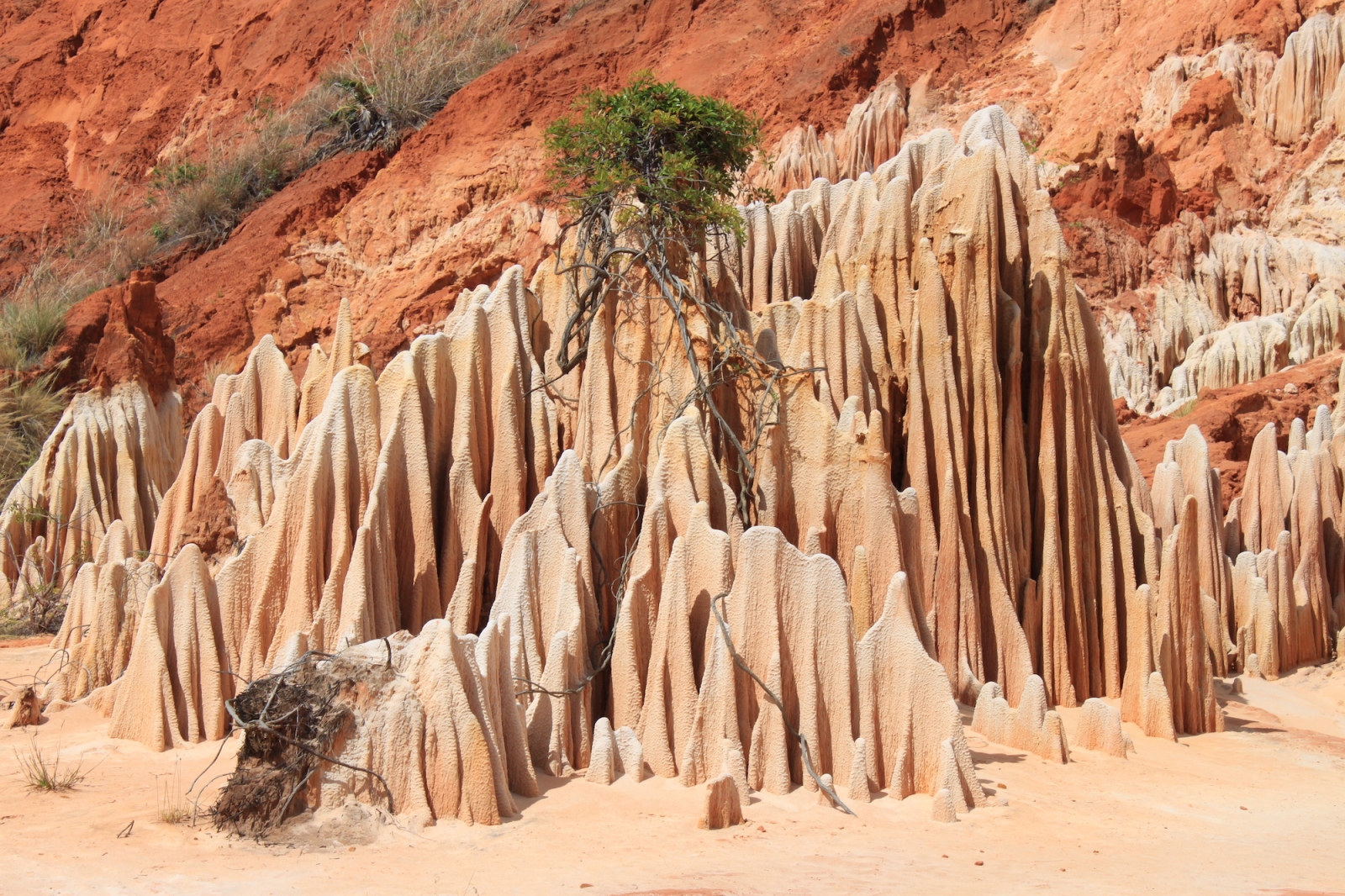 Isalo National Park
Located in the central-southern part of the country and equipped with several uneven paths (remember to carry water and a hat, as you are exposed to a serious hike in high heat); cliffs, ravines, gorges, and ravines; and abundant wildlife. This Westworld-like park is completely unique. There are three waterfalls where you can take a veritable shower after your hikes and a variety of lemurs (they get very close because they are not afraid of humans, so watch your food!). You are required to hire a local tour guide (they are at the entrance to the park and you can negotiate about the cost and other conditions).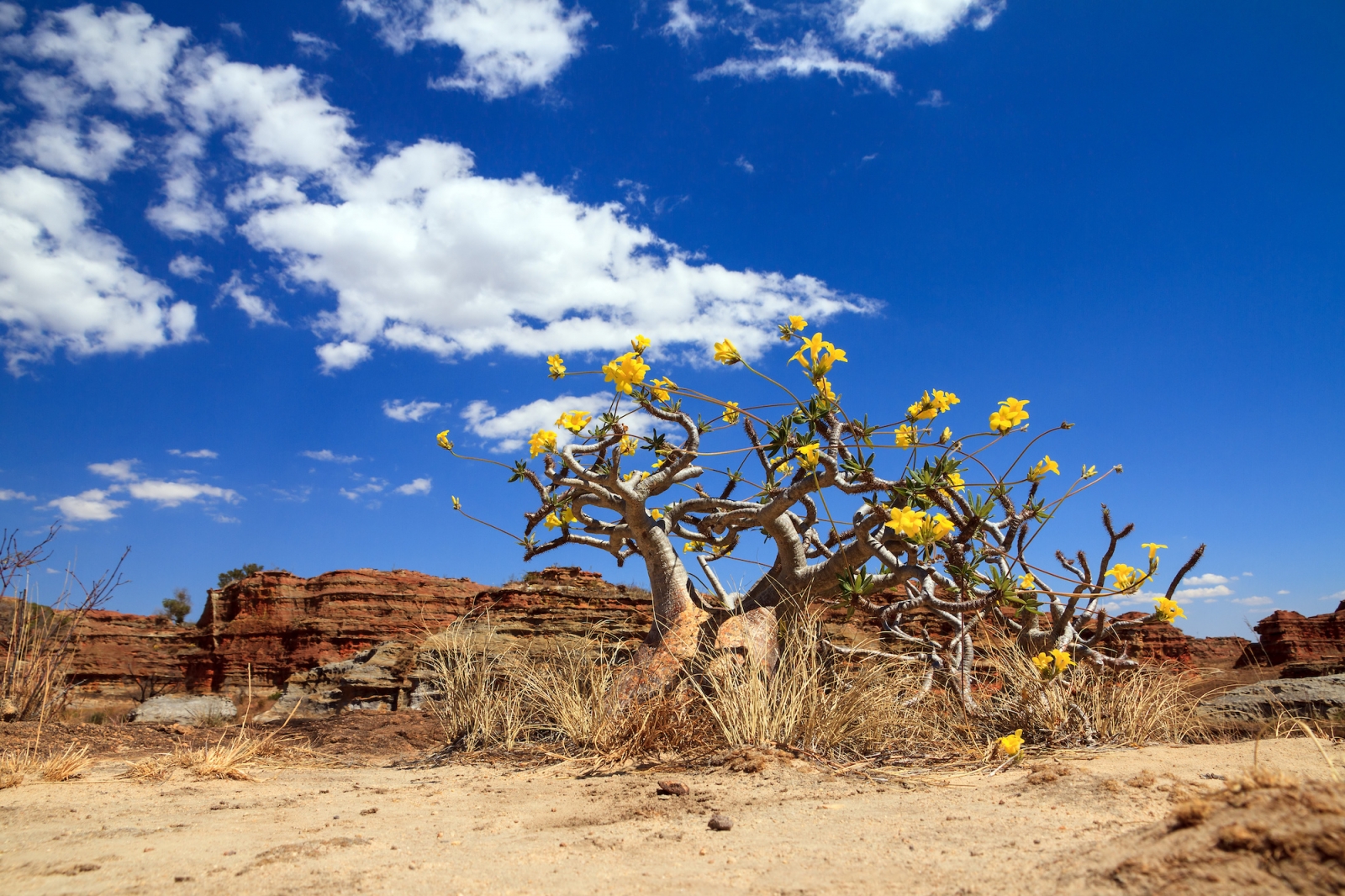 Madagascar

travel introduction, Sainte Marie Beach
Ile Sainte Marie is a must-see on the trip to Madagascar. While everyone heads to Nosy Are to find the best beaches and most elaborate resorts, if you want something a little more local, cheap and relaxed, check out Île Sainte Marie off the east coast. This former pirate capital (Captain Kidd's ship sank nearby) is a fresh island full of small coves, a pirate graveyard, delicious seafood, and a relaxed Caribbean-like atmosphere. The beaches are not as beautiful as Nosy Be, but there is a beautiful and unspoiled white sand beach south of the island right near the airport that few people visit. This is also the best part of the country for whale watching. When you get here, you have to fly. The slow boat is almost always delayed and doesn't get anywhere near a big city on the mainland. Over 7200 humpback whales migrate from Antarctica to Madagascar to mate between June and November.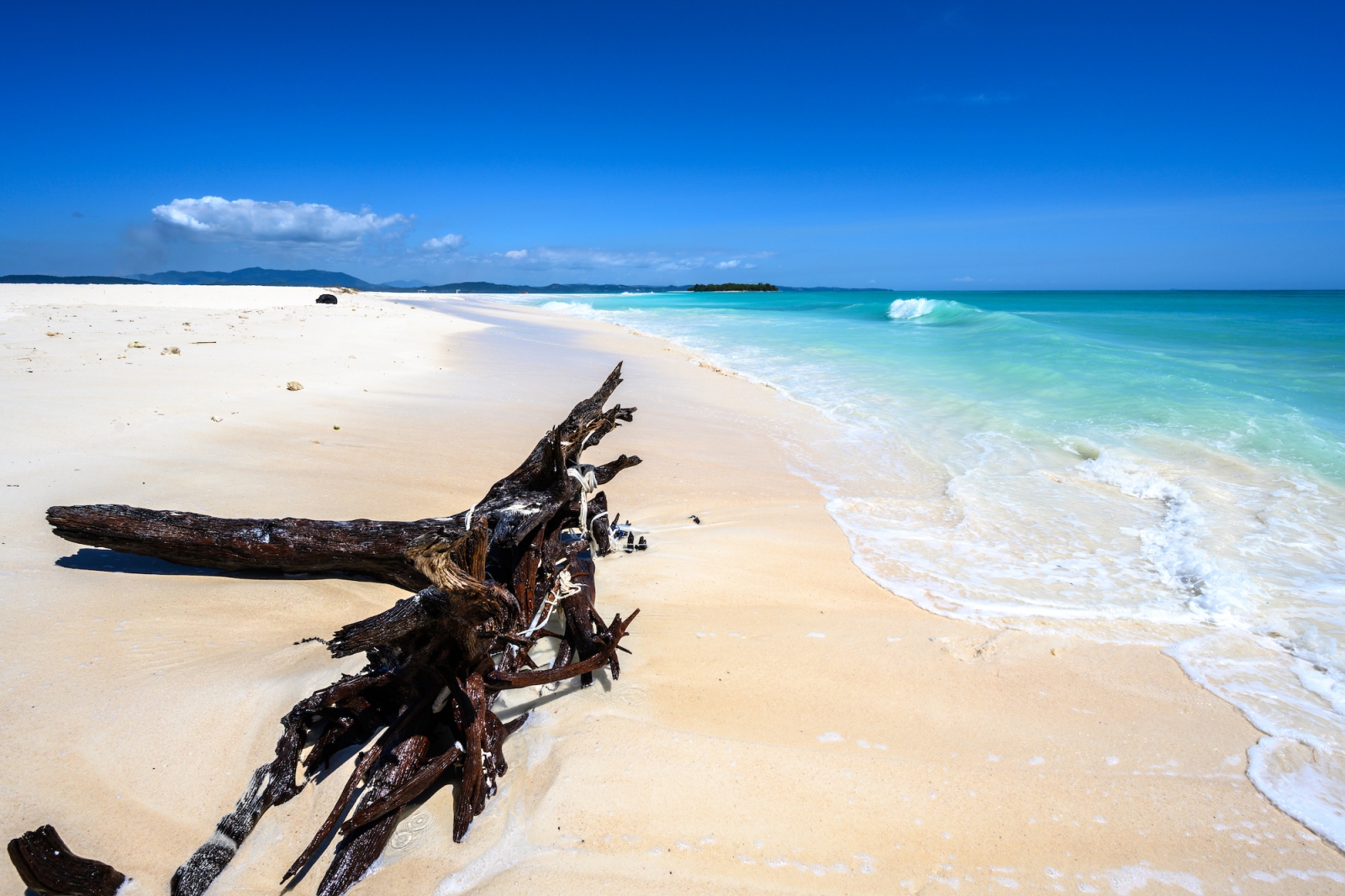 This is one of the most impressive specialties to do in Madagascar. A surprising little gem in Antananarivo, Croc Farm is one of the most seen parks in Madagascar. In addition to amphibian giants, you can also spot lemurs, chameleons, and toucans. The private park breeds crocodiles and sells products made with crocodile skin. If you think you can eat bizarre foods, trying the crocodile meat burger might be one of the craziest things to do in Madagascar.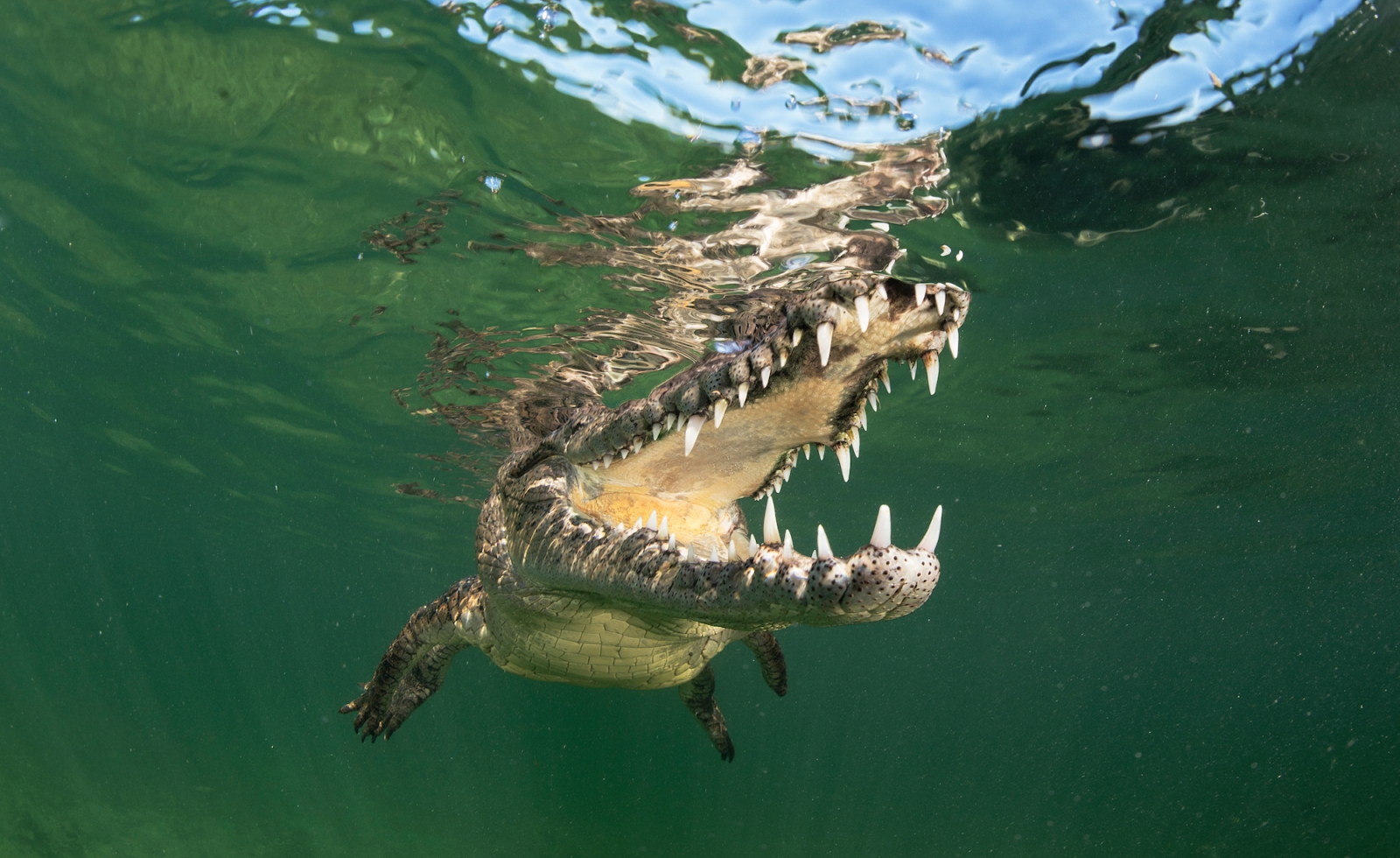 Tzimbazaza, zoos, easy great experience on the trip to

Madagascar
If you're visiting Madagascar fleetingly and don't have time to travel deep into the forest to see the country's many national parks and reserves, you can still get a taste of the island's magnificent flora and fauna by calling the Tzimbazaza Botanical and Zoological Gardens in the capital, Antananarivo The path through the gardens includes examples of the different types of traditional dwellings used by the different ethnic groups living on the island, and you can see caged and free-ranging lemurs along the way, as well as various kinds of other animals and indigenous plants on the island.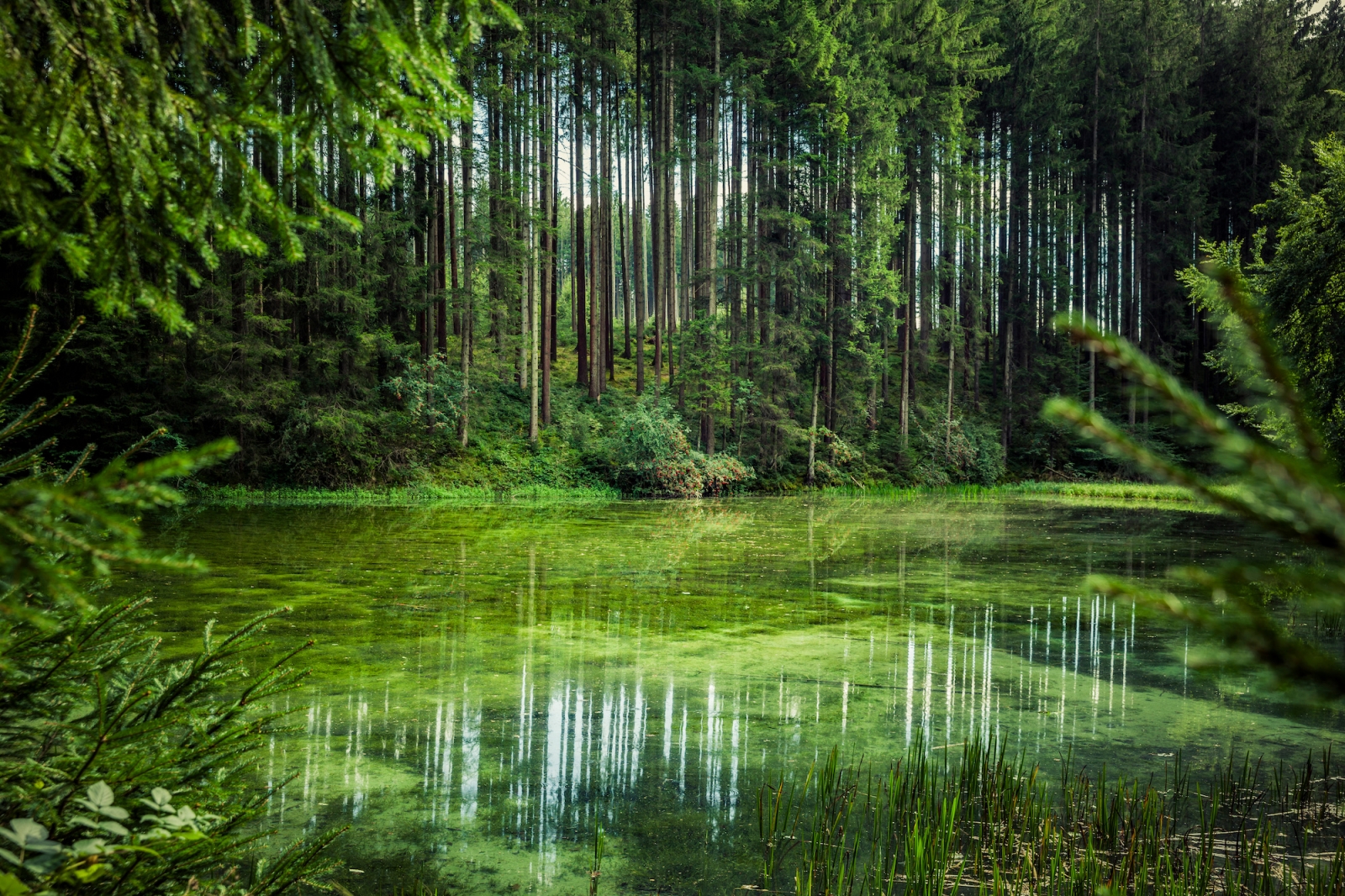 Crazy Zebu
The "crazy zebu" is the most incredible discovery in dusty Belo, probably in all of Madagascar. The dishes seem to come from a Michelin-star restaurant (the chef has trained in prestigious kitchens in Madagascar and Europe) with exquisite creations such as fried zebu shanks, prawn medallions, or snapper fillet with peanuts, risotto, and coconut sauce, all presented beautifully.
Cap Mine Lighthouse
Lighthouse lovers will find the Cap Miné lighthouse (also known as the Cap Andranomody lighthouse) located approx. 10 miles north of the town of Diego Suarez in northern Madagascar. The lighthouse dates back to 1895 when a simple metal tower was built on a stone base to warn sailors of the dangerous coast. Over time, the original tower was replaced by a 45-foot hexagonal brick tower that you can visit today. The lighthouse keeper lives on site and enjoys bringing visitors to the viewing platform at the top of the lighthouse and explaining all the technical details. While there, you can also see some old cannons and the remains of an abandoned defensive fort.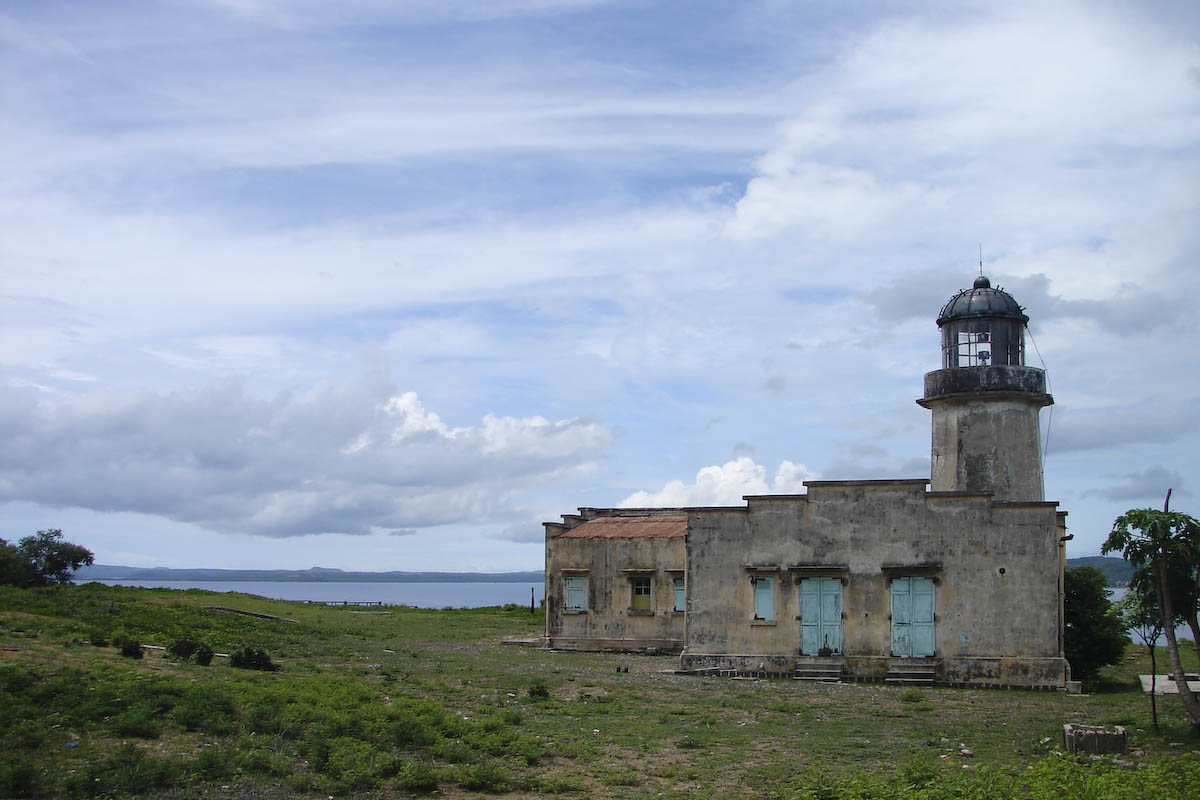 Kirindi forest
Located in western Madagascar about 30 miles northeast of Morondava, Kirindi forest (aka Kirindi Private Reserve) is a private park that occupies the area that was once a sustainable logging site. You can explore the park by following two treks which give you the chance to spot various species of lemurs and the amazing giant gerbil (yes, that hops on two feet like a kangaroo) found only in the Kirindi forest. In addition to admiring the unique wildlife, you can also try to identify three species of baobabs and many other examples of native Malagasy flora. You can expend a night or two in the rustic Ecolodge or pitch a tent under the forest canopy.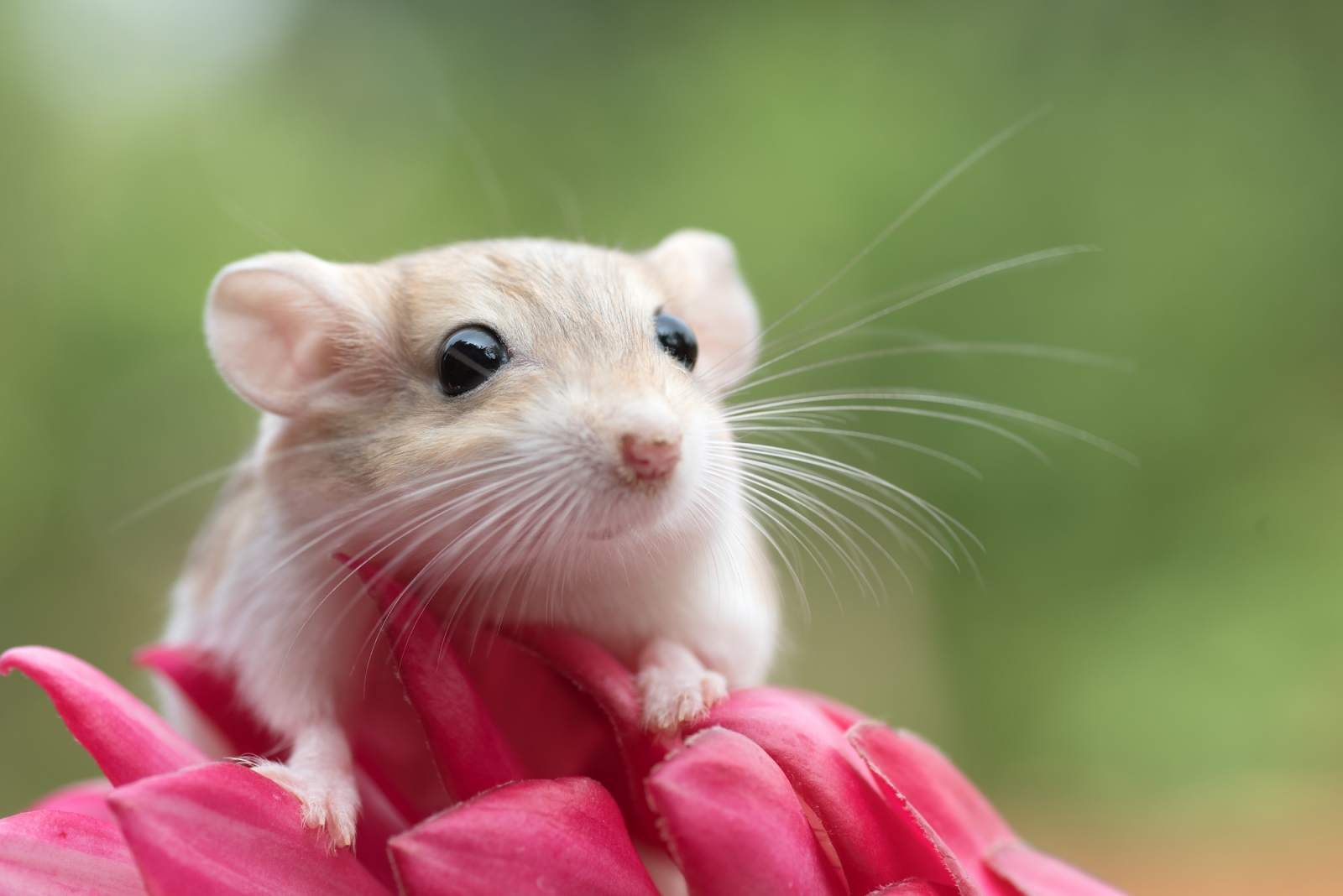 3 Bays (The Three Bays)
Although Madagascar is gifted with dozens of gulfs and bays, Three Bays refers to Dune Bay, Pigeon's Bay, and Sakalava Bay, all found on the northernmost end of the isle near the town of Diego Suarez. Individually the blue bays are home to a stunning span of coast, and the 3 bays are a famous tourist goal. There are several local guided tours that take you to the three bays in 4×4 with local private tour guides of Madagaskar and it is easy to research all 3 on foot along a seaside trail that runs near the coast. You can expect fantastic vistas, lots of birds singing, and ideal conditions for windsurfing and kitesurfing in Sakalava Bay.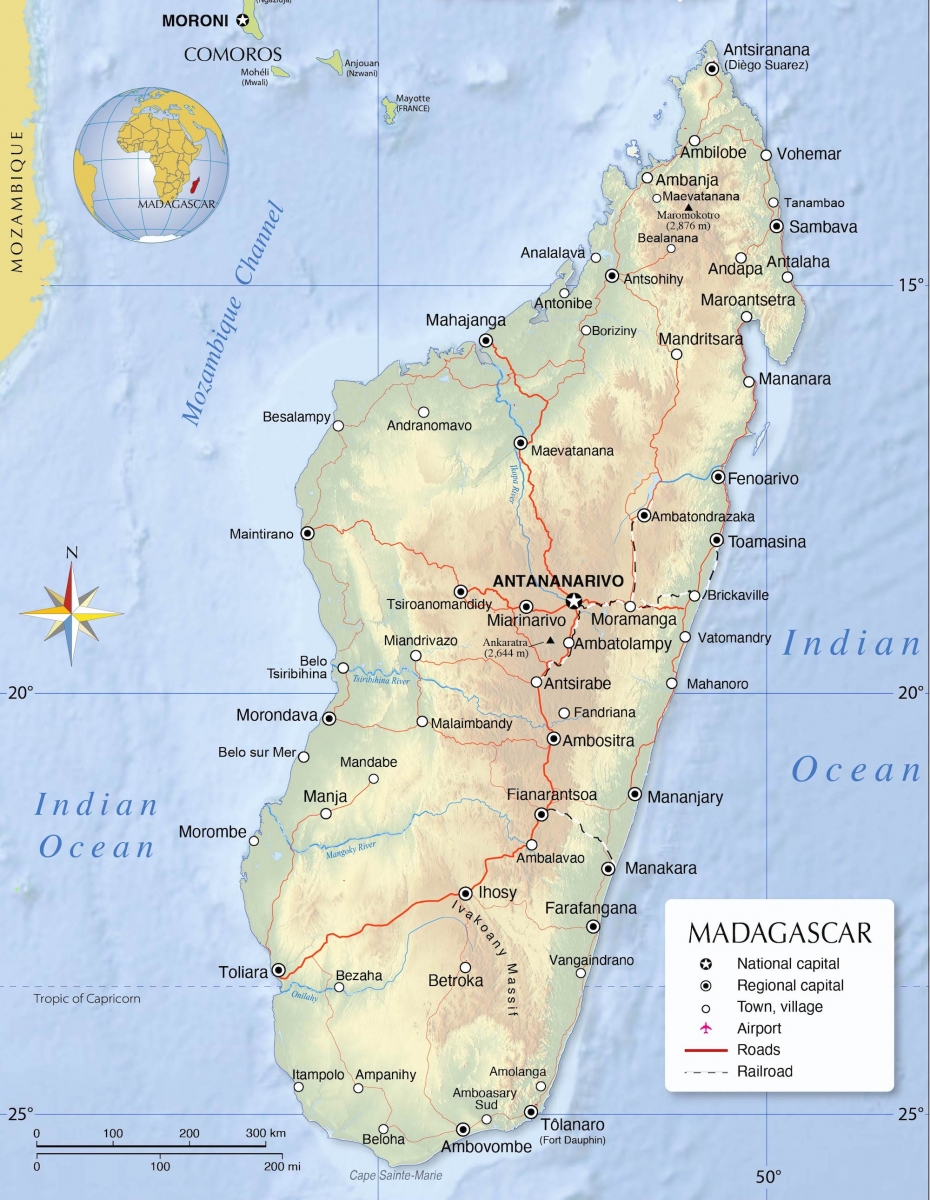 The Pirate Cemetery
The Pirate Cemetery is the final resting place of some infamous 17th-century pirates who terrorized the busy East India trade route for around 100 years. Located on the small island of Ile-Sainte Marie, located off the east coast of Madagascar, the cemetery attracts many visitors who come to enjoy the beautiful beaches and excellent diving opportunities. I thought that during the XVII and XVIII centuries, more than a thousand pirates lived on the island and there are countless legends of concealed treasure and sunken galleons. The best way to explore the narrow and long island is to start on foot, by bike, or by scooter; After visiting the Pirate Cemetery, you can hire a boat to examine the gorgeous coast and see some of the infamous pirate landing bays.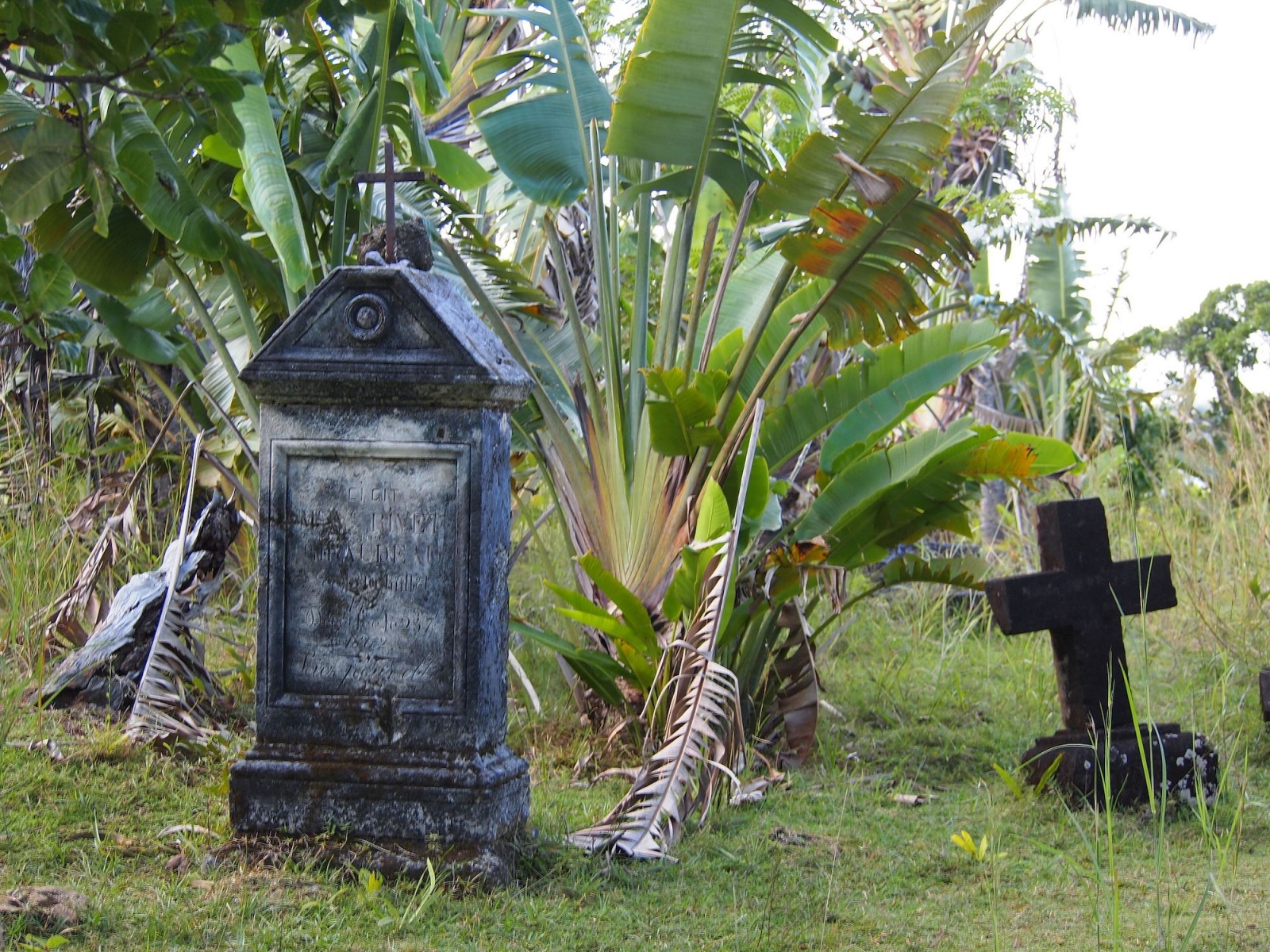 Marche Artisanale de La Digue (craft market)
La Digue craft market is located a short distance from Antananarivo center (on the way to the airport) the ideal place to pick up some authentic Malagasy souvenirs to take home. You can scan hundreds of stalls at your leisure to find local craft baskets, leather goods, embroidery, and textiles. Highlights of the large outdoor market include beautifully sculpted masks and wooden sculptures.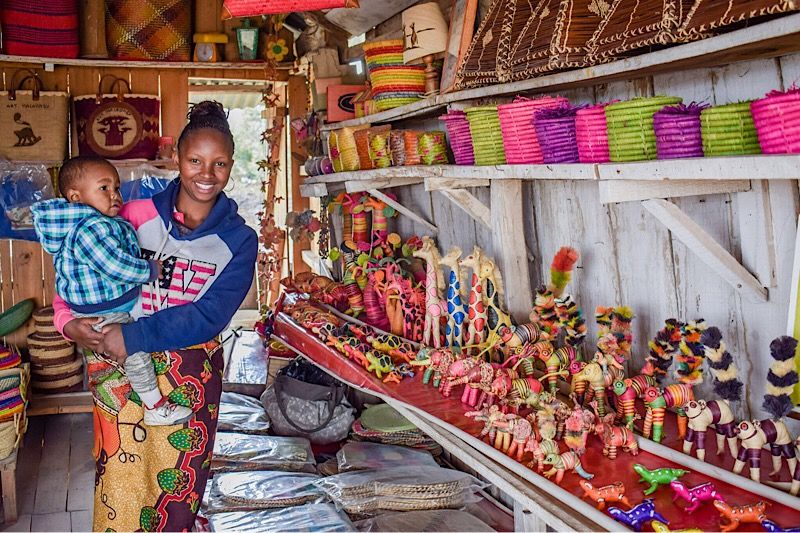 Madagascar's lemurs are endemic. This means that they can only be found wild in one and only one place in the world – namely in Madagascar. In fact, a very large part of Madagascar's rich fauna and flora is endemic to the island. This is because the island is isolated far out in the Indian Ocean, and therefore forms its own independent ecosystem. This is precisely why the descriptive term 'paradise island' is so comprehensive. Madagascar is truly paradisiacal – both in the sense of 'fantastic' and in the sense of 'unspoiled'.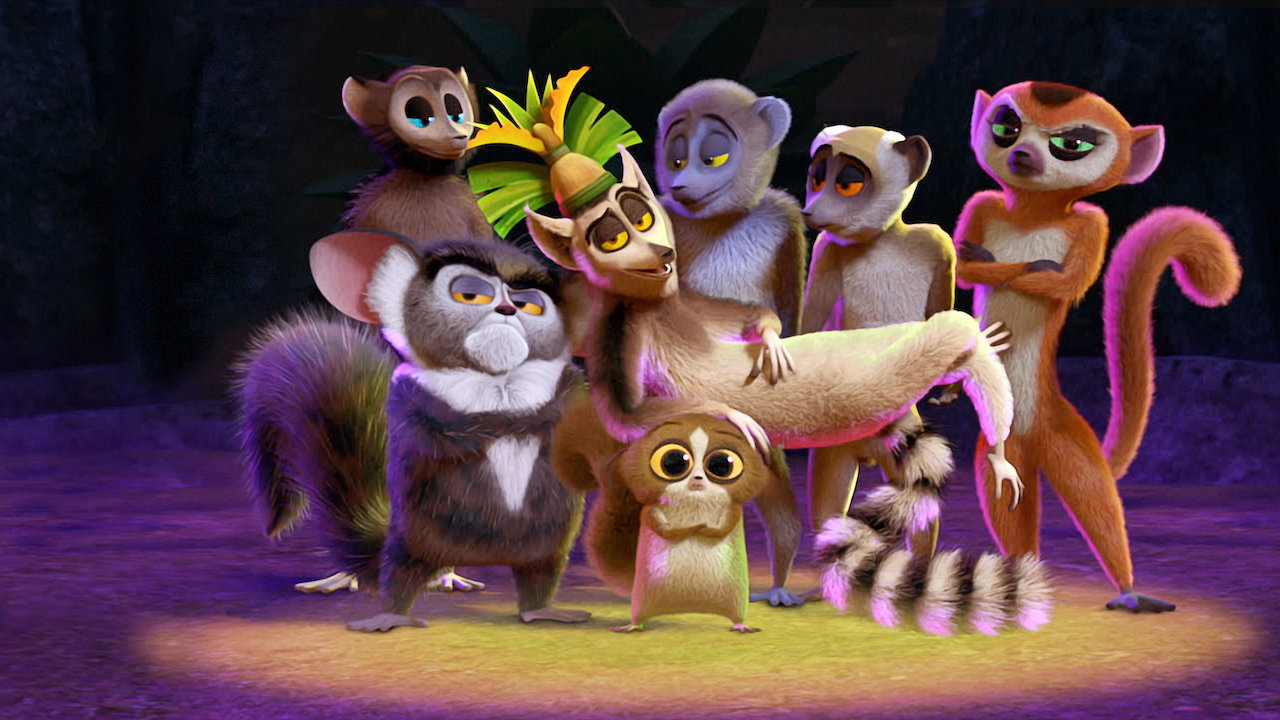 World-famous King Julian
The lemurs are exciting animals with a very special status for tourism in Madagascar. They are known and famous all over the world. They have been since Dreamworks released the animated film "Madagascar" in 2005 and King Julian and his family took over the world.
Madagascar

's large lemur family
If you are going to travel to Madagascar, meeting some of the island's charming, long-tailed residents is part of the range of experiences. The lemur family is large and contains many different members - many species. The different lemur species naturally have a number of characteristic features in common and a number of interesting features that set them apart. There are lemurs that are awake during the day and lemurs that are awake at night. There are common lemurs, not-so-common lemurs and then there are also extremely rare lemurs. There are lemurs in different sizes and different colors. Read along here and learn more about Madagascar's many lemur species.
Lemurs are demi-apes with cat heads
The lemurs are an unusually large and varied group of probosci's monkeys. The typical lemur has a long tail. It resembles a monkey with a cat-like face with prominent ears. And then it has paws with fingers and toes that are movable and suitable for holding and grasping around things. Many lemurs have inconspicuous mouse-brown or mouse-gray fur, which makes them blend in with the surroundings of the shady forests where they live. Lemurs do not need strong color markers because they leave scent trails to mark their territories and signal to each other when they are ready to mate. Madagascar is home to 9 of subspecies of common lemurs, 5 of sifaka lemurs, and 6 of night lemurs.
Common lemurs
1. The ring-tailed lemur
These social lemurs find their food down on the ground in groups. In groups of 13-15 lemurs, they search for fruits, flowers, leaves, and other types of vegetation in the dry, deciduous forests. They are between 95-110 cm tall and ring-tailed lemurs weigh 2.3-3.5 kilos. You meet, for example, this lemur in the d'Anja reserve.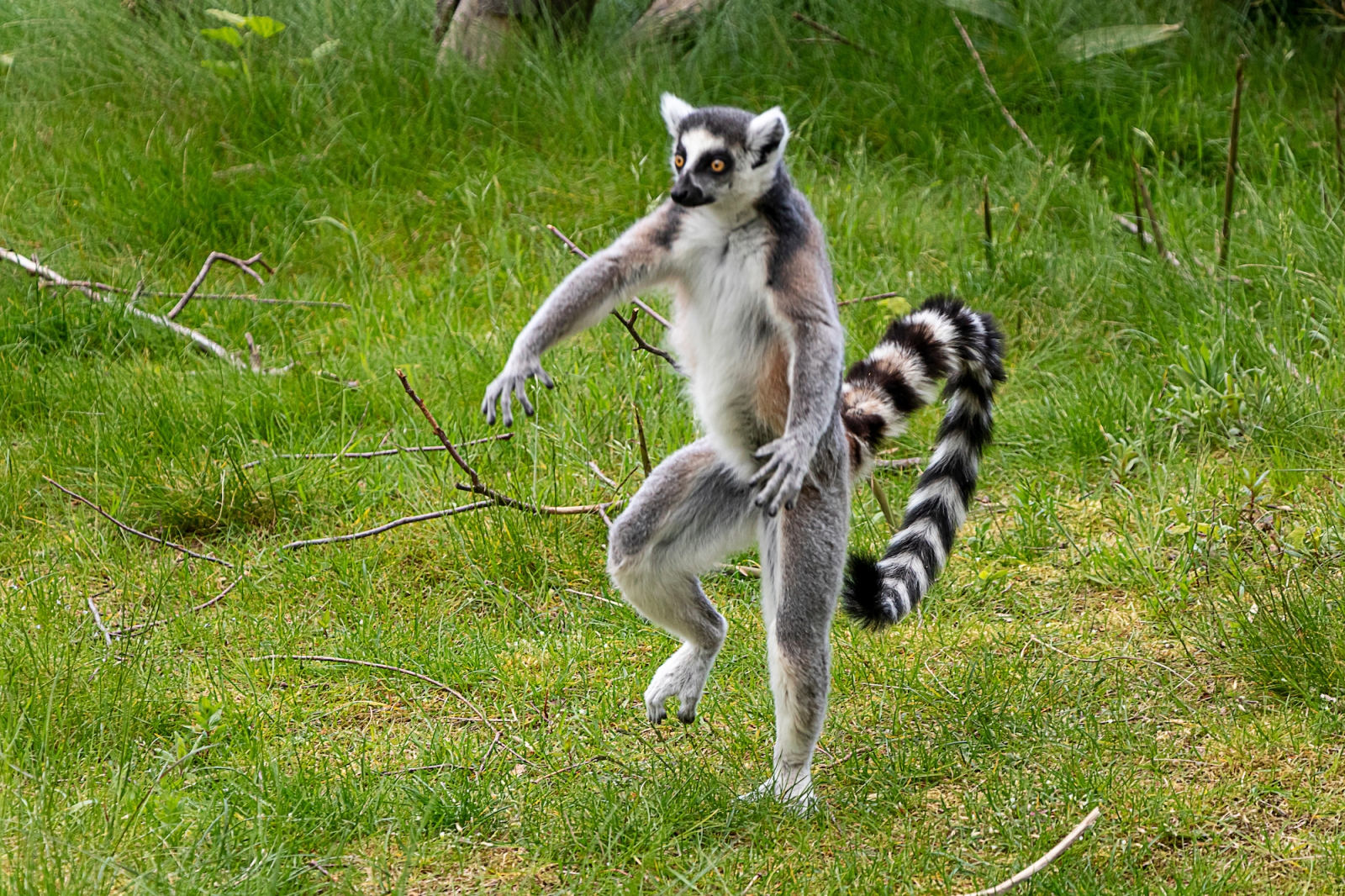 2. The black and white pipe-collared lemur
This lemur has a somewhat special and complex social behavior. You will find males and females living in separate territories, and you will also find them living in mixed groups. They are 110-120 cm tall and weigh 3.1-3.6 kg. They are particularly widespread in the parks in the Andasibe area.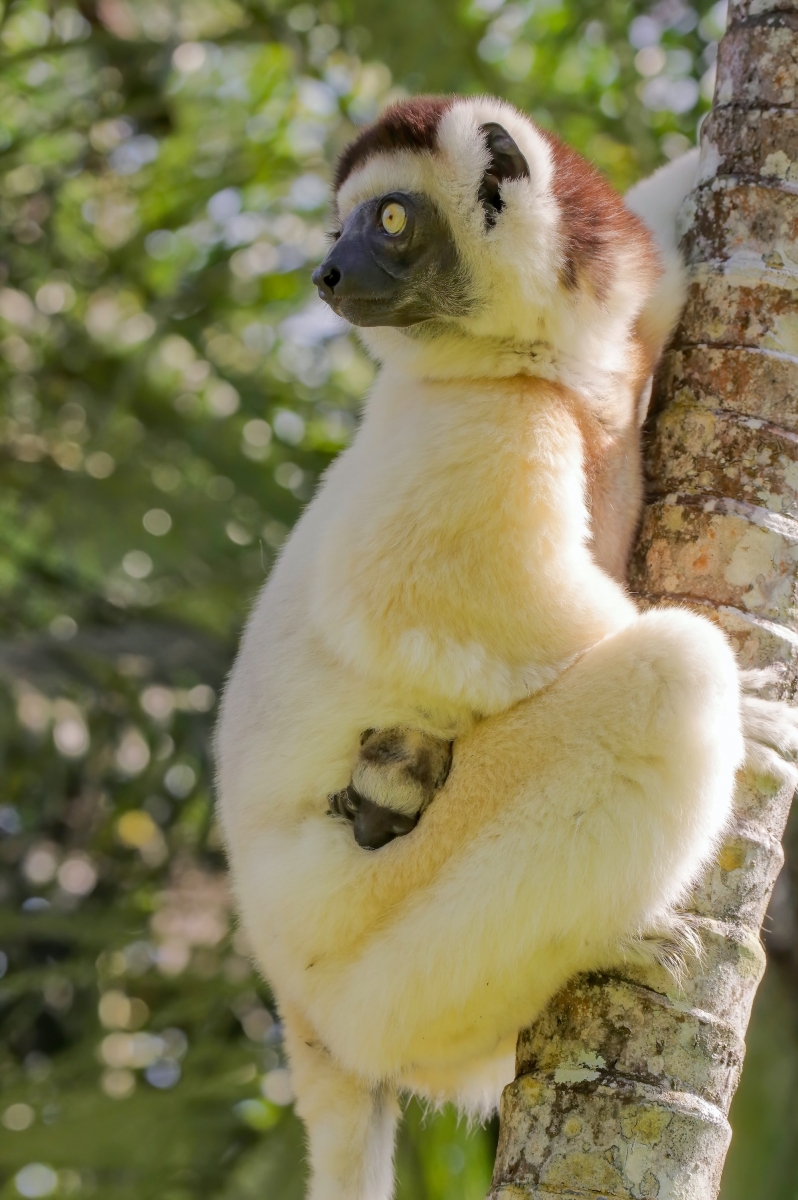 3. The red-collared lemur
Like the other collared lemurs, the red-collared lemur feeds primarily on fruit. It is distinctly loud and sometimes hangs on its hind legs while goofing merrily on a piece of fruit. They are 100-120 cm tall and weigh 3.3-3.6 kg. You only meet these lemurs in the low-lying rainforests of the Masoala peninsula.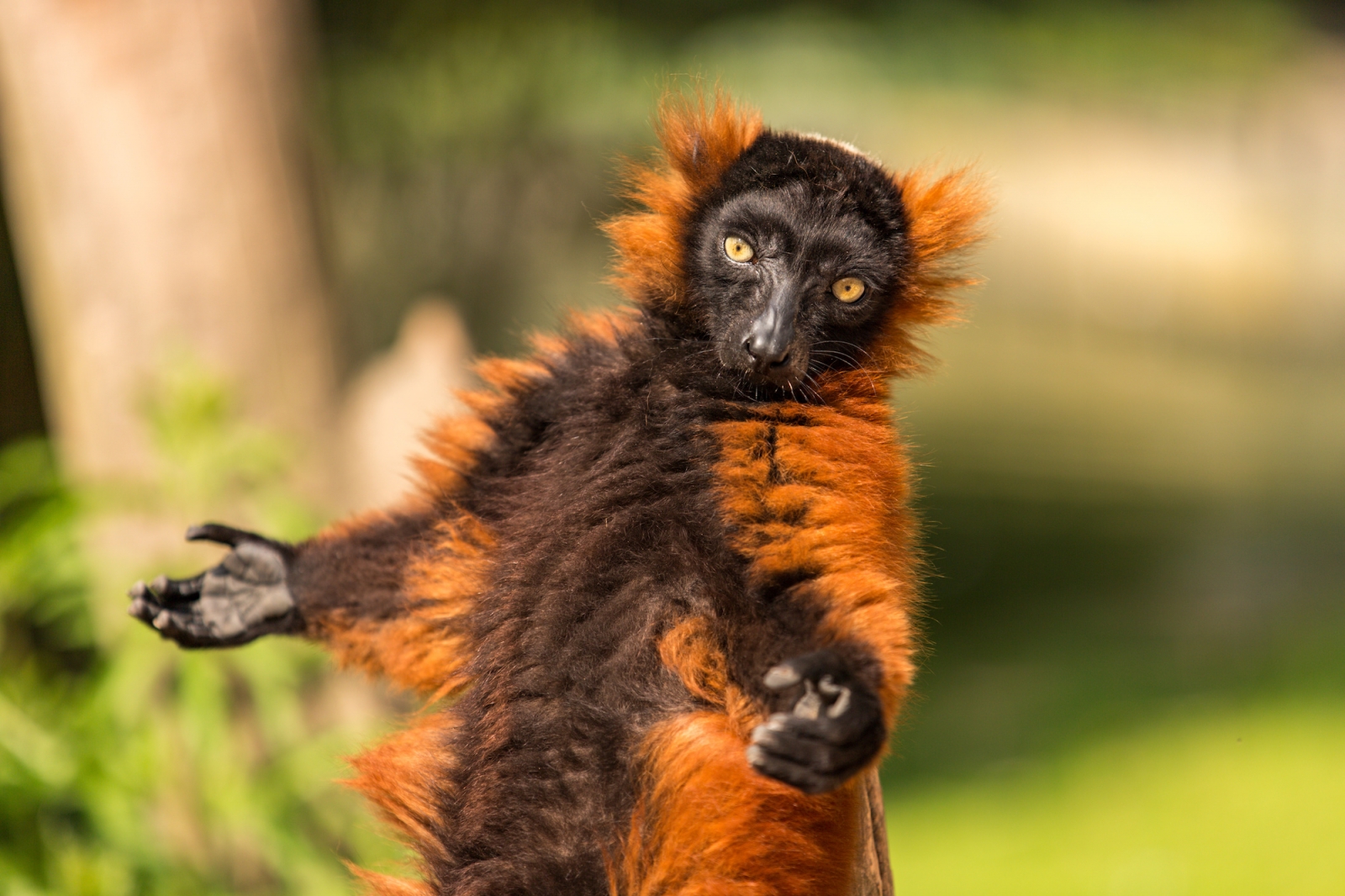 4. Desmerid lemur
You can easily recognize this lemur by the piercing orange eyes and the strongly marked "bib". Desmerdyr lemurs live together in pairs with their offspring. They tend to be a little shyer than the rest of the typical lemur species. However, you can spot them without much trouble in the Ankarafantsika National Park. They are 75-80 cm tall and weigh 1.1-1.6 kg.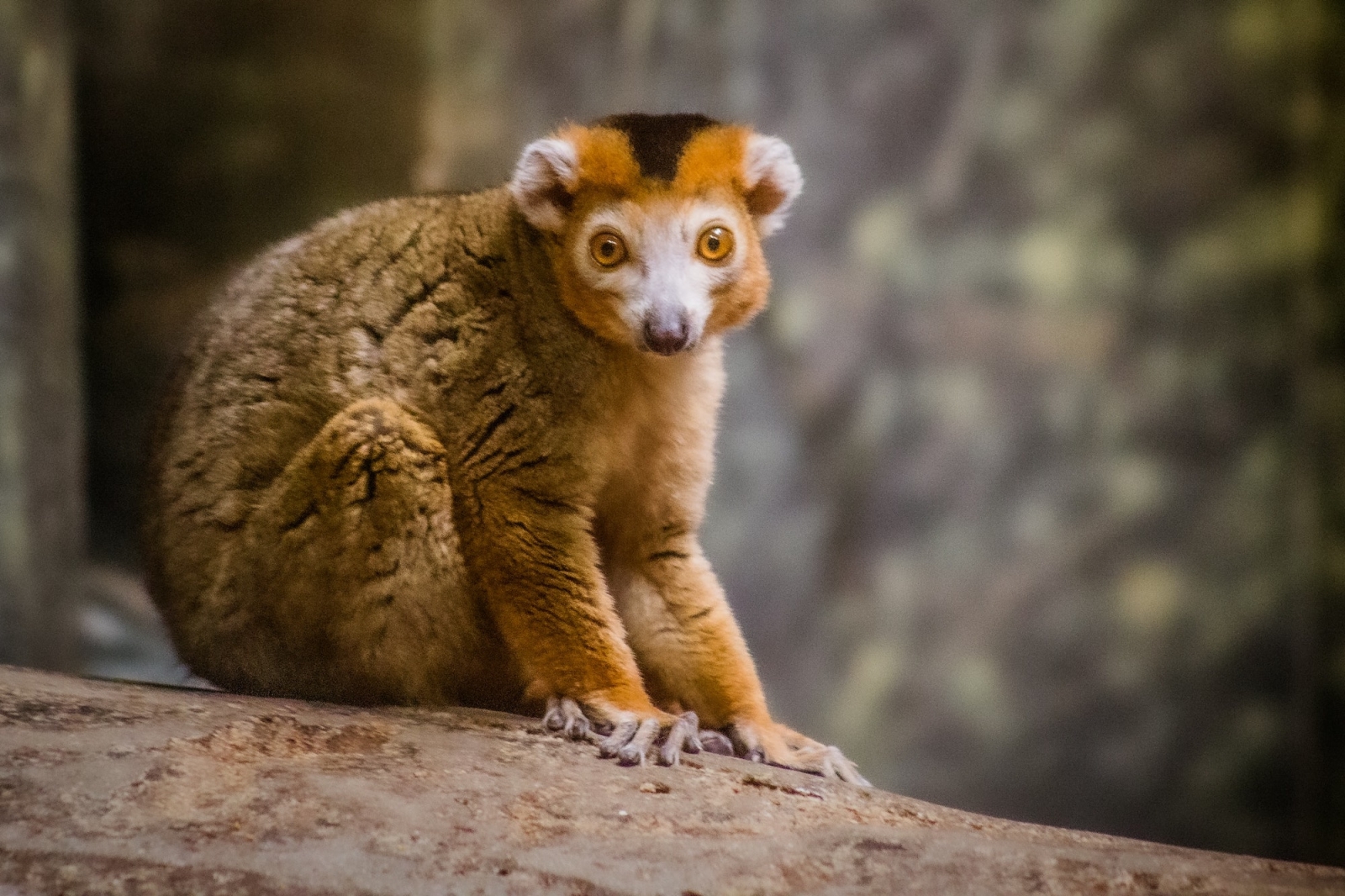 5. The crowned lemur
The male and female crowned lemurs have different color patterns and shades. They live in the dry deciduous forests and rainforests of northern Madagascar. They are 75-85 cm tall and weigh 1.1-1.3 kg. Permanent groups stay in the nature reserve Spéciale Ankarana.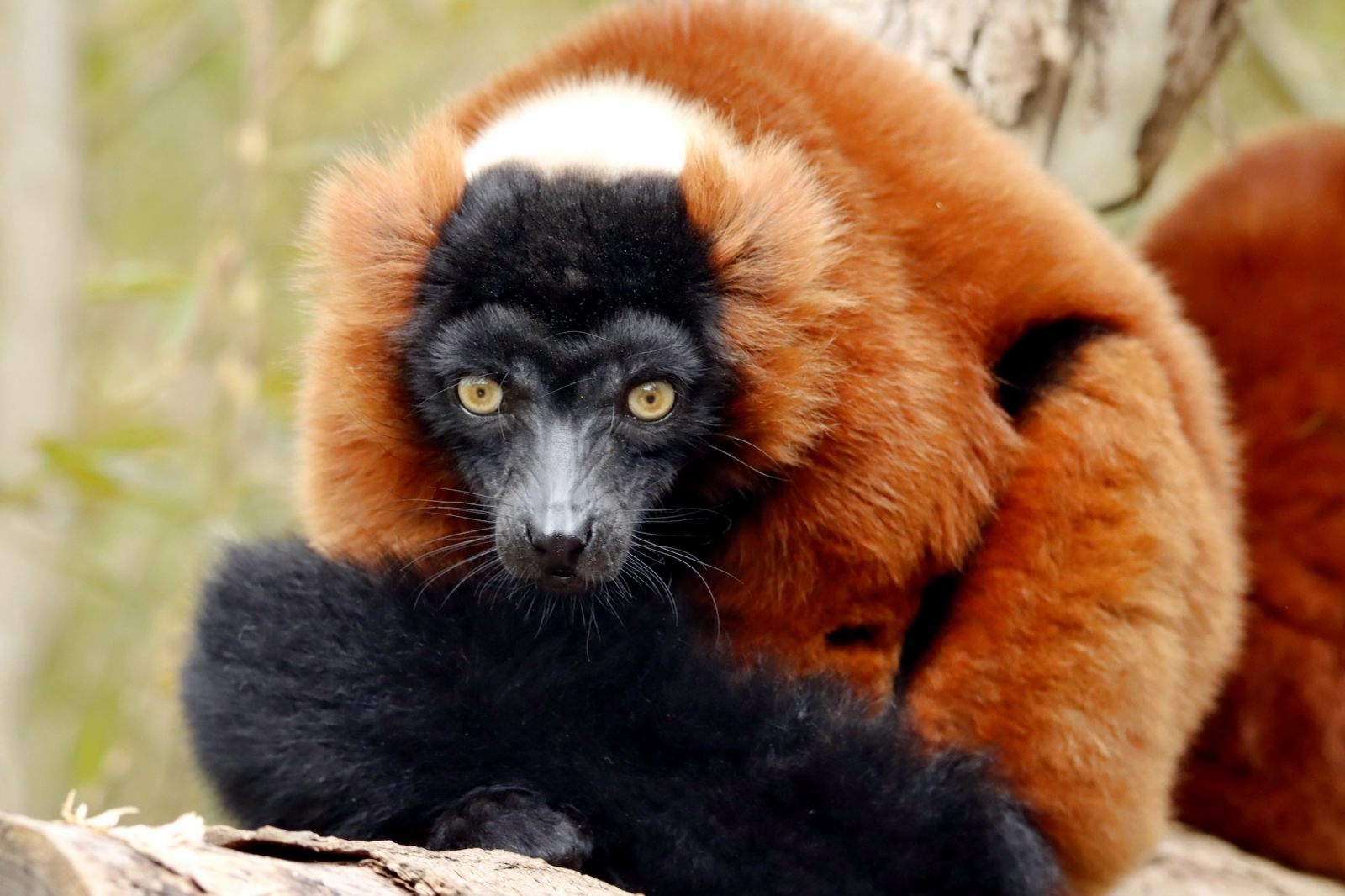 6. The common brown lemur
The common brown lemur lives in groups of 3-12. They are active during the day but are also partially active at night during the dry season. They are 100 cm tall and weigh 2-3 kg. You meet them frequently in the parks in the Andasibe area.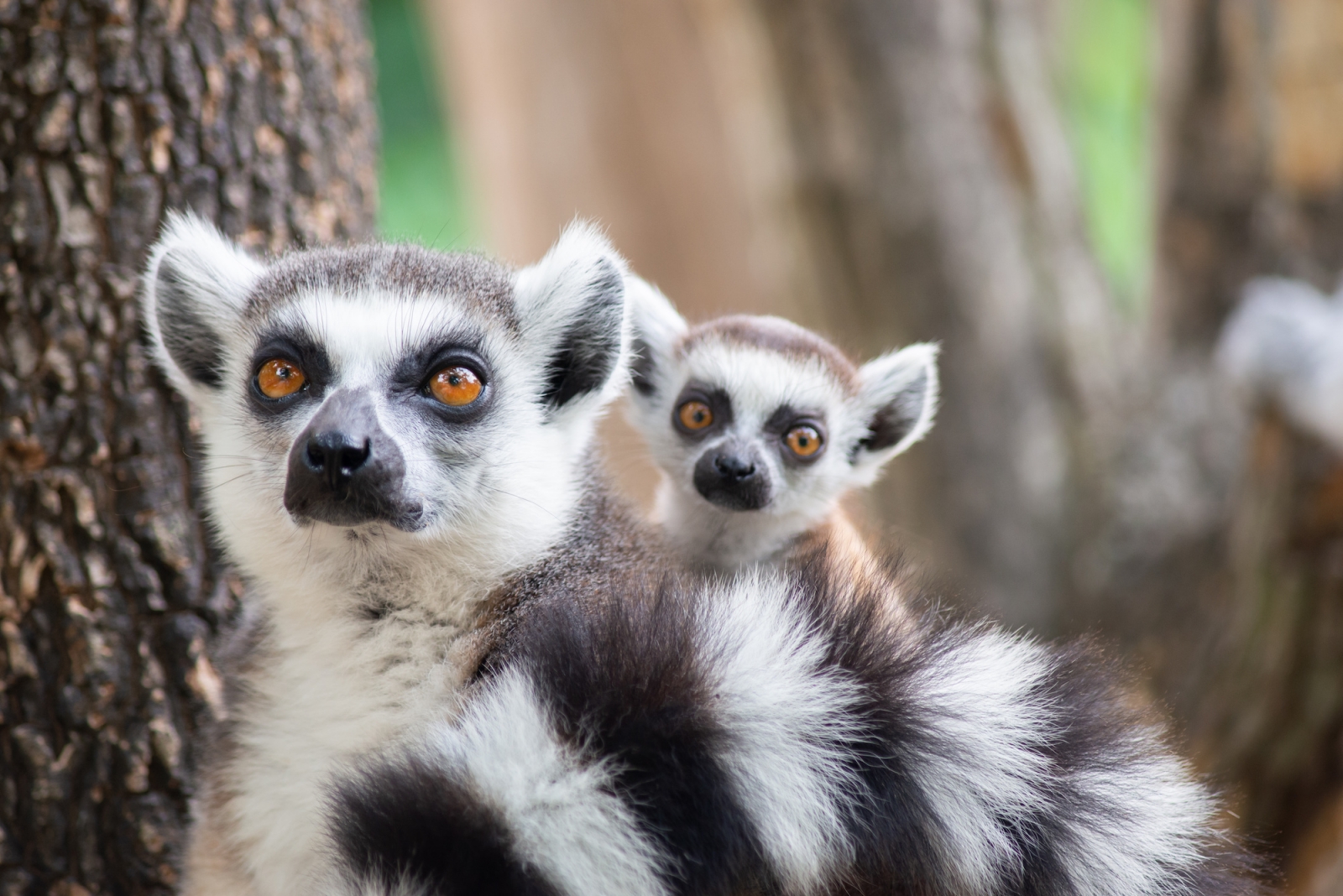 7. The black lemur
Males are dark brown or black, while females vary from golden brown to chestnut in color with flamboyant white ears and cheek tufts. They are 90-110 cm tall and weigh 2-2.9 kg. They are easy to spot in the Intégrale de Lokobe nature reserve.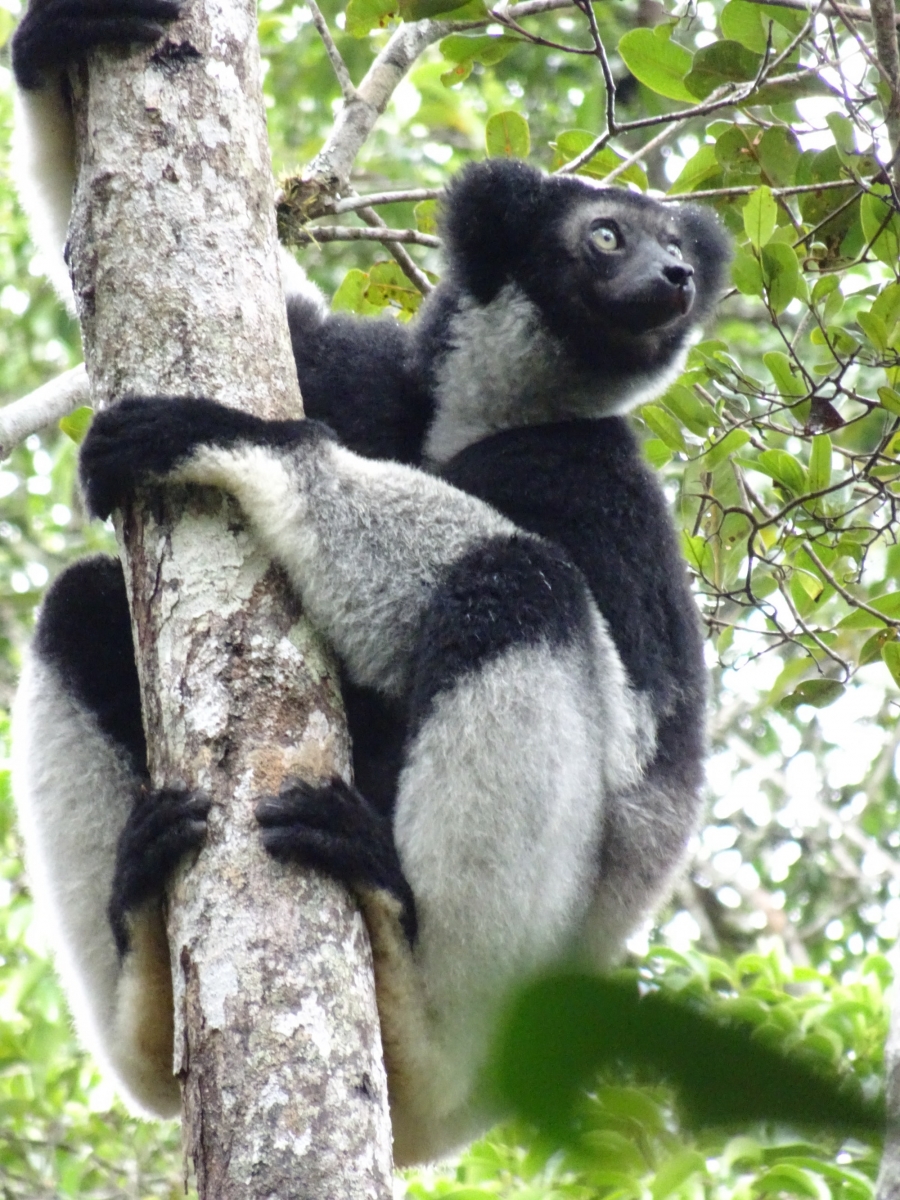 8. The red-painted lemur
These lemurs are distinguished by their reddish-belly skin. You can tell the males from the females by the males' white "tears" of bare skin just below the eyes. they are 78-93 cm tall and weigh 1.6-2.4 kg. They are widespread in Ranomafana National Park - especially from May to June.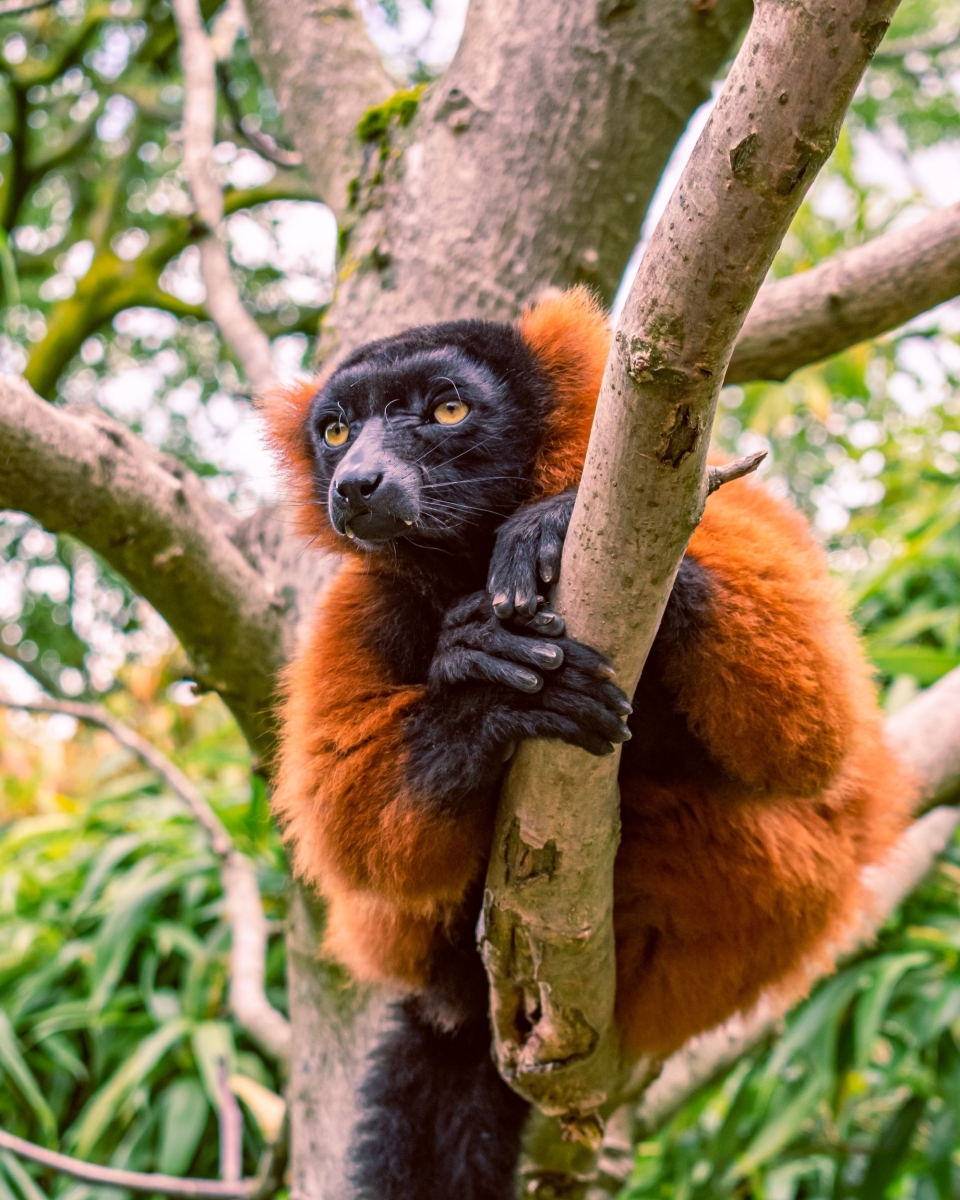 9. The Eastern Little Gray Bamboo Lemur
The most common of the so-called bamboo lemurs are also called the gray lemur and the Mahajanga lemur. It is a small pine that is widely distributed throughout the eastern rainforest in the Ranomafana National Park and in the parks of the Andasibe area. They are 56-70 cm tall and weigh 0.7-1 kg.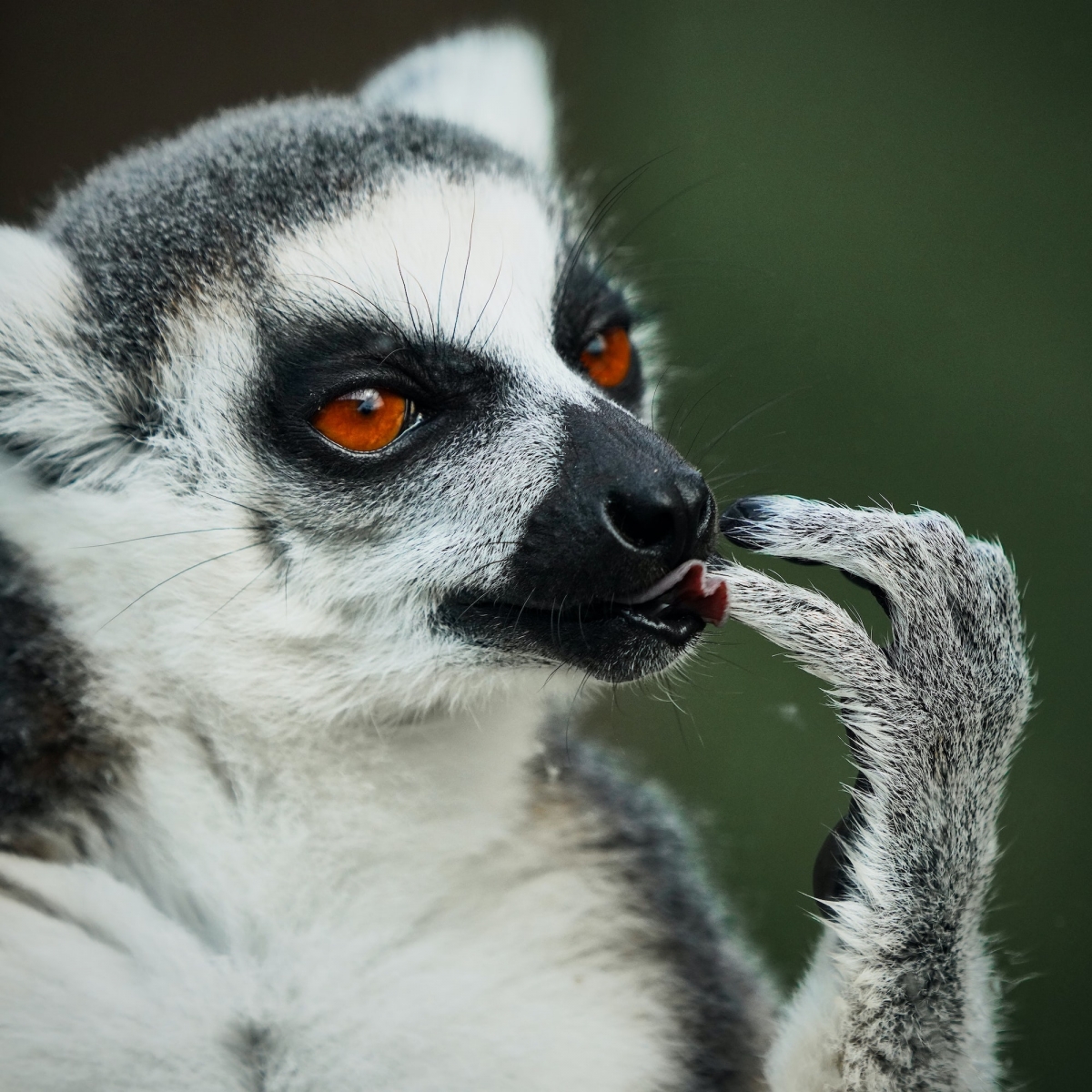 Sifaka and indri lemurs
10. Verreaux's Sifaka
A beautiful species of lemur known for its graceful movements across open spaces in forests. It leaps sideways on its strong hind legs. The species lives exclusively in the dry forests of the southern part of Madagascar. It can be experienced, for example, in the national park I'Isalo. They are 90-110 cm tall and weigh 3-3.5 kg.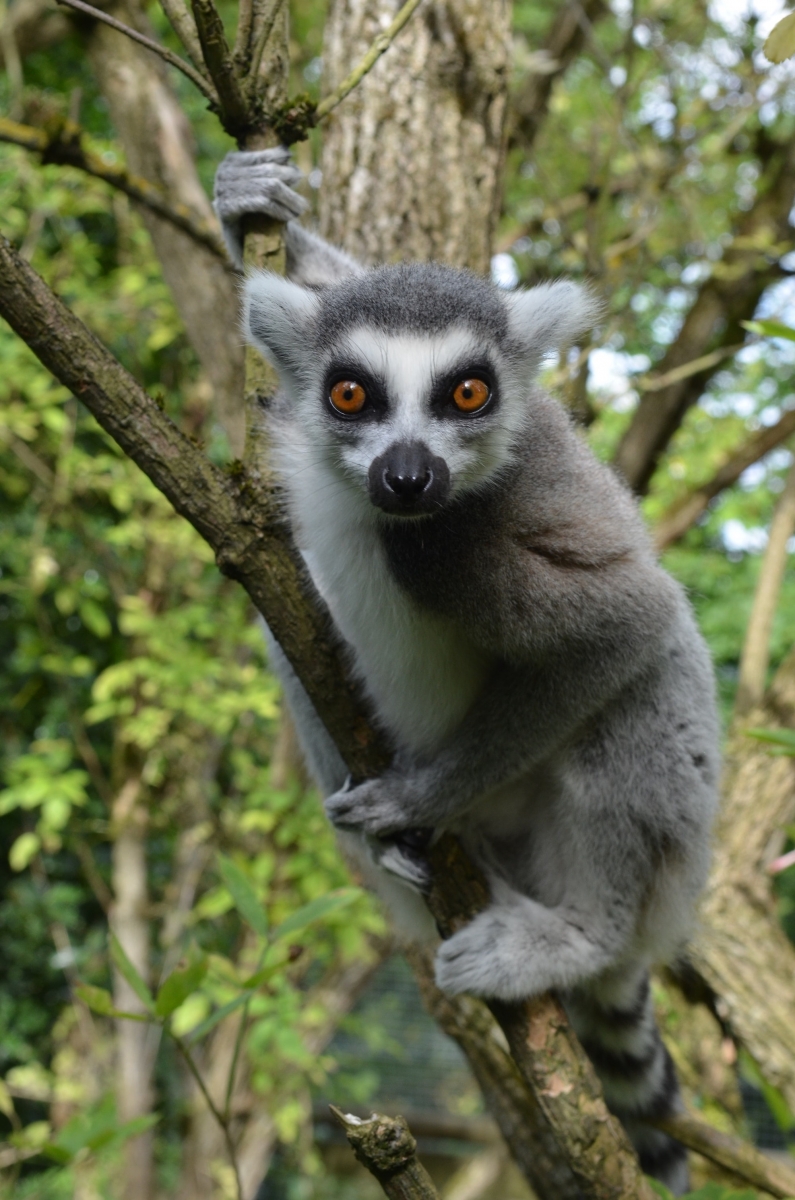 11. Coquerel's Sifaka
These attractive sifaka lemurs like to travel together in groups. They live in the dry forests in the north-western part of Madagascar, for example in the national park d'Ankarafantsika. They are 93-110 cm tall and weigh 3.7-4.3 kg.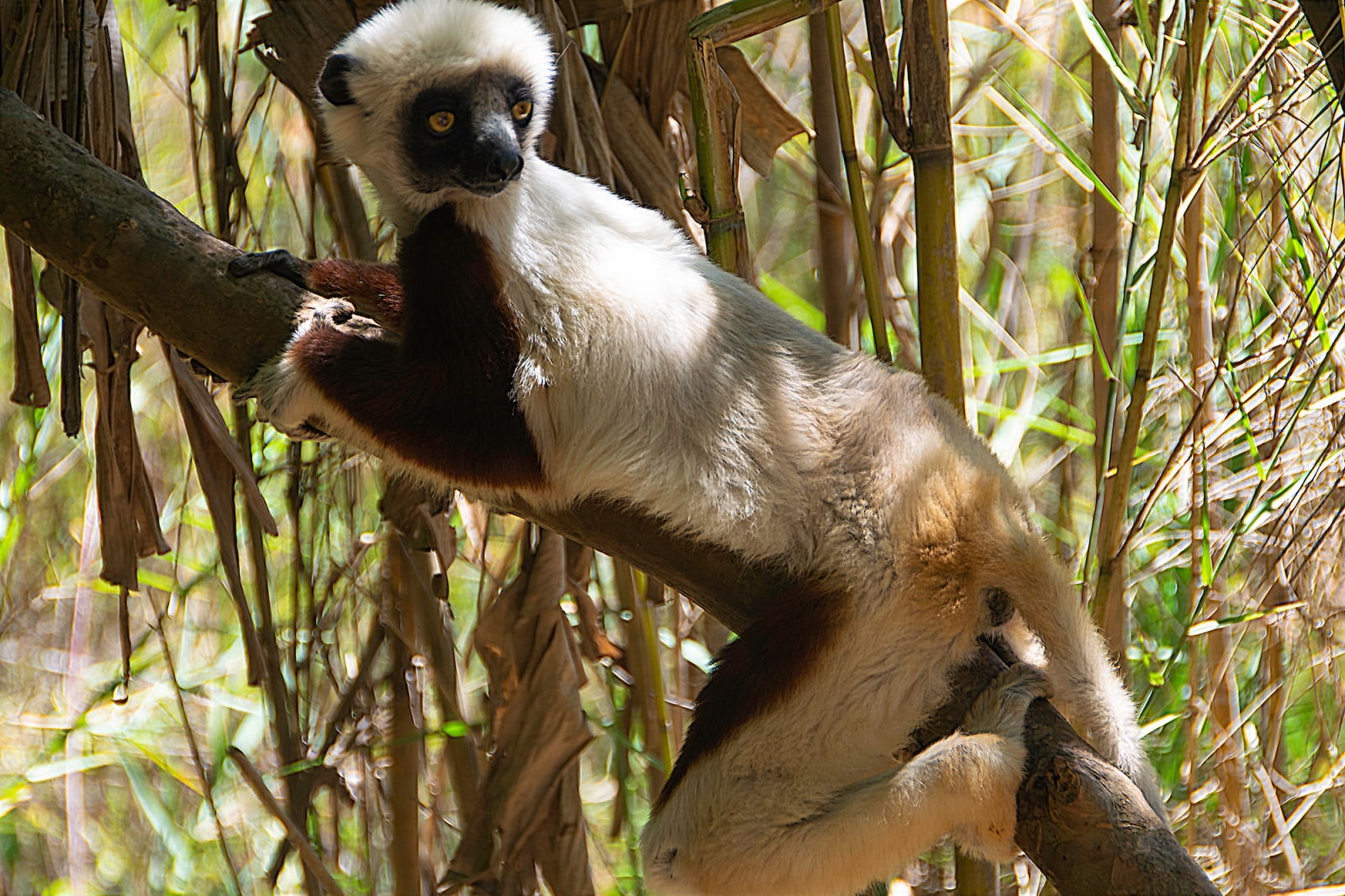 12. Diadem with Sifaka
Undoubtedly the most beautiful of all the lemur species. It lives in the eastern coastal areas but is most easily and best experienced in the parks in the Andasibe area. It is 94-105 cm tall and weighs 6-8.5 kg.
13. Decken's Sifaka
Decken's Sifaka is a small unknown lemur. It is partly secret, it is said because it is protected by a strong local so-called 'fady', which means taboo. It sometimes lives in villages in western Madagascar, but it is best experienced in the Tsingy de Bemaraha National Park. They are 92-110 cm tall and weigh 3-4.5 kg.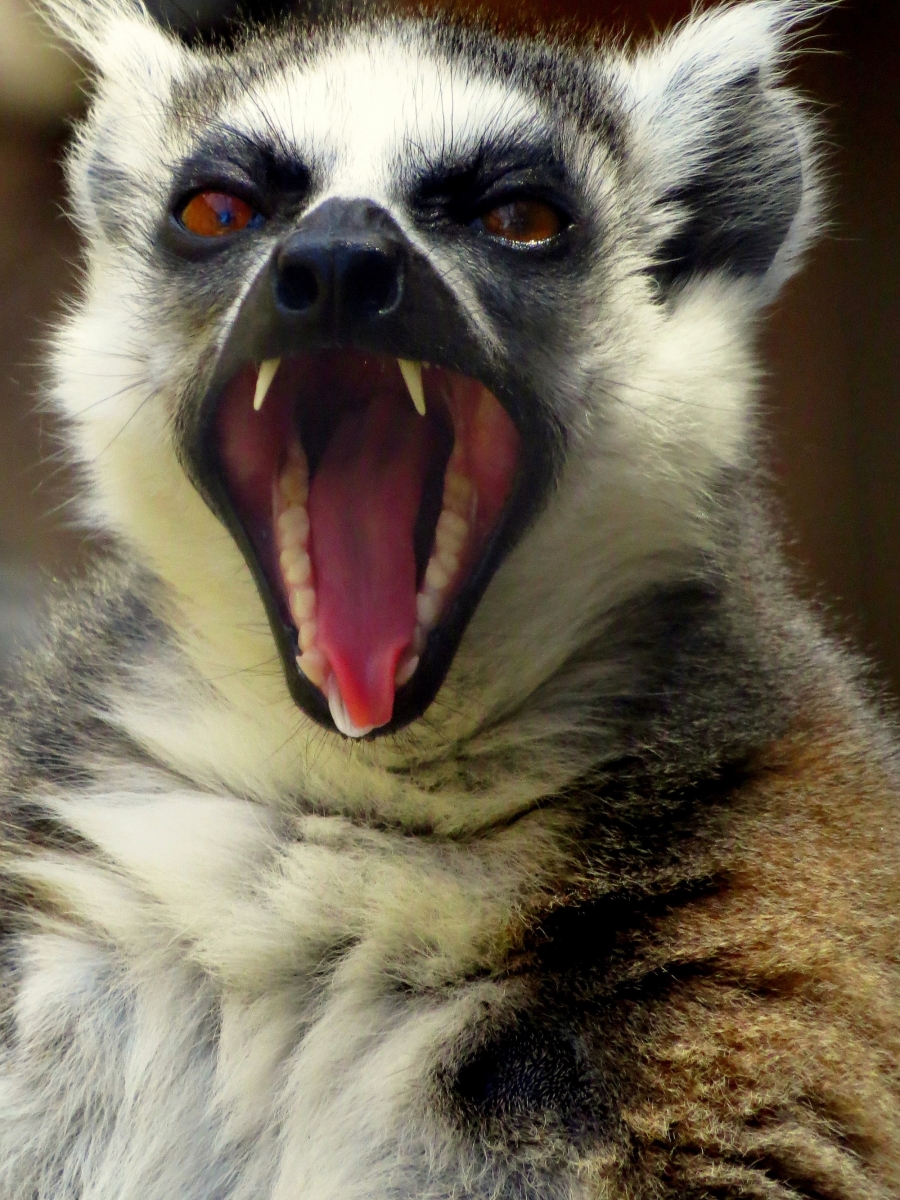 14. Indri the lemur
The Indri lemur is also known by the name Babakoto. The Indrien is the largest of all the lemurs and the one with the loudest voice. It can travel 3 km through the woods. It can jump up to 10 meters between tree trunks. They move around the forests in family groups of two to six lemurs as they search for food, mainly leaves. They are best experienced in the parks in the Andasibe area. The inside is 69-77 cm tall and weighs 6-9.5 kg.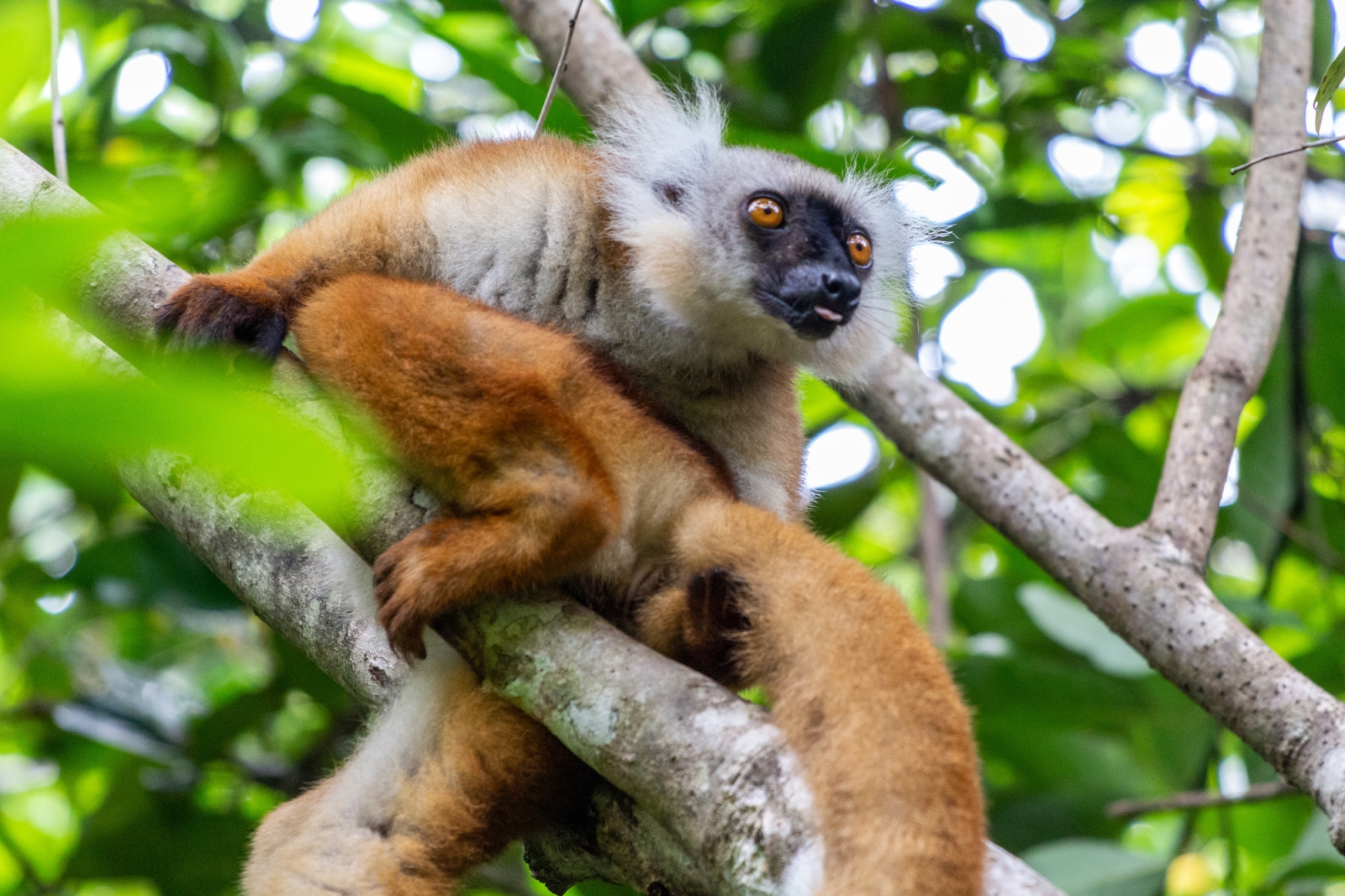 The night lemurs – the common and the rare
15. The gray mouse lemur
The mouse lemur eats fruit, flowers, insects, and other small animals. It is even eaten by barn owls. It usually lives in the lower branches of trees, where it is very active. It moves quickly away from the flashlight's light if it is detected. However, it is common and can therefore still be easily spotted in a number of different forests. It is a small guy, 25-28 cm high, and it weighs only 58-67 grams.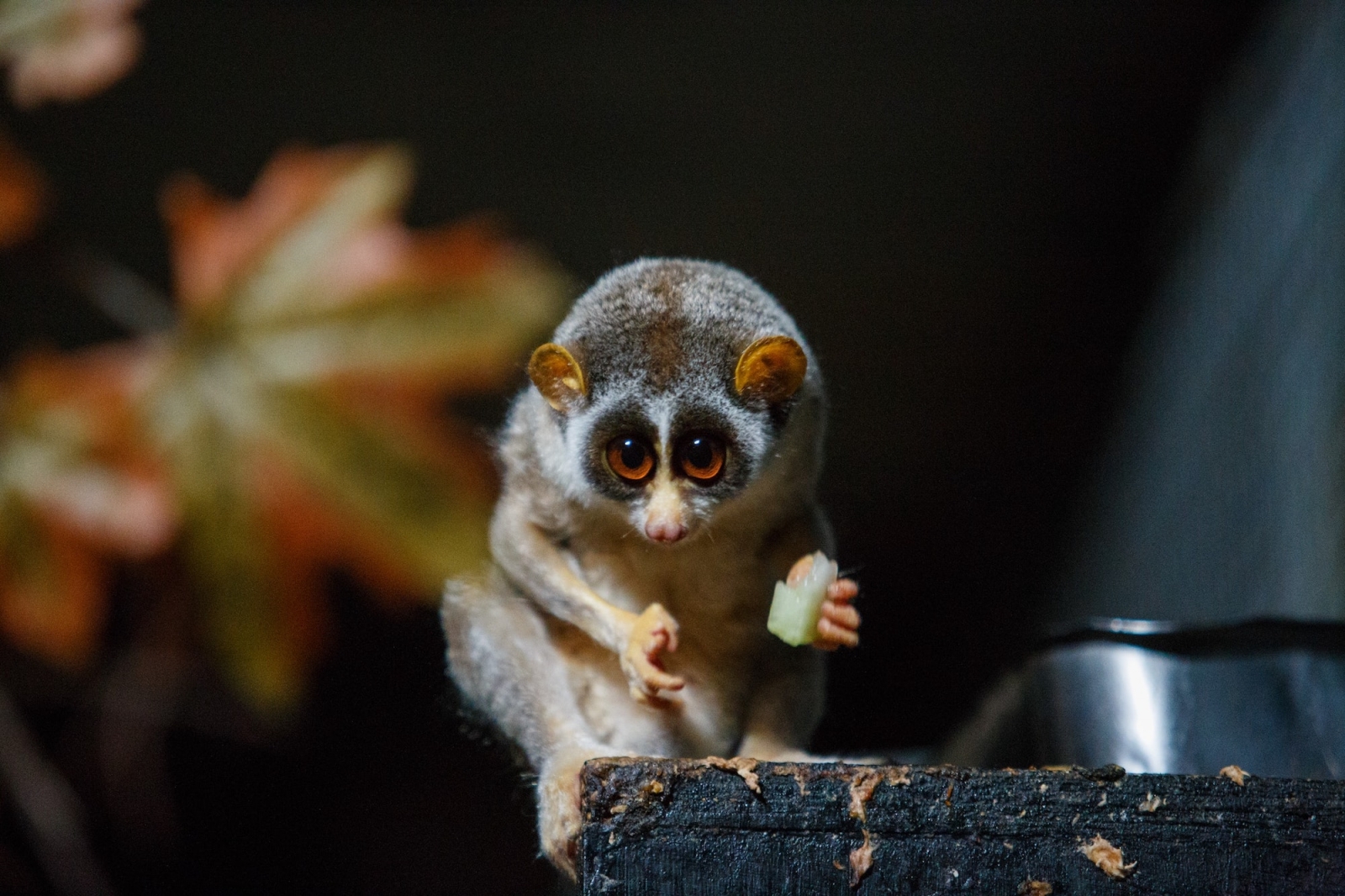 16. Aye-Aye lemur
With its bear-like fur, bright orange eyes and leathery bat ears, and long, hooked fingers, the Aye-Aye lemur looks a bit strange, which is why it is also associated with a lot of superstition in Madagascar. The middle toe on each paw is longer than the others. It is used to scrape and rake insect larvae and the like out of bark etc. This lemur is hard to spot, but it is spread across the rainforests and dry forests of most of the island. It is 74-90 cm tall and weighs 2.5-2.6 kg.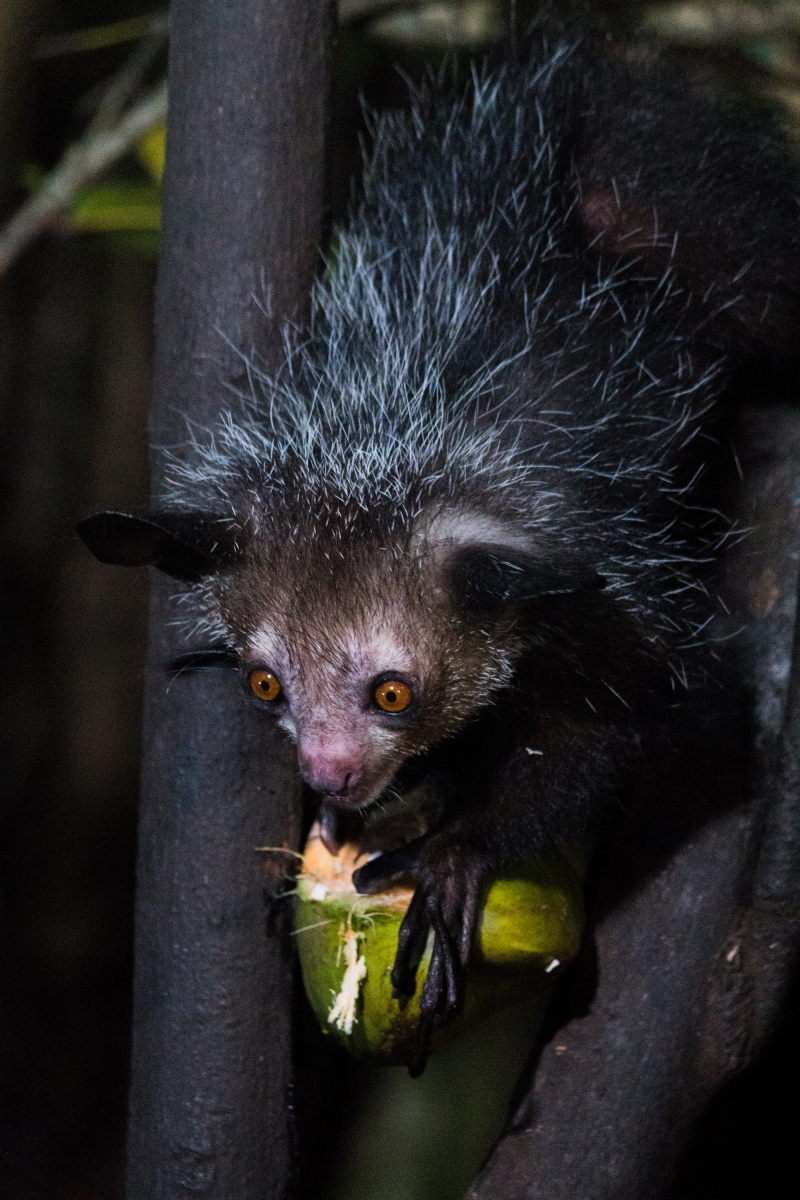 17. The sporty weasel lemur
These lemurs have dense, woolly fur and at night they often hang out for hours in the same tree munching on the leaves. Males are solitary and highly territorial, while females stay with their offspring. They inhabit the rainforests of eastern and central Madagascar. It is 30-35 cm tall and weighs 0.5-1 kg.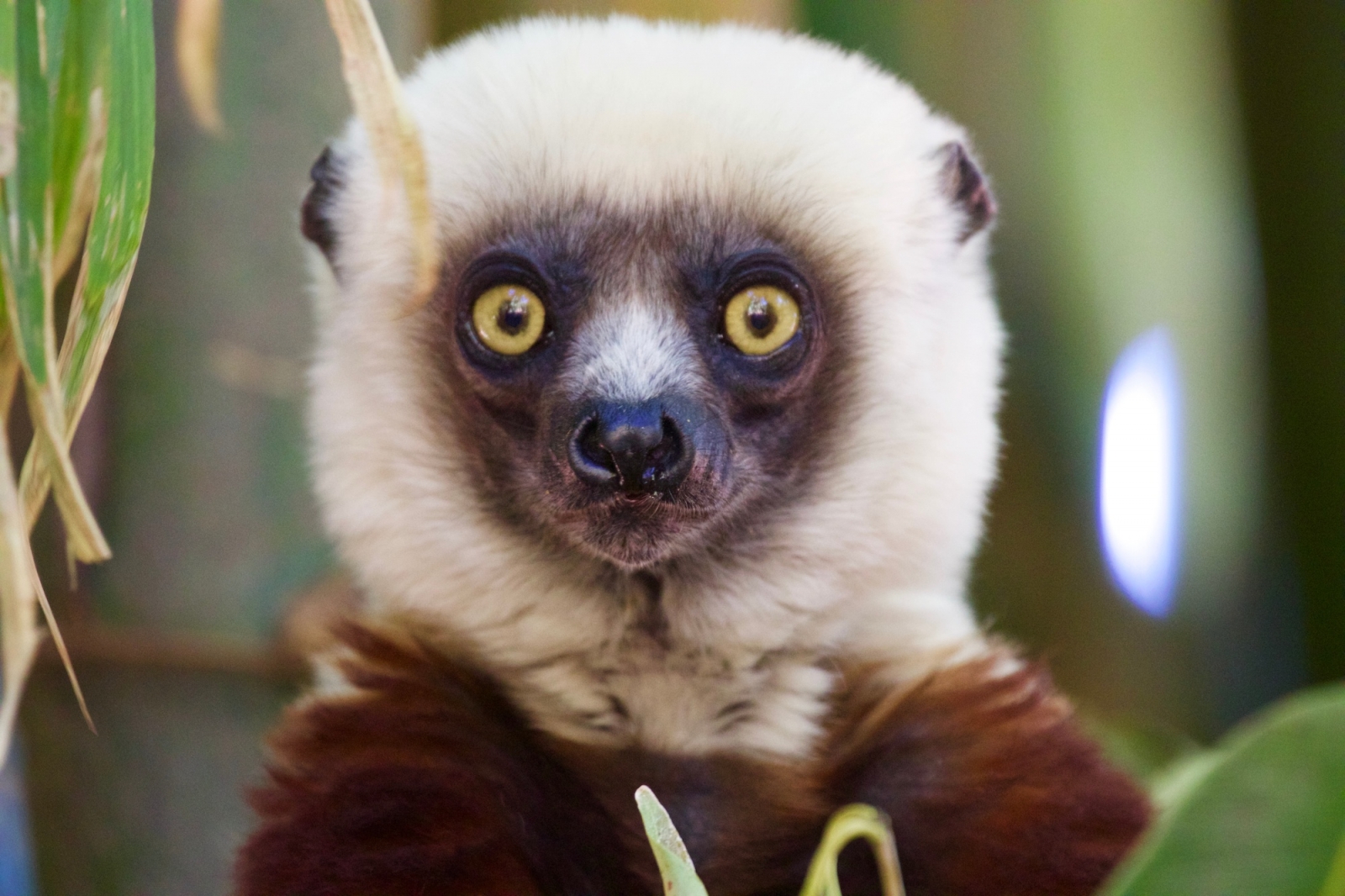 18. Milne-Edwards sport lemur
This lemur has long, strong legs that enable it to jump from tree to tree. The long tail ensures balance and direction. They sleep during the day in holes in the trees and come out after dark to find food. The species lives in the dry forests to the west and northwest of Madagascar. They are frequently seen in the National Park d'Ankarafantsika. They are 54-58 cm tall and weigh 1 kg.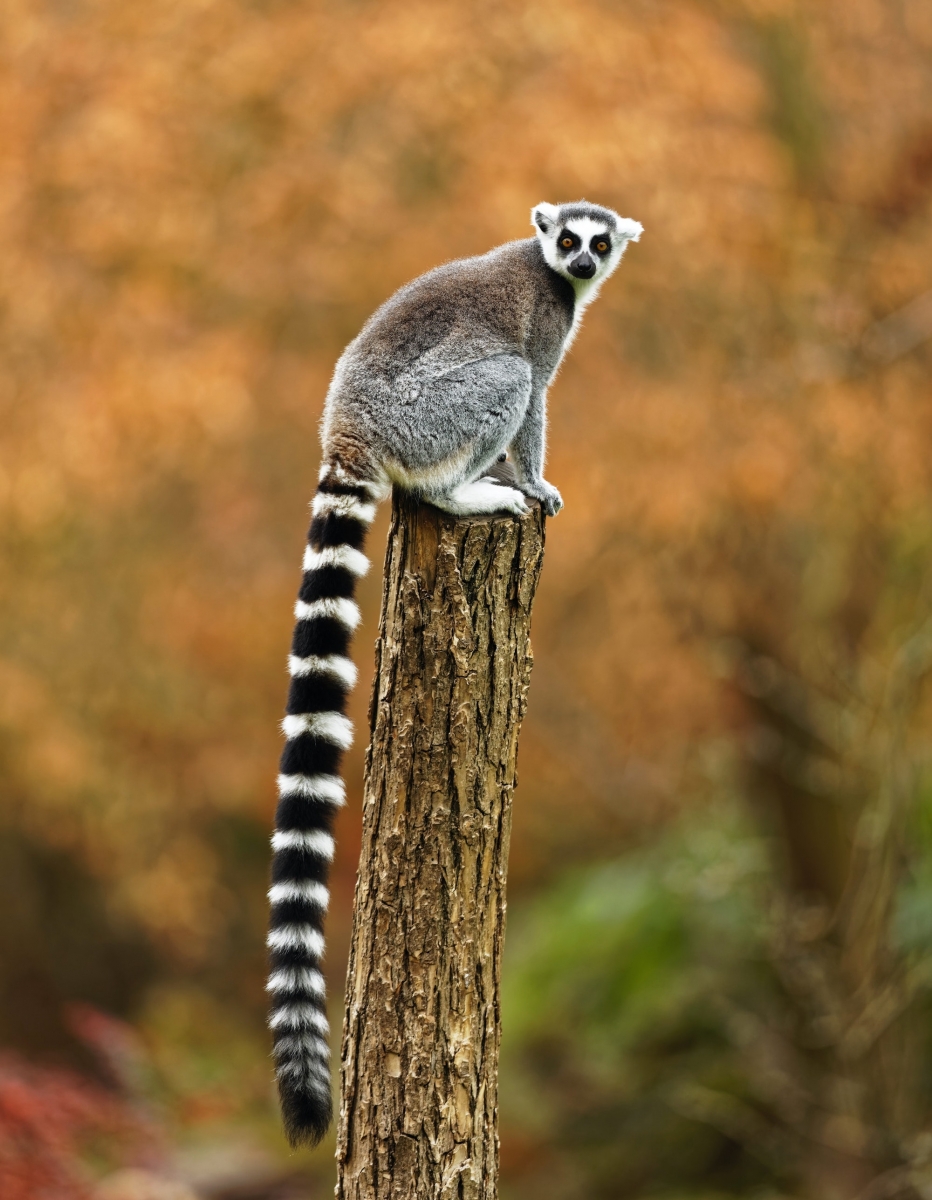 19. Western Avahi
Avahi lemurs have dense, woolly fur and are also called 'the woolly lemur'. They feed on leaves and buds of various kinds, and the families find shelter during the day, huddling together in the dense foliage of the forest. These lemurs only live in the dry forests of western and northwestern Madagascar. They are often seen at night in the Ankarafantsika National Park. They are 59-68 cm tall and weigh 0.9-1.3 kg.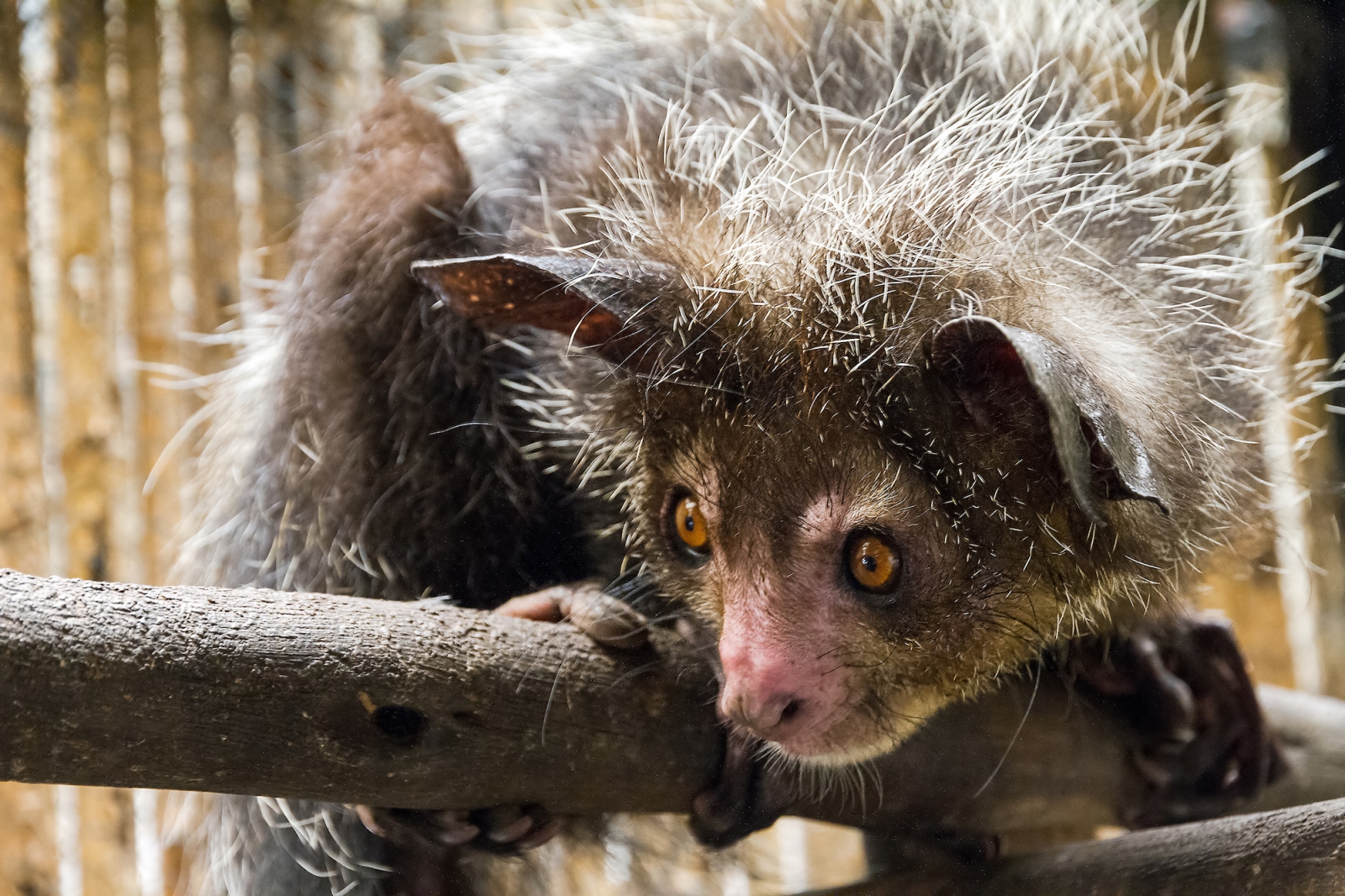 20. Pygmy mouse lemur
Because of its inconspicuous size and its habit of being active only at night, this lemur disappeared from view for over 100 years. In 1993 it was rediscovered. It has been spotted in the forest of the Tsingy de Bemaraha National Park, but almost nothing is known about its history or status, whether it is endangered or whether new colonies are on the way. It is tiny and measures only 12-13 cm and weighs 43-55 grams.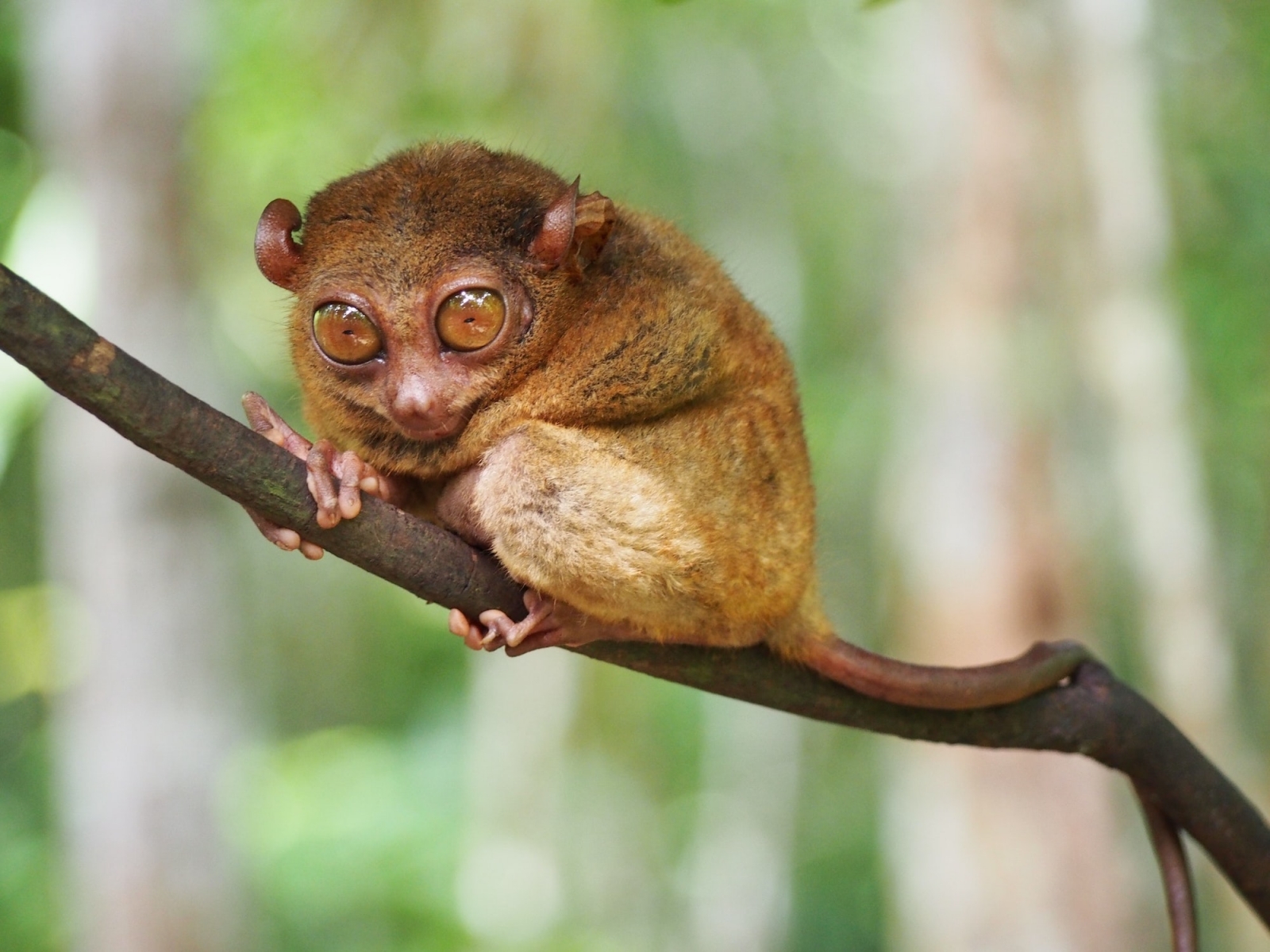 Wherever you go in search of a miracle on this beautiful and unique island, in any case, you must follow the main rules of communication with wildlife - do not feed wild animals, do not disturb them, behave quietly and carefully and try to maintain that fragile natural balance that will help these endemic species to continue to survive, reproduce, and delight us tourists with such a charming and funny look!
Read our previous article Ancient Konya and whirling dervishes in Turkey
Read our next article 12 practical advice for local private tour guides