There are no words to explain the splendor and extraordinary beauty of the mountains in Nepal, although for most mortals it is almost impossible to climb the 8,848 meters of the majestic Mount Everest, and for hikers, it is a great challenge, as even the most experienced must have incredible ambition, courage, physical strength to challenge this colossus. Nepal offers us charming places to visit under the guidance of experienced private tour guides and mountain instructors in addition to its fascinating culture; so we'll save the main course for last.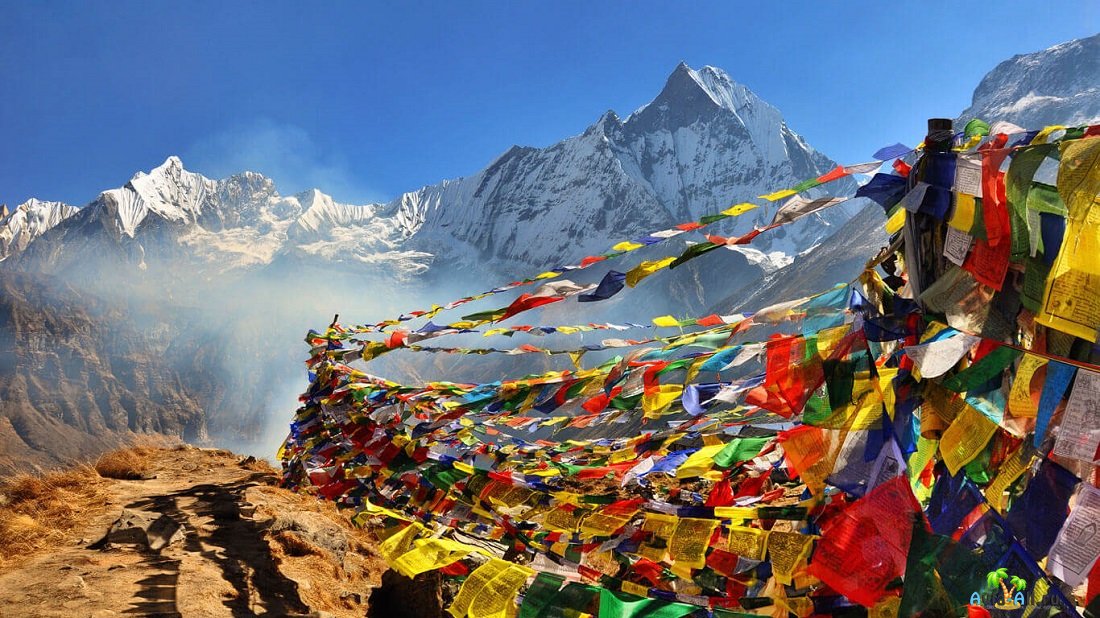 LOGISTIC FOR TRAVEL TO NEPAL
To get to Nepal, you will need to arrive at the Tribhuvan International Airport in the capital Kathmandu. All travelers other than Indians need a visa to enter the country, which can be issued in their home country or, for more comfort (but a bit more queues), can be obtained upon arrival at the airport, for which 2 passport-sized photographs are required. The cost of the visa is $25 (€22 for 15 days, $40 (€35.50) for 30 days, or $60 (€53) for 90 days and if you need more time you must renew month by month) her and the price will be 50 USD (45 EUR) with a maximum validity of 5 months and its last month must match the month of your return ticket to your country. Not all airlines fly to Kathmandu, but you can travel from anywhere in the world, making 2 or 3 stopovers Due to the steep and difficult airspace of the arrival area, the cost of plane tickets is high, and it may be convenient to arrive at another airport and then reach Kathmandu by road, but the distances are long, approximately 1000 km (620 miles) from New Delhi airport prices vary: departure from Paris - 1650 USD (1450 EUR) with Air France, from Munich - 1085 EUR (1220 USD) and from Madrid - 973 EUR (1100 USD) with Lufthansa, Iberia does not fly there; Moscow USD 2,330 (EUR 2,070) on KLM flights and from anywhere in the world. If you're flying from America, prices range from $3,500 (€3,100) to $5,500 (€4,880), so you'll need to see what's most convenient so you don't overcharge.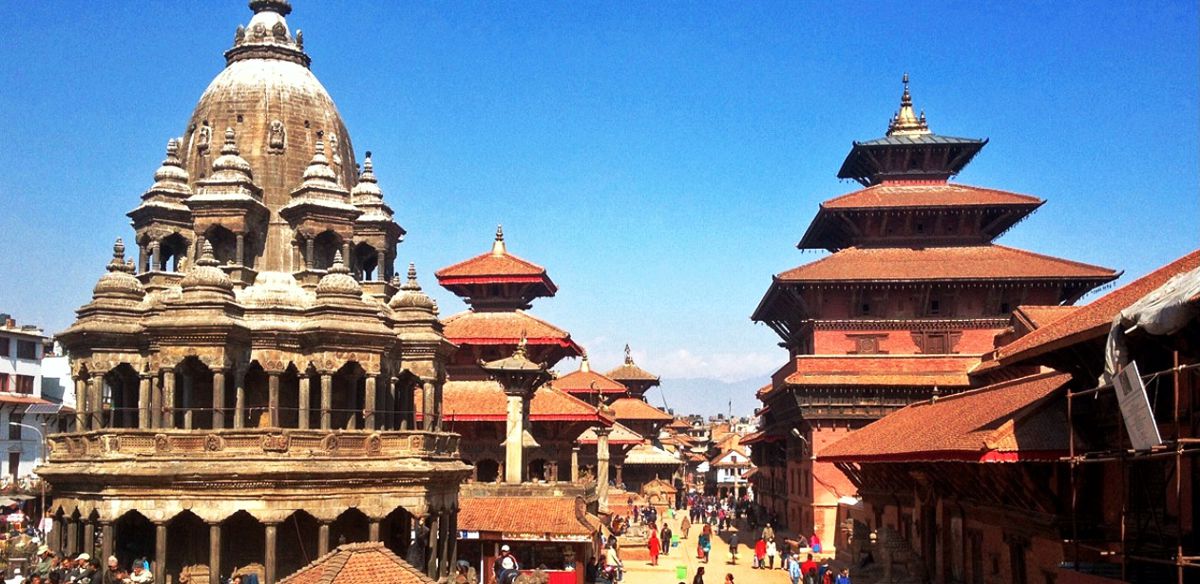 Kopan - Tibetan Buddhist monastery of the Gelug school in Nepal
Kopan Tibetan Buddhist Monastery is 9 km from the airport on top of a hill, and you can see, in addition to learning more about the life of Tibetan monks, this is a very spiritual and mysterious place with many colors inside, a large golden statue of a Tibetan deity watching behind you, and below is a photograph of the Dalai Lama. This monastery also teaches various courses for everyone and, if necessary, they offer you to stay until you finish them. Here you can also find a personal tour guide with mountain climbing experience and arrange with him to climb in a small or large group along with other tourists who have come to conquer these majestic mountains. In the monastery, you will be offered simple food in the common dining room, but with the great typical taste of this place, and Nepalese cuisine is a separate topic for a separate article, but more on that another time. The monastery has several small shops selling souvenirs at good prices. The briefing starts at 13:00 and is the only rare way to interact with the monks in person. You will feel wonderful peace with one of the best views in Kathmandu. The monastery closes for visitors at 17:00.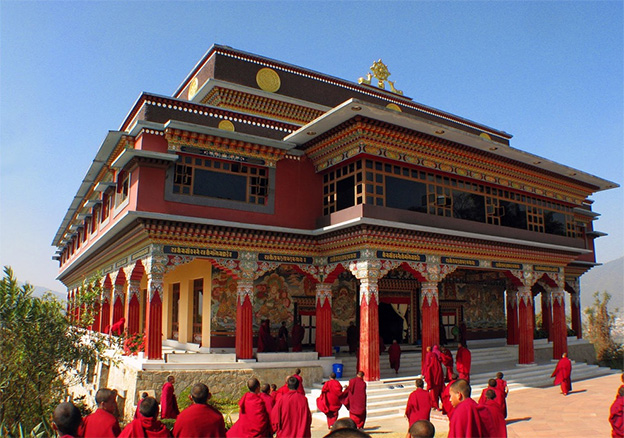 Swayambhunath Temple or Monkey Temple is the most visited by the residents of Kathmandu. It is located west of the Thamel area (about 30 minutes drive) in the most central and commercial area. It is called so because it is located on a hill, and the path when you go up the stairs is full of monkeys that you can feed as a kind of offering. In any case, you have to be careful with them, because they are not dangerous, but you never know what they will do the next moment... The view is already wonderful at the top! Foreigners are charged 300 Nepalese Rupees ($2.78 or €2.50) to enter. Later it is worth visiting other nearby temples, and it can be convenient to just hire a private tour guide to talk about the history and culture of each of them, this is very interesting and such an experience will never be forgotten.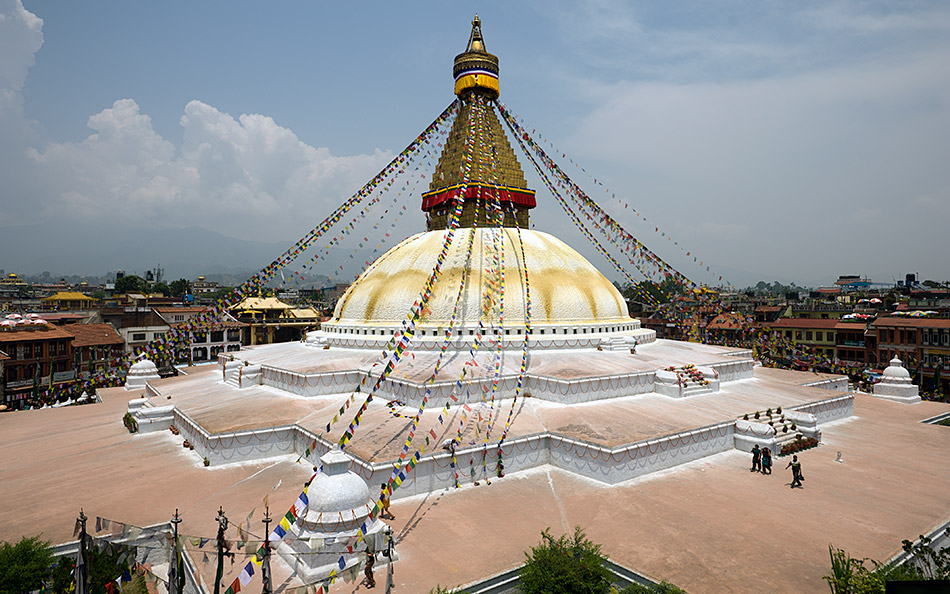 Boudhanath also known as Khasti Chaitya and Khāsa Chaitya is the most famous and visited stupa in Nepal, created 11 km (6.8 miles) from the center of Kathmandu, its massive mandala (geometric configuration of symbols) makes it one of the largest spherical stupas in the world.
Mount Everest
The beautiful Mount Everest stands out from a group of equally impressive mountains, but we know that it is difficult to even get to its outskirts. For this reason, here you have two options: the first, more simple, practical, and probably not as exciting, is to hire a personal tour guide, who you can contact directly at your hotel or at the same Tribhuvan International Airport where you arrived, only you must go to the domestic flight area. There you will find several agencies with different prices, such as Buddha Air or Yetiarlines, who offer to take you to make a tourist flight around Mount Everest, as there are about 20 flights per day, because the number of tourists who want to go to Everest and see it even from the air and take a few photos quite a lot. The flight lasts about 1 hour, and all passengers turn to the window to take spectacular photos. It is important to check the weather so that it is sunny and clear, otherwise, flights will be canceled, but if you do not fly, then the money will be returned. In addition to the $170 (€150) ticket price, you will be charged a tax of Nepalese Rupees 200 ($1.86 or €1.65).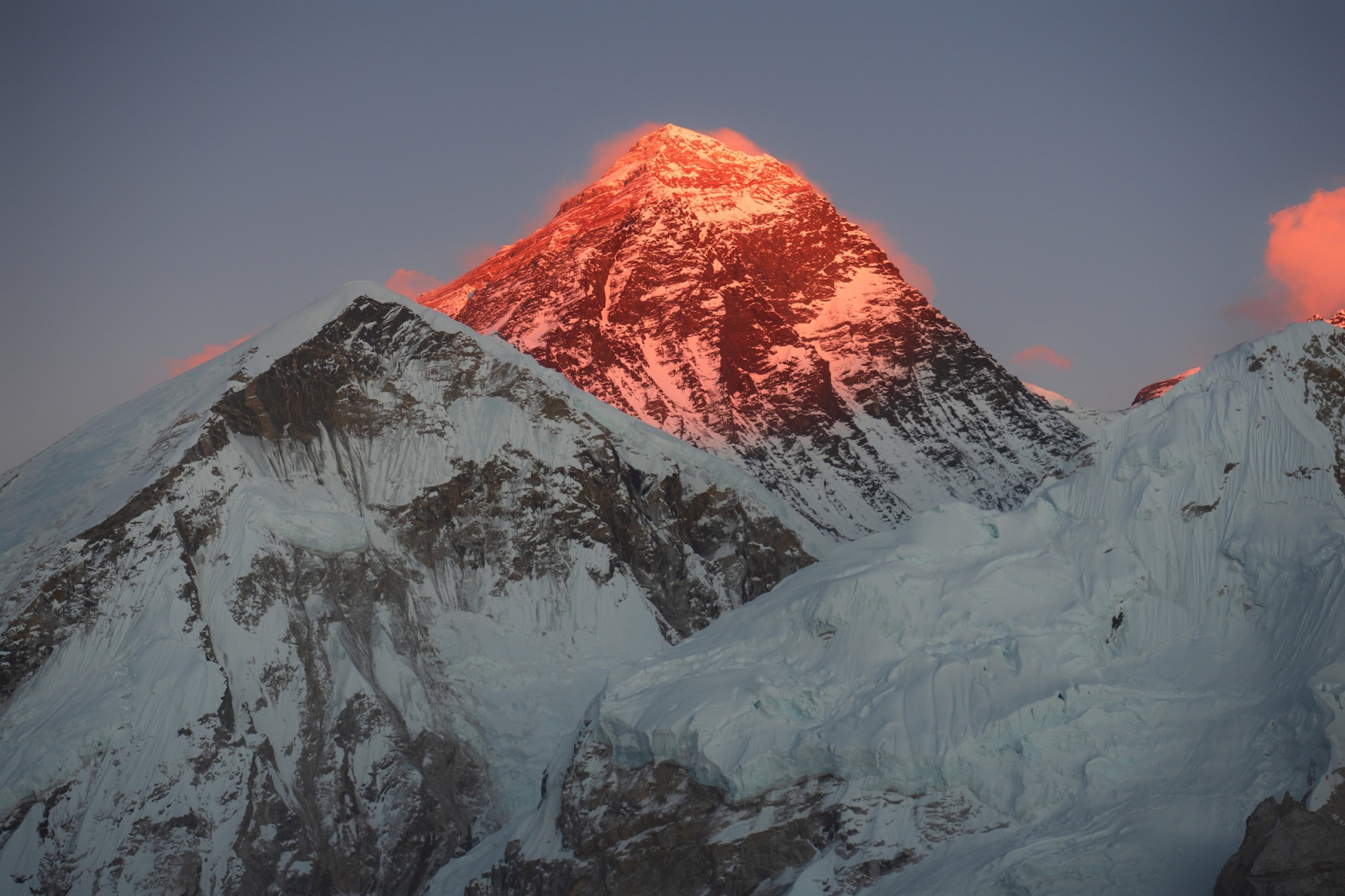 Red sunset over Mount Everest from mountain Kala Patthar which is famous for the world's highest webcam - Mount Everest webcam in the Nepali Himalayas is settled here. Kala Patthar is very popular with trekkers because this is the highest spot (5,545m or 18,192ft) most will reach without a climbing permit!
The second option, more majestic, but more difficult and somewhat dangerous, is to go to one of the base camps of tourists on the slopes of the mountains surrounding Everest, so that, if your physical condition and adventurous spirit allow, you can see Everest from a neighboring peak, or how they say "live and in full color", for this you need to climb Mount Kala Pattar to a height of 5600 meters. Ready? Enough of your strength and audacity? For this, it is best to hire a tourist private guide who will accompany you throughout this journey, which will take many days on the way, because for all the routes and walks on the steep trails that you have to go through, you will need an average of 13 days because you will also need camp and rest. Even if you are in excellent physical shape, keep in mind that from an altitude of 4000 meters above sea level, the first symptoms begin to appear due to a decrease in oxygen in the atmosphere, such as difficulty breathing and poor sleep, as well as lack of appetite. But a private tour guide will teach you how to manage these symptoms, what diet to follow, and many more personal tips, many of which he has learned from his ancestors over many generations.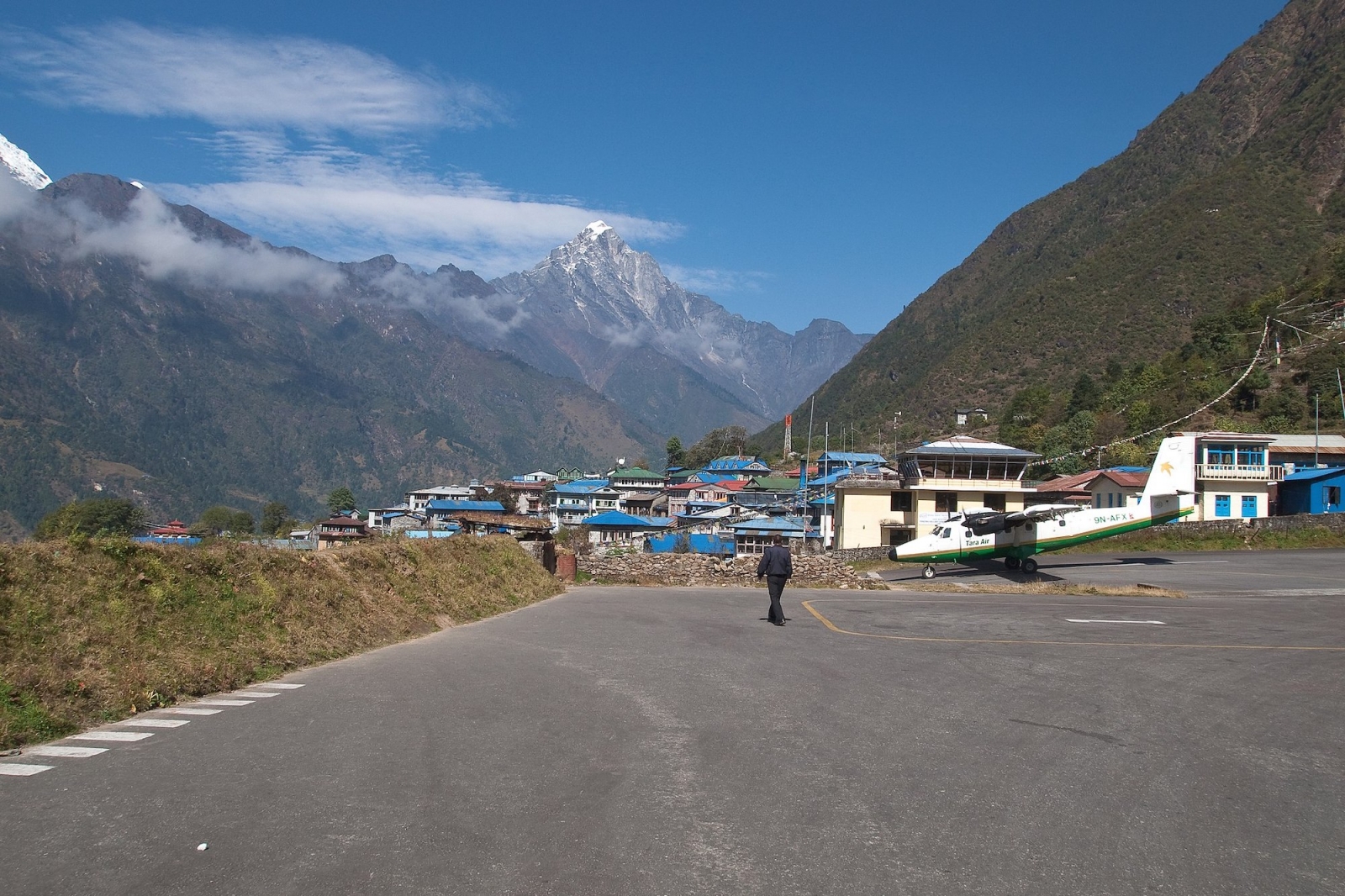 The small village of Lukla is a popular place for trekkers to the Himalayas to reach and have western-style meals, a variety of shops and lodges for overnight, and to buy some trail provisions for future climbing from local supplies. There is a little airport, the closest to Mount Everest!
Places, where you can camp, are tea houses with basic services (not 5-star hotels), but some include internet access and offer you food included in the price. Doing this without a tourist guide can be dangerous as arriving by bus and on foot (from Kathmandu to Lukla) will make your trip longer and more tiring as it is more practical to travel by air (30 minutes from Kathmandu) to Lukla Airport. In this city, most visitors start their excursions to the Himalayas and you will be able to do the last shopping for the epic journey you will take, as well as relax and eat in its various restaurants. By land, you will avoid the Maoist guerrillas as they ask for money (NPR 5,000 or $46.50-42) to keep you moving through the grasslands towards Lukla, so it's an unnecessary risk. Before going to Everest, take into account that you should train a few months in advance so that you have the best possible endurance. It is worth noting that in order to hike you will need a permit called TIMS (trekking information management system) which you can get from any travel agency or from the tour guides mentioned above. And the reward for all these hard efforts that you have to make during the preparation for the ascent, but especially during the ascent itself, will be that you will literally find yourself on top of the world! Believe me, it's worth it!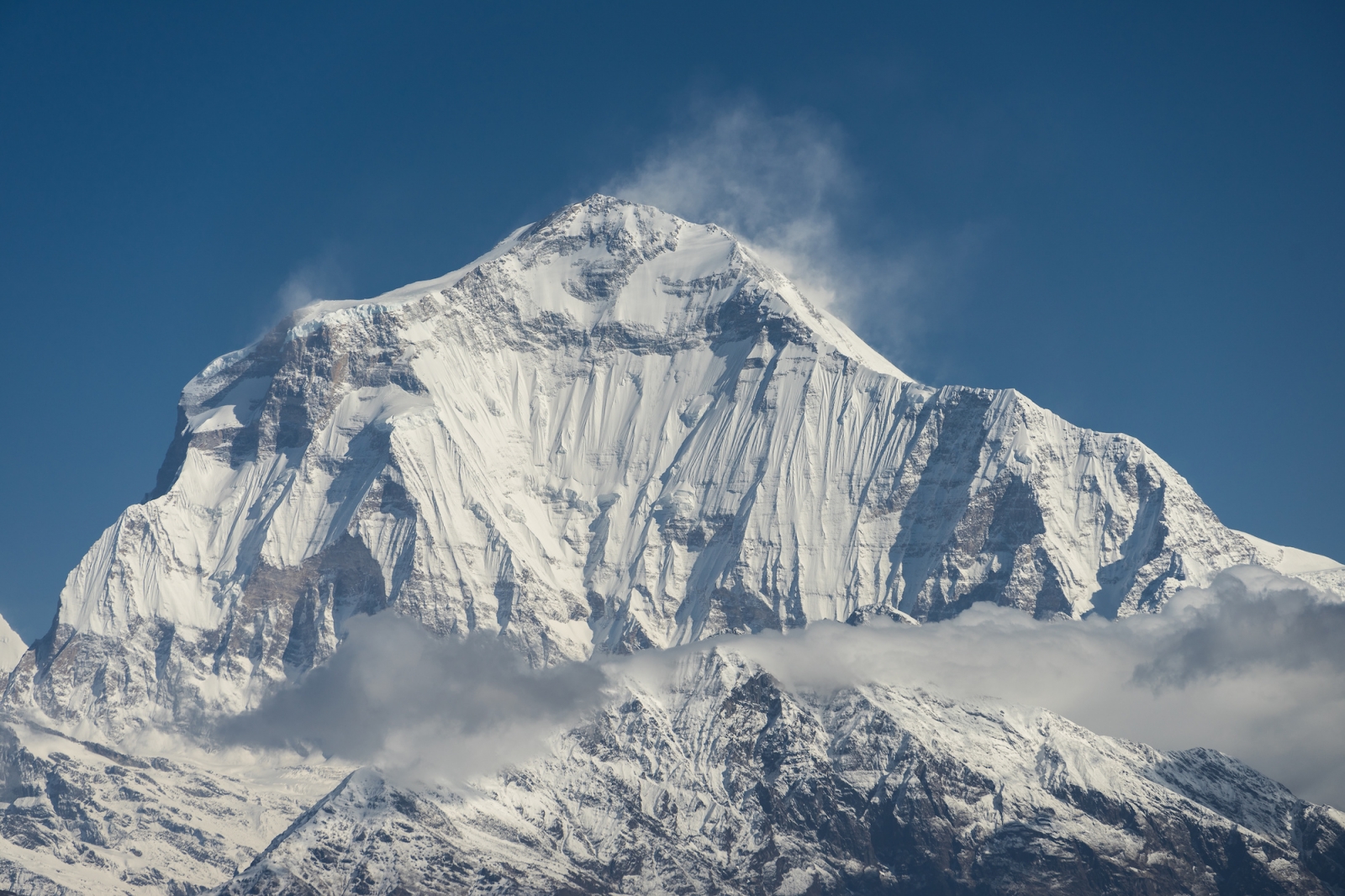 Read our previous article METEORA - medieval monasteries under the heaven (part I)
Read our next article Avignon: Popes and Theater